Shop for your summer wardrobe here at Abraham's! From gorgeous summer dresses to statement boutique jewelry pieces, you can find a wide range of summer essentials featured in our boutiques store. Here's your quick guide to help you build your summer collection.
Get ready for the summer season and build your wardrobe with the help of our Women's Summer Clothing Essentials Guide! If you're not sure what to add to your collection for summer styling, check out what we featured in our guide and fill up your closet with any of the fashion must-haves in our exclusive boutique collection. 
Sweet & Chic Summer Dresses - Casual and Glam Styles
Summer and dresses go together like July 4th and backyard BBQ parties! Stock up on your favorite dresses from our wide selection of Women's Dresses. Take advantage of the summer sun and heat to wear all the cute and casual maxi dresses or glam summer dresses you want! 
THML Striped Embroidered Smocked Dress
Chic and charming, this boxy smock and striped dress features a stylish look with vintage-inspired floral embroidery. Perfect to wear for work or everyday attire!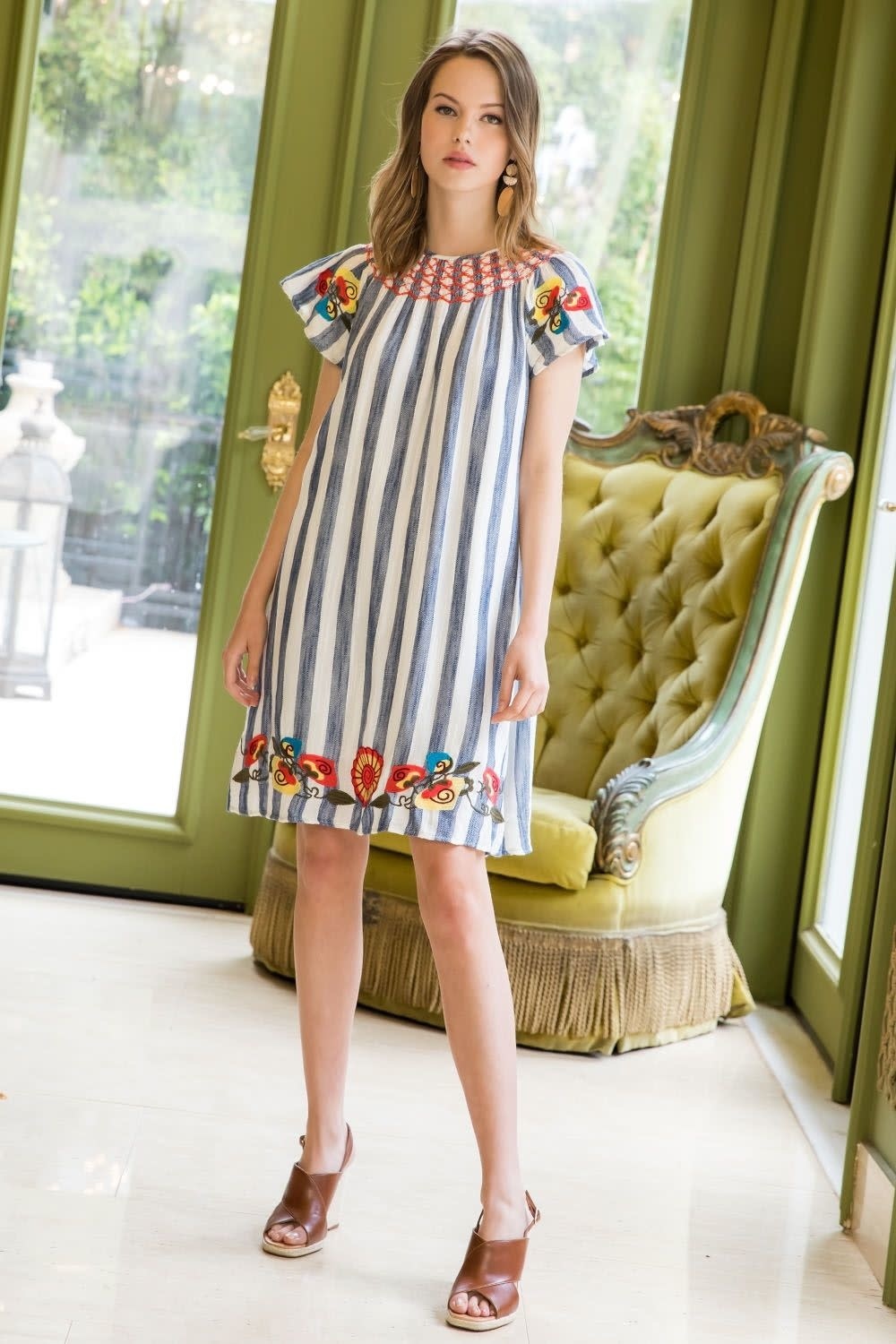 This versatile and bold-patterned women's tunic dress boasts a vibrant summery design and a light, flowy style. Great to wear by itself as a casual dress or as a swimsuit cover-up!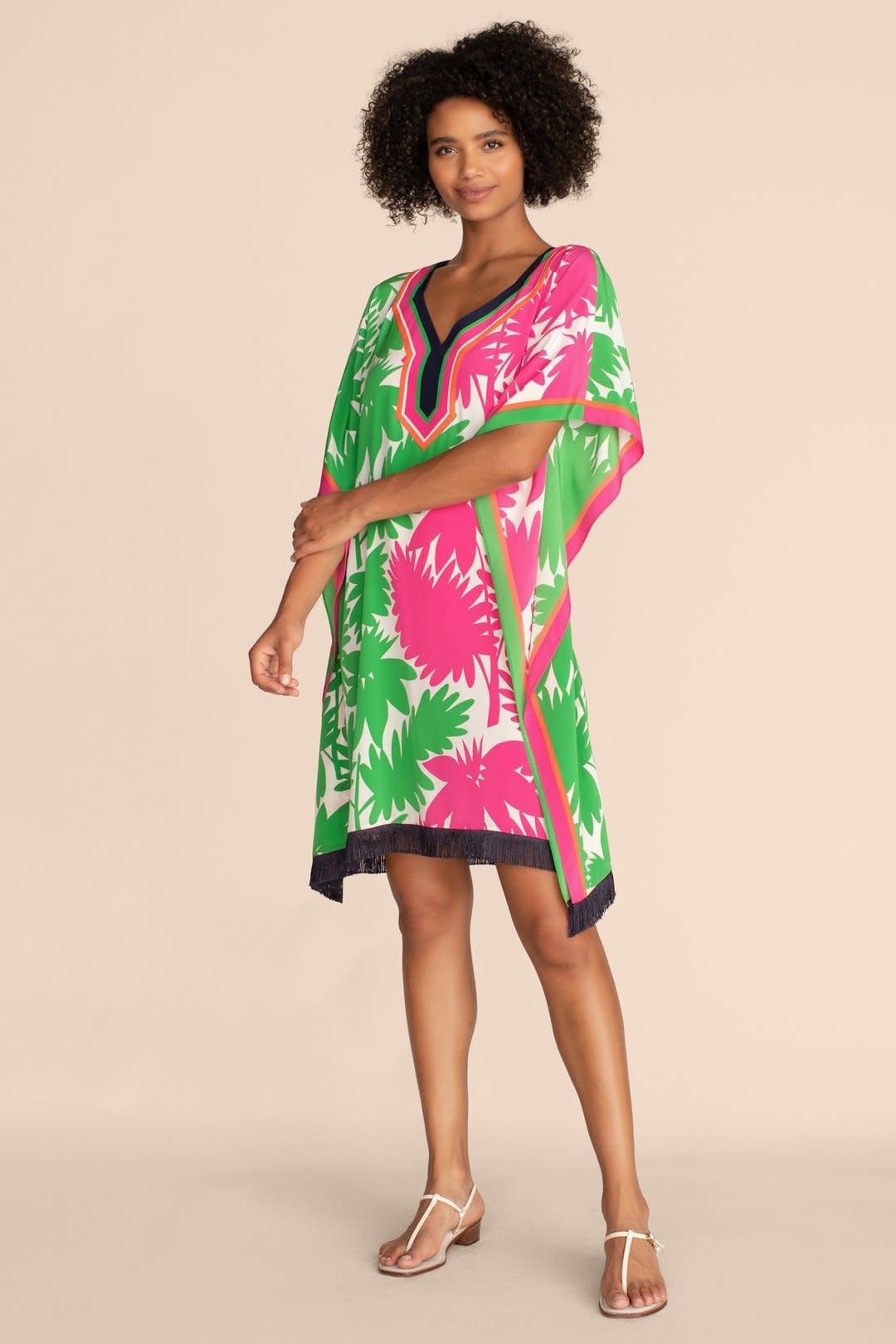 That effortlessly chic look you want is just a dress away! This gorgeous and sophisticated dress is so versatile and can be dressed up or down for any occasion. Features split flutter "sleeves" and a flattering V neckline.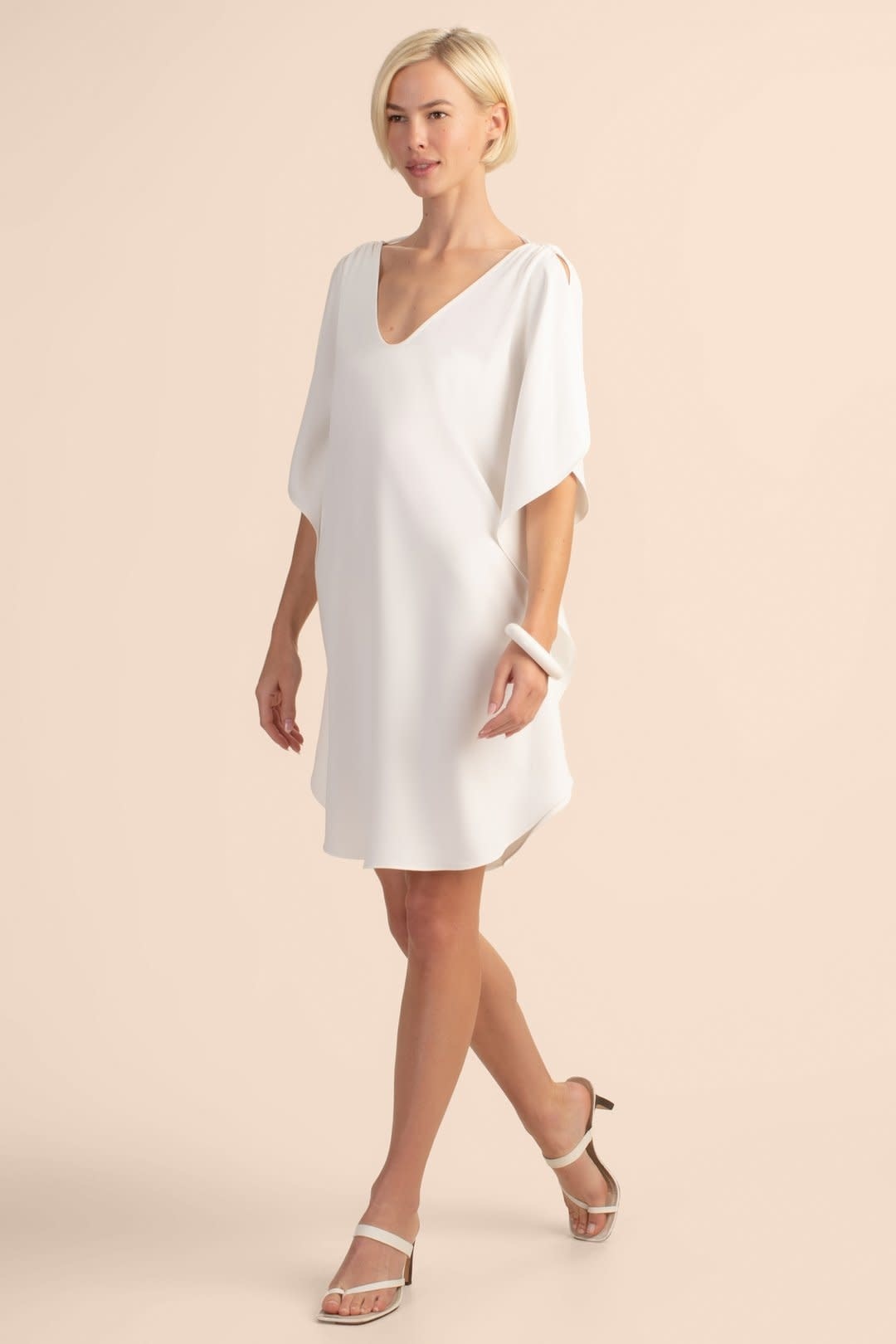 Feeling daring for your date night? Get the best summer glam look with this contemporary halter choker mini dress! Designed with a back tie ribbon and a V-neck peek-a-boo hole on the front.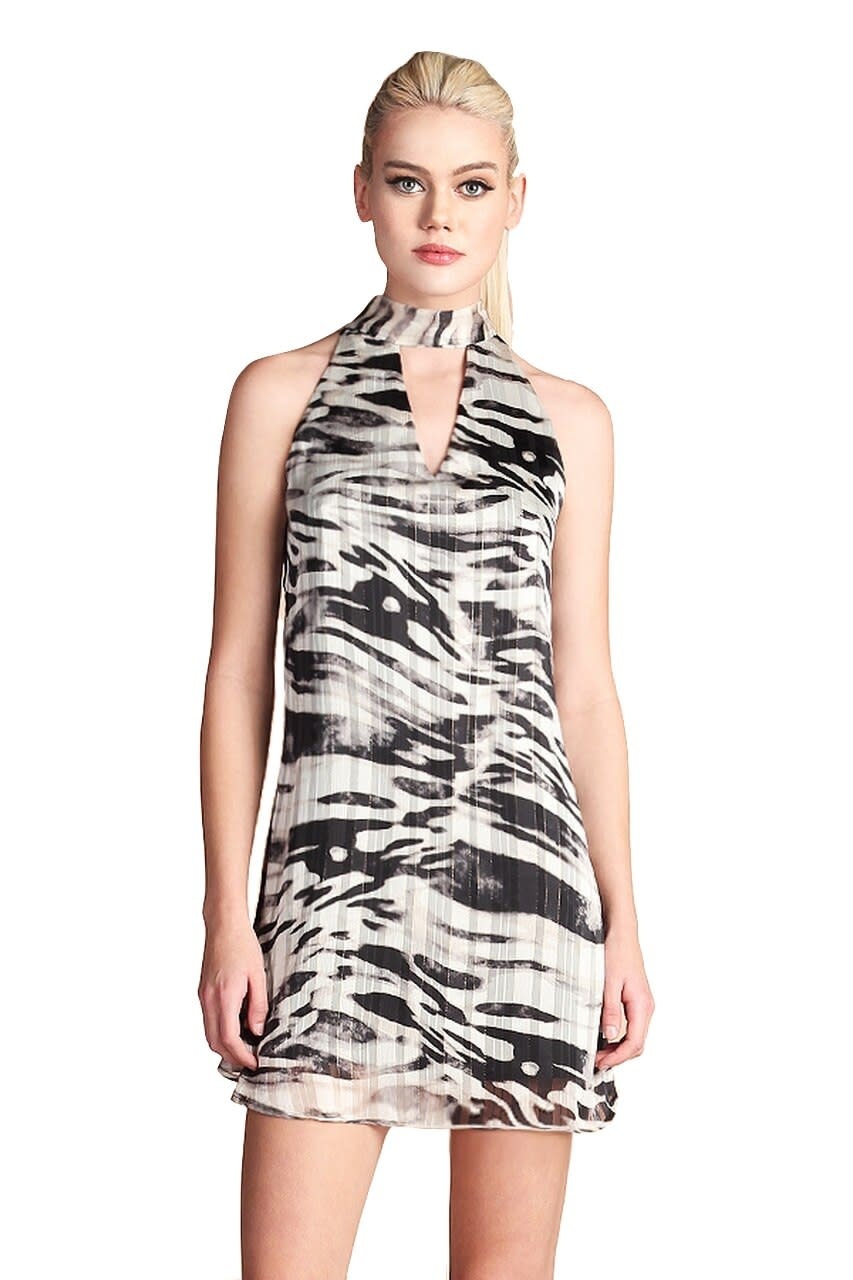 She + Sky Smock Neck Tiered Dress
Adorably chic and classic, this ruffle, multi-tiered sleeveless dress features a dainty floral design and a ribbon tie wrapped around the waist.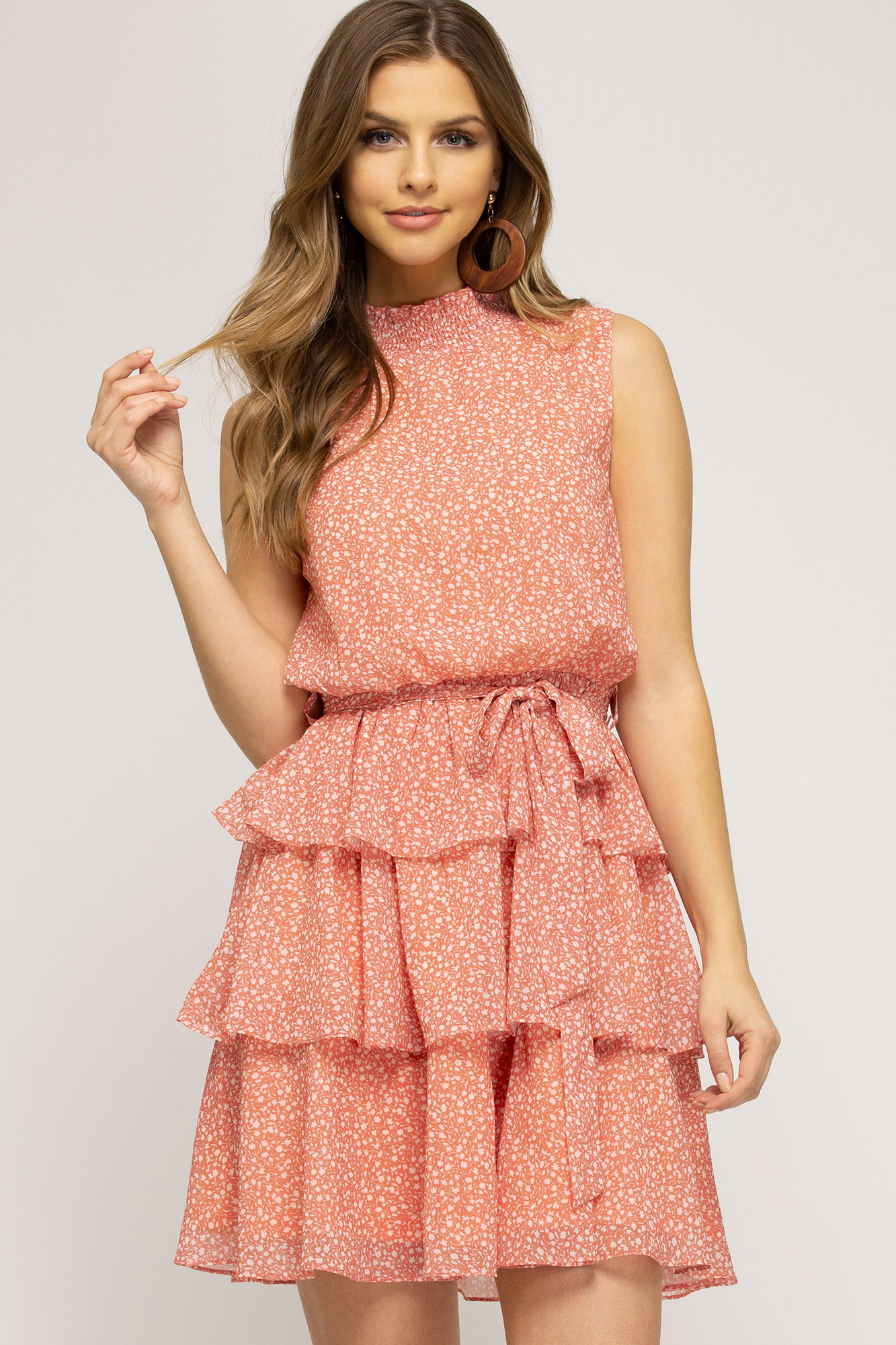 What better way to enjoy a summer day than with this trendy and flirty ruffle dress? This mini V-neck dress has thin straps plus a pom-pom-lined hem and a polka dot pattern for a fun style.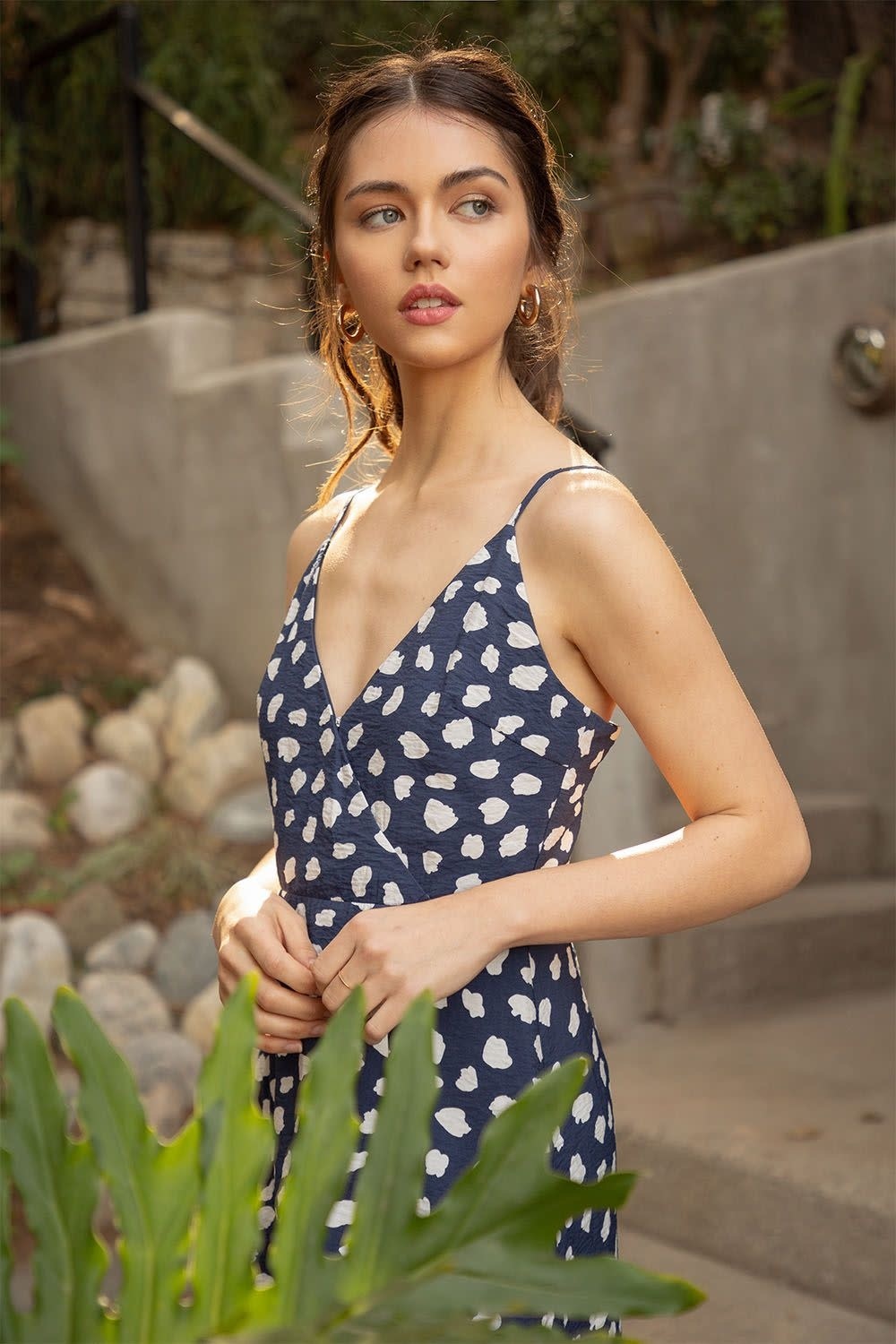 Timeless Maxi Dresses, Jumpsuits, and Rompers For Any Occasion
Stylish maxi dresses, jumpsuits, and rompers embody summer's laid-back vibes, so we'll feature some of our favorites in our collection so that you can add them to your closet! 
If you're not sure what these styles are, here's a quick breakdown for you:  
Maxi Dress: Style, comfort, and easy to wear, maxi dresses are long-skirt dresses that are flowy and fun to dress up or down. You really can't go wrong with a maxi dress, especially since the design is so versatile and flattering on everyone! Summer maxi dresses are lightweight and can come in spaghetti straps, sleeveless, one-shoulder, off-shoulder, racerback, halter, and short sleeve styles.


Jumpsuits: Similar to rompers, women's jumpsuits are designed with long pant legs rather than shorts. These one-and-done outfits make great fashion statements and give you a sleek and chic look. Summer jumpsuits specifically can have a tube top, tank or cami style for a relaxed and casual look. For more glammed up jumpsuits, you can find one-shoulder or off-shoulder jumpsuits that are perfect to wear for those summer date nights. 


Rompers:

Just like jumpsuits, rompers are one-suit outfits for women that are more casual because of the shorts style. Rompers are ideal for everyday attire and even for beachwear cover-up. They're also great to have in your suitcase when you're on vacation or at a resort. 
Tart Collections Andy Maxi Dress 
Glam it up or keep it casual with this simple, yet chic, maxi dress features a side slit and subtle cap sleeves. Pair with your favorite sandals or dress it up with sparkly and strappy heels!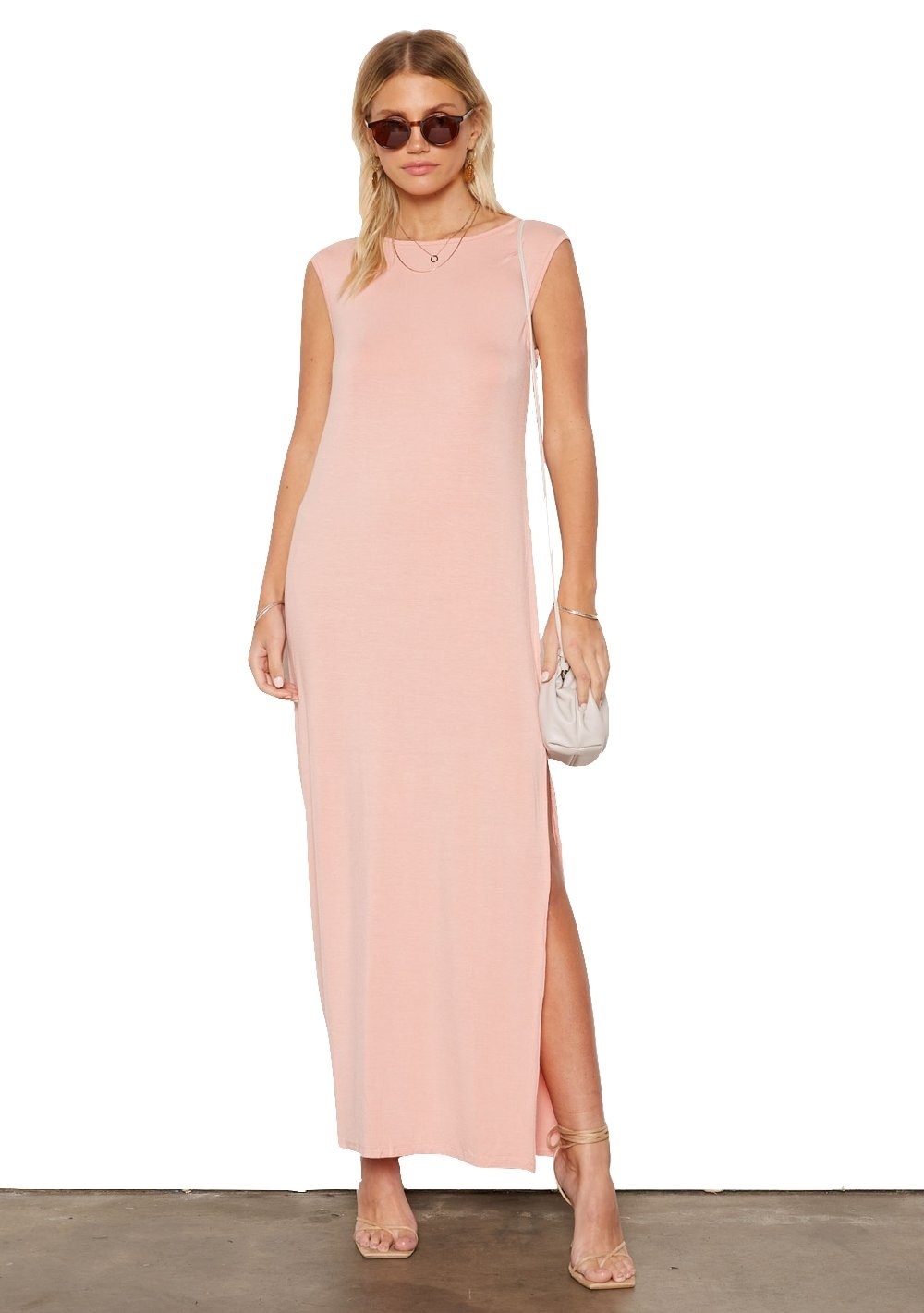 With a slim-fit tank top style and a flowy wide leg pants design, this women's jumpsuit is perfect to wear for those warm summer days where you don't want to put too much thought in your attire.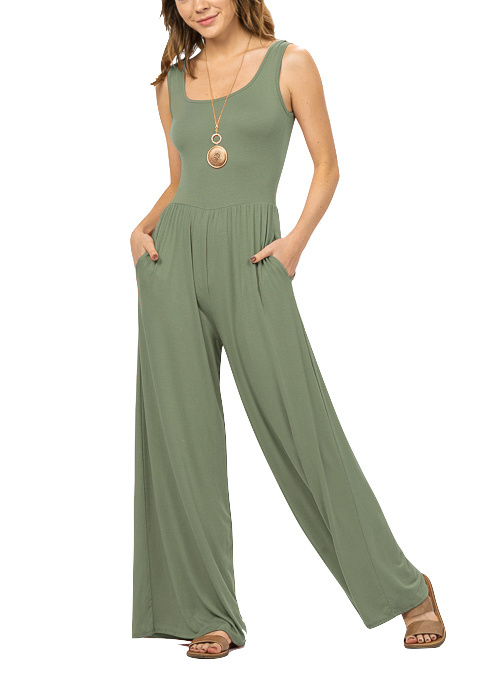 Main Strip Ruffle One Shoulder Snake Maxi Dress 
Choose this beauty if you want a maxi dress you can wear for those fancy evenings out with your girlfriends or your date! This snakeskin pattern maxi dress features a high-end and modern one-shoulder design that elevates your look.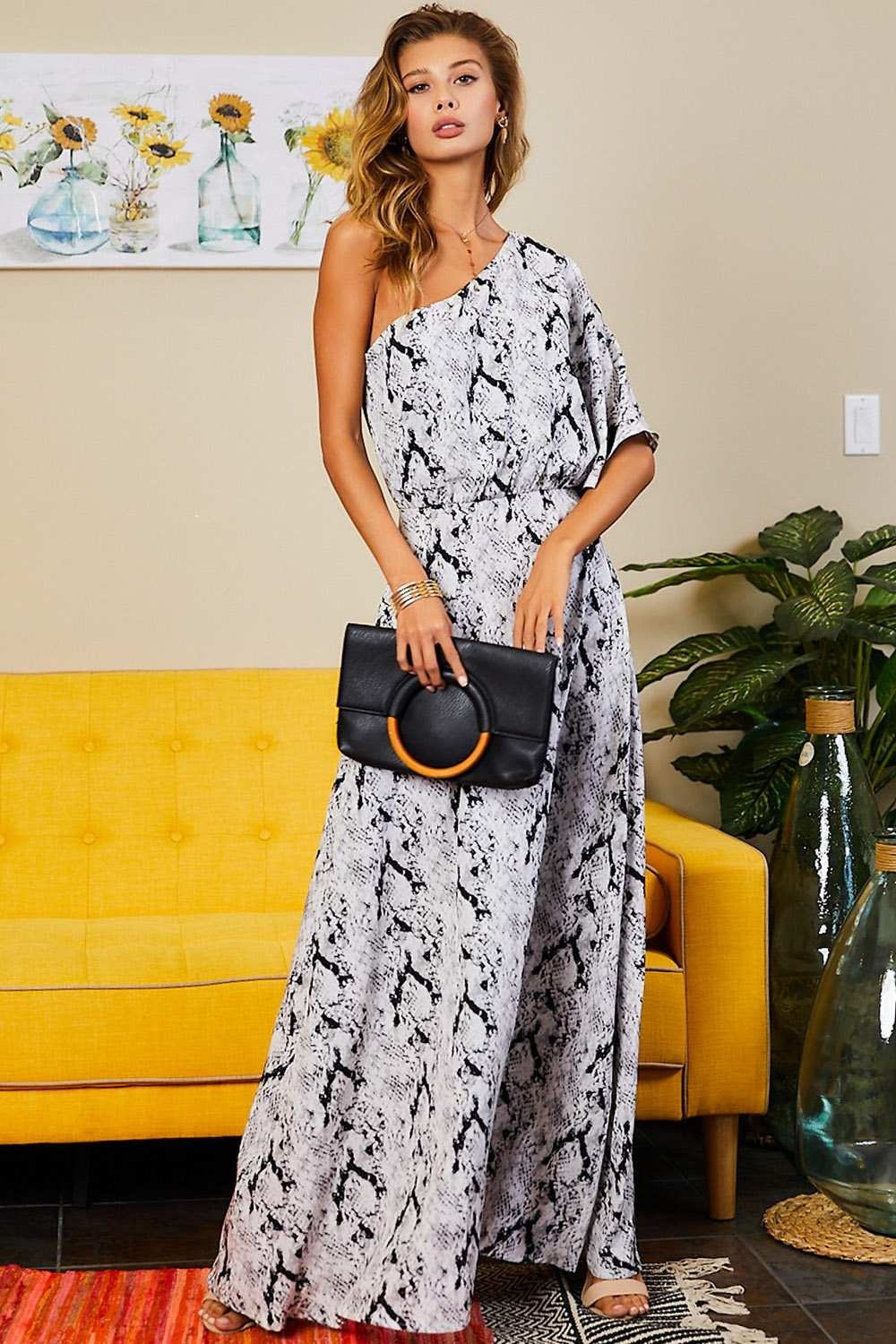 BB Dakota Day Tripping Jumpsuit
Make style easy and effortless with this casual jumpsuit! This women's jumpsuit has a comfortable style with a V-neck tank top and slim-fit pants. The psychedelic pattern adds a pop of color.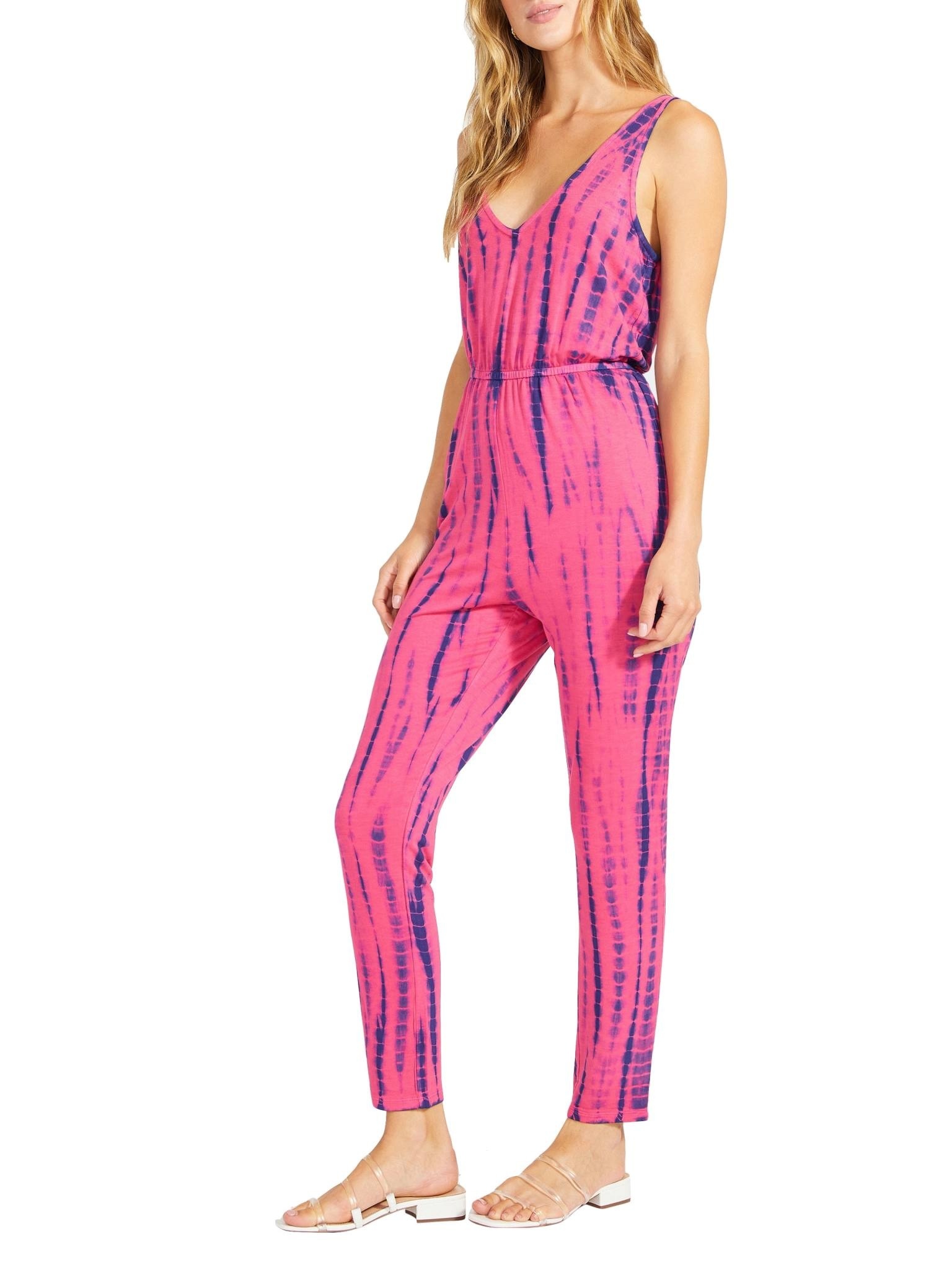 Mary Square Ruffle Off The Shoulder Maxi Dress
Uplift yourself in this beautiful and classic maxi dress from Mary Square! This boutique maxi dress features an off-the-shoulder design that you can dress up with your favorite boutique necklaces and dangling earrings.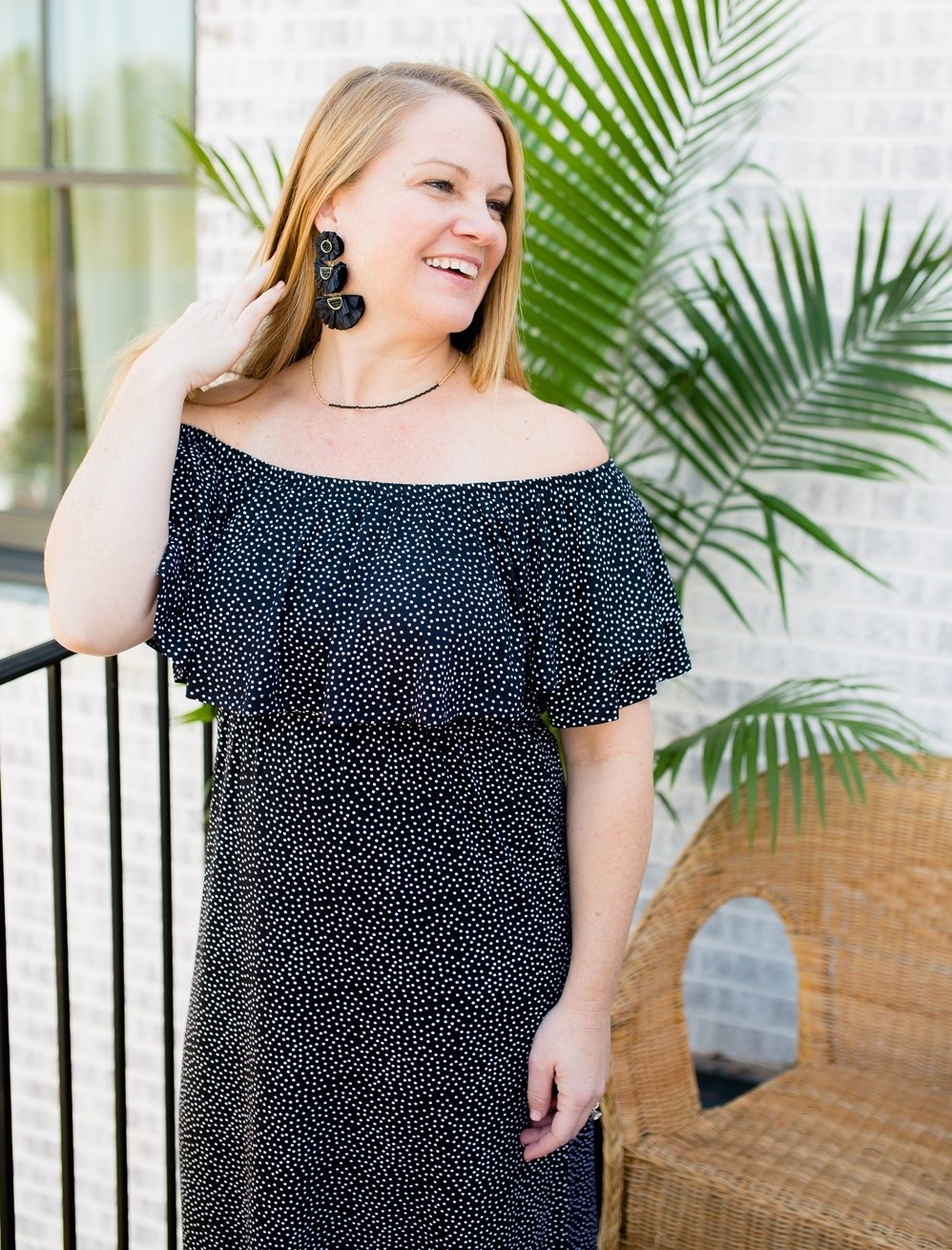 Be bold with your style with this eye-catching cheetah jumpsuit! This jumpsuit has a front tie ribbon for added design and to help accentuate the waistline. Bonus: Pockets!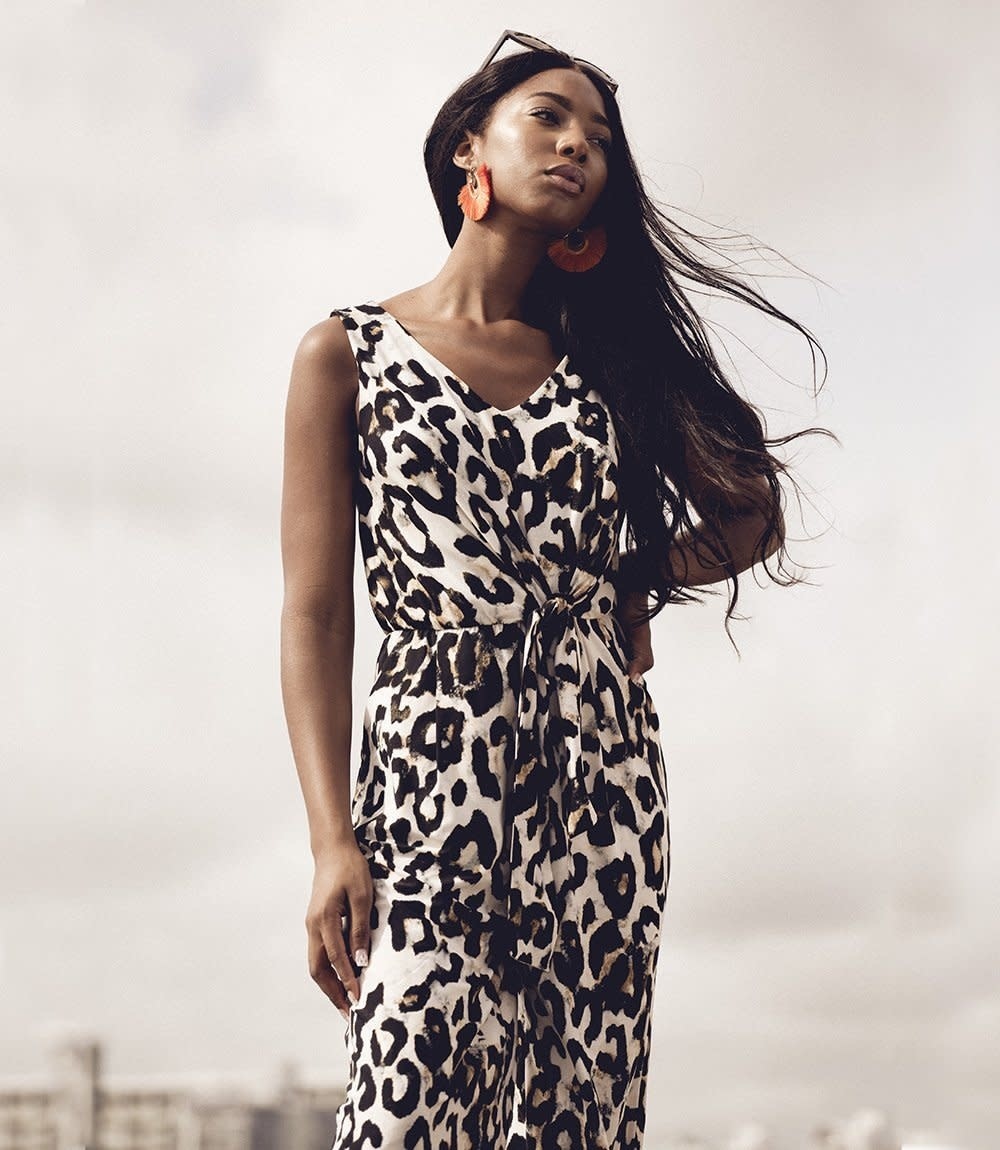 Main Strip Tassel Waist Maxi Dress
Whether you're heading to a wedding or want to feel extra sophisticated on a Monday, this gorgeous and classy maxi dress is a must for your collection. Designed with a front slit and a tie waist.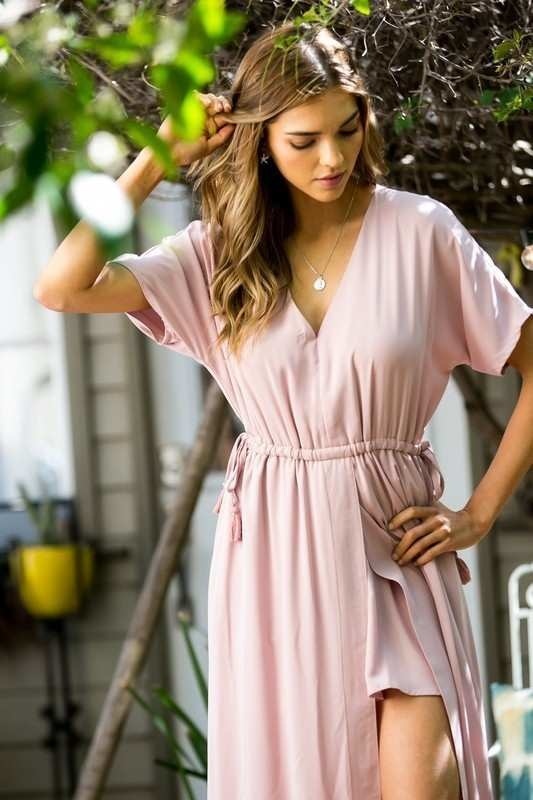 Marie Oliver Dezie Ruffle Dress 
Decorated with a geometric pattern, this ruffle maxi dress has a tiered skirt and a braided waistband. The flutter sleeves bring a flirty flair to this lovely dress.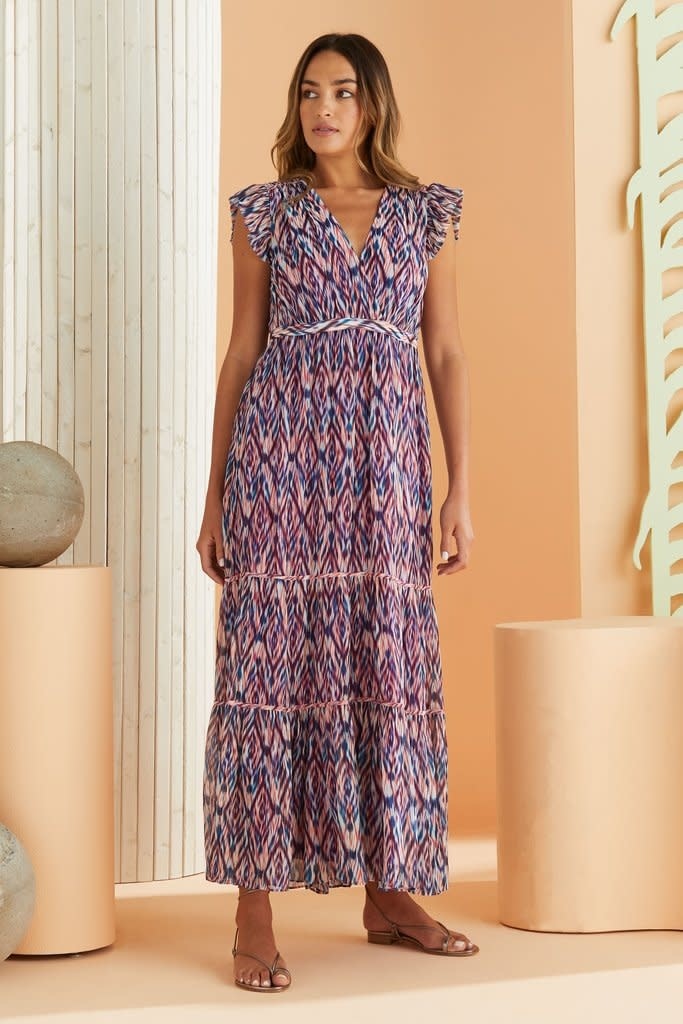 Michelle McDowell Sunset Cruise Layne Dress
This tiered sleeveless maxi dress has a classic chevron stripe print and makes a comfortable and stylish everyday outfit anywhere you go.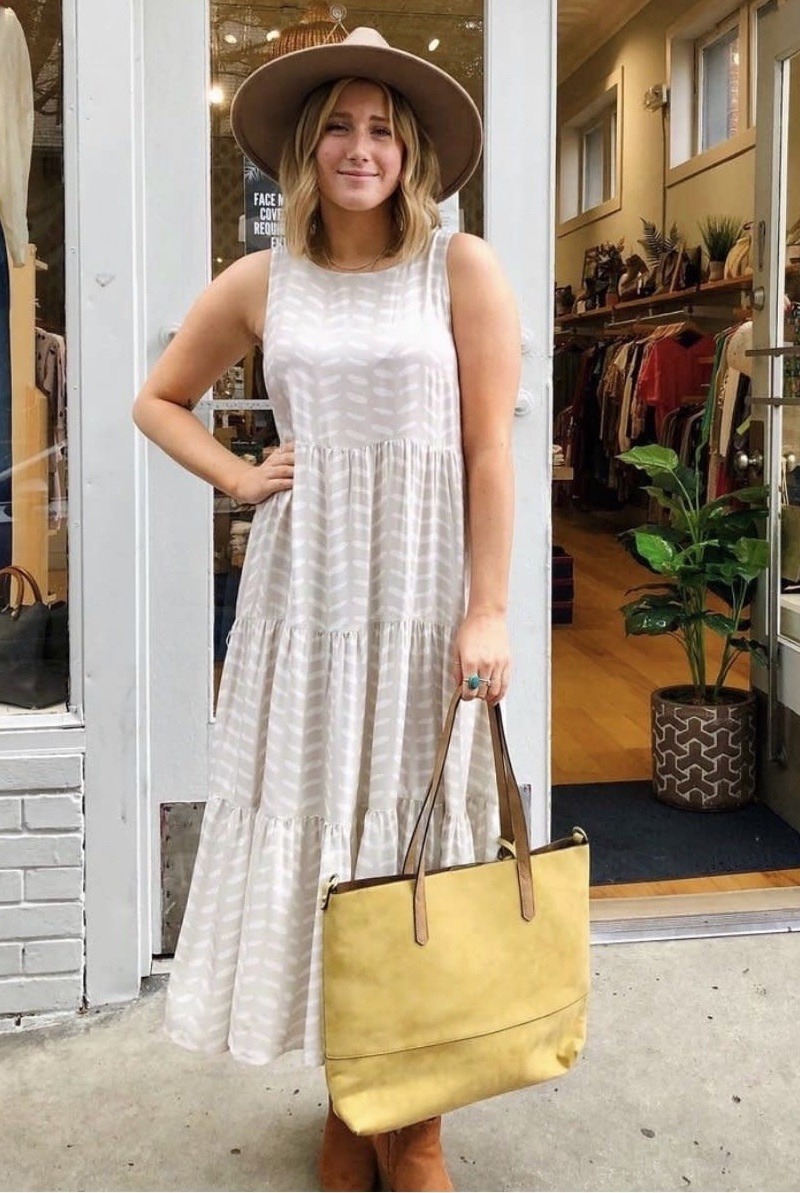 Mary Square Ashley Strappy Maxi Dress 
For the lady on-the-go, this maxi dress gives you an instant chic and trendy look! This strappy maxi dress has a V-neckline and super thin spaghetti straps, giving you the quintessential summer look for any occasion.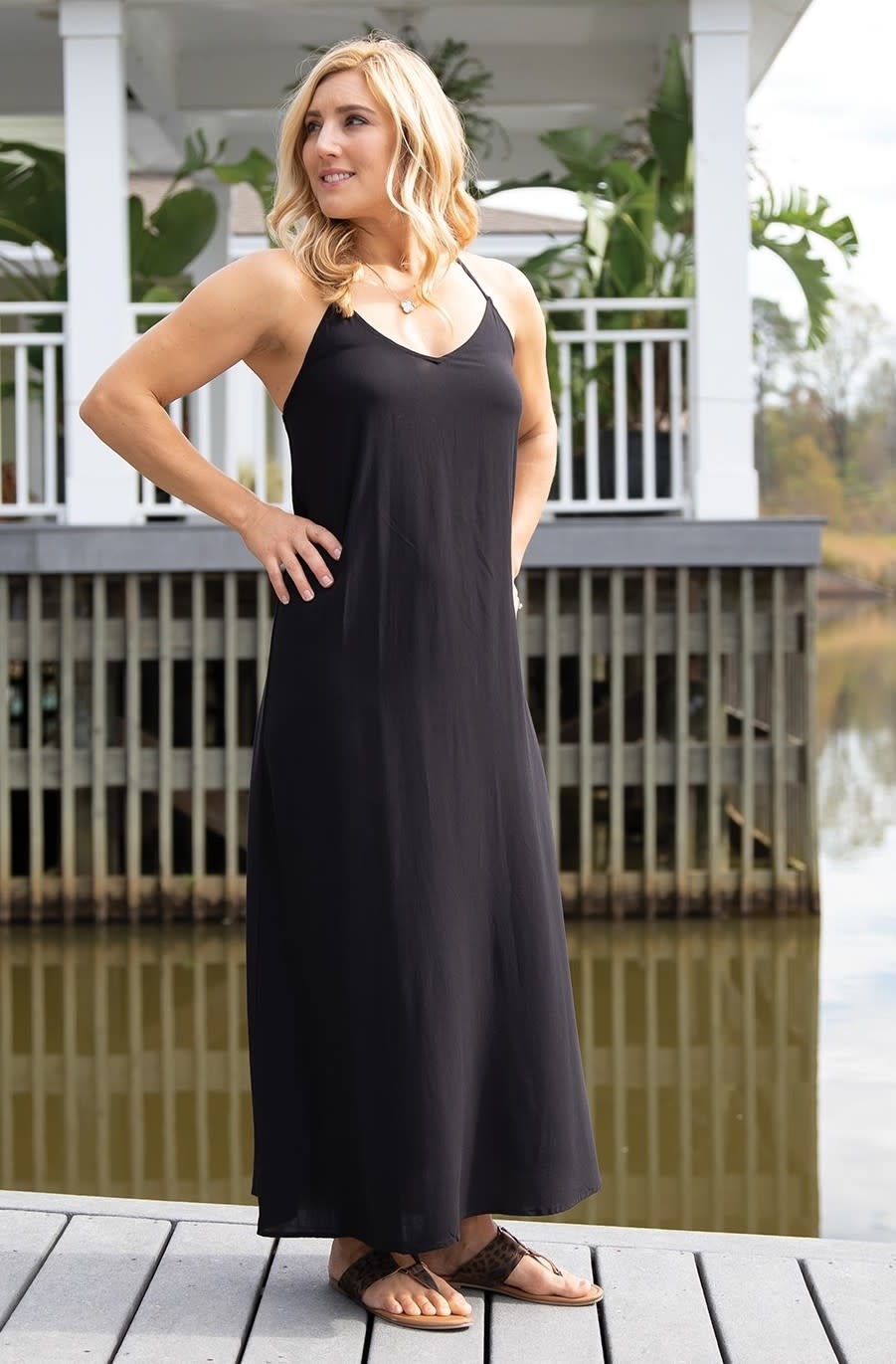 Make this resort wear romper a part of your collection! This casual-chic romper features a surplice front design with kimono sleeves, giving this one-and-done outfit a sleek and modern look.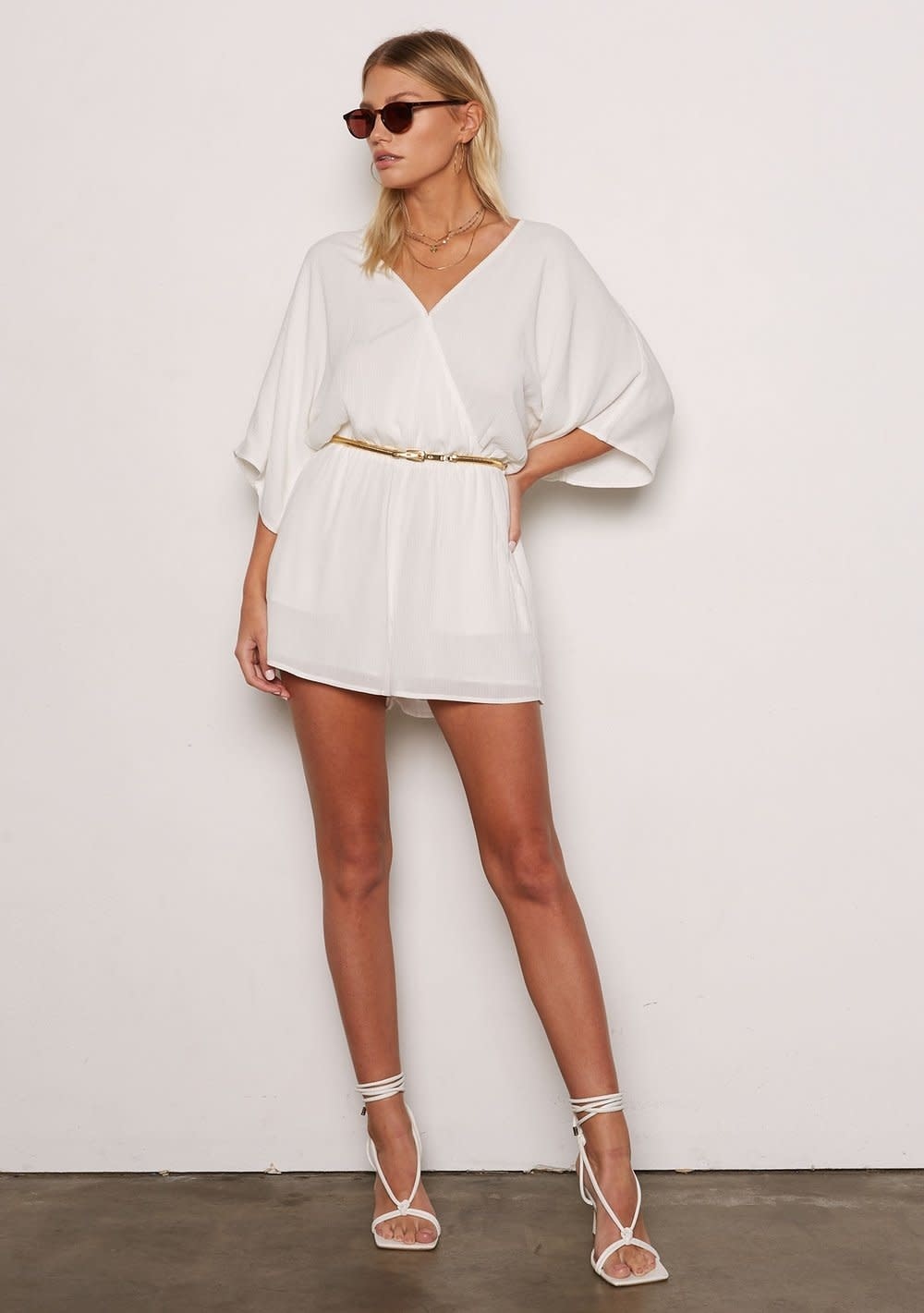 Fun & Trendy Summer Tees, Tanks, and Tops
Stock up on blouses, camis, tanks and more from Abraham's Women's Boutique Clothing collection! Pair your favorite summer bottoms with any of our women's summer tops for trendy styles all summer long!
Casual and comfortable, this women's sleeveless tee gives a nod to the '80s with its shoulder pads. A fun way to dress up your everyday outfits!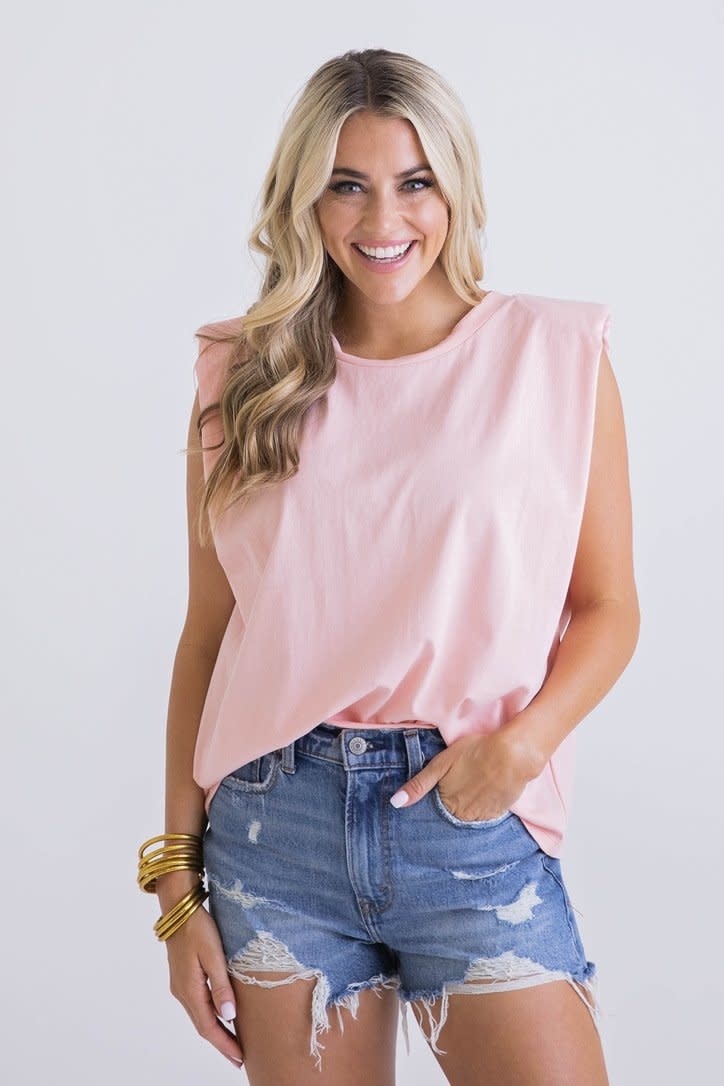 This simple and stylish women's cami features a V neckline on the front and a racerback design. Wear with your favorite shorts or jeans.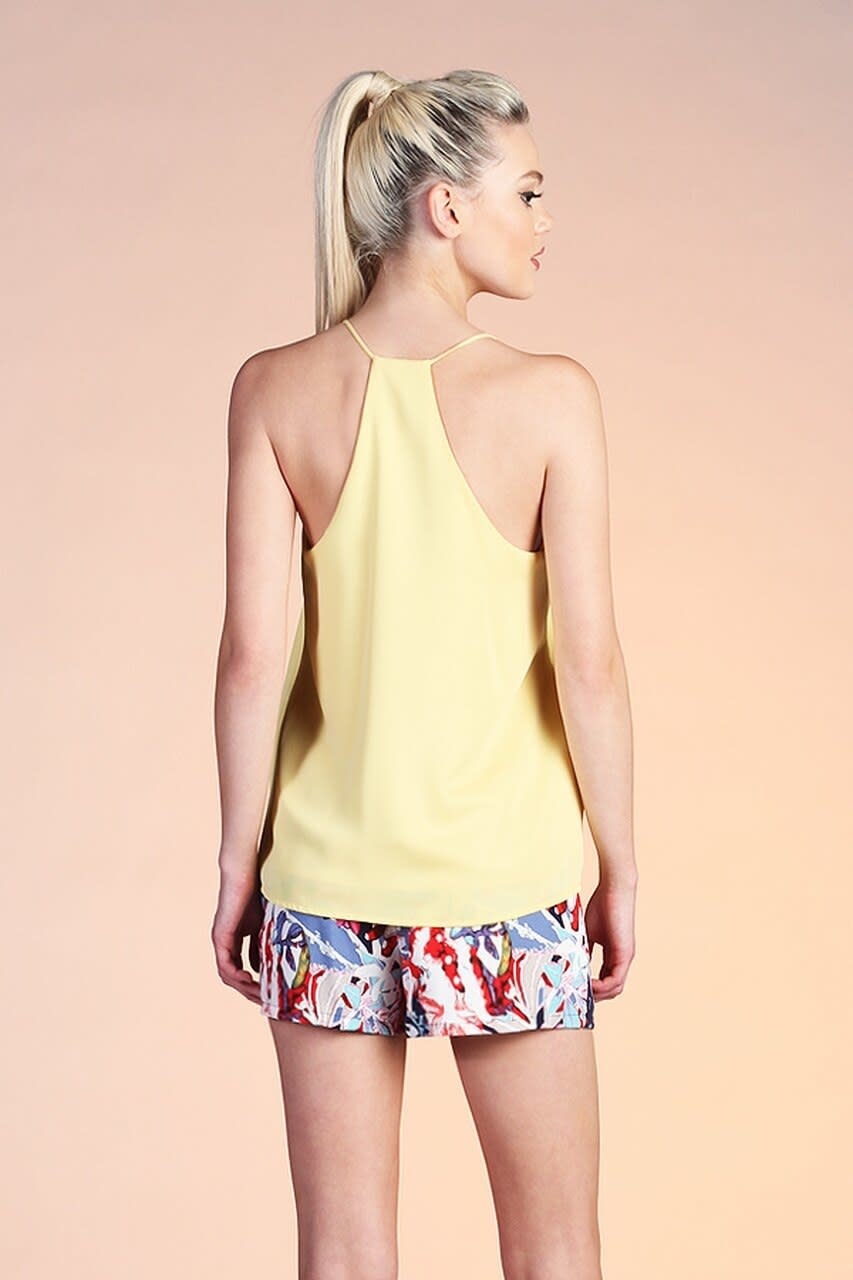 Liverpool Shimmer Draped Knit Tank 
For a more upscale tank top, this shimmer draped knit tank has a billowy and glimmering design that helps elevate your attire - perfect for date nights and evenings out with your girlfriends.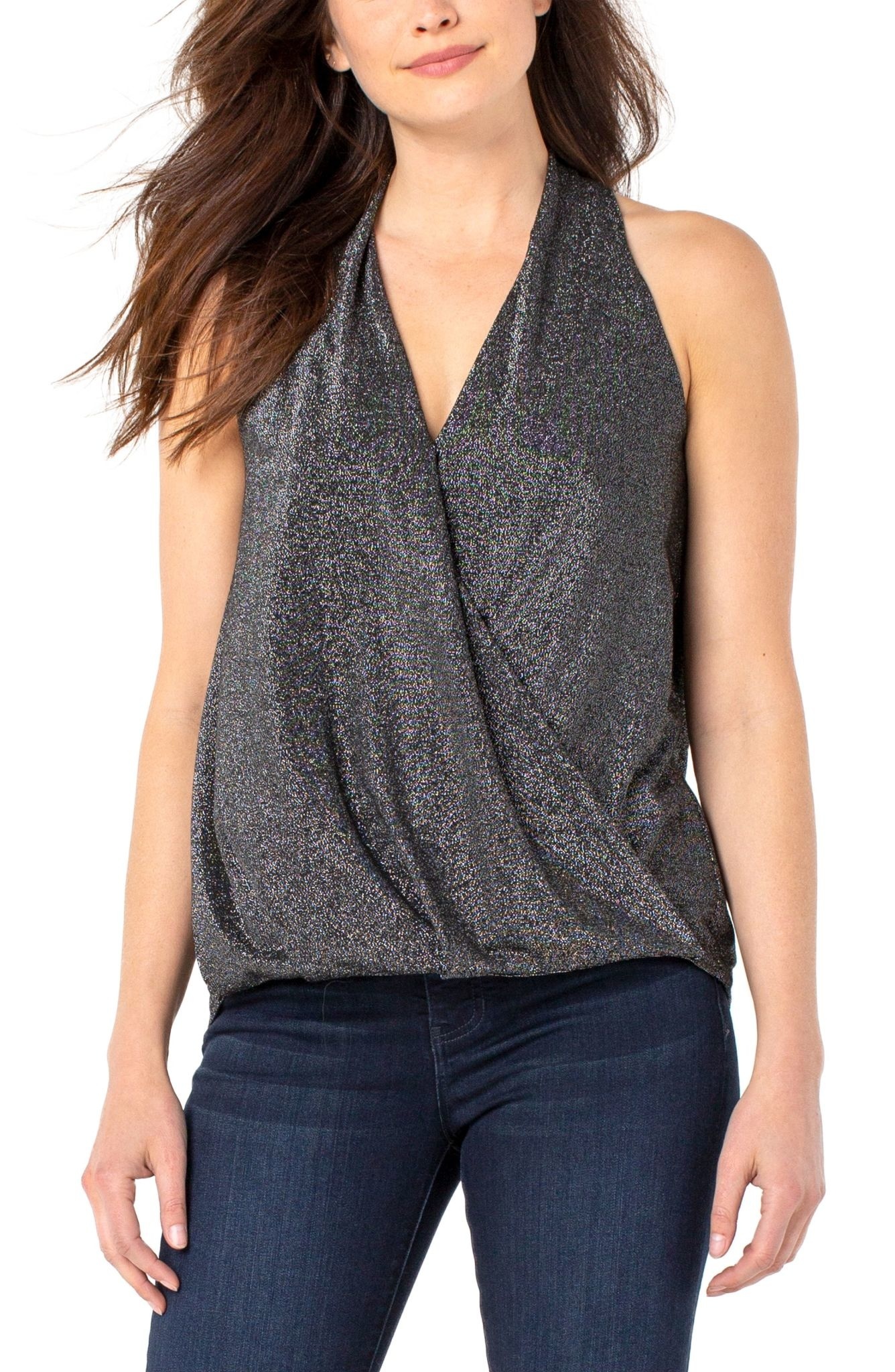 Karen Kane Toile Print Peasant Top
Glam up your summer look with this vintage-inspired and sophisticated top! With its charming and intricate pattern and whimsical balloon sleeves, this stunning top is lightweight and lovely to wear for special occasions.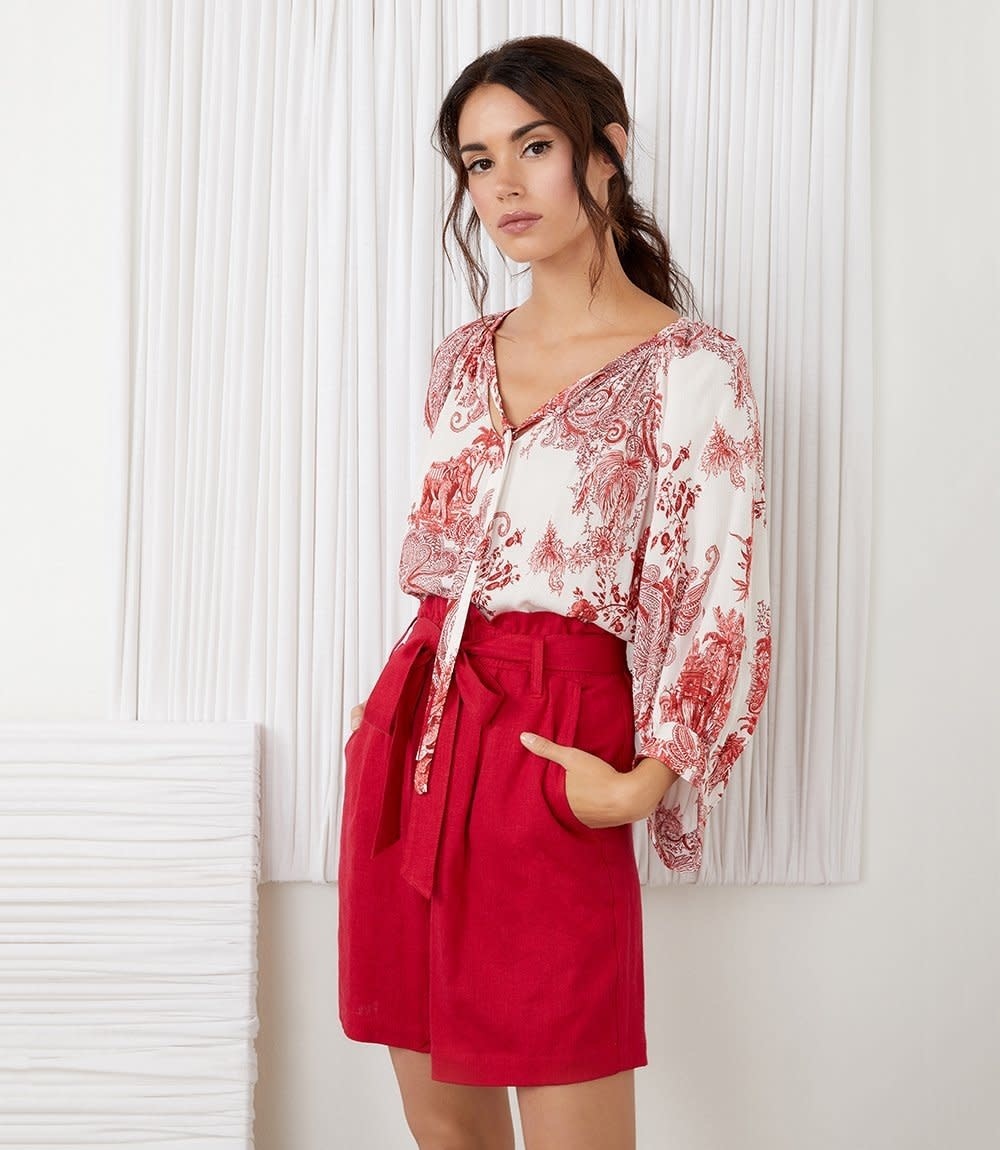 Renuar Short Sleeve Snap Front Top
This modern-style short sleeve top has a relaxed fit with a snap-front closure that hides the buttons, giving this top a clean and sleek look. Great to wear and dress up or down!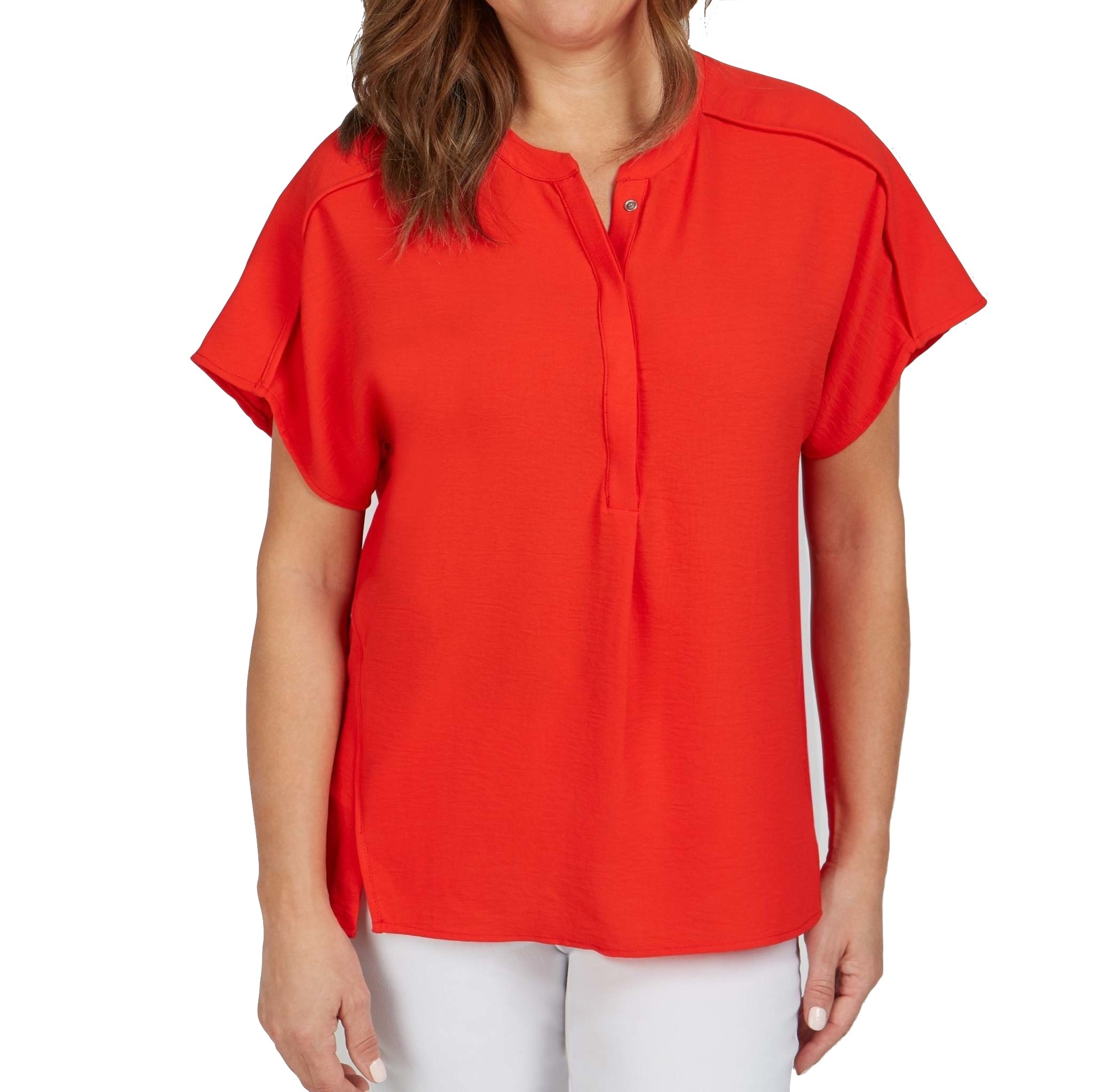 THML Embroidered Print Halter Top with Tassels
This women's halter top has a fun tropical design with a fitted top half and a flowy bottom half, emphasized with an empire waistline - similar to a peplum top style! The gorgeous floral embroidery elevates the design of this halter top while the waistline is dotted with charming tassels.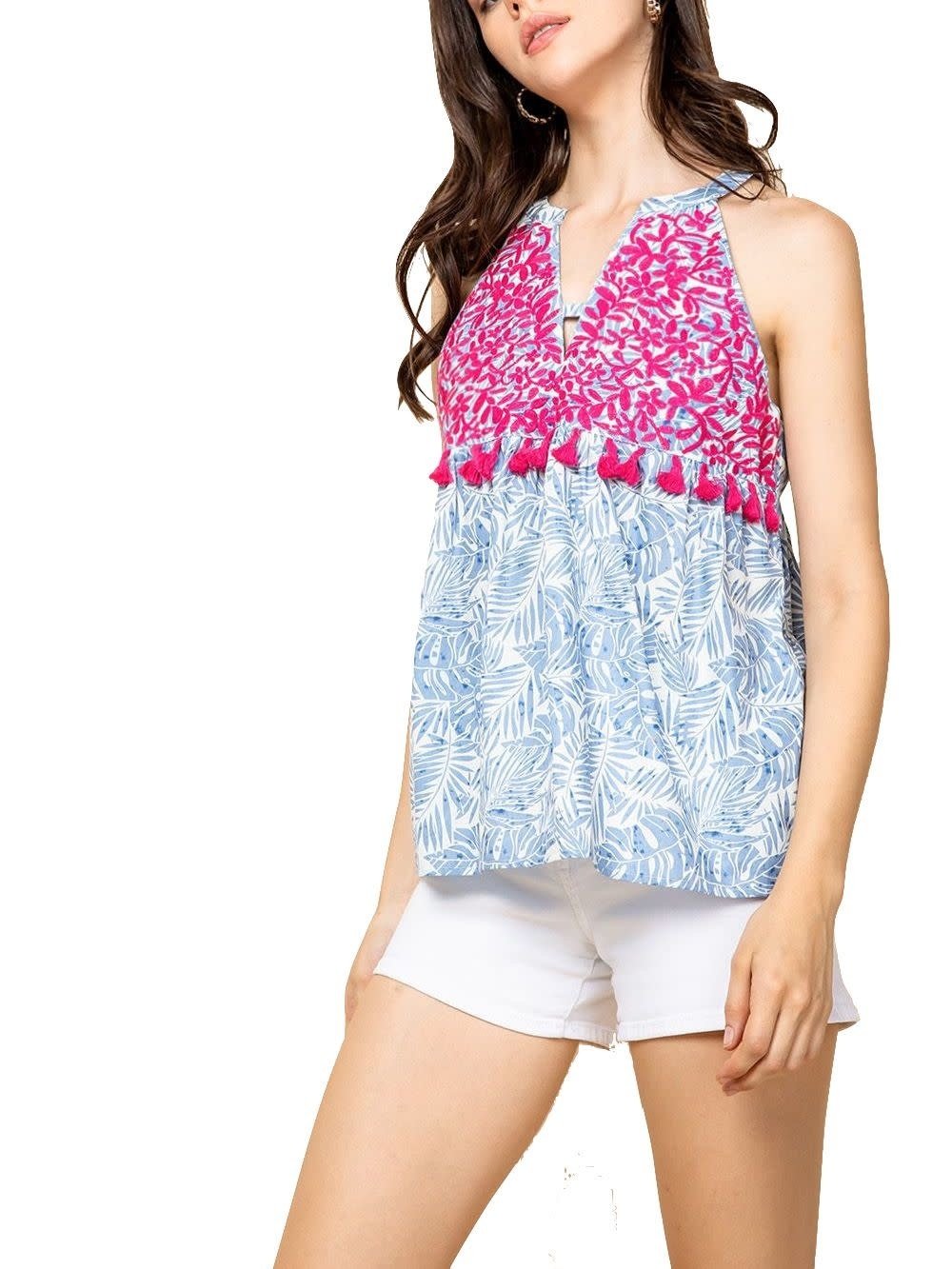 Light and sheer, this snakeskin print casual top for women boasts a ruffle design around the shoulders and collar and a feminine split neckline with ties. Comes in a soft sky blue color.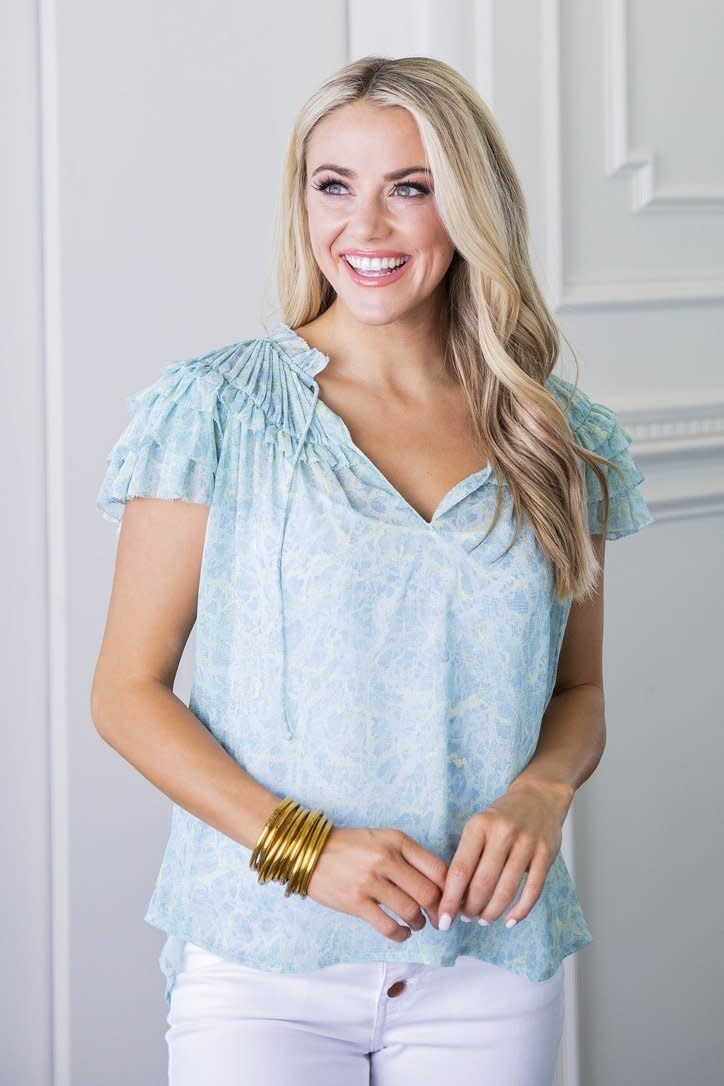 Michelle McDowell Willow All Squared Away Top
As one of our top-trending boutique tops for women, this Michelle McDowell exclusive has a bold and vibrant geometric pattern and a classic V-neckline.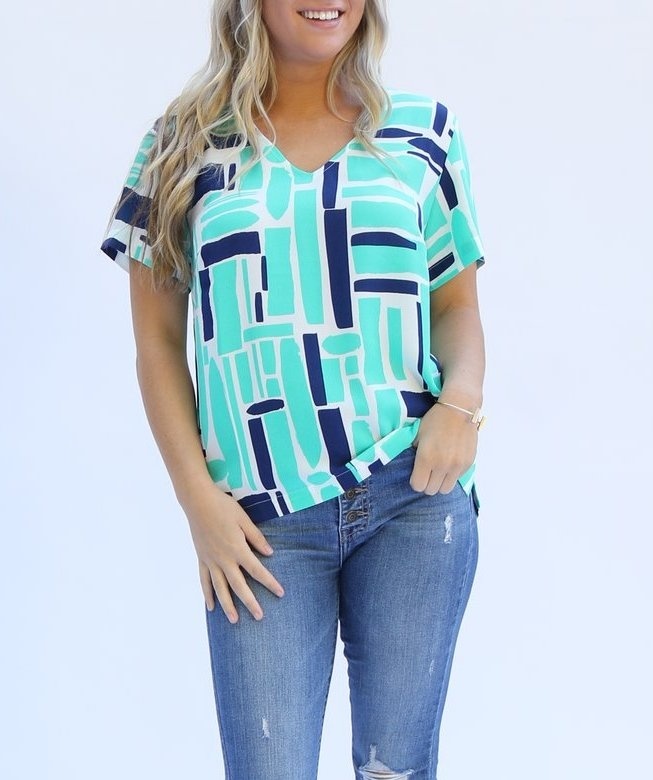 Tie-dye is back, and it's here to stay! Get the Kerisma Adana Tie Dye Top for your collection. With a relaxed, comfortable fit, this women's casual tie-dye top features a high-low hem and short sleeves with side button tabs.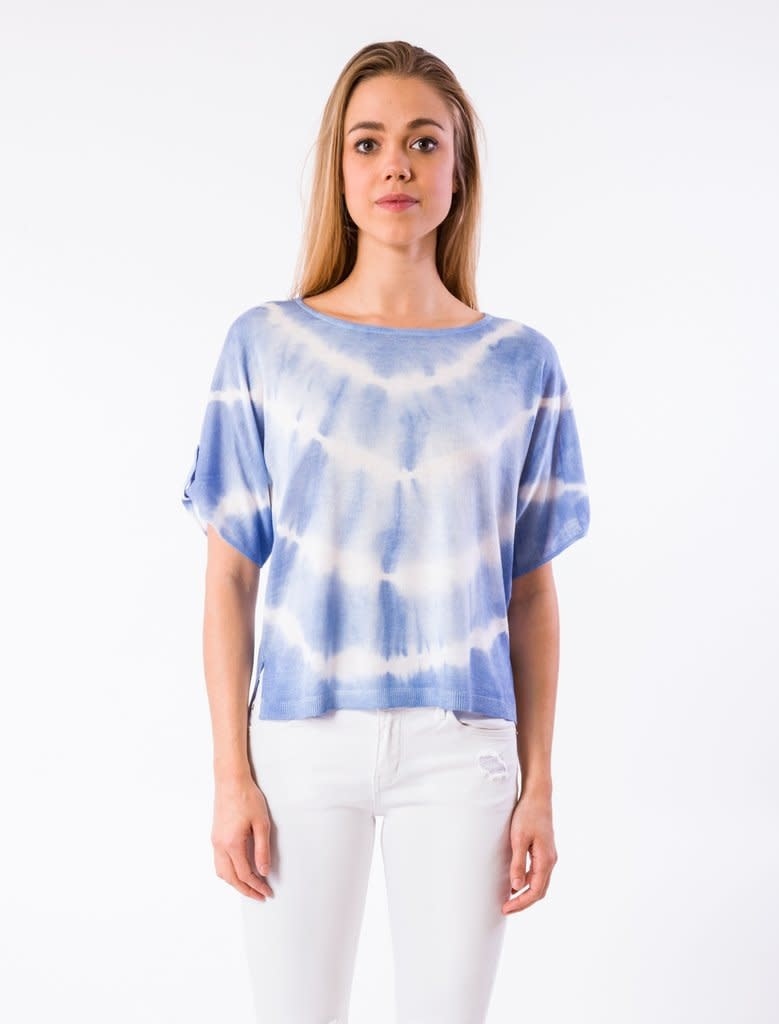 For an alternative to classic tie-dye tops, the Joh Dip Dyed Wineva Gauze Top has a more modern ombre-like pattern and color scheme. Designed with a front tie and button-up front style. Perfect to wear glammed up or dressed down!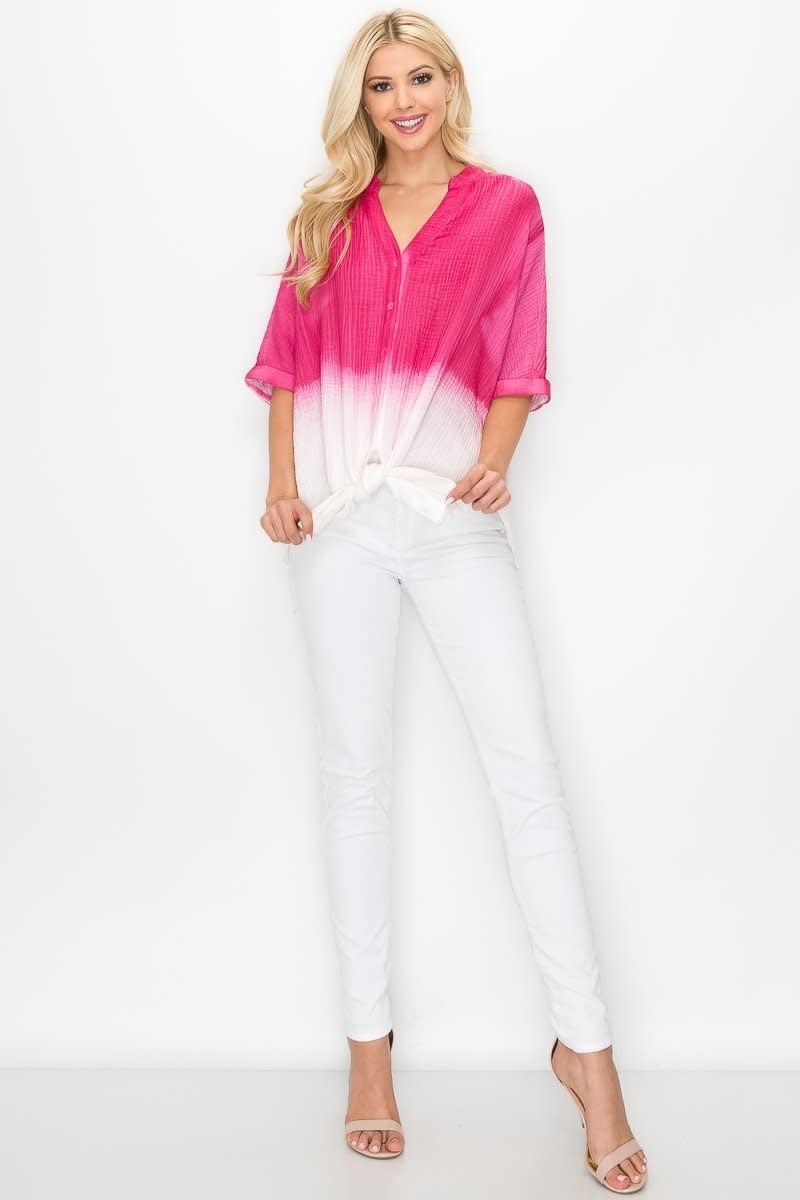 Women's Swimsuit Cover-Ups That Double As Dresses
Whether you're just going outside to your backyard pool or heading to the beach after a long time in lockdown, you can look and feel your best with stylish cover-ups from our collection. Some even double as everyday daytime dresses for effortless transitioning from one style to another. Explore several of the trendy women's swimsuit cover-ups we have in stock here: 
Royal Standard Pompano Off Shoulder Cover Up
Elegant, feminine, and chic, this off-shoulder cover-up dress has a vertical striped pattern and a stretchy, ruched neckline so that you can adjust the off-shoulder look as you wish. Short sleeves with dainty side ties for an added flair!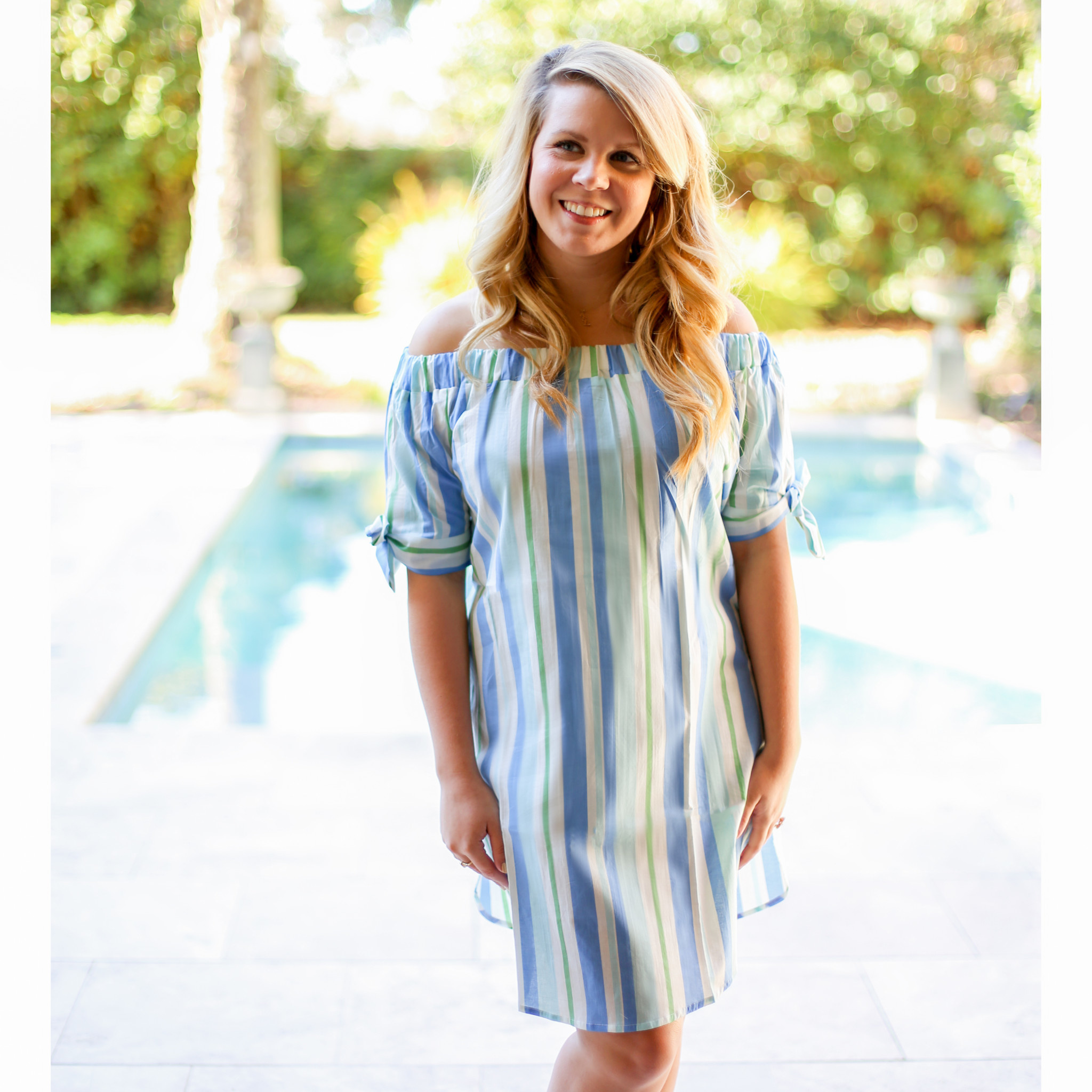 Walk in style and show off your favorite swimsuit with the Echo Paisley Pareo Wrap! This fashionable and functional piece gives you a graceful look with a side tie and side slit. For a more convenient and travel-friendly version of the Pareo Wrap, check out the Pareo Wrap In A Bag.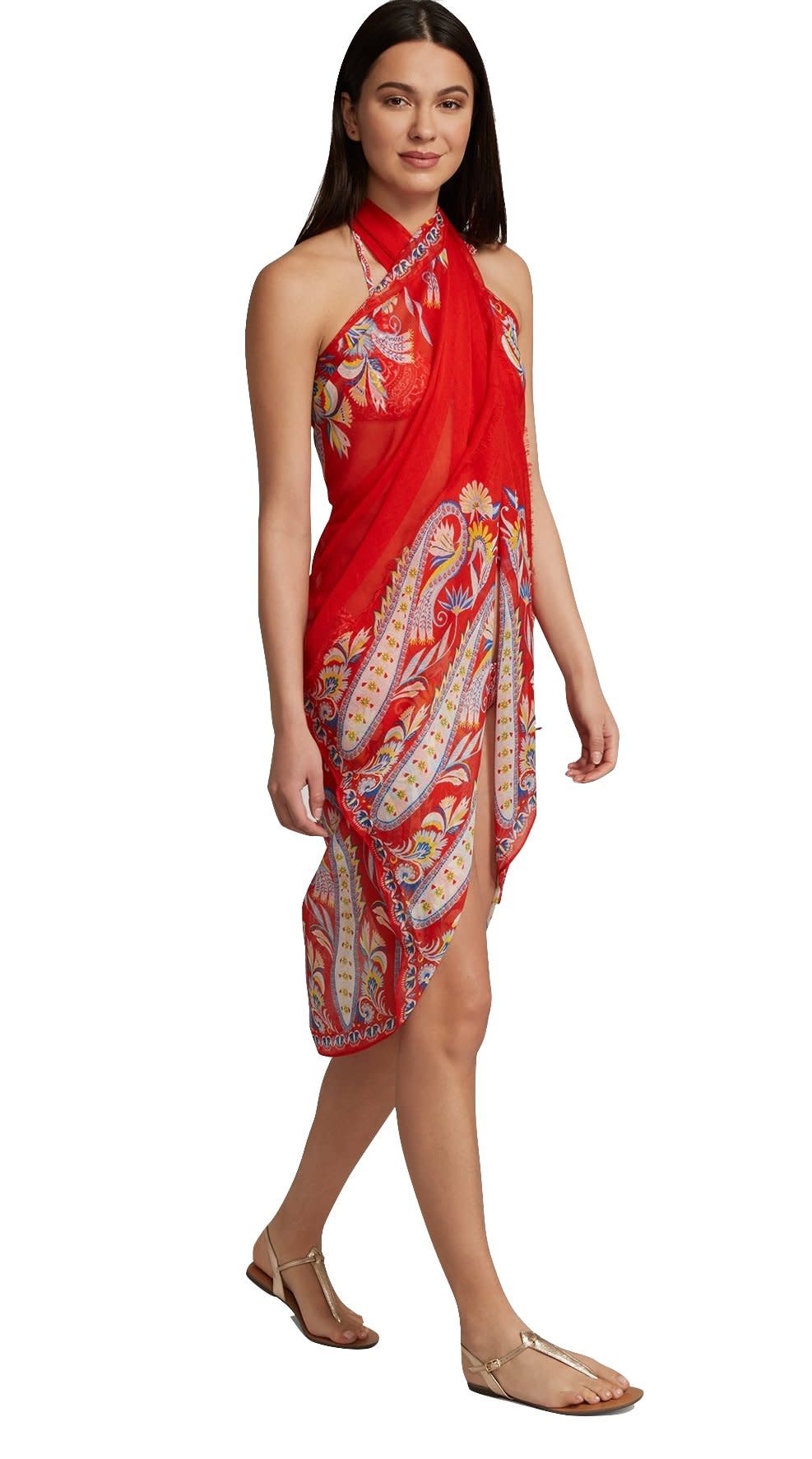 Echo Boardwalk Stripe Seaside Caftan 
Perfect to wear with your bikini or one piece, this sheer caftan-style women's cover-up dress features an off-shoulder look with a waist tassel tie and pom-pom-lined hem. 
Simple and modern, this eyelet cover-up mini dress has a fun and trendy style with a perforated design and a V neckline. This cover-up is also great to wear with a cami or tank top dress for a layered look.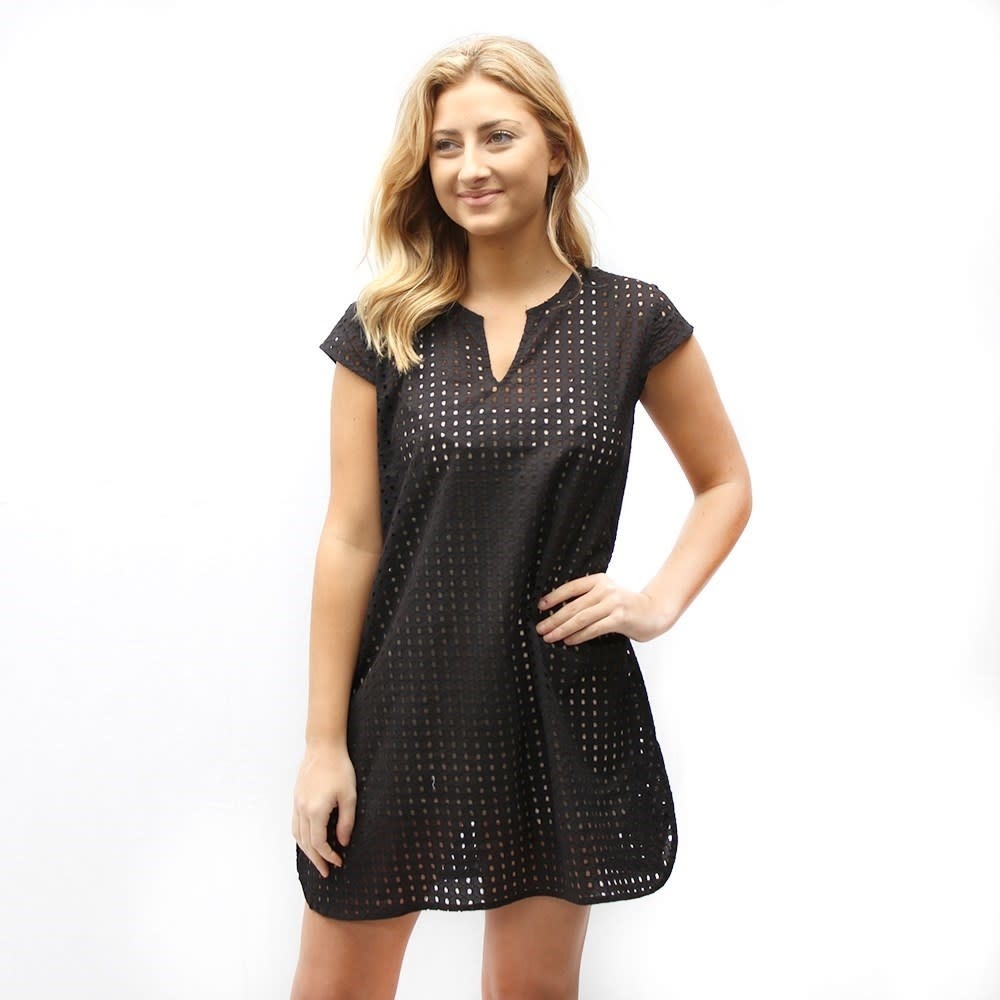 Stylish & Comfy Women's Summer Shorts and Pants
Build your collection of summer shorts and pants with our extensive collection of women's bottoms! Whether you need upscale shorts for a summer evening outfit or you want casual pants that are comfortable and breathable, we have all you need here at Abraham's. See what's in stock currently in our collection: 
These colorful women's high-waisted shorts have a dressy appeal with the pleated design. Features side pockets and a hidden zipper and button closure.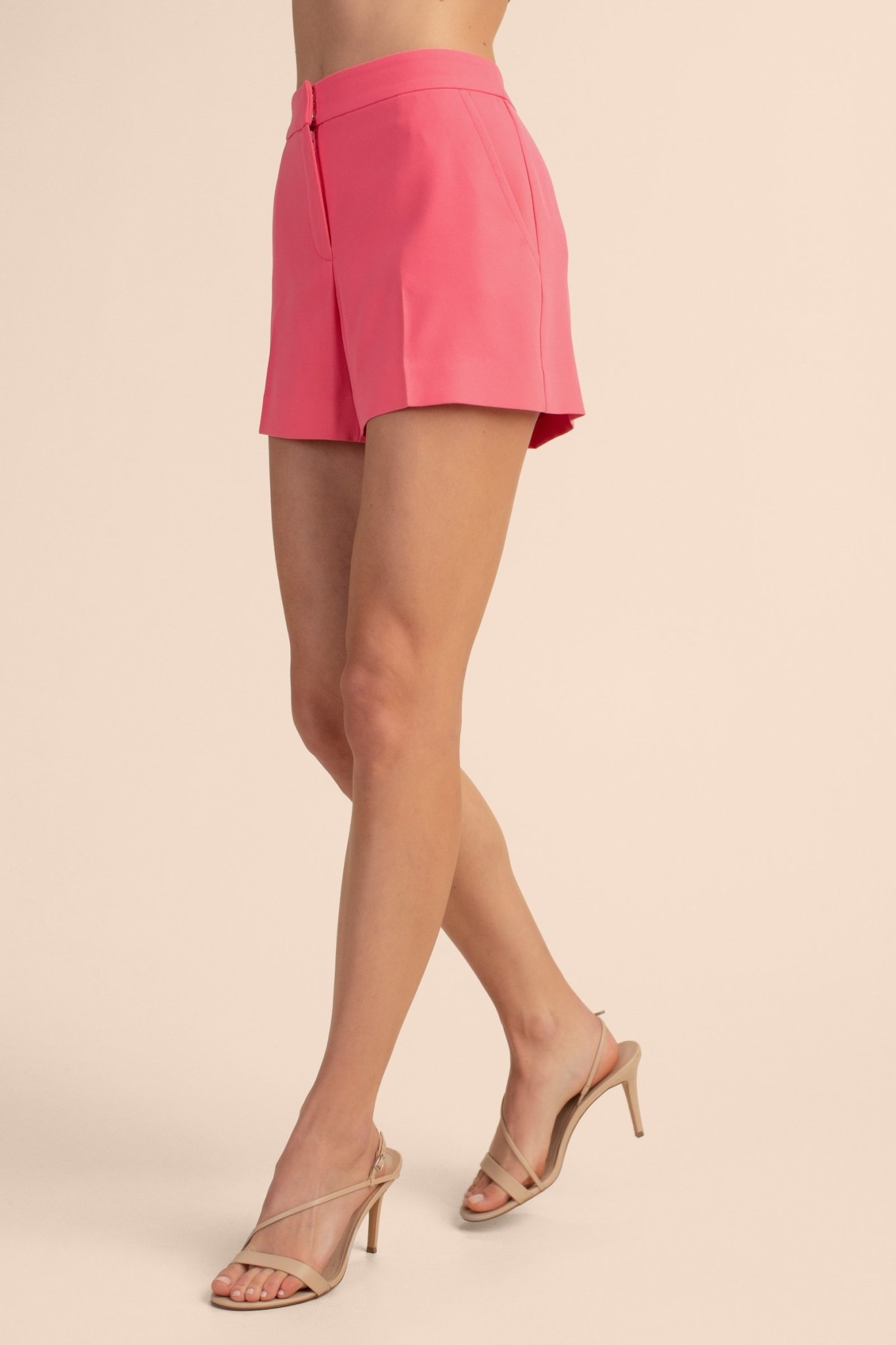 With a layer of delicate lace, these feminine shorts have a boho-chic appeal and are versatile enough to dress up or down.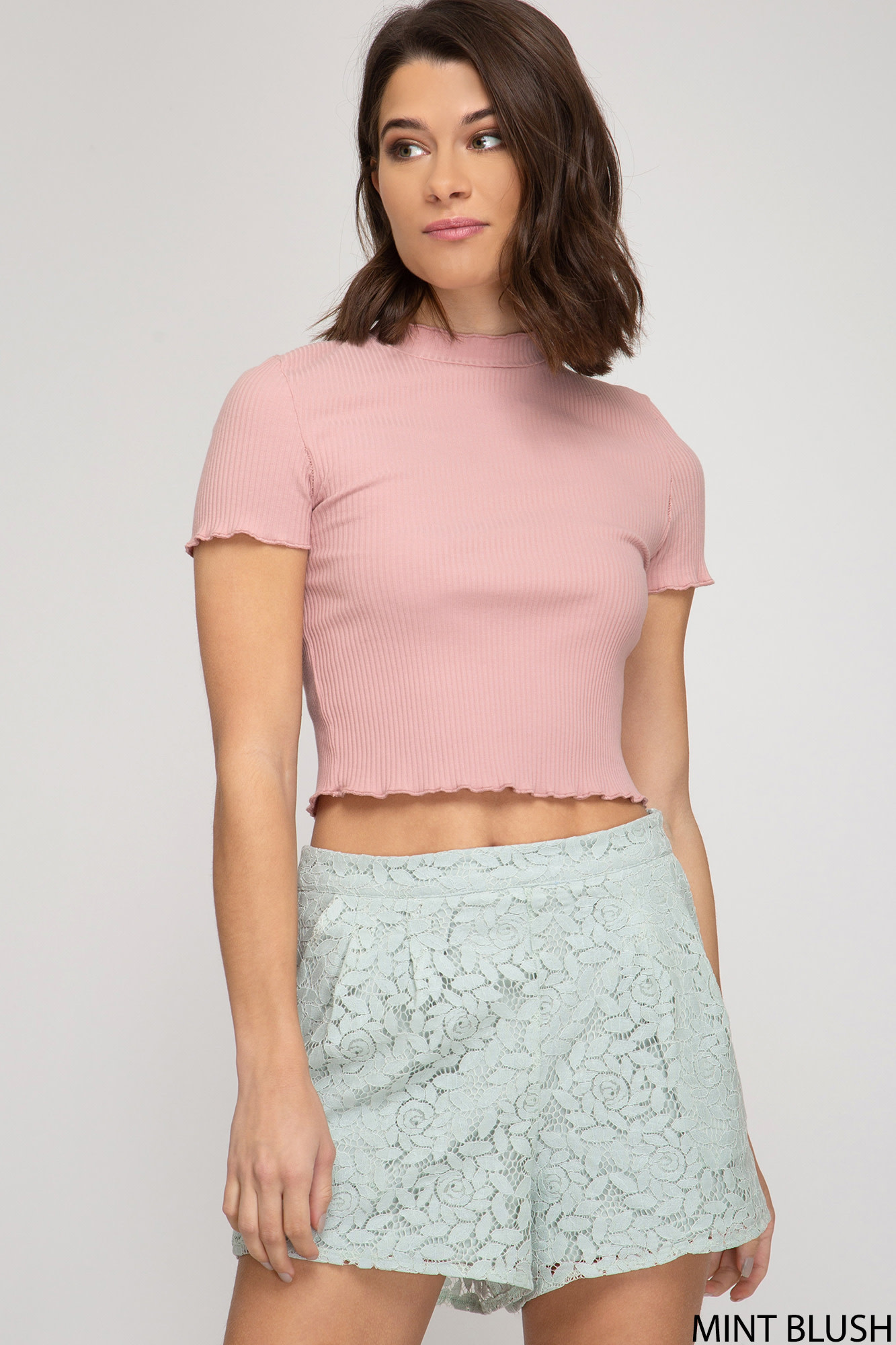 Seamless and classic, these cropped pants for women feature a flared hem and pairs well with your favorite sandals, wedges or heels.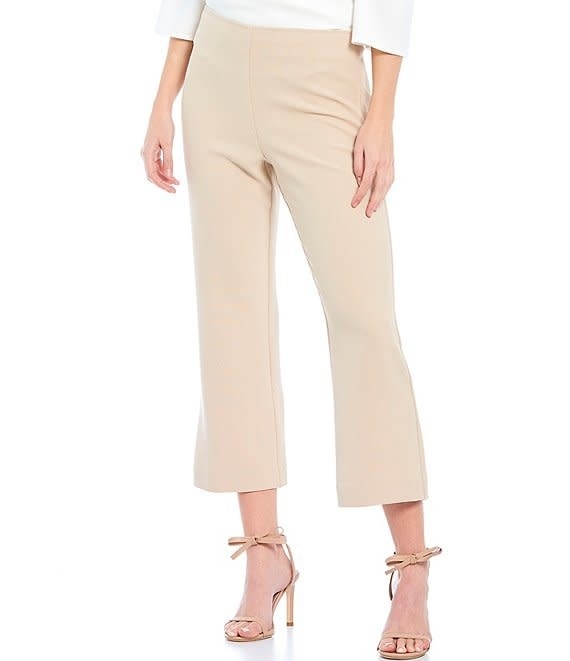 Liverpool Abby Ankle Raw Hem Skinny Jean in Coral
In a lovely and perfect-for-summer coral color, these cut-off capri skinny jeans for women brighten up your outfit with its colorful charm! These ankle jeans have raw hems for a more casual and trendy look.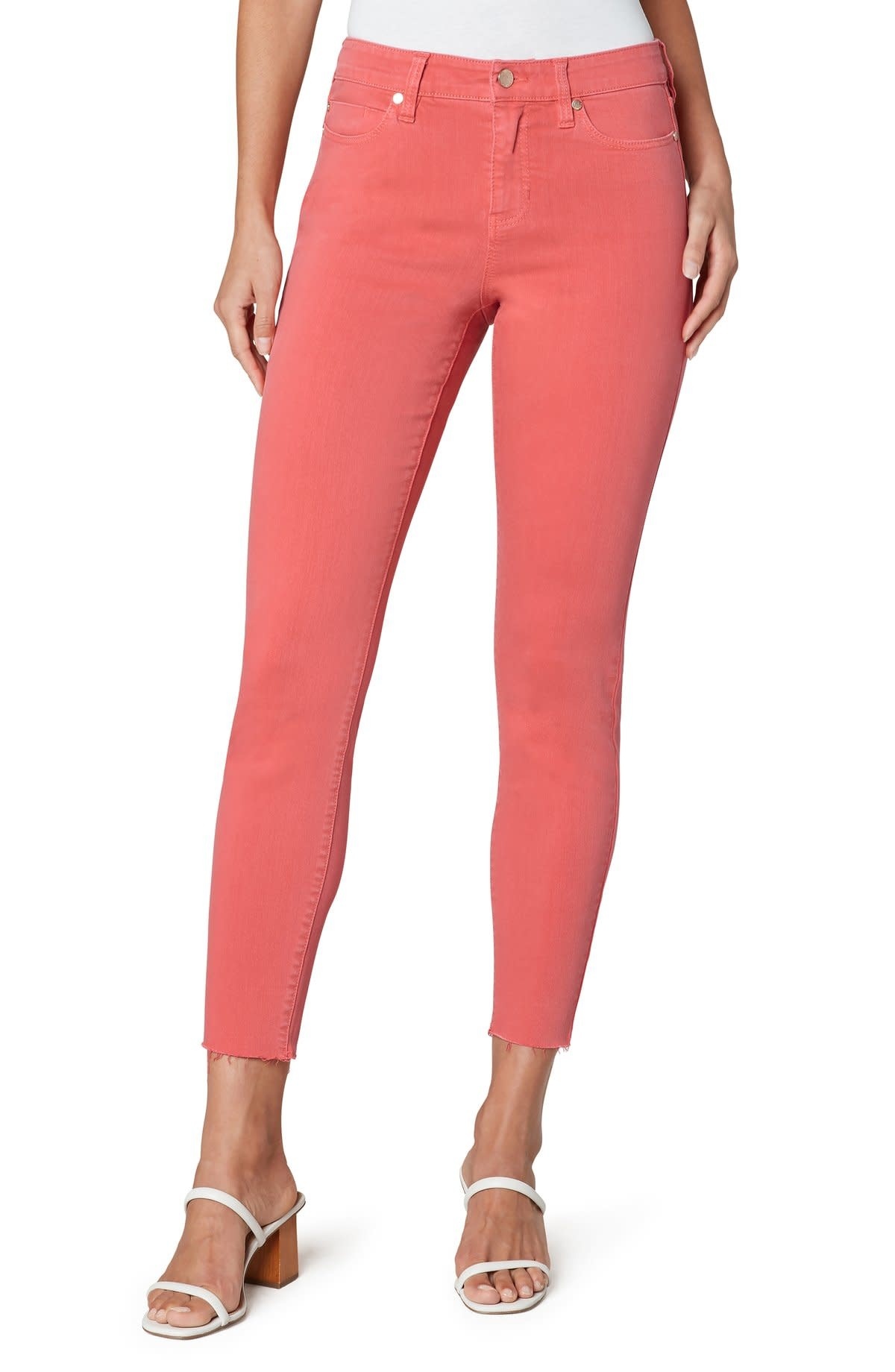 For classic summer denim jeans, these cropped capri distressed jeans for women are excellent to have in your fashion arsenal. Comes in a classic distressed design.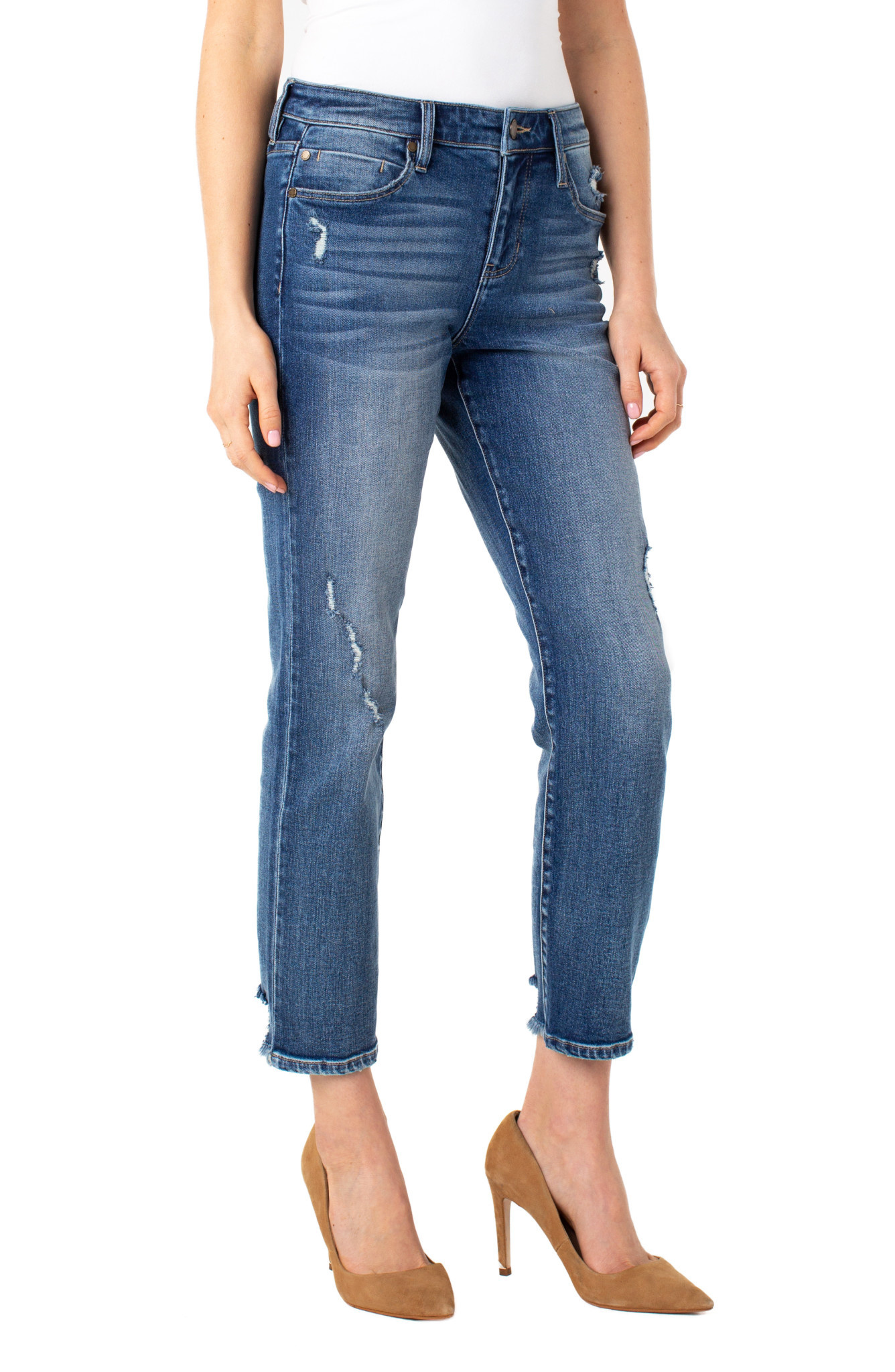 Timeless in style and comfortable for all-day wear, the Karen Kane Wide Leg Pants are cropped at the ankles and feature a wide leg design that looks both casual and sleek. Features a stretchy waistband and pockets.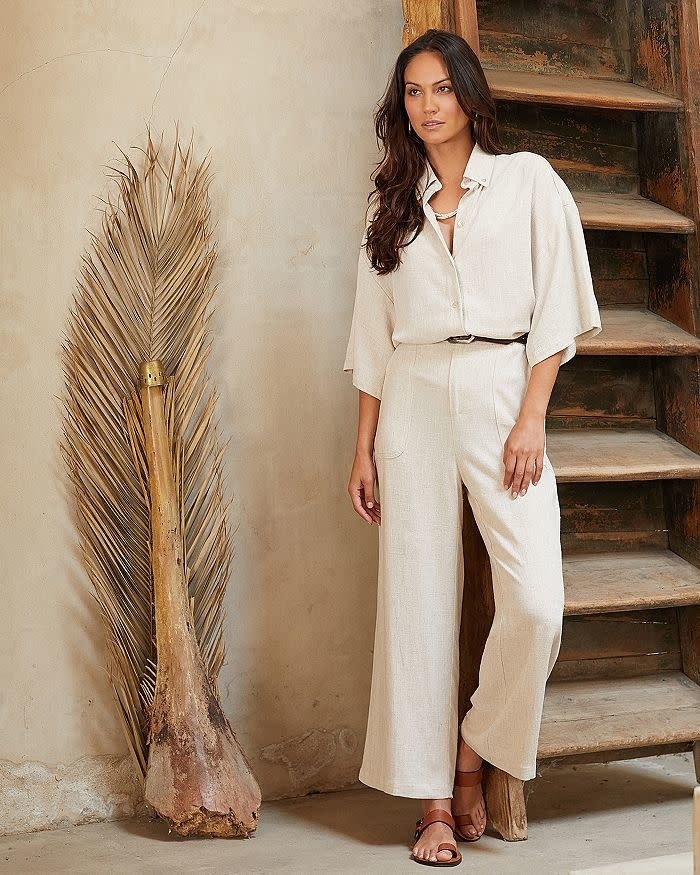 Liverpool Dot Print Trouser Shorts with Welt
Skip the cut-off denim shorts and make this quirky and stylish pair of polka dot shorts a part of your attire! These classic women's trouser shorts have belt loops for accessorizing and side pockets for convenience.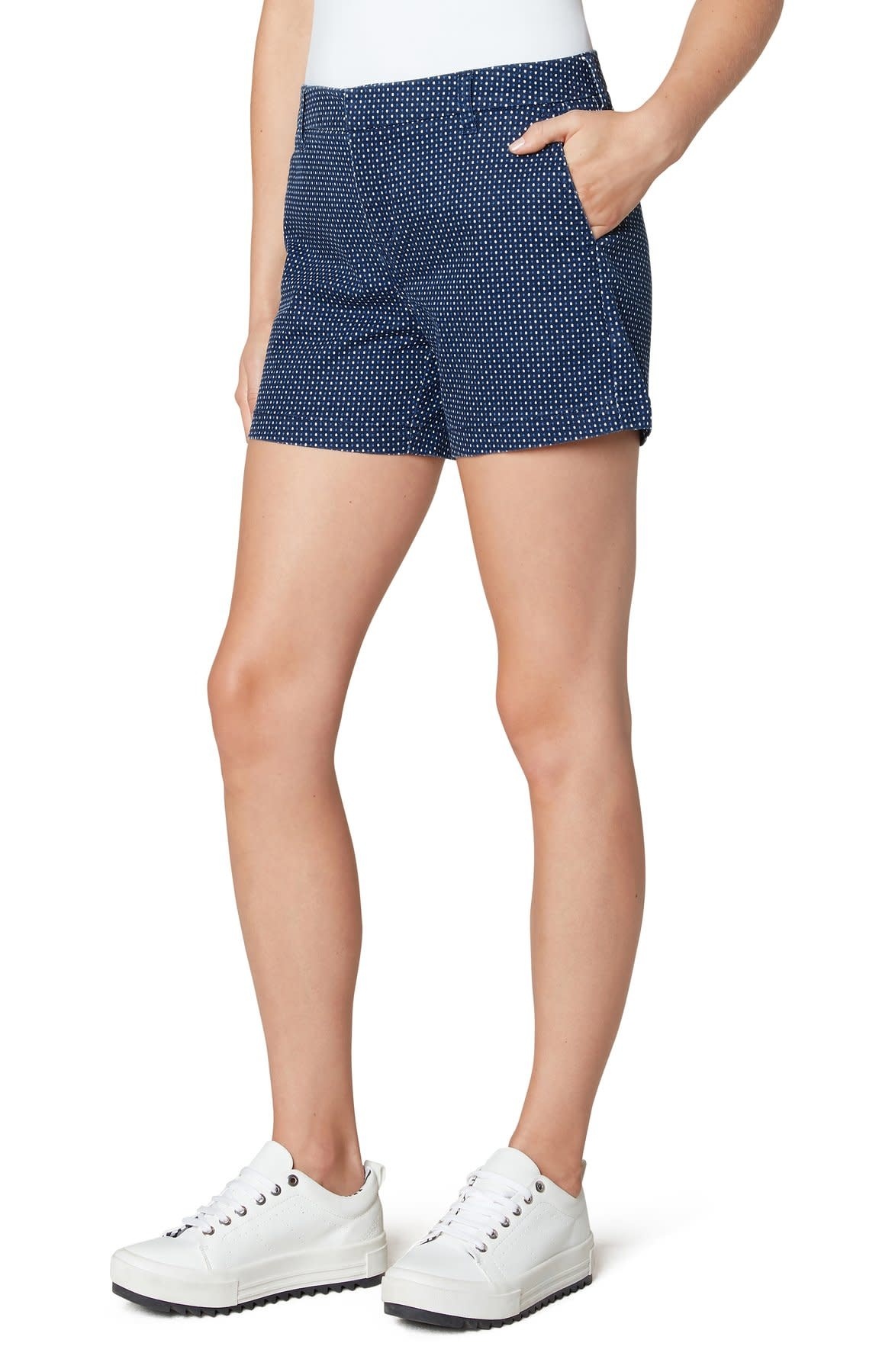 Light Summer Jackets & Cardigans
Even hot summer days can have cool evenings and rainy days. Prepare for these times with our light summer jackets, cardigans, sweaters, and more that you can wear even in warm weather seasons. 
Ciao Milano Tafani Unlined Rain Jacket 
No need to carry an umbrella with you when you have the Ciao Milano Tafani Unlined Rain Jacket! This light luxury rain jacket for women comes with a stow-away hood and a water-resistant fabric to keep you dry during summer rain showers. This rain jacket also can be folded in a compact form and carried with ease when not in use - a great alternative to the more bulky and intrusive umbrella!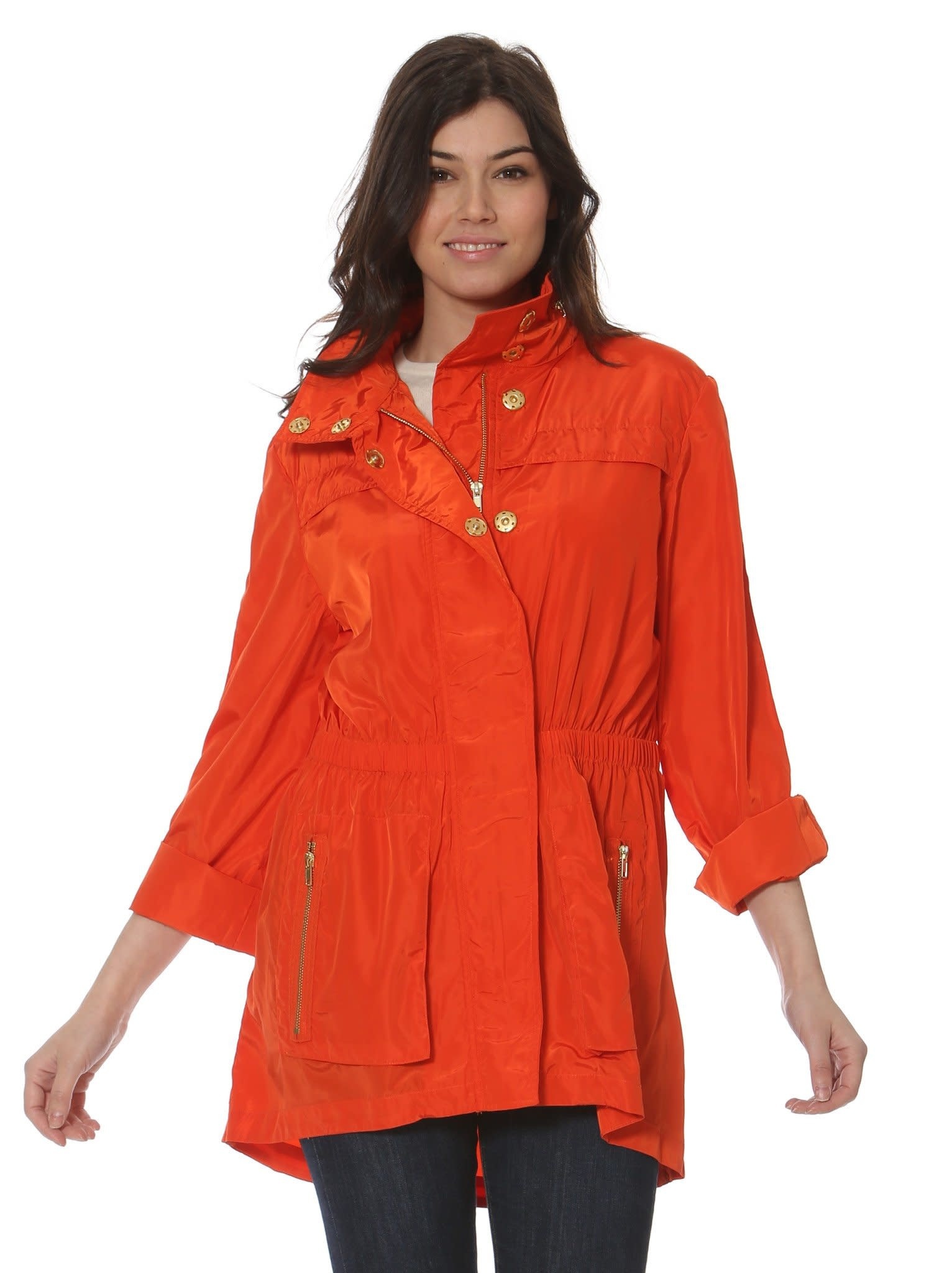 Main Strip Bubble Sleeve Knit Cardigan
Super light and stylish, this boho-chic women's long-sleeved knit cardigan gives you just enough coverage even on hot summer days. Features a geometric knit design and a sheer style - perfect for pairing with camis and tank tops!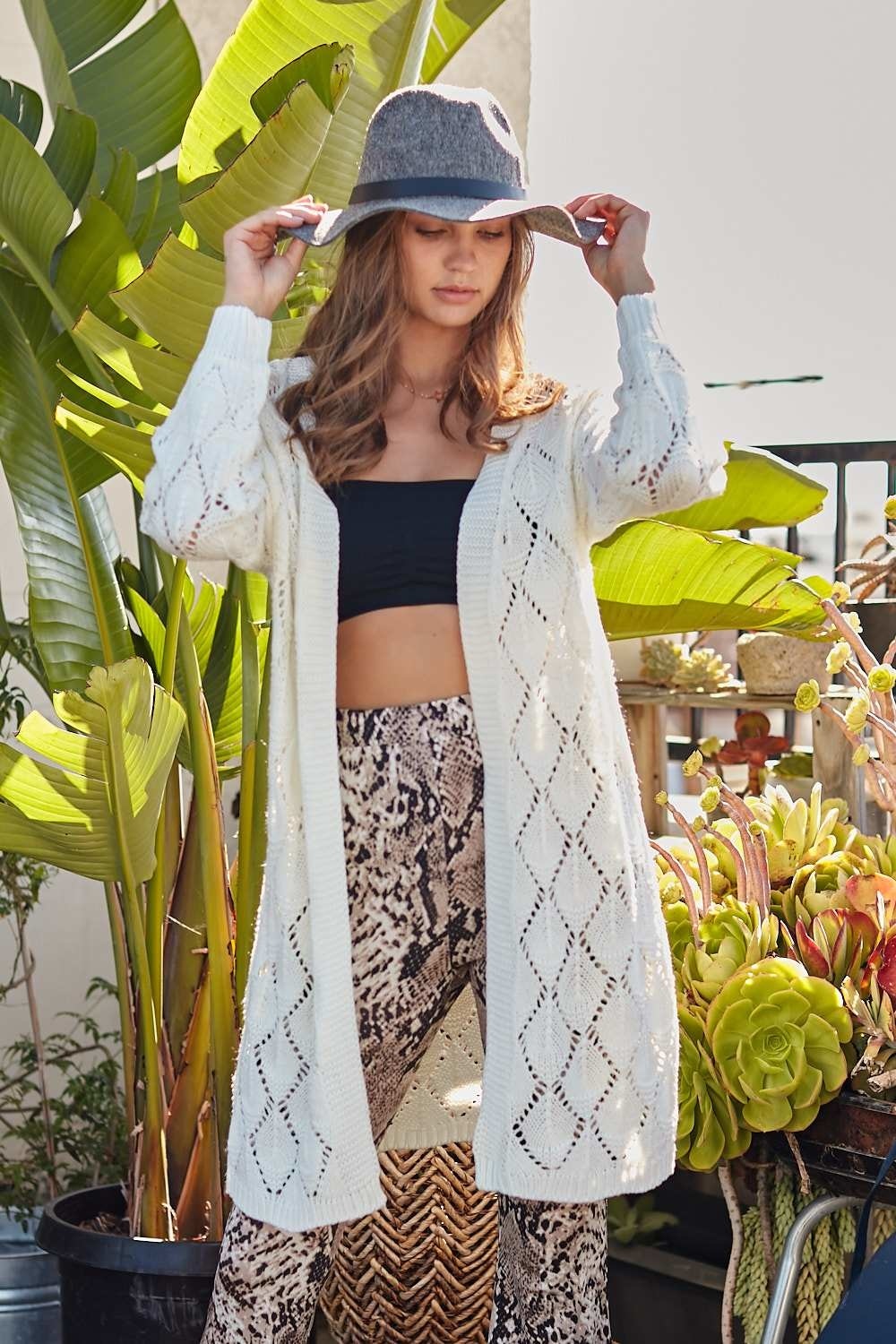 Keep those windy days at bay with the Colorblock Windbreaker Hoodie! This trendy and light windbreaker pullover features a front zipper and oversized hood with a drawstring.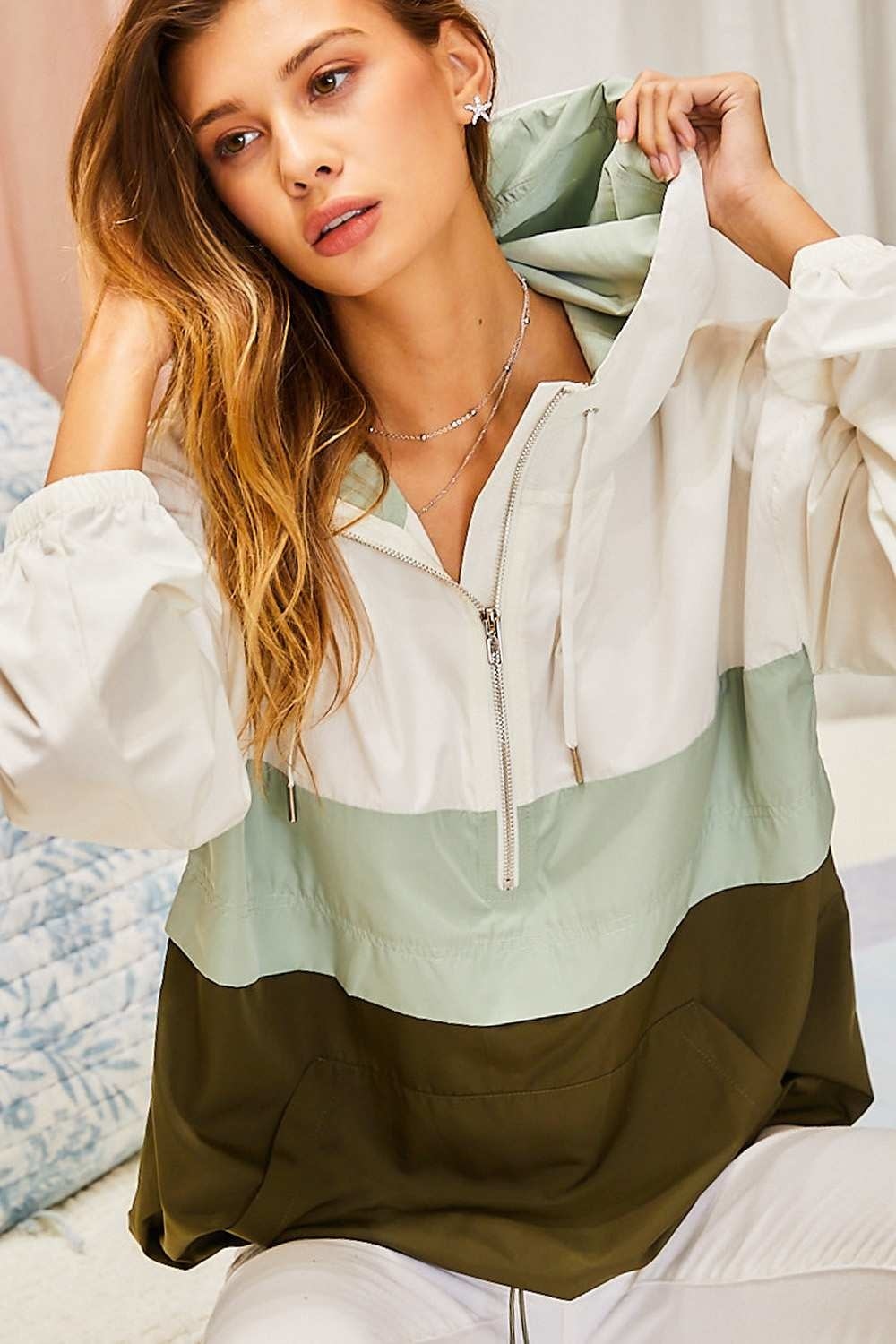 Cocoon House Short Silk Kimono 
Transform even the most ordinary summer outfits with the Cocoon House Short Silk Kimono! This luxurious 100% silk kimono wrap for women features hand-painted designs for a unique touch. Elevate your outfit with this multi-way wrap.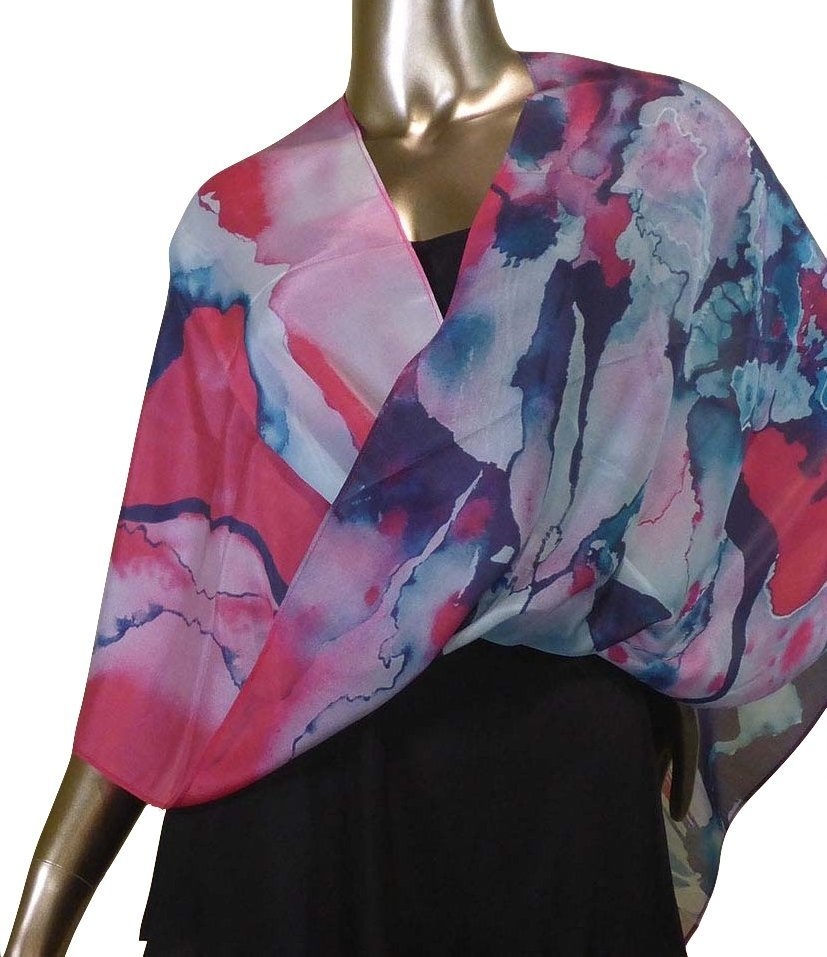 Kerisma Madeira Two-Tone Poncho 
Wear a poncho even in the summer with this sheer 2-toned poncho from Kerisma! This classic poncho has a colorblock design and can be layered with your favorite tank top or cami.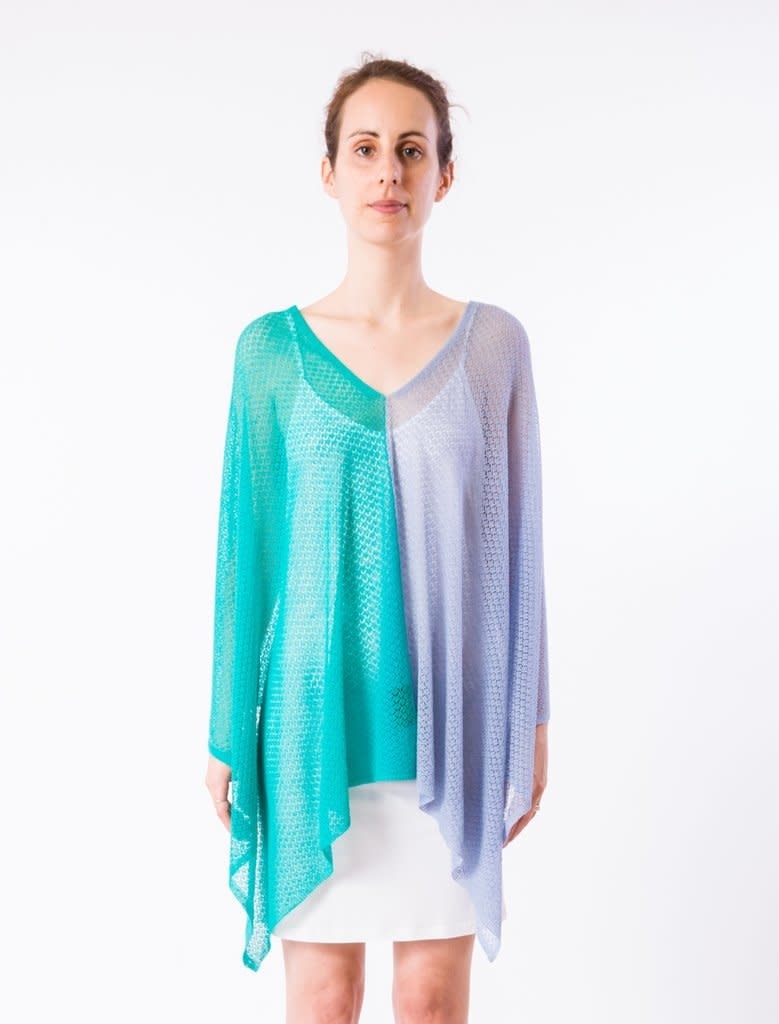 Women's Pajamas & Loungewear for Summer
Make summer slumber extra comfortable with our light and breathable women's pajamas and loungewear! From pajama separates to sets, you can find a wide range of women's designer sleepwear for yourself or as gifts for others. Check out some of our featured ones here: 
Barefoot Dreams CozyChic Ultra Lite 3-Piece Luxury
Pamper yourself this complete luxury spa kit! Comes with an eye mask, adjustable Velcro strap slippers, and a light robe - a great gift for yourself or for loved ones.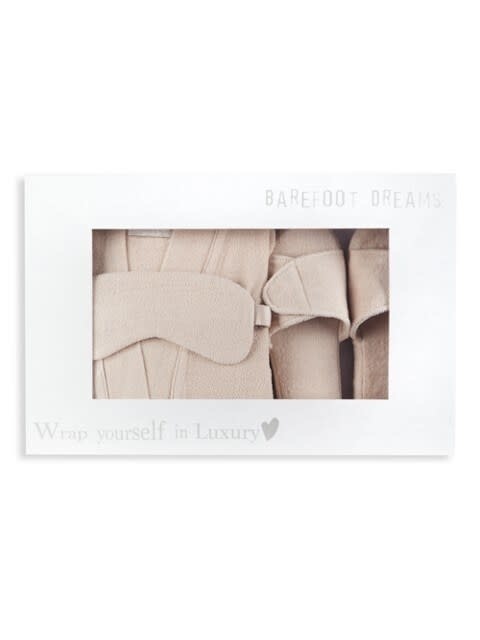 Barefoot Dreams Luxe Milk Jersey Tee & Boxer Short Set
Light and comfy, this Barefoot Dreams exclusive women's tee and boxer short pajama set is great to have for lounging around your home and for staying cool while you sleep. Makes a lovely gift for friends and family, too!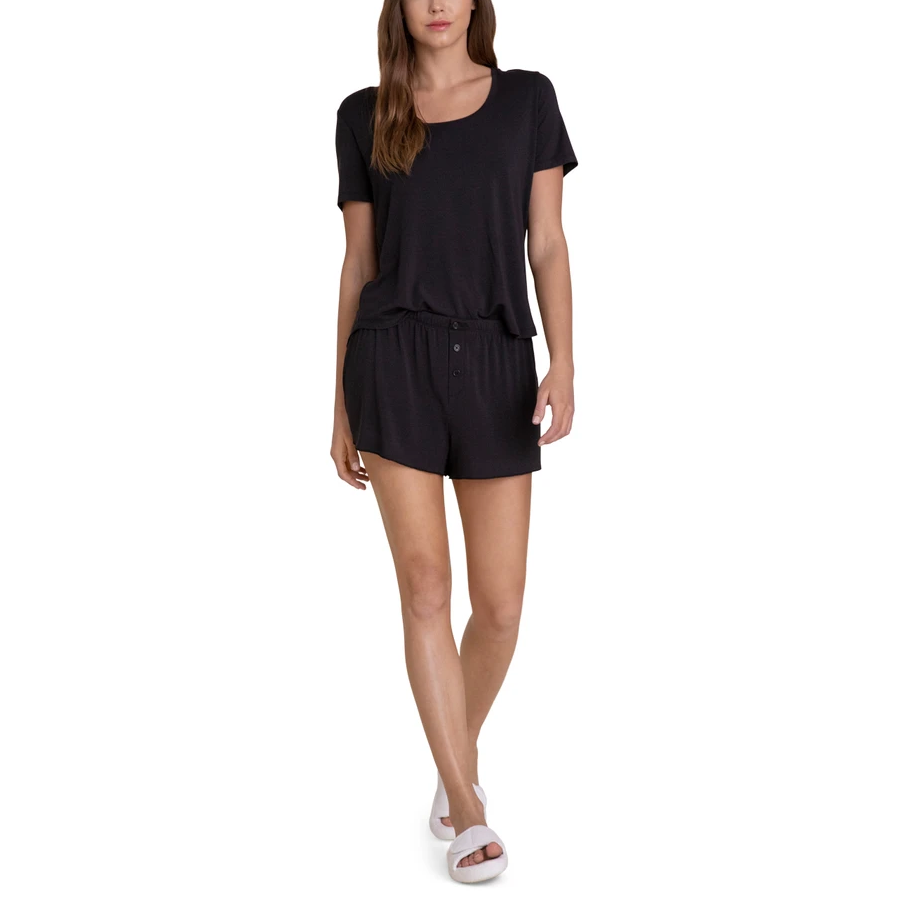 Another summertime pajama set favorite! The Lilla P Tank/Pant Sleep Set features wide leg drawstring pajama bottoms with a relaxed fit tank that's light and soft. Great to have in your summer wardrobe!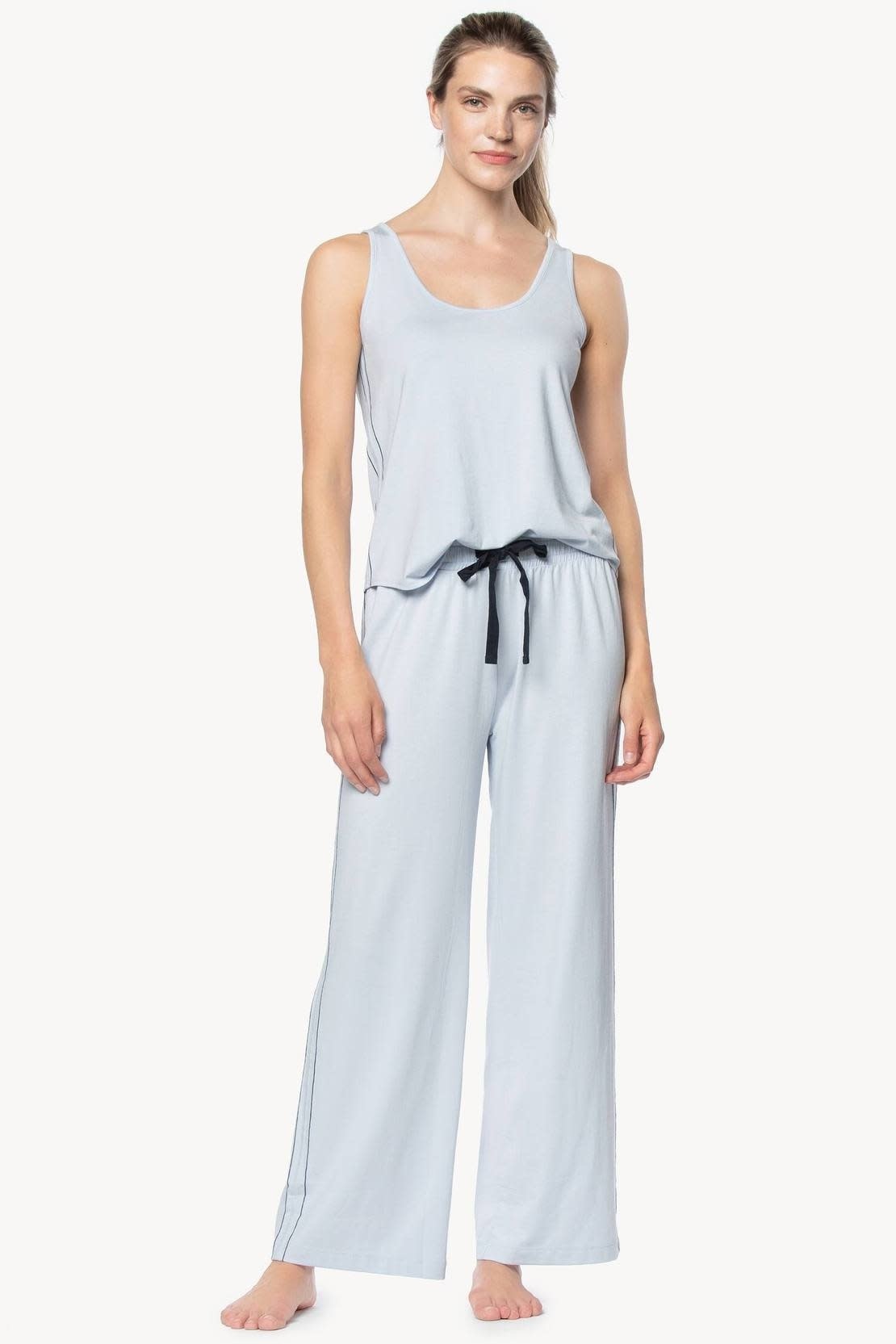 Mikel Drawstring Satin Boxer Short
These silky soft satin women's lounge shorts have a stretchy wide waistband with an adjustable drawstring. Pair with your favorite lounge tanks and tees for a complete set! We also have separate pajama or lounge tops for women sold separately here at Abraham's.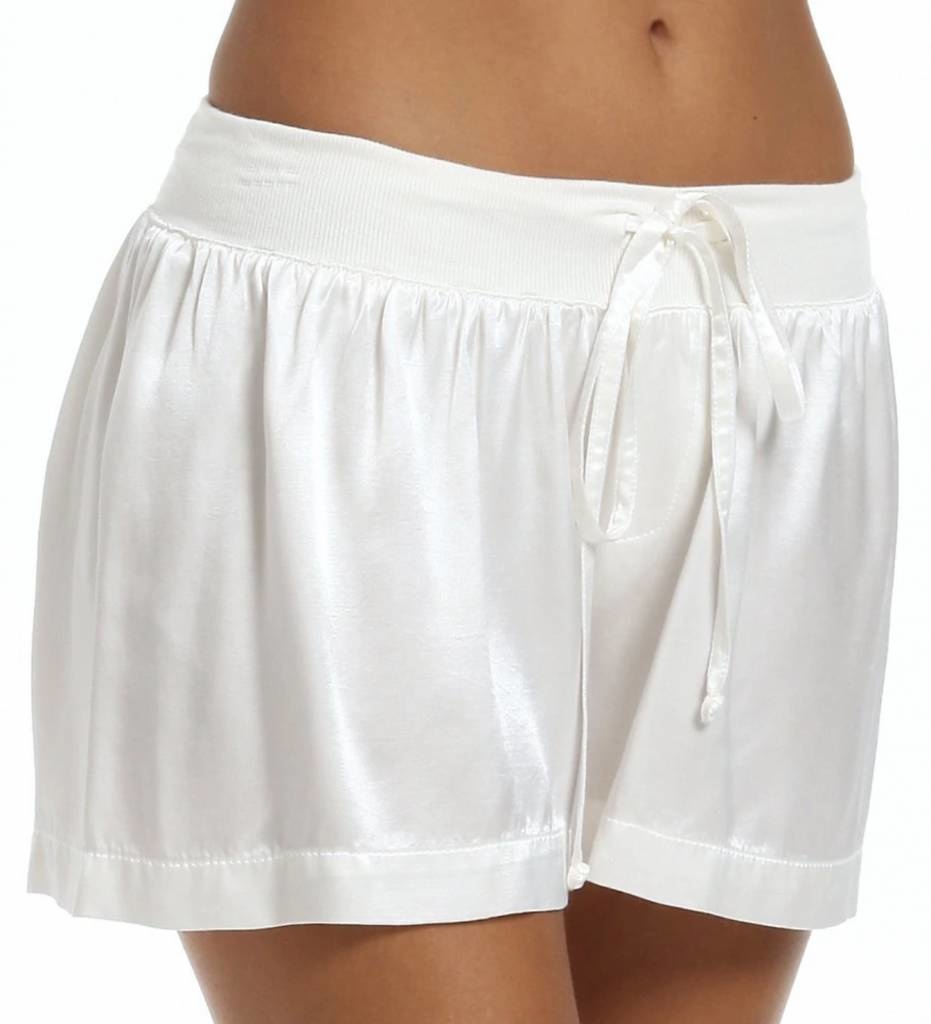 Perfect to wear with the Mikel Drawstring Boxer Shorts shared previously, the PJ Harlow Daisy Cami is a luxurious lounge top with a dainty and feminine cami style.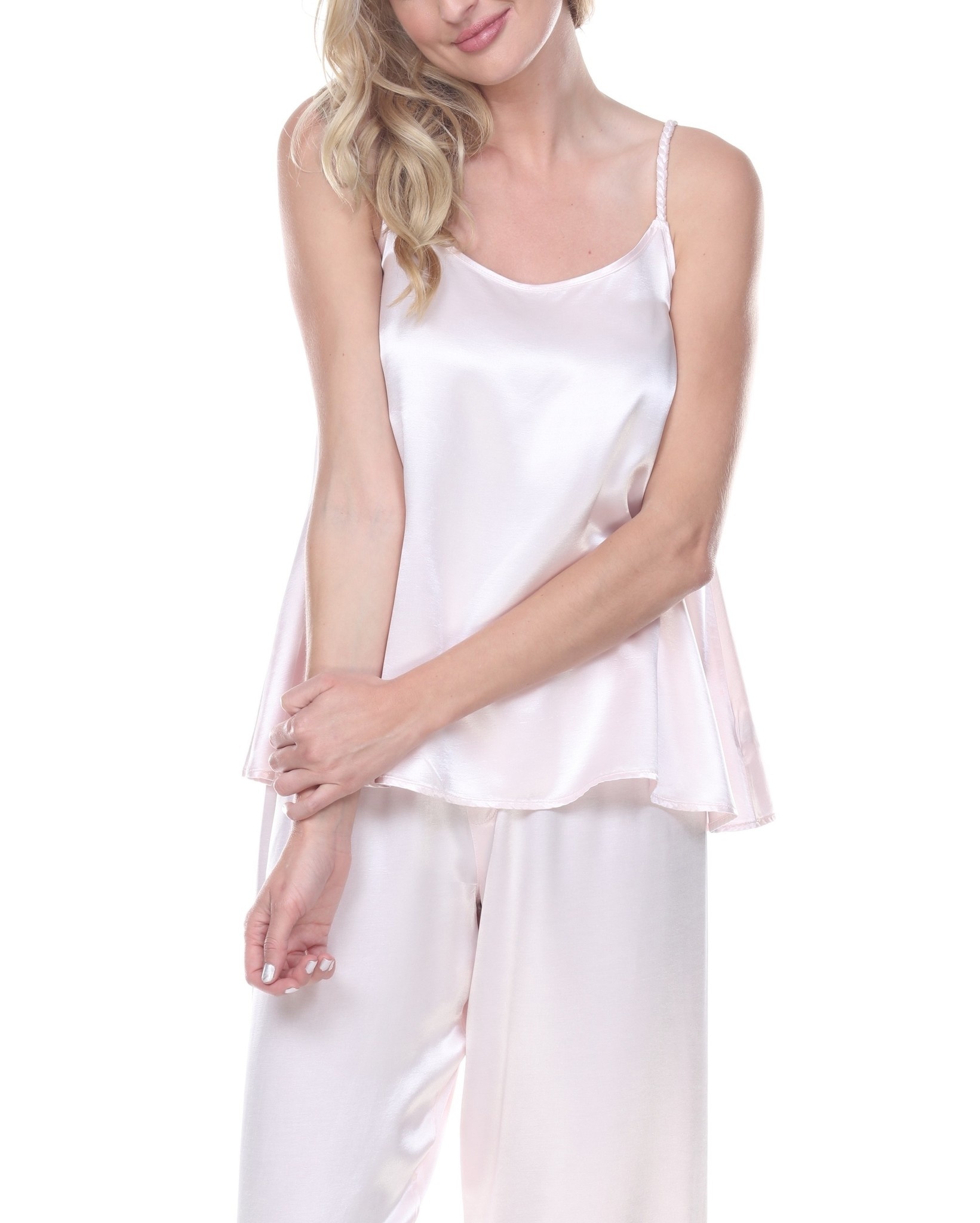 Boutique Jewelry for Summer Accessorizing
Add to your jewelry collection with timeless boutique jewelry pieces from our collection! Explore statement necklaces, earrings, and bracelets to enhance your style and complete your look - whether you're going for casual-chic or glamorous. 
Porcelain Bead Ginkgo Earrings
Dainty and whimsical, these Ginkgo leaf earrings boast oriental-style porcelain beads that bring a unique flair to your attire.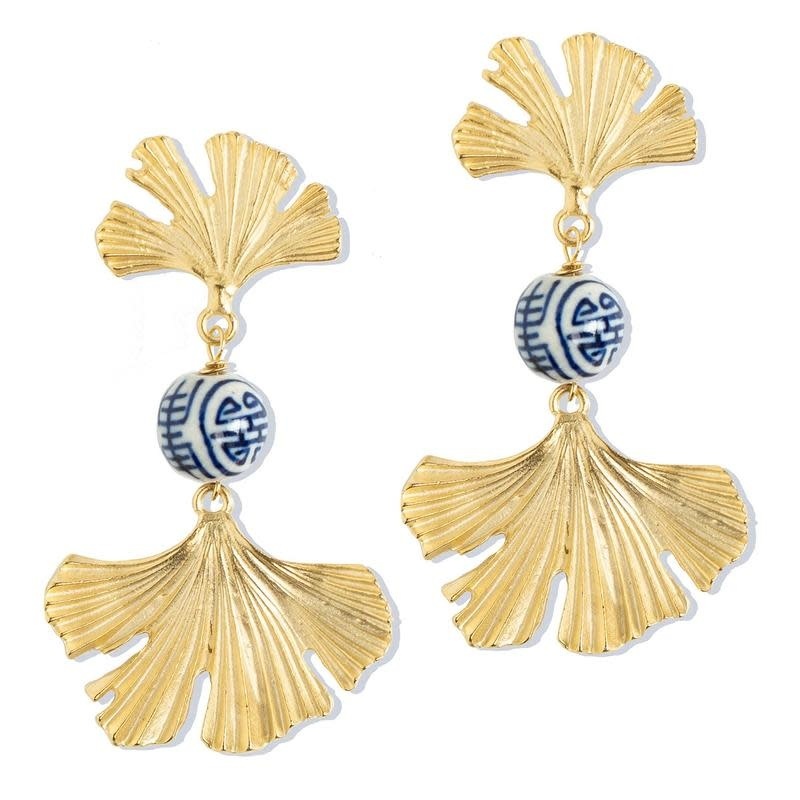 These bold and geometric gemstone studs bring a pop of color to your outfit and feature a vintage-like style with the freshwater pearl accent.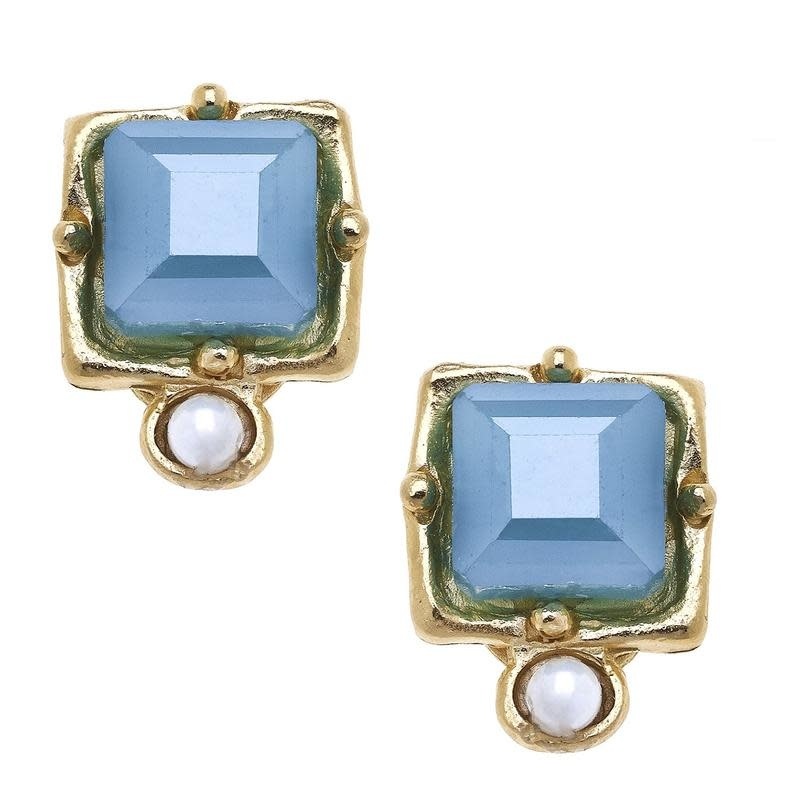 Sheila Fajl Sage Dangle Hoop Earrings
Look glam with these statement double hoop earrings handmade in Brazil! These dangling hoop earrings feature an oval-shaped hoop post connected with a classic hoop for a unique design.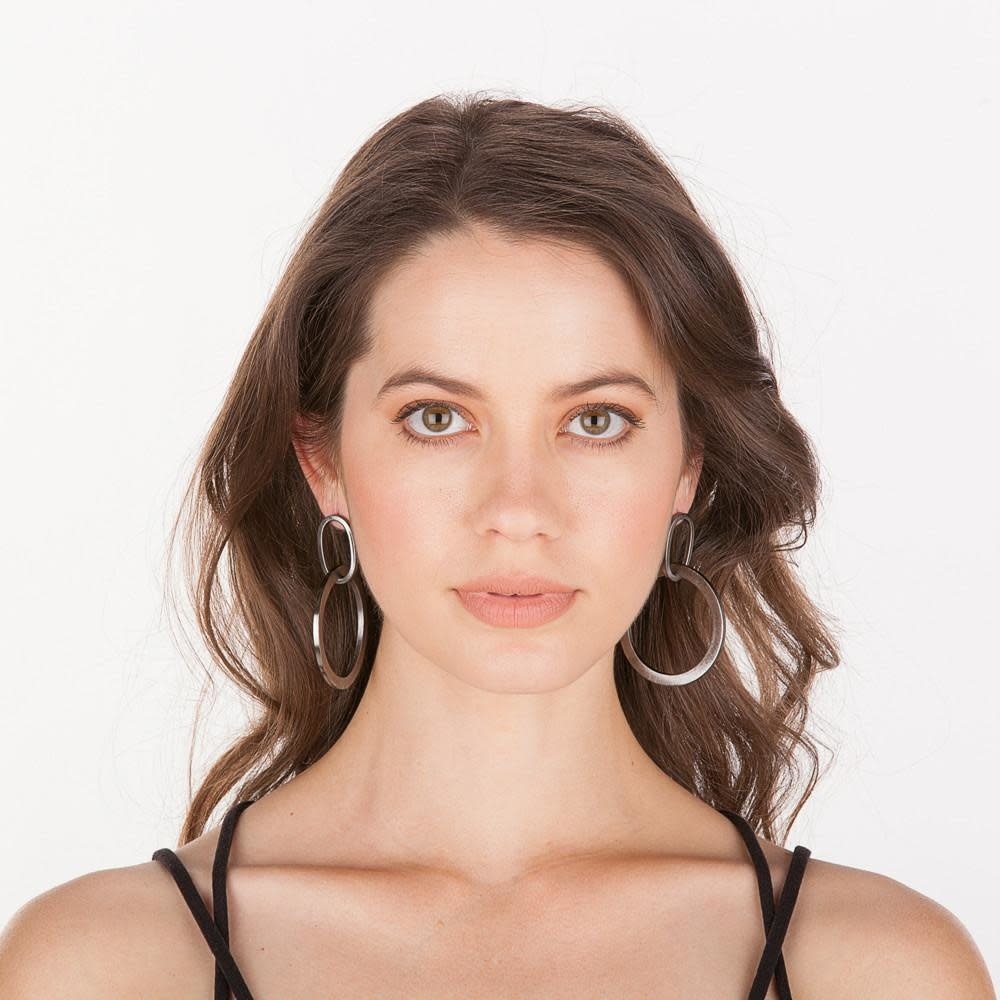 Charming and stylish, this pendant chain necklace has a sea-blue Venetian glass with an etched design of a bee for a beachy and quaint design.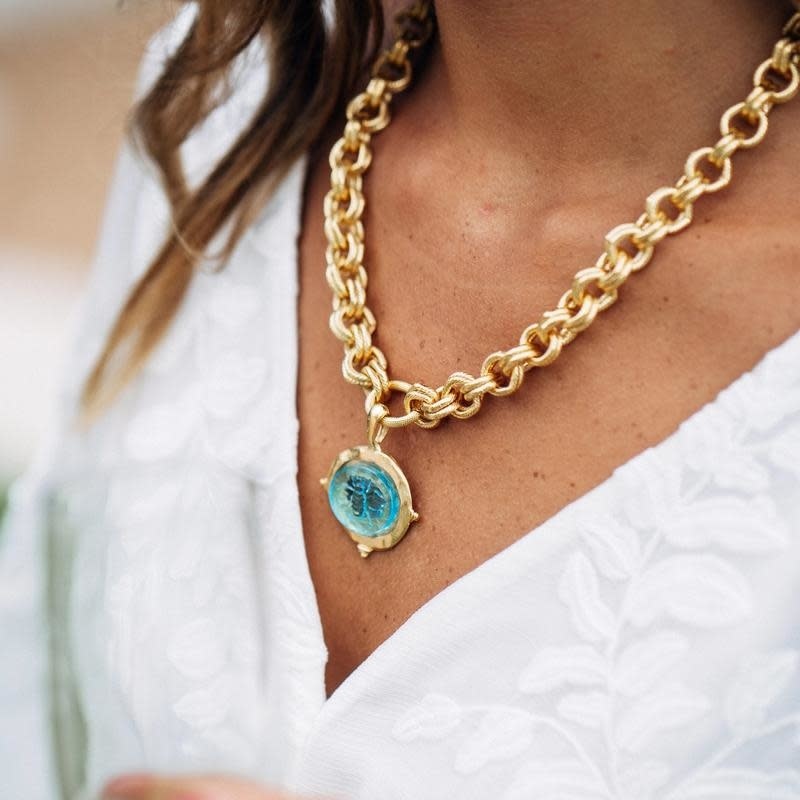 Accessorize with this boho-chic cuff bracelet! The minimalistic and modern design adds a one-of-a-kind touch to your attire and gives you sleek style. Made with premium adjustable metal material.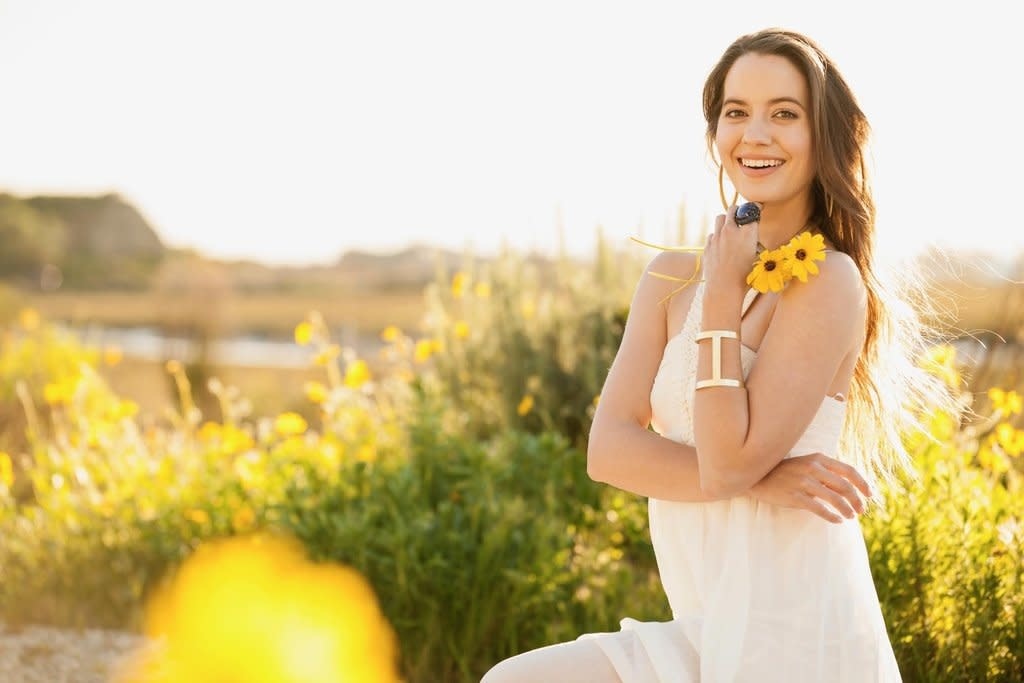 Square Hammered Post Acrylic Earrings 
Make a bold statement with these square dangle earrings! These geometric earrings feature trendy designs and elevate any outfit.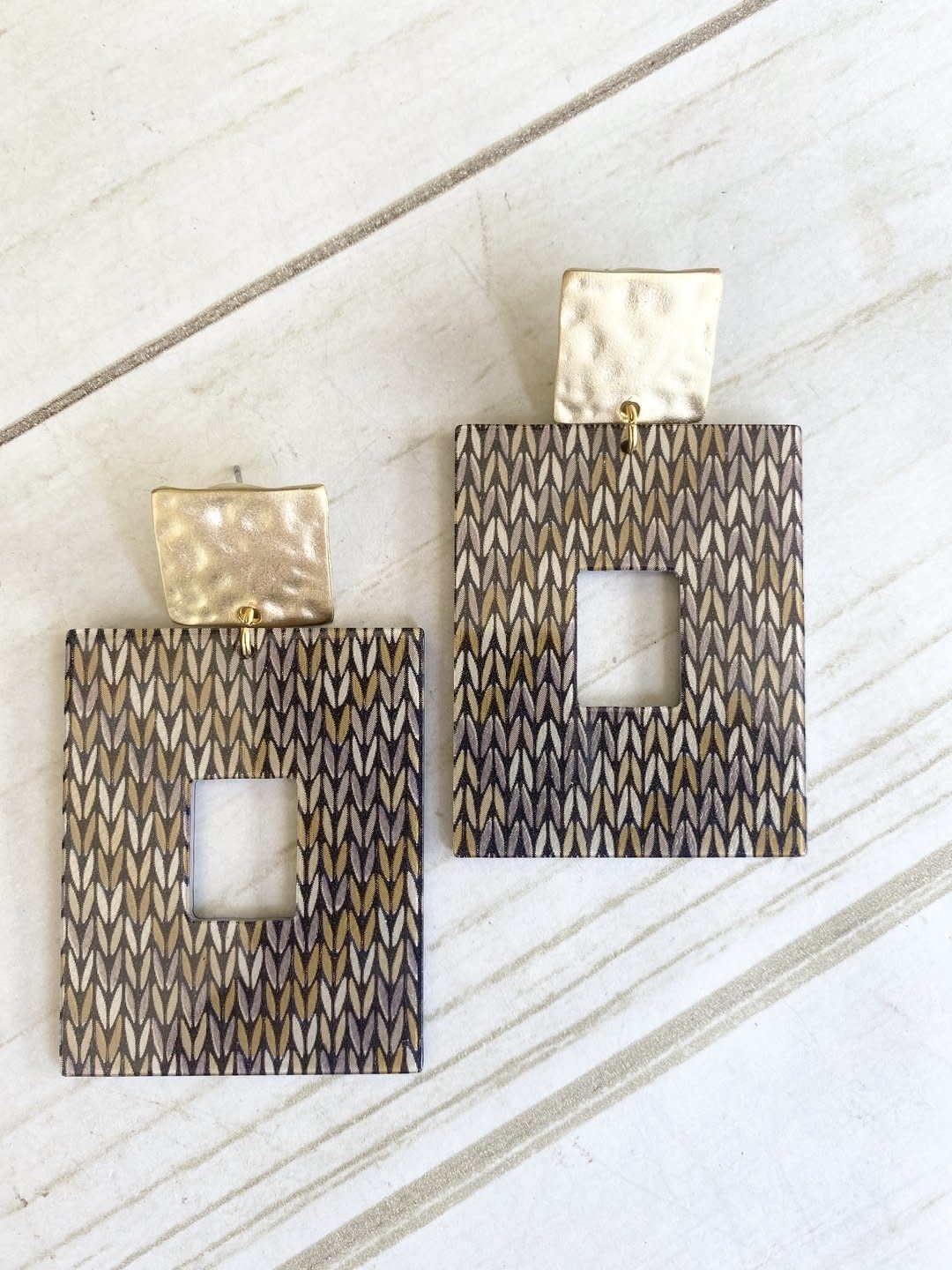 Women's Beach Totes, Hats & Summer Sandals
To wrap up our Women's Summer Essentials Boutique Guide, let us share some of our trending beach totes, women's summer hats, and summer sandals featured in our Southern boutique!
Your classic straw sunhat with a stylish twist! This women's sunhat features a floppy brim and a bordered design around the crown and along the brim edge.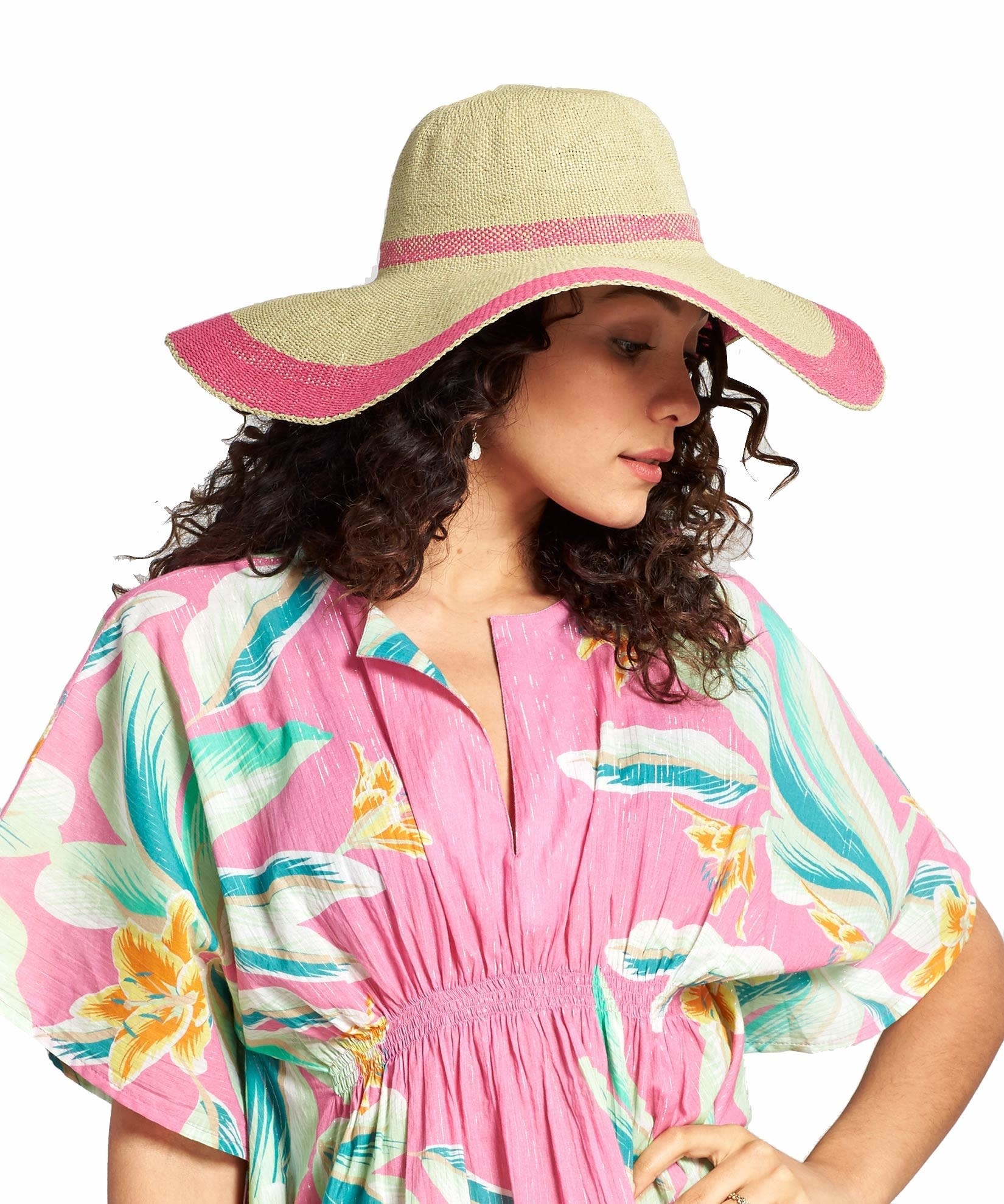 Make your footwear stand out this summer with the Naked Feet Koda Sandals for women. These elevated and comfortable platform sandals feature thick straps for a trendy look. Pair with your favorite summer dresses, skirts, capris or shorts!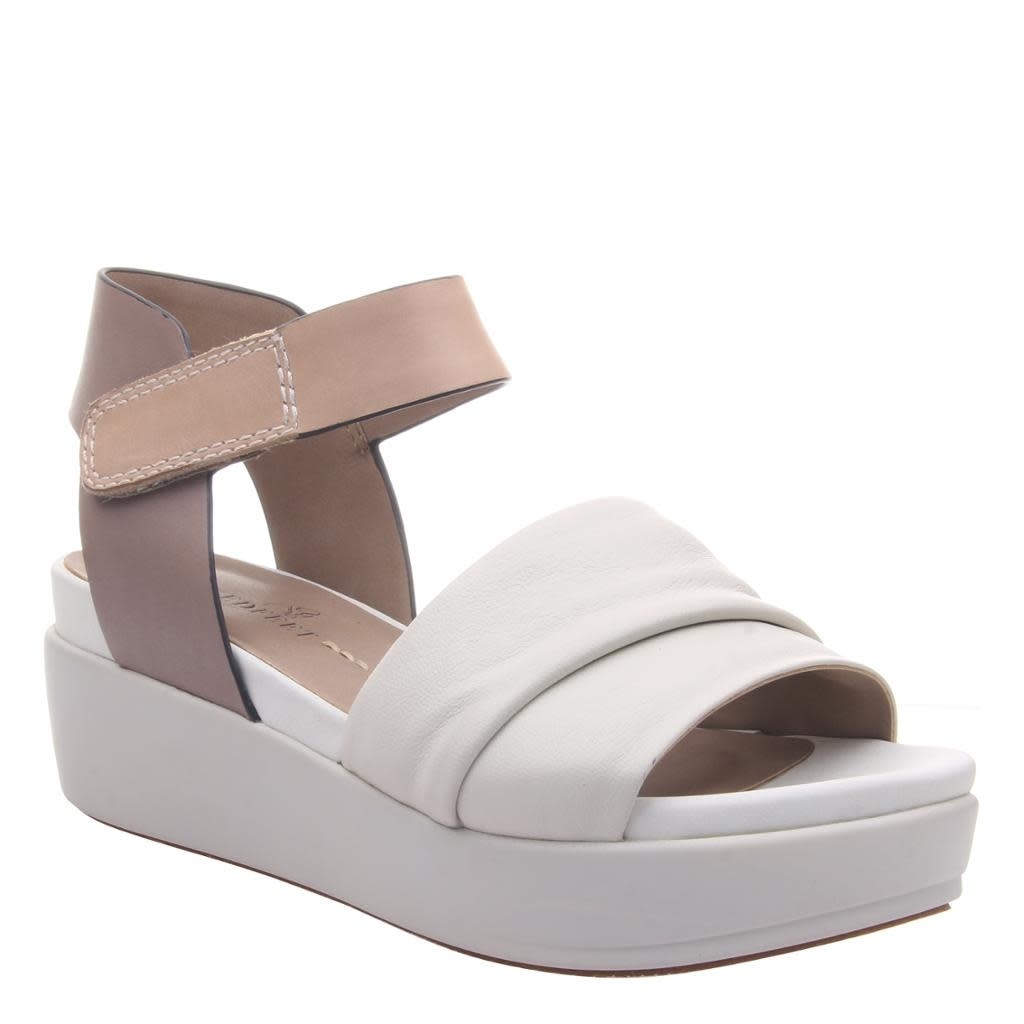 Royal Standard St. Augustine Convertible Cooler Bag 
With this semi-insulated cooler tote bag for women, you can have as many summer beach picnics as you want! Features a trendy striped design and an extra spacious interior.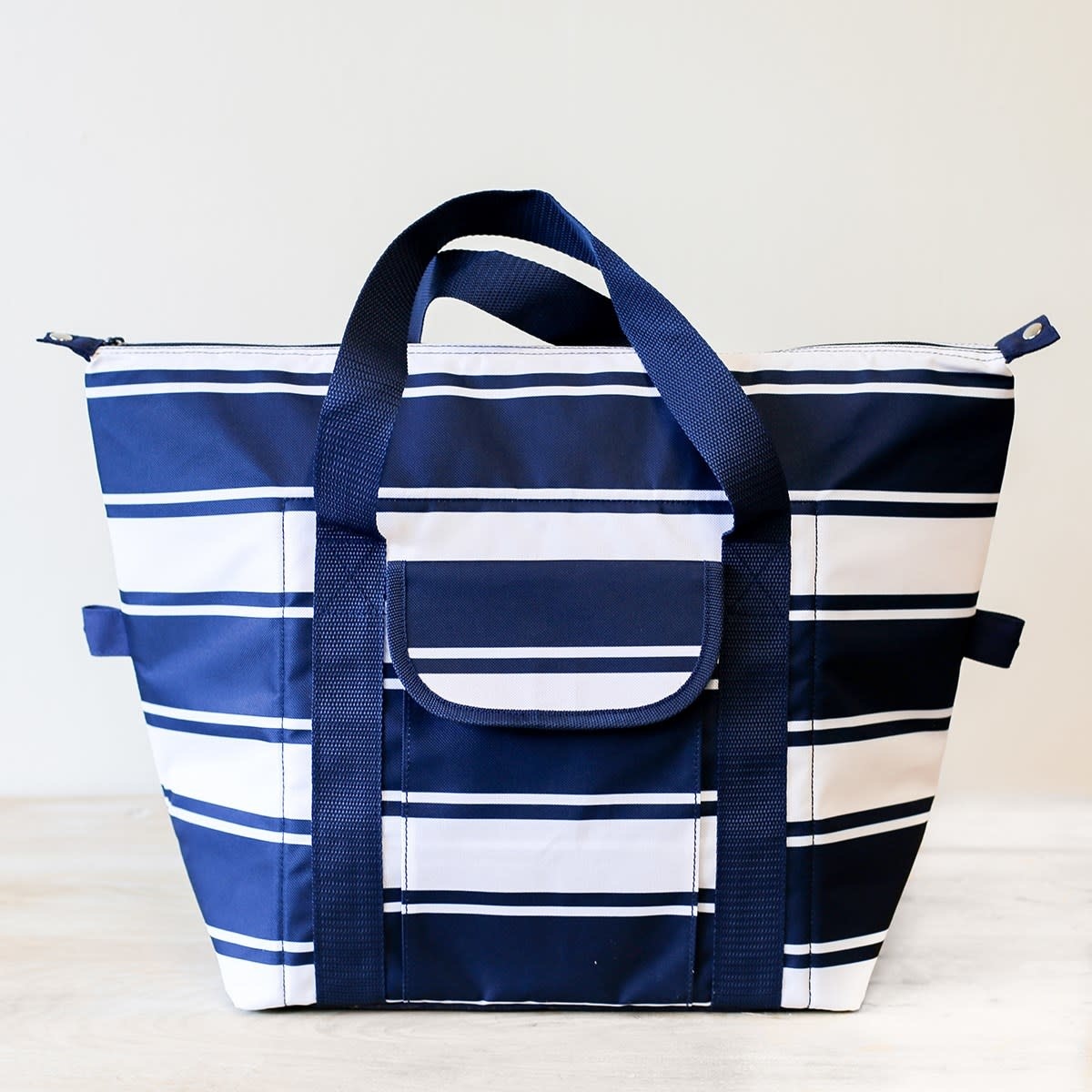 Dolce Vita Izabel Studded Slide Sandals 
Jazz up your footwear style with these dazzling studded sandals! These slide sandals for women have a strappy and backless design for quick off-and-on wear - perfect for the beach or pool.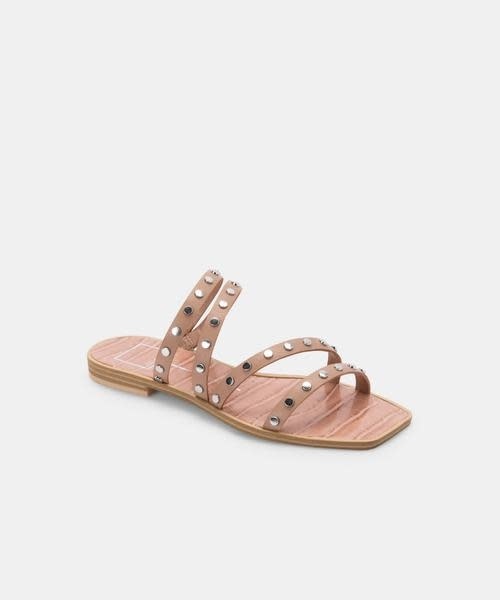 If you're looking for a tote bag that can go from daytime to evening, get the Un Billion Lacy Tote! This vegan faux leather large tote bag also includes a smaller removable insert bag for convenient traveling.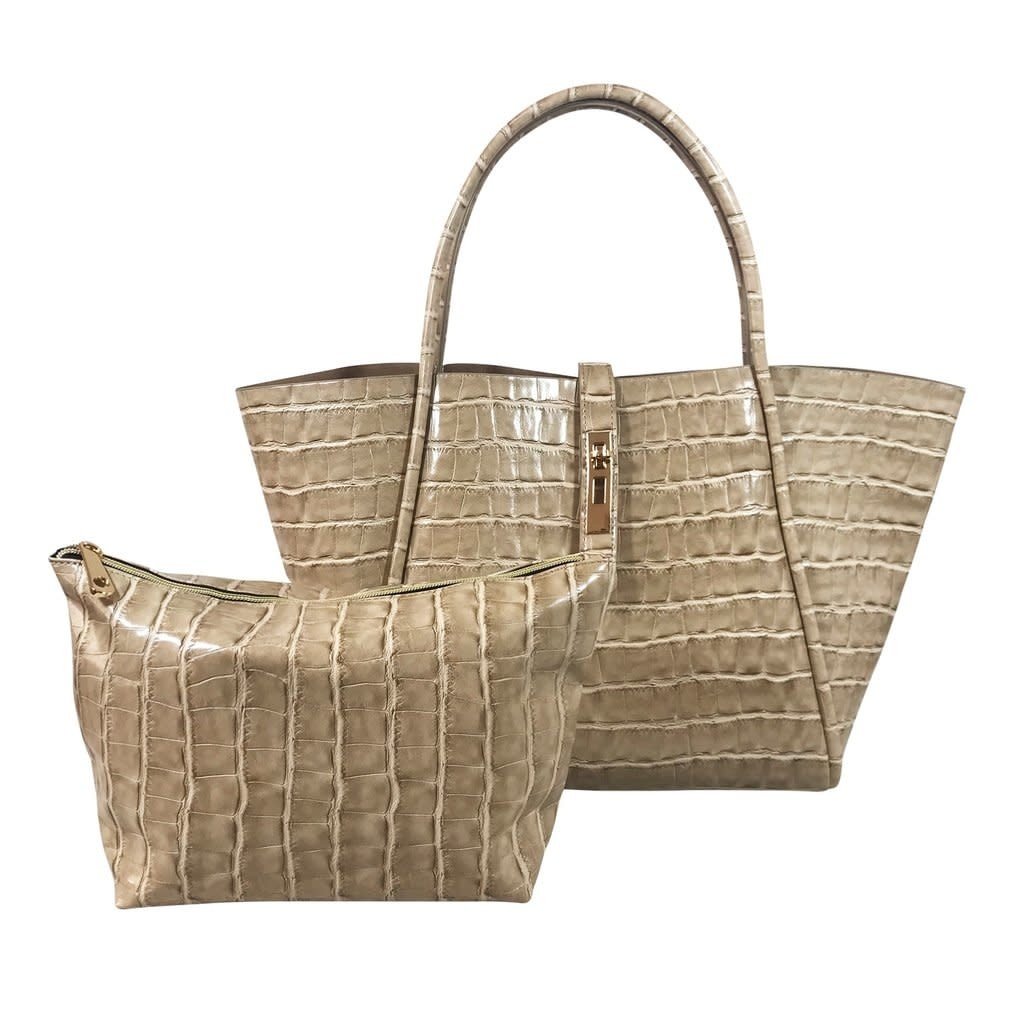 If you're looking for a smaller hat for your beach and pool visits, the Echo Multi Fedora with tassel accents for a charming and chic touch.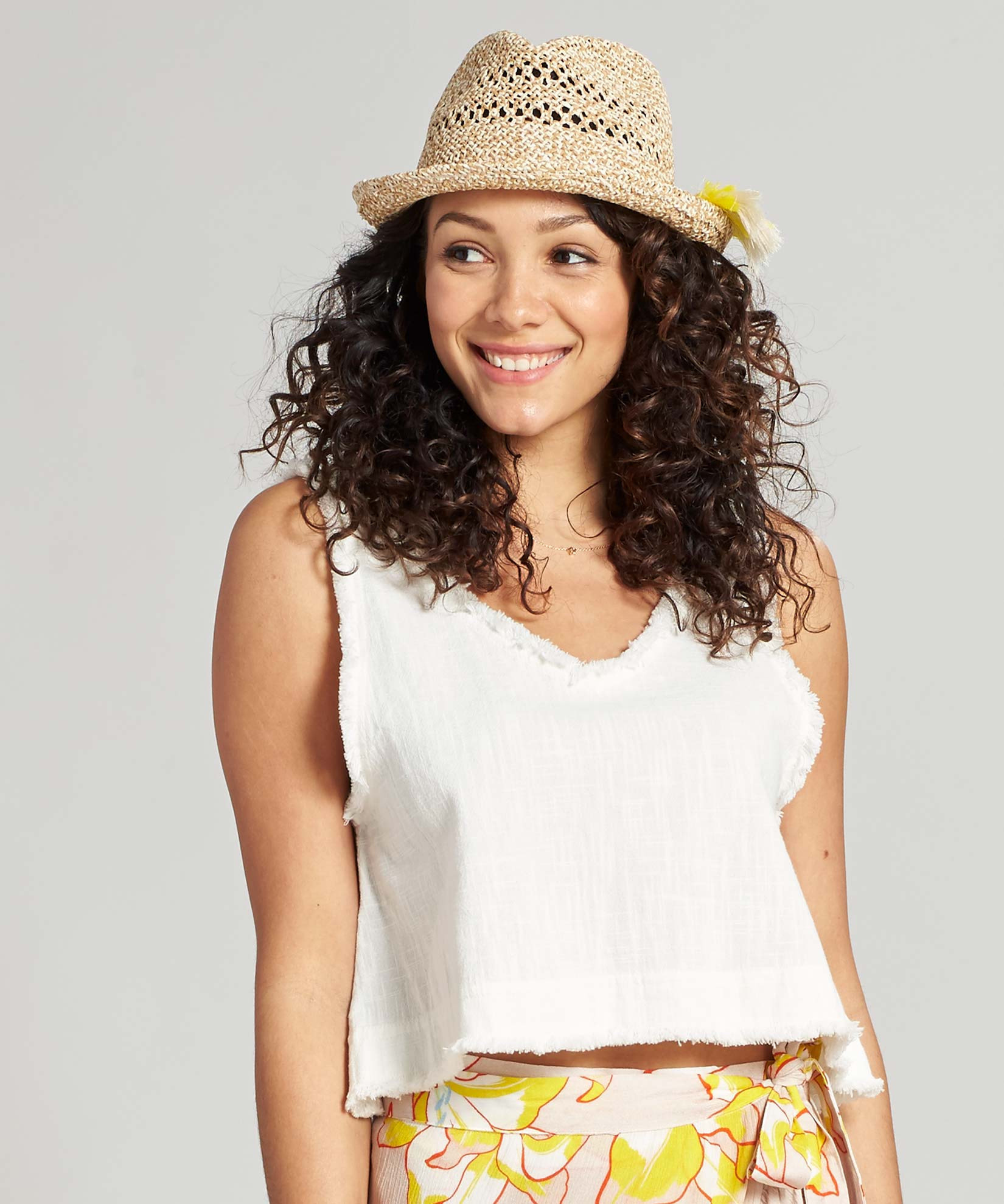 Give your outfit an edgy gladiator twist with the Bussola Phebe Sandal! These strappy sandals have a zippered back for secure fitting - no slip & slide action. The heel has a slight height to keep your feet off the ground and provides more comfort and stability.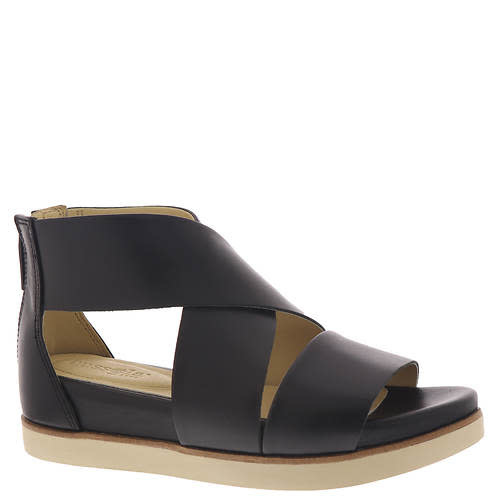 We hope this guide helps you create your dream summer wardrobe! Enjoy your summer season and get ready for our fall fashion guide in just a few months. 
~ Abraham's