Whether you're celebrating Valentine's Day with someone special or enjoying Galentine's, these featured Valentine's Day boutique gifts for women are sure to make someone feel loved this Valentine's Day! Take a look at some of our featured boutique jewelry for women, as they would make lovely and thoughtful gifts to the amazing women in your life. Use the boutique jewelry guide as a gift guide for yourself, too, and add these stunning pieces to your own collection. We also share a handful of select clothing pieces that you can wear on a romantic Valentine's Day date or festive event at the end of the gift guide.
 Julie Vos Monaco Gold Hinge Bangle
With stunning, embedded almond-shaped crystals and a classic design, the Julie Vos Monaco Gold Hinge Bracelet is a gorgeous piece to add to your collection. Featuring a 24k gold-plated, lightly hammered bangle with a thicker width and decorated with delicate gold twists along the border, this women's hinge bracelet adds an elegant, graceful touch to your look. The interior of the bracelet has a unique open honeycomb cut-out pattern. Available in multiple gemstone variations to suit your preferences.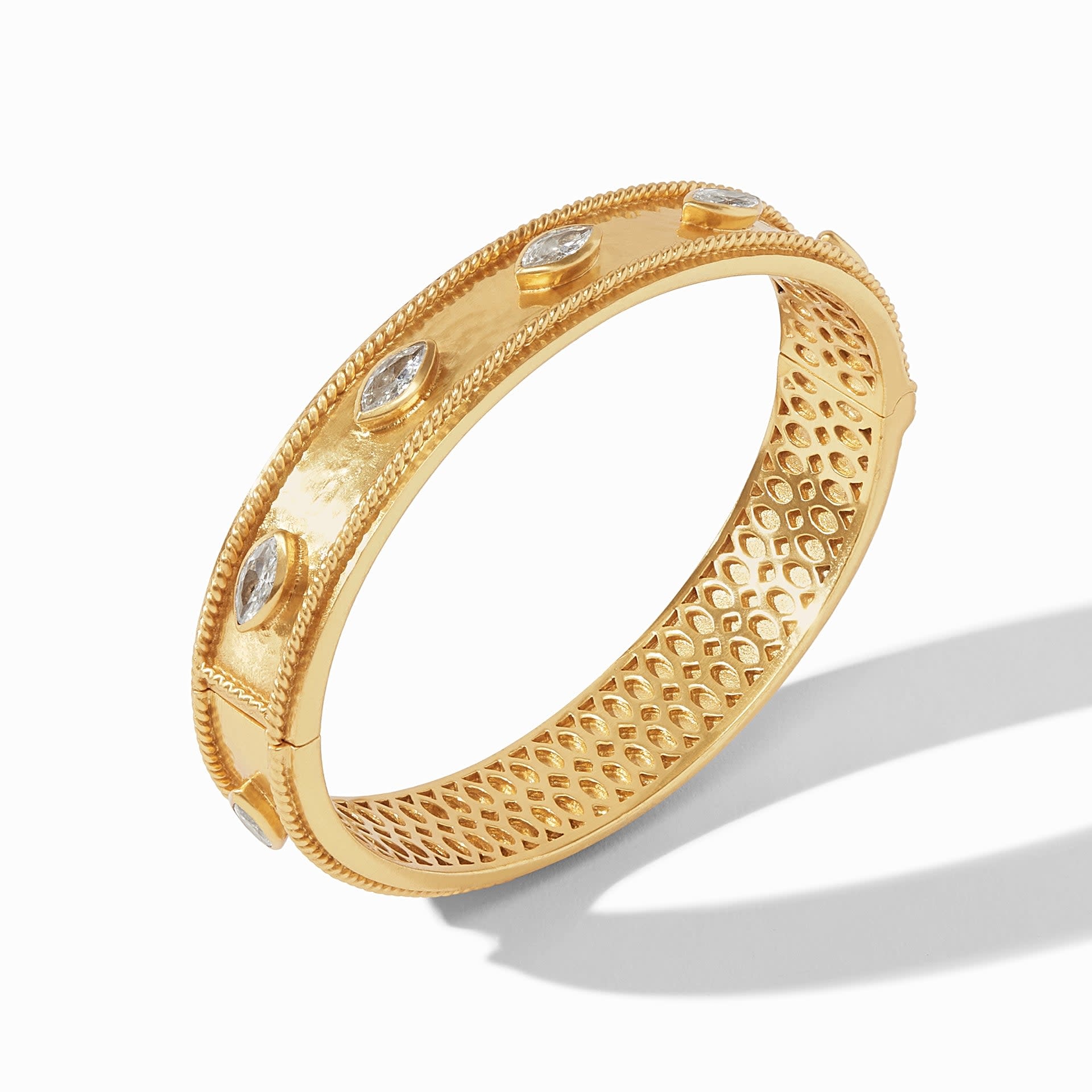 Charlotte Delicate Necklace (Gold)
Soft, feminine, and refined, the Julie Vos Charlotte Delicate Necklace features a gold twisted chain and a dainty floral gemstone pendant that adds a charming look to this necklace. A lovely addition to your collection for a subtle finishing touch to your attire - for any occasion.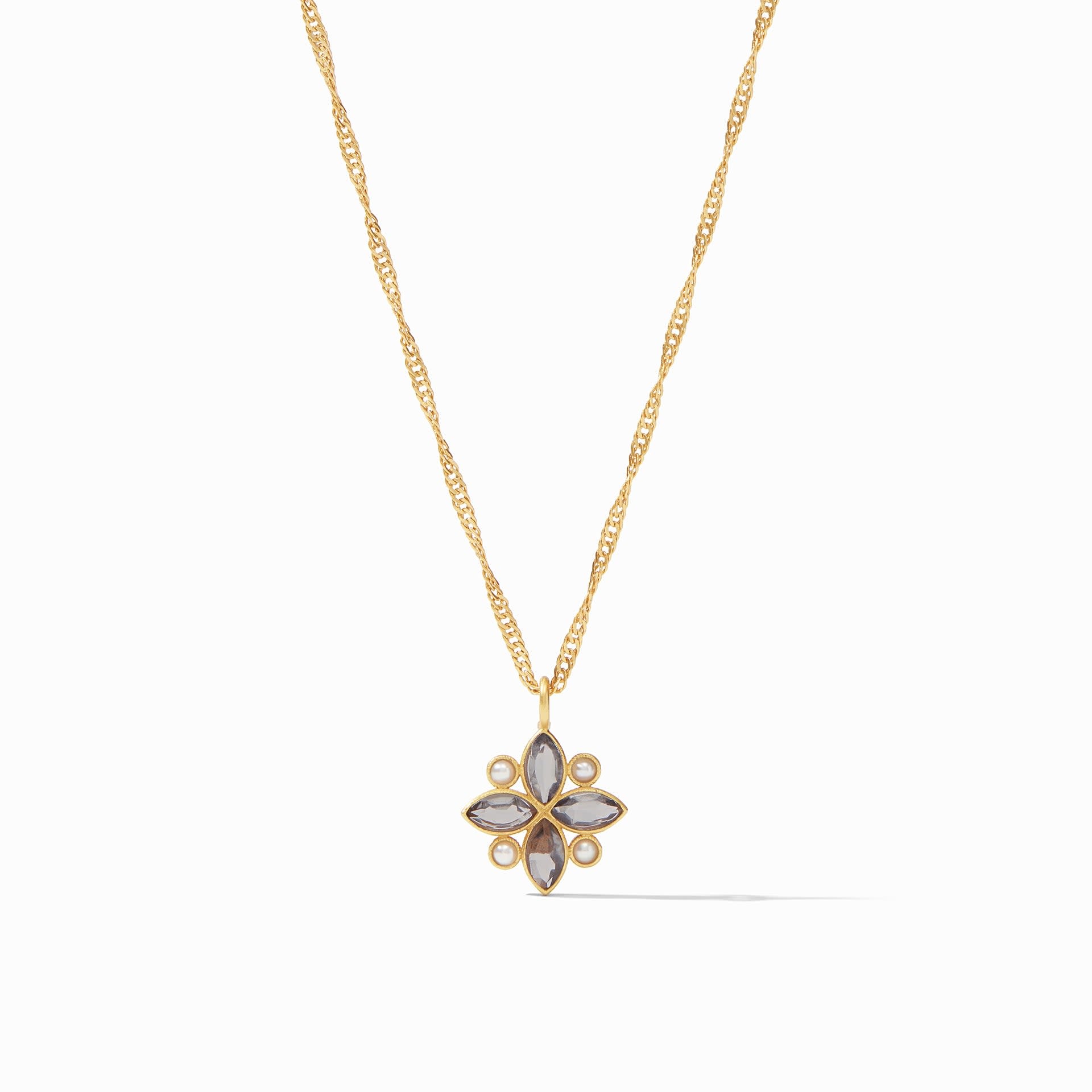 Valencia Delicate Station Necklace (Gold)
Another beautiful delicate necklace on our list! The Julie Vos Valencia Delicate Station Necklace offers a unique design with a thin gold chain and 9 medallions with mother-of-pearl on one side and a medallion pattern on the other side - a reversible, versatile necklace you can use for both formal and casual occasions.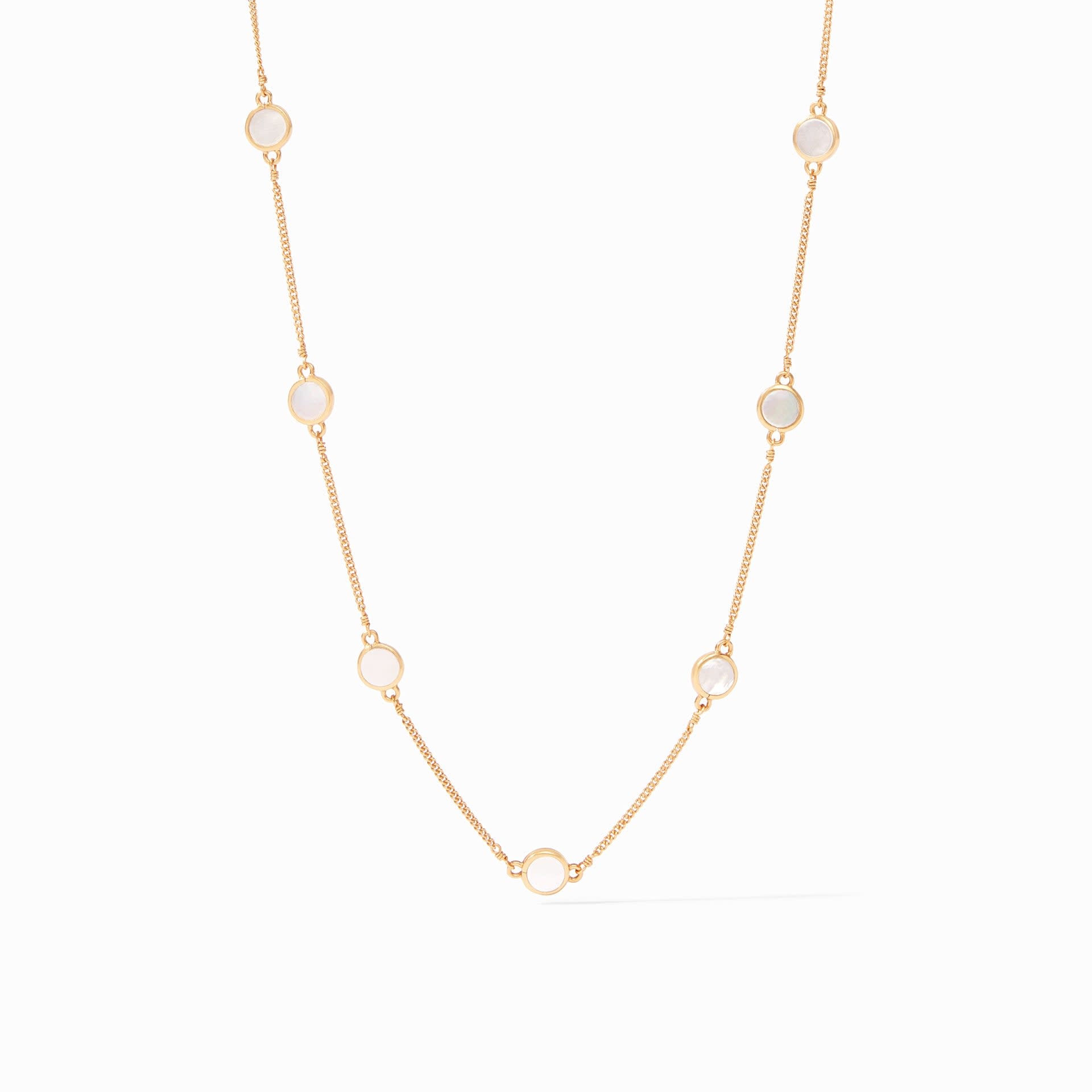 Decorated with an intricate chevron pattern on the sides and showcasing a large gorgeous, multi-faceted rose-cut gemstone, the Verona Statement Ring has a vintage-inspired, regal charm that elevates your overall look. A must-have if you love bold designs!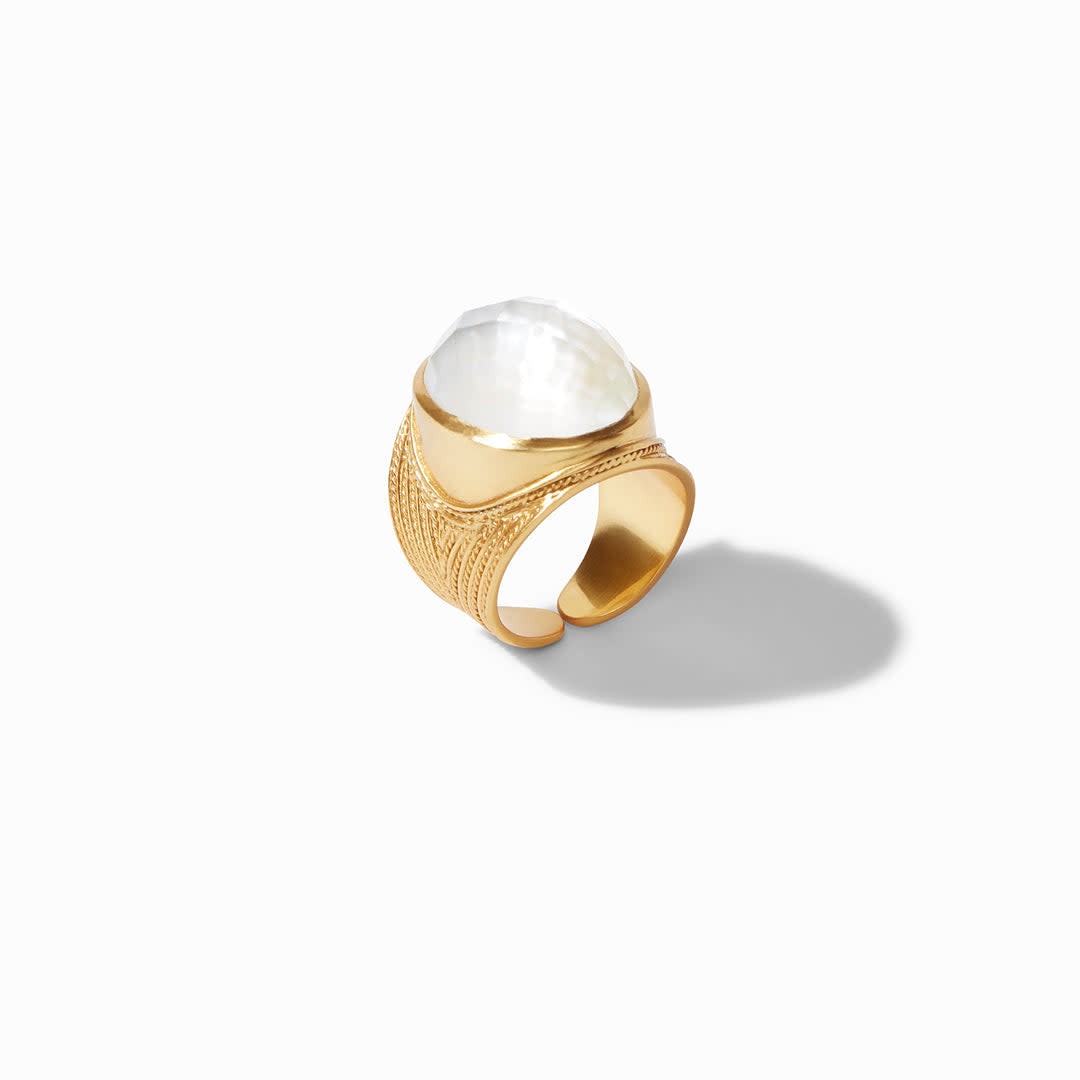 Marbella Gold Hoop & Charm Earring
Named after a famous, luxe beach town in Spain, the Marbella Gold Hoop & Charm Earring gives you a 2-in-1 hoop and dangling earring option to switch your style any time you want. These earrings feature a small gold hoop with a removable freshwater pearl charm.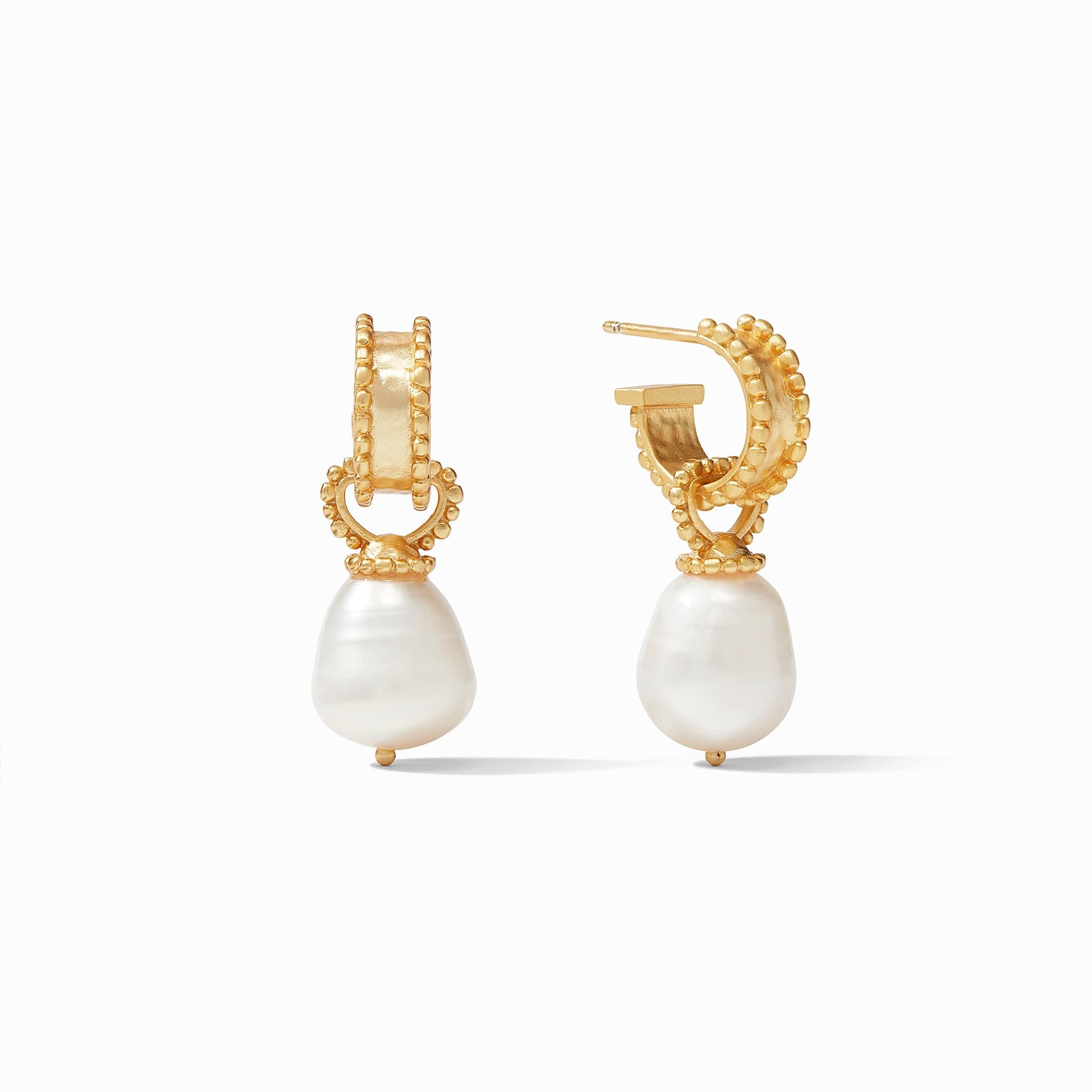 Reversible Trieste Gold Coin Statement Pendant
Julie Vos specializes in sophisticated pieces that are reversible and can be used in different styles like the Reversible Trieste Gold Coin Statement Pendant! This women's necklace features an adjustable chain with a unique twist chain and link chain intertwining together. Hanging from the chain is a statement pendant with reversible sides: one side features a mother-of-pearl inlay and the other side has a golden crest design. 
A classic pair of pearl earrings make a thoughtful, timeless gift for Valentine's Day! Choose the Julie Vos Juliet Pearl Stud Earrings for your next pearl gifts to a loved one - or yourself! These pearl studs feature round freshwater pearls surrounded by delicate gold petals, embellished with sparkling CZ gemstones.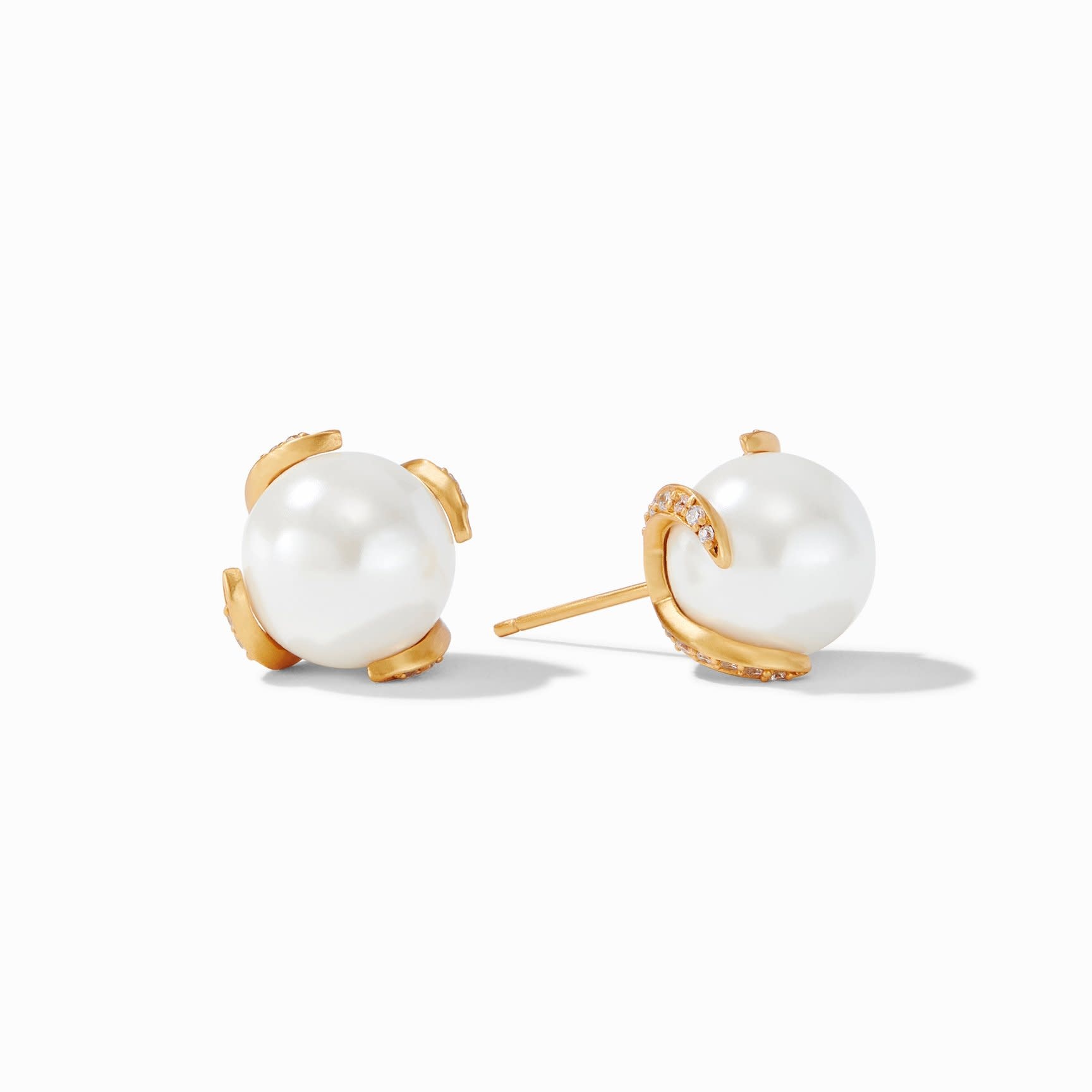 Susan Shaw Gold Double Chain with Cotton Pearl Bracelet
Always have a chain bracelet you can wear for any occasion in your collection! The Susan Shaw Gold Double Chain with Cotton Pearl Bracelet is a chunky link chain bracelet that's chic and sophisticated and can match with anything you wear. This bracelet also has a cotton pearl charm and crystal bead for an added touch of elegance and style, giving the bracelet a vintage vibe. The chain itself is textured for a unique design.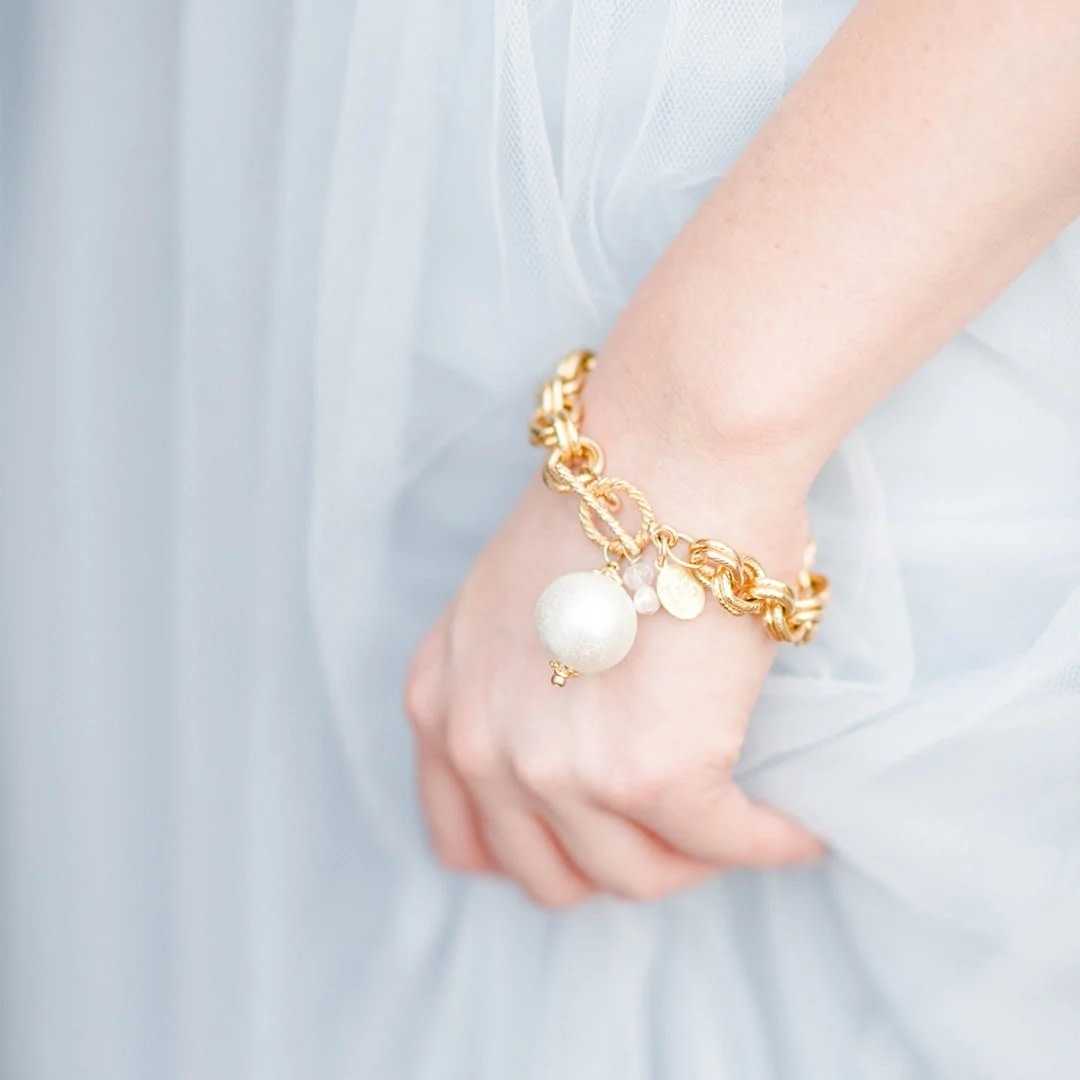 Handcast Gold Queen Elizabeth Coin Scalloped Pendant
In honor of Queen Elizabeth II, Susan Shaw created the Handcast Gold Queen Elizabeth Pendant Necklace, a beautiful gold chain link necklace with a large golden coin pendant with scalloped edges. A must-have for your collection!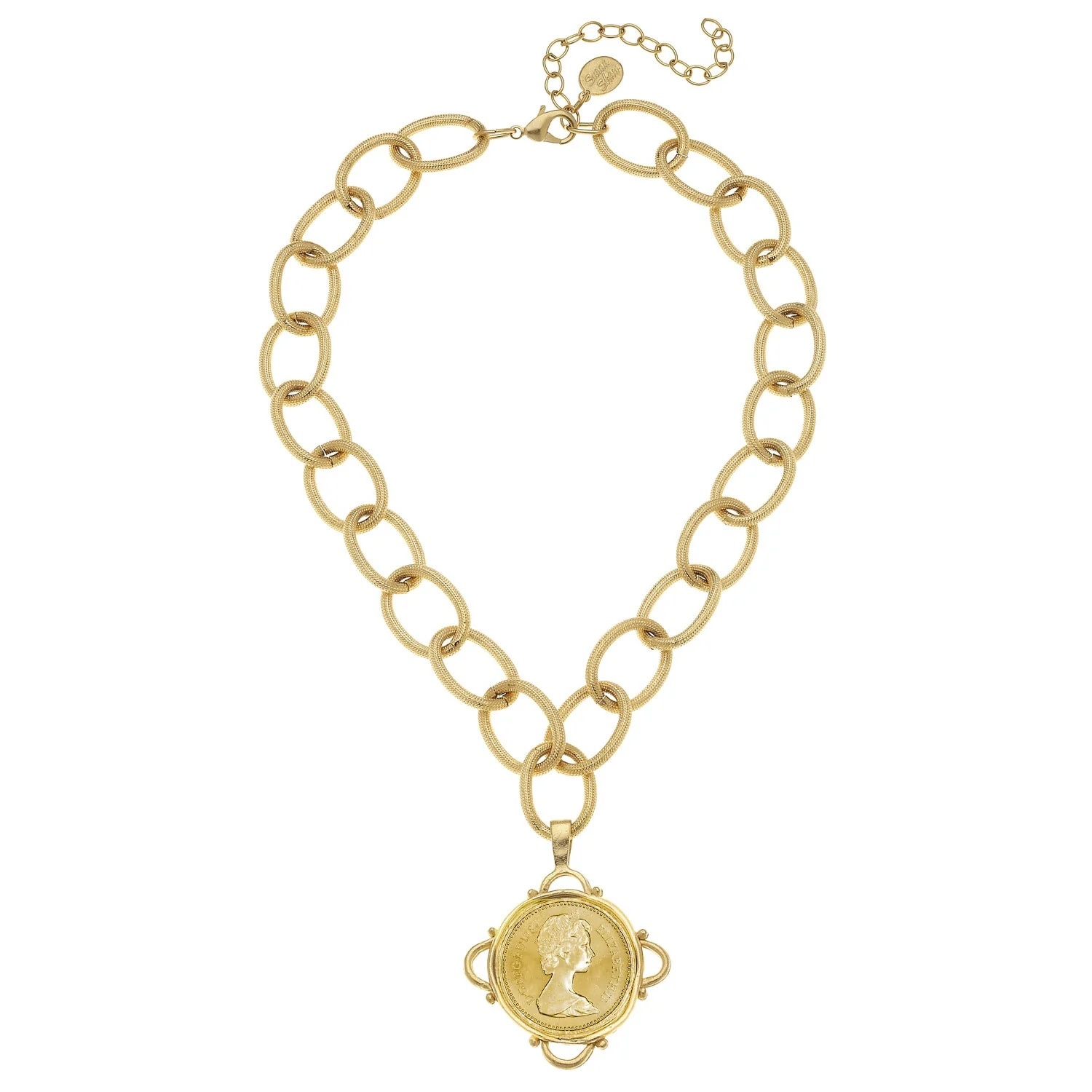 Sheila Fajl Lunaria Hoop Earrings
Bold statement hoop earrings are a staple in a jewelry collection, and the Sheila Fajl Lunaria Hoop Earrings are just what you need for your own personal collection! These large gold hoop earrings are lightweight and simple, yet have a timeless elegance and modern style to them. Handmade in Brazil by artisans!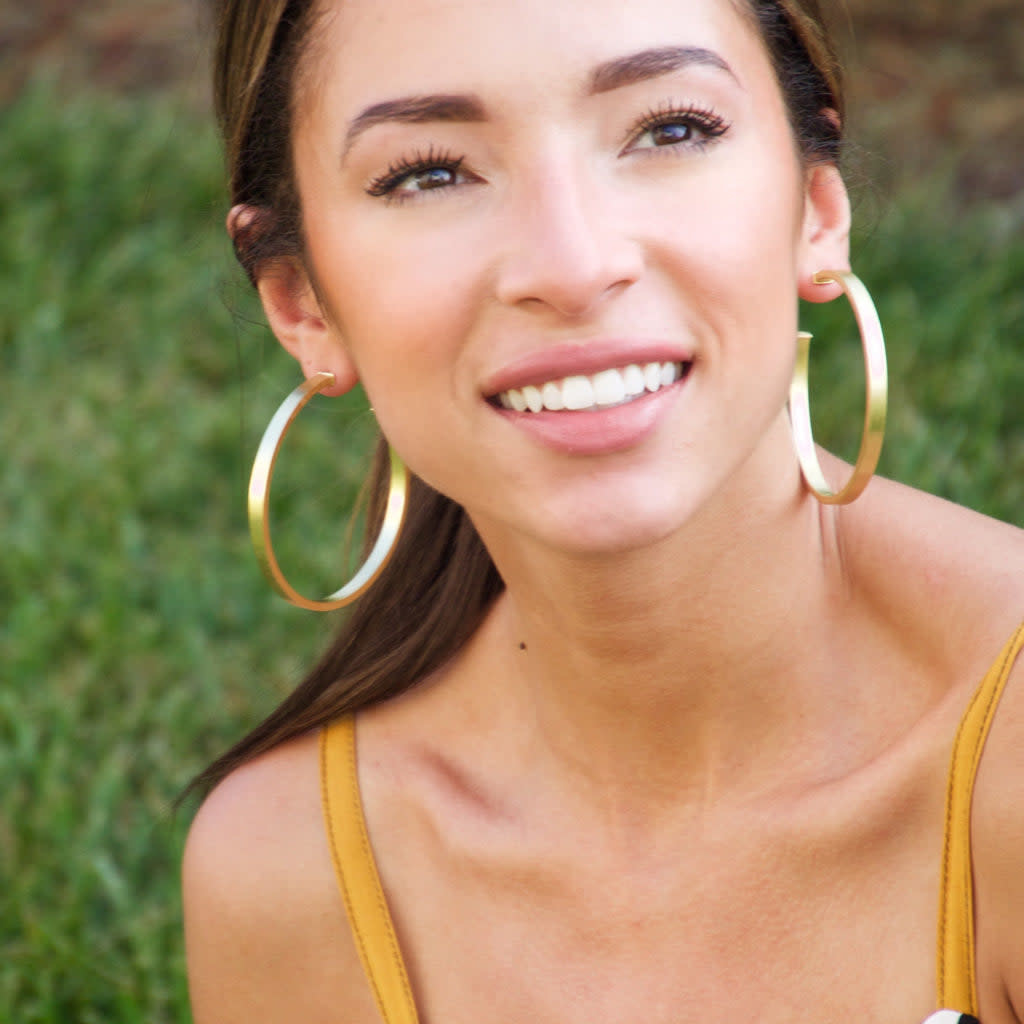 Designed with an intricate filigree cut-out pattern, the Julie Vos Vienna Medium Hoop Earrings are medium-sized gold hoop earrings with an elegant twist! These women's hoops are lightweight and feature 24k gold-plated material.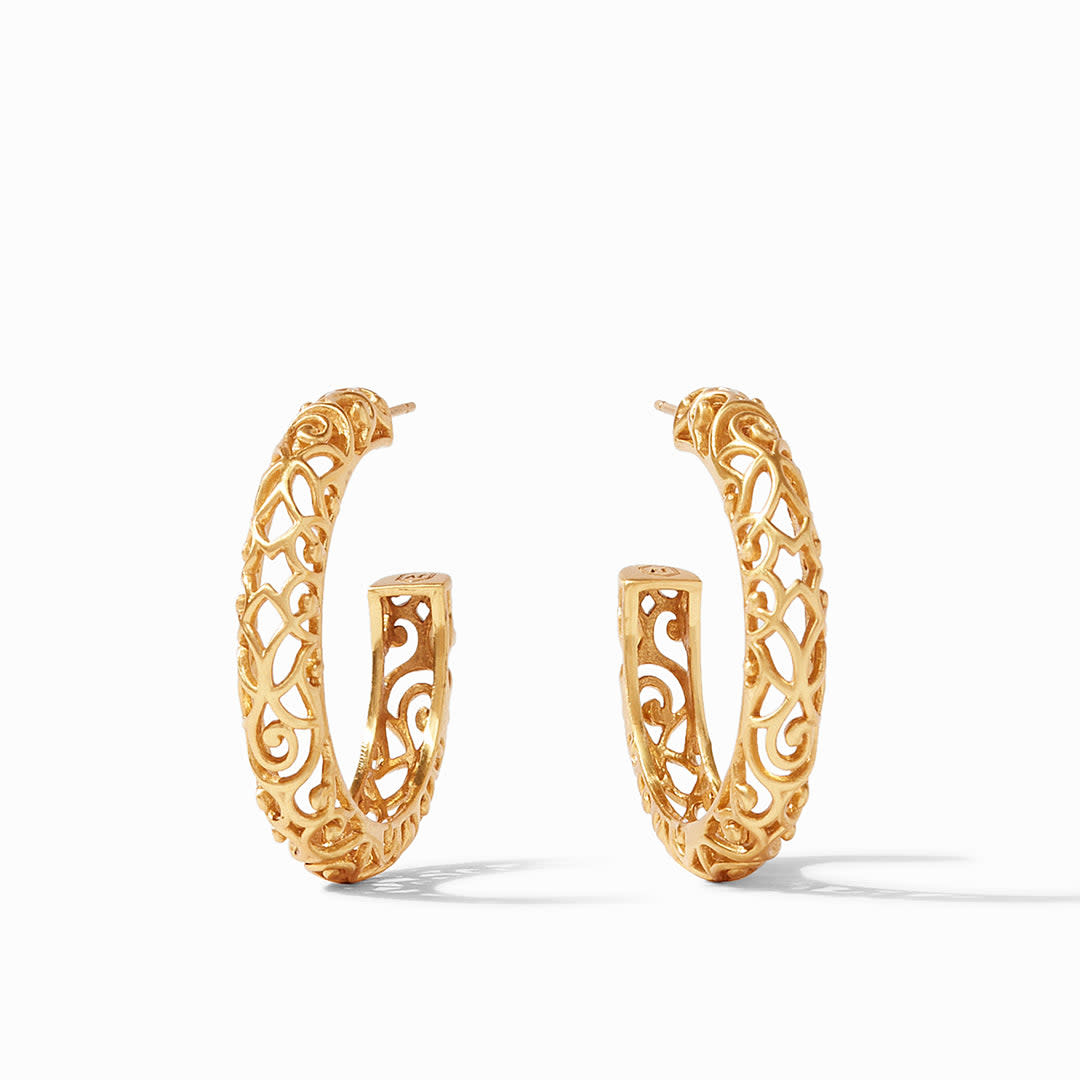 Slim and slender, the Julie Vos Colette Gold Bead Bangle is a sleek and simple gold bangle for women with bead detailing along the band for added design and dimension. You can easily stack this bangle with other bracelets or bangles.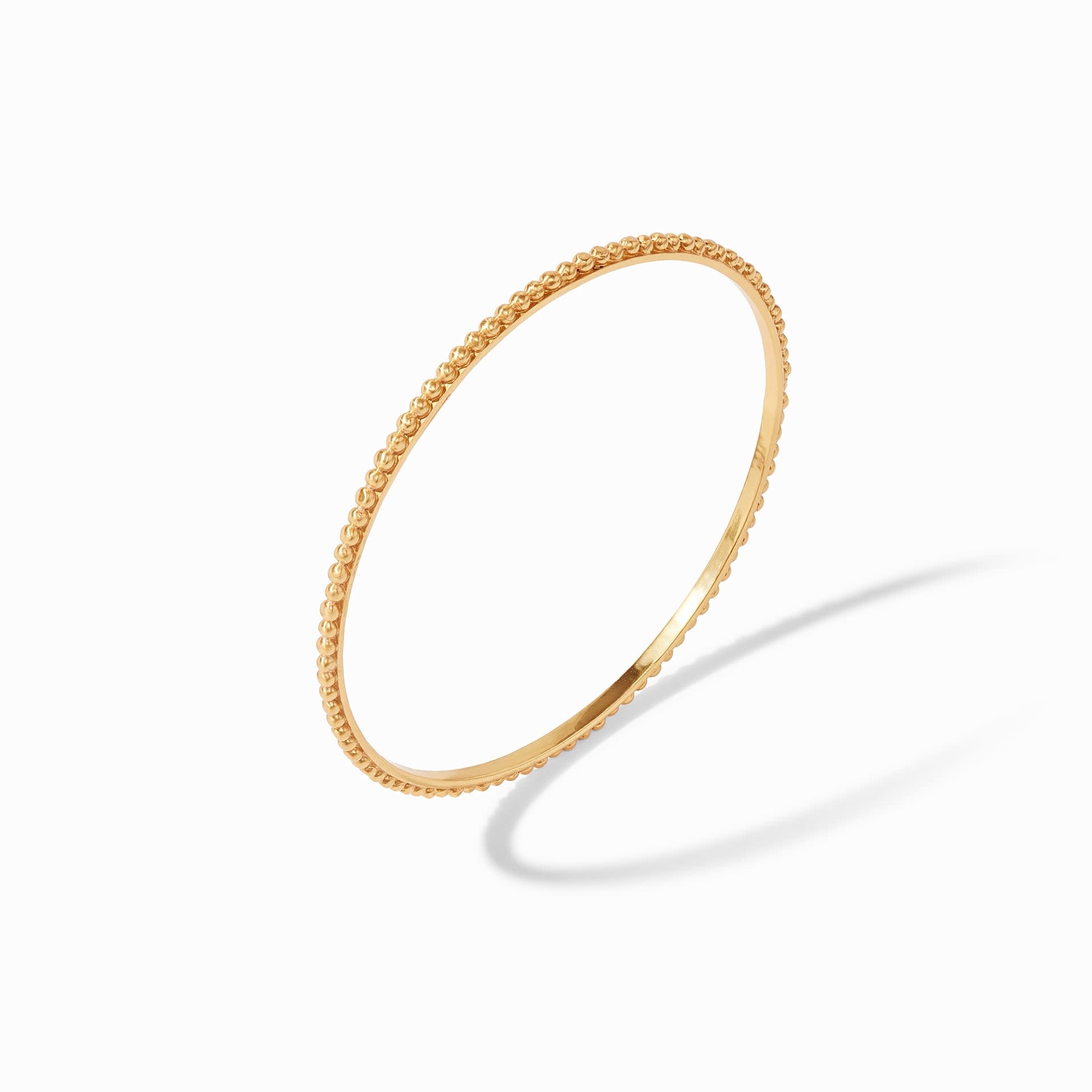 Large Silver Textured Chain Necklace
If you love chunky necklaces, the Susan Shaw Large Silver Textured Chain Necklace is just what you need to add to your collection! Perfect to wear to holiday events, special occasions, or for the office, this chunky silver chain necklace for women is the statement you need to complete your outfit for any occasion. The double chain link loops are textured for a one-of-a-kind design.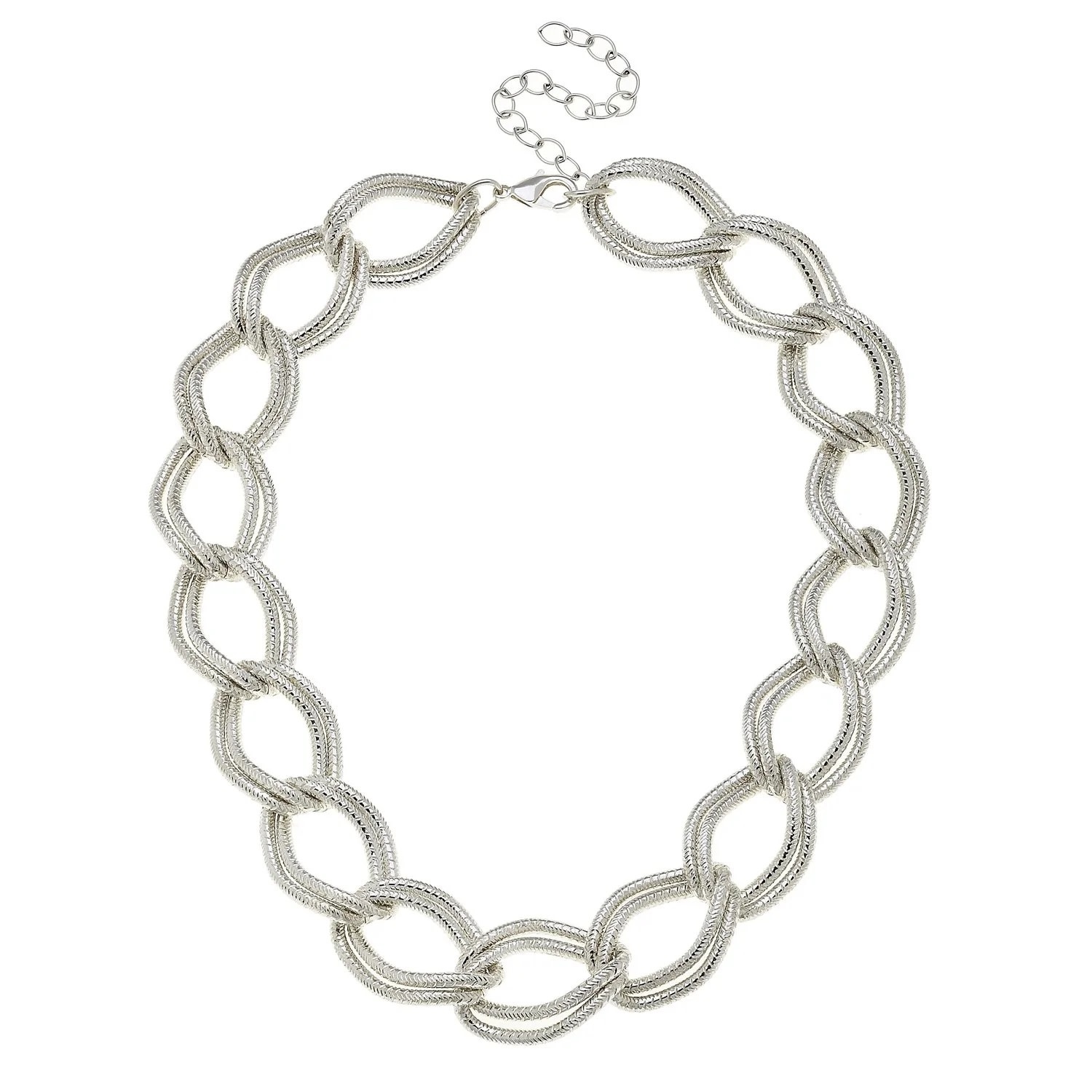 With a charming chinoiserie flair, the Susan Shaw Gingko Leaf Toggle Necklace is a chunky chain necklace that sits close to the neck and has a gingko leaf pendant with a toggle closure on the front. Lovely to wear for spring or fall!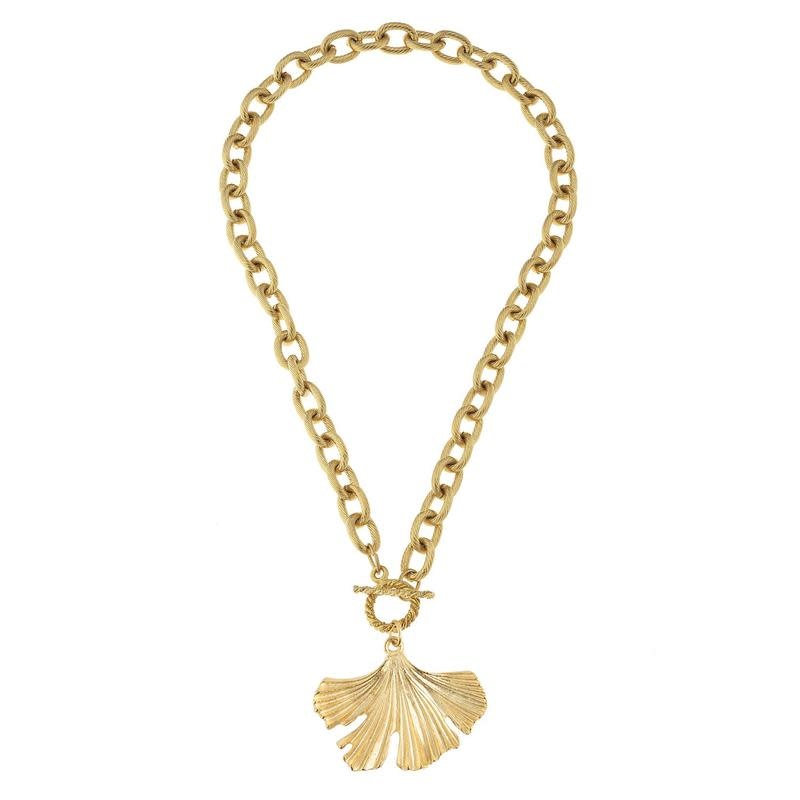 Perfect for the holiday of XOXOs, the Julie Vos Catalina X Stud Earrings are beautiful to give as a Valentine's Day present! These women's gold X-shaped studs are sophisticated and versatile enough to wear with any outfit, for any event or special occasion. The X also features different textures (one smooth, one lightly hammered) for a unique design and style.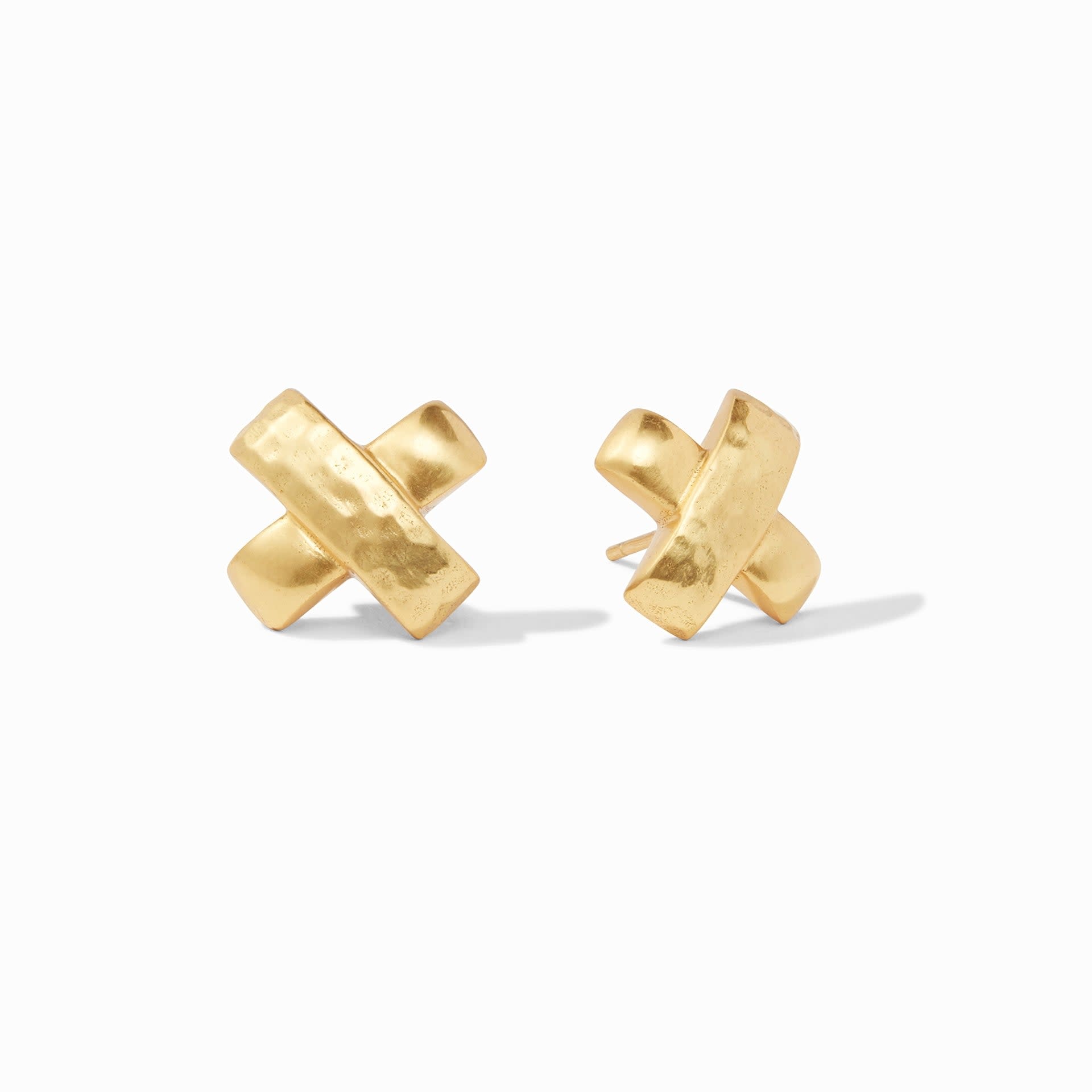 Every woman should have a pair of small, stylish gold hoops in her collection! Make the Julie Vos Small Hammered Hoops a part of your jewelry - so easy to style, so easy to rotate throughout your week! These women's small gold hoop earrings have a lightly hammered texture for added design.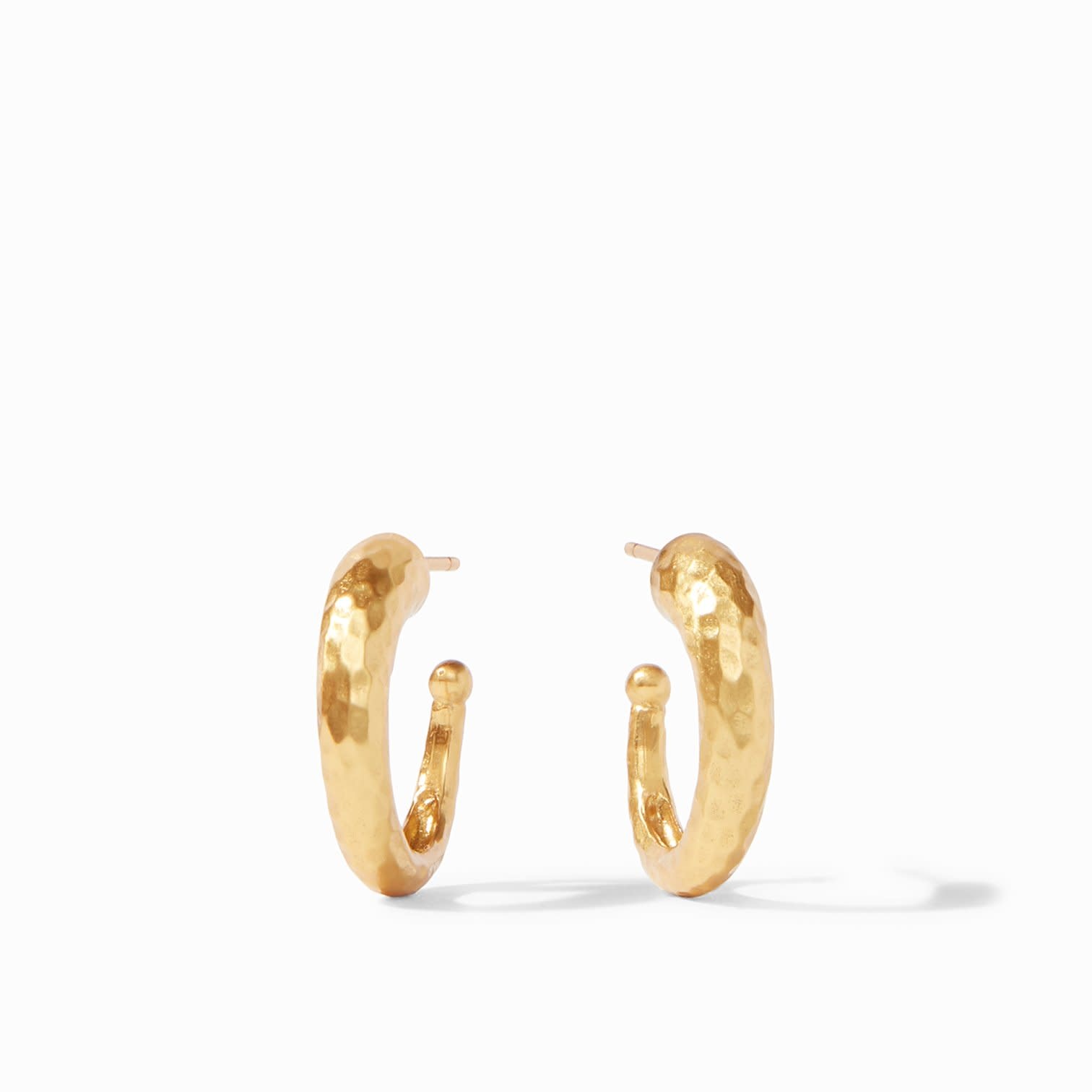 If you prefer larger hoops, try out the Julie Vos Crescent Hoops - slim and slender, lightly hammered golden hoops that elevate your look with a timeless elegance.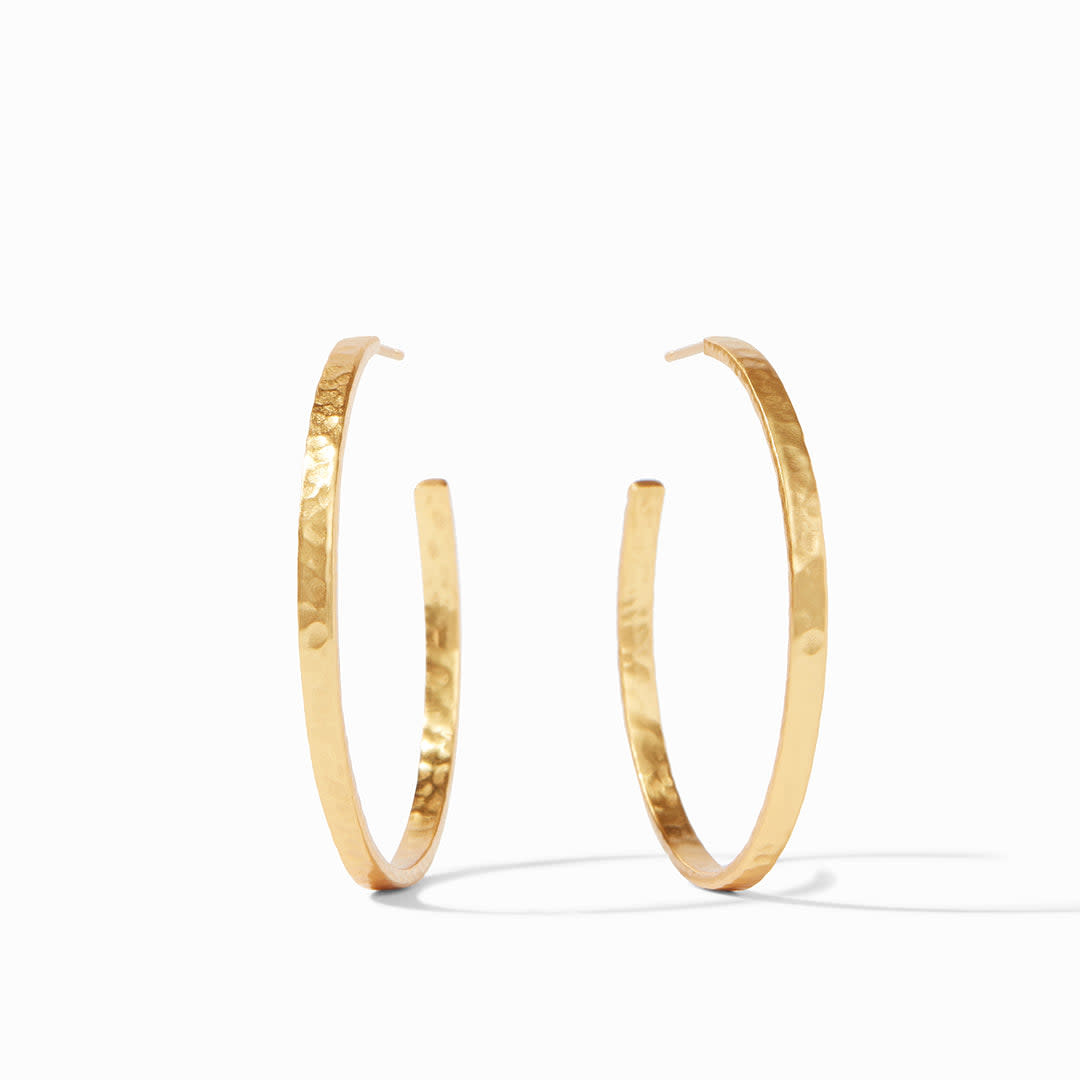 Fleur-de-Lis Solitaire Reversible Necklace
Elevate your look with the Fleur-de-Lis Solitaire Reversible Necklace! With a reversible pendant featuring a rose-cut, multi-faceted gemstone and a gold medallion, this women's statement pendant necklace lets you swap your style any time and still maintain an elegant, chic look. The necklace sits close to the neck for a delicate look.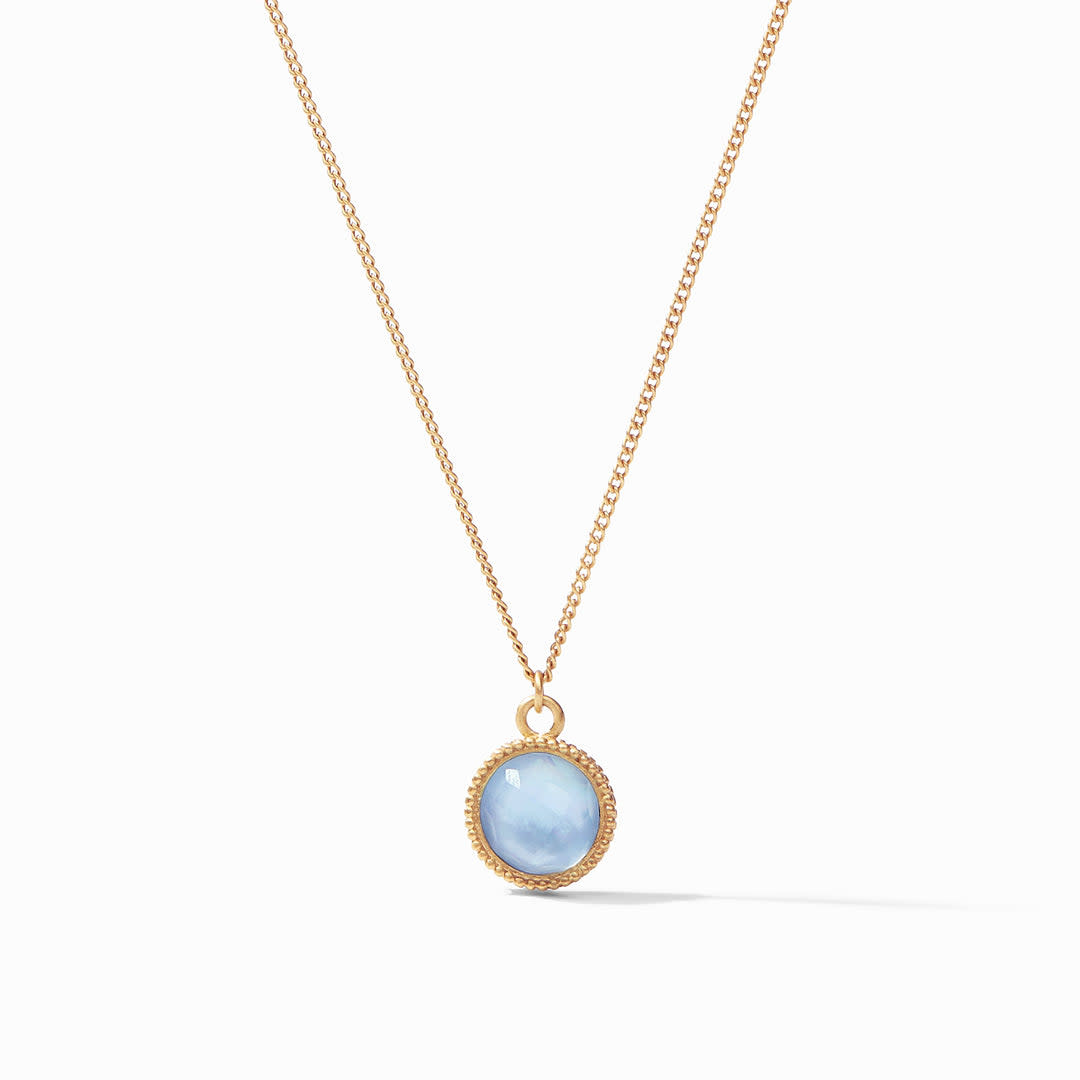 Cover yourself in gorgeous pearls with the Marbella Statement Necklace! This stunning string of freshwater pearls features a vintage-inspired design and rectangular gemstone pendant.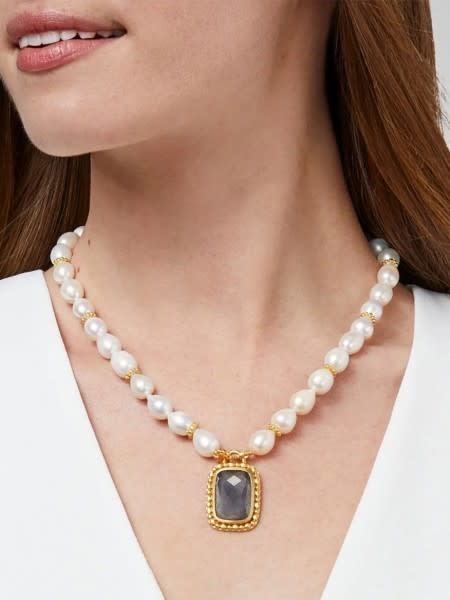 Sweet and chic, the Julie Vos Honeybee Statement Necklace offers a charming, yet stylish, jewelry piece to include in your jewelry collection. This statement necklace for women goes all out with its chunky chain and large reversible pendant, featuring a rose-cut gemstone on one side and a honeybee emblem on the other side. A lovely piece to include in your spring or summer collection!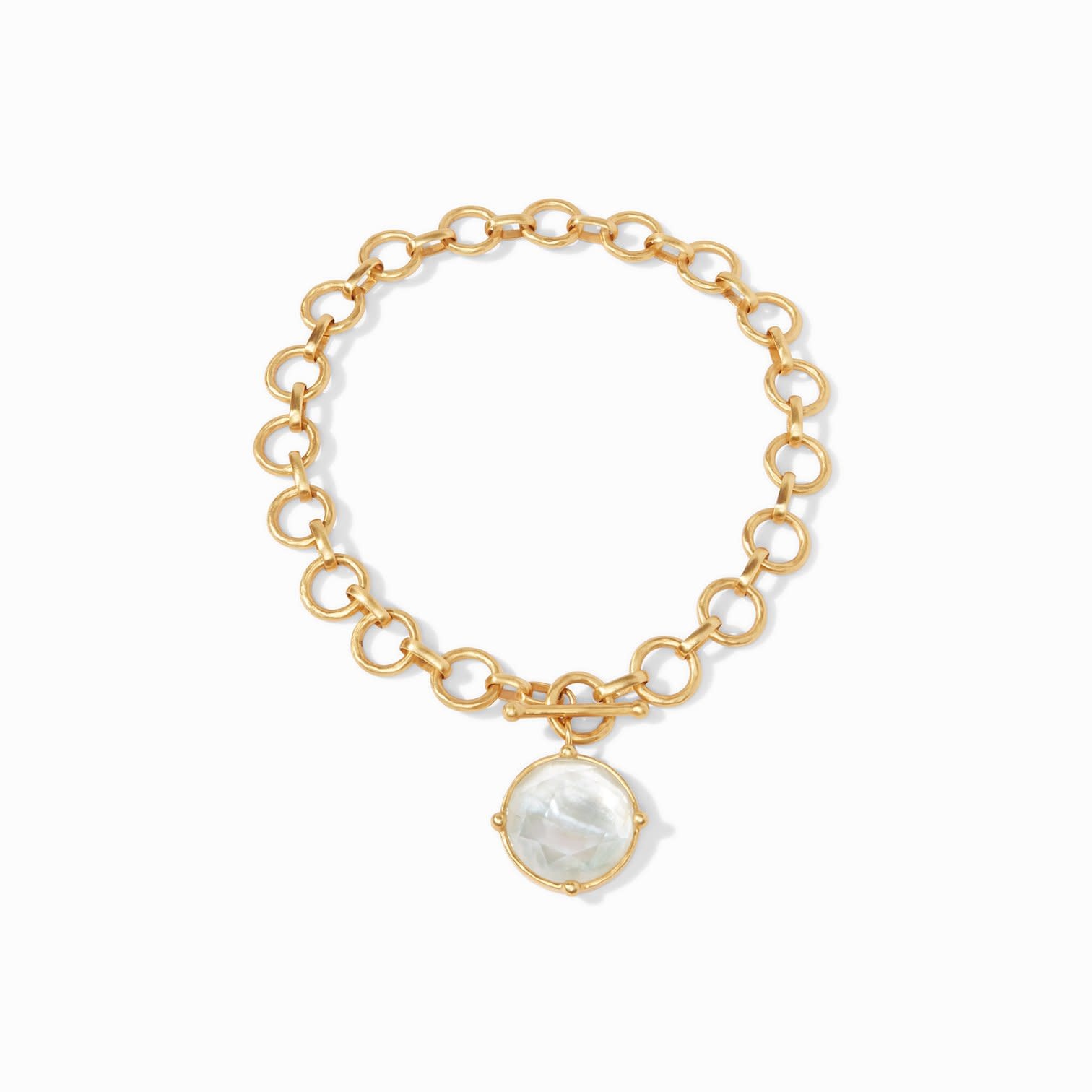 Add a sparkle to your look with the Windsor Medium Hoop Earrings! Large, slim gold hoops are covered in glittering gemstones for an elevated, sophisticated look that works well with evening wear or business wear.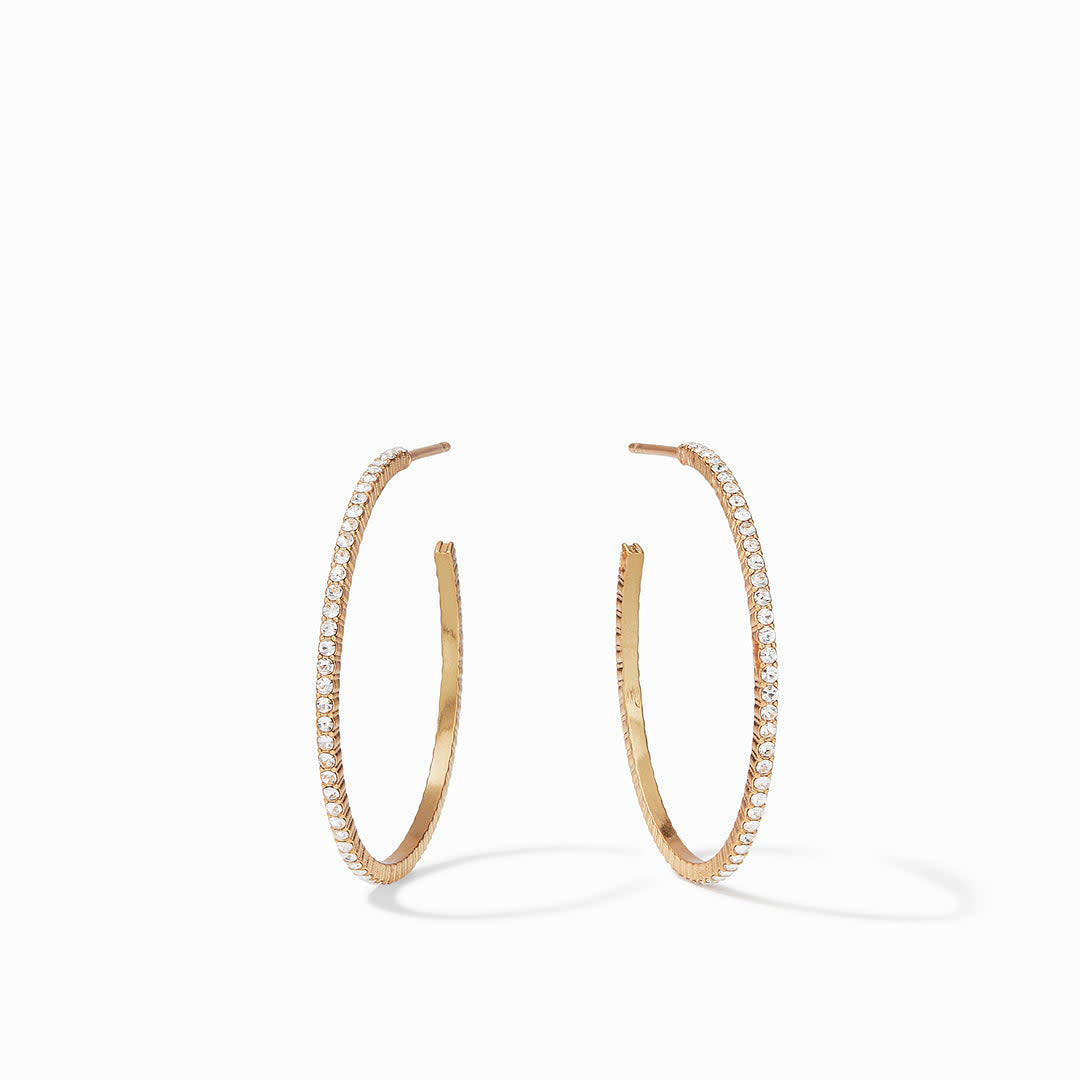 BONUS: 2023 Valentine's Day Outfit Ideas for Women 
While we're here, we also wanted to share several outfit ideas for you to consider for Valentine's Day - no matter if you're going to a special evening date with your special someone, having brunch with your girls for Galentine's, or simply having a day to yourself at home, you can dress up in fun, chic, and stylish clothing for a festive feel! 
Karlie Novelty Heart Puff Sleeve Sweater
Sweeten up your look with the Karlie Novelty Heart Puff Sleeve Sweater Top! Featuring elbow-length sleeves and a mock neckline, this women's knit sweater top is covered in embroidered hearts - perfect for a casual and cozy Valentine's Day outfit! 
Another option for a cozy Valentine's Day sweater: BB Dakota Cherry You Up Sweater!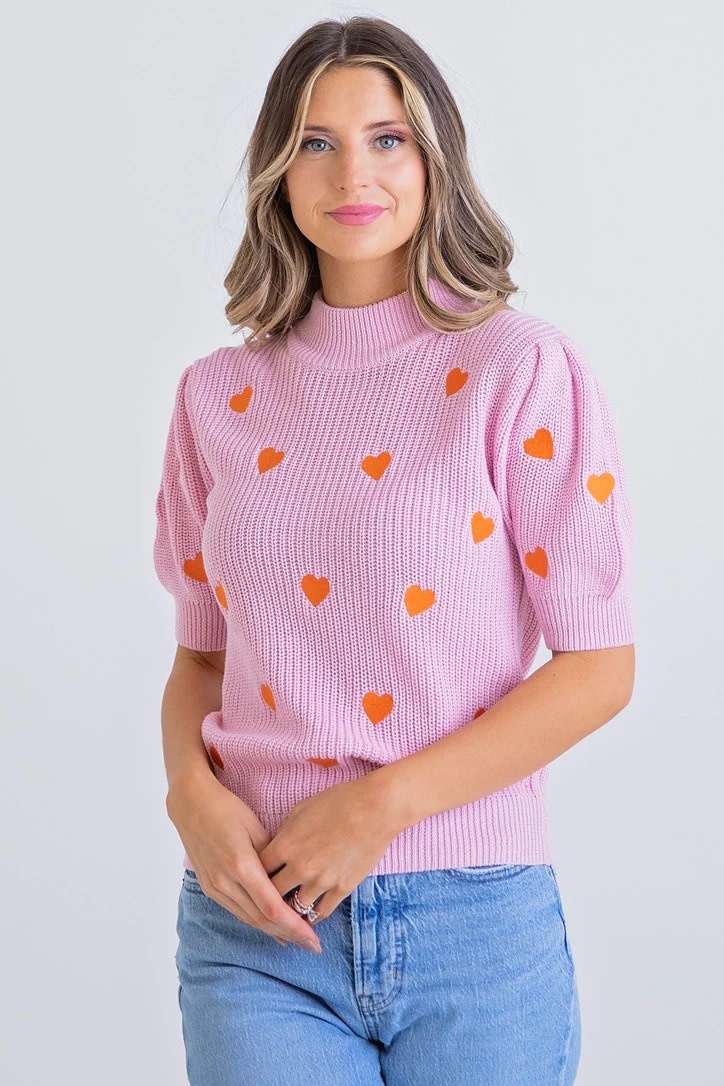 BB Dakota Stripe to the Heart Dress
Add a modern and chic twist to your Valentine's Day attire with the BB Dakota Stripe To The Heart Dress! This women's shirt dress hits mid-thigh and features a classic dress shirt, button-down style with a waist tie.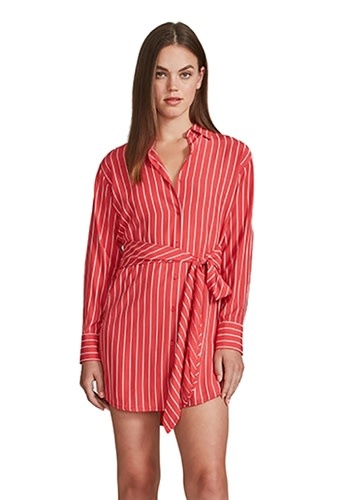 Karlie Swirl Multi Satin Button Romper
Celebrate Valentine's Day in the Karlie Swirl Multi Satin Button Romper! This chic and stylish women's sleeveless romper features a drapey front with a mock neckline and a skirt front to create the illusion of a mini dress. Covered in a colorful swirly striped pattern, this women's romper makes a statement Valentine's Day outfit!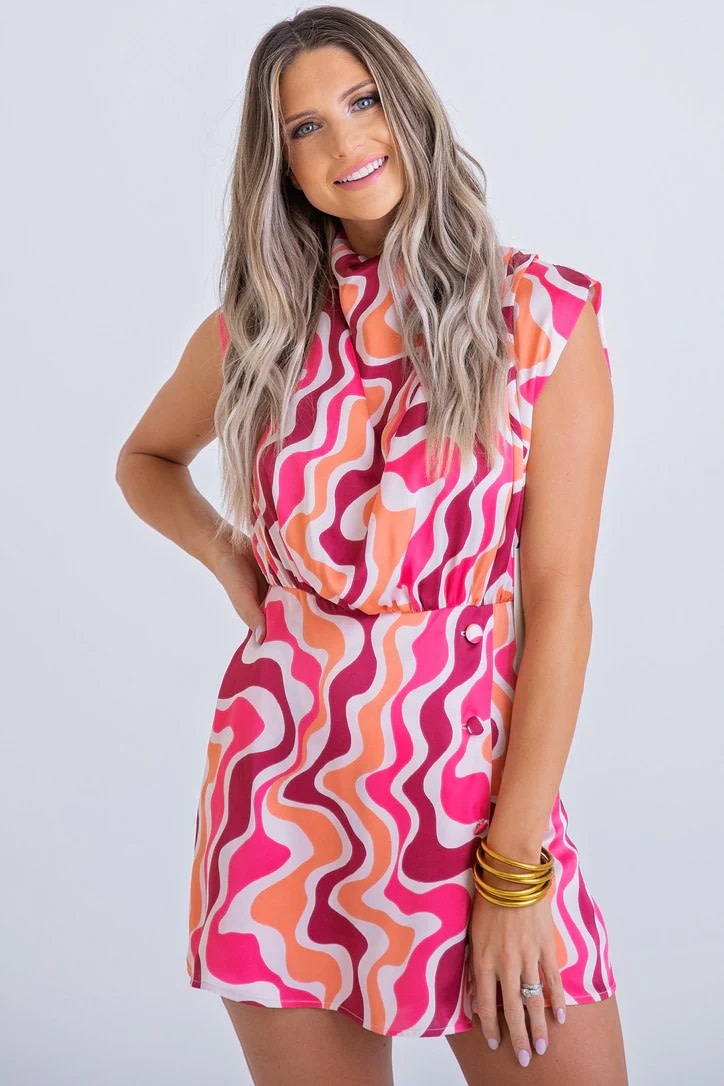 Adrianna Papell Metallic Crinkled Mesh One-Shoulder Jumpsuit
Look extra glam for Valentine's Day with the Adrianna Papell Metallic Crinkled Mesh One-Shoulder Jumpsuit! With an elegant, flowy silhouette, this women's jumpsuit features a one-shoulder style with a drapey design that gives you an elegant look.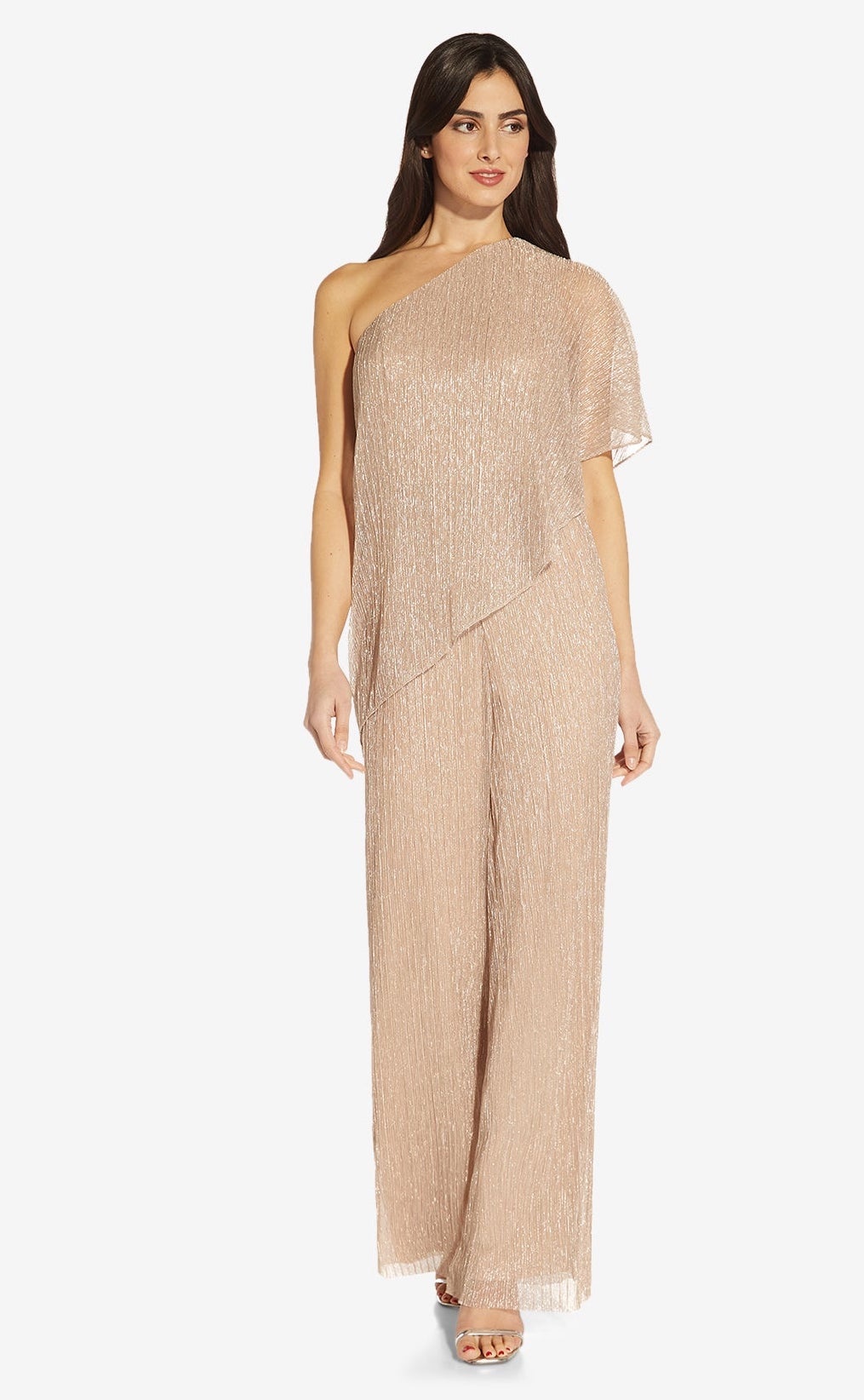 For the perfect date night look, the Trina Turk Vivacious Dress is just what you need for a fancy evening out! This off-shoulder, fitted shift dress comes in a bold, sensual color and style and tailored fit. Thanks to the off-shoulder look, you can dress up this dress with one of our boutique statement necklaces or dangling earrings to complete your look!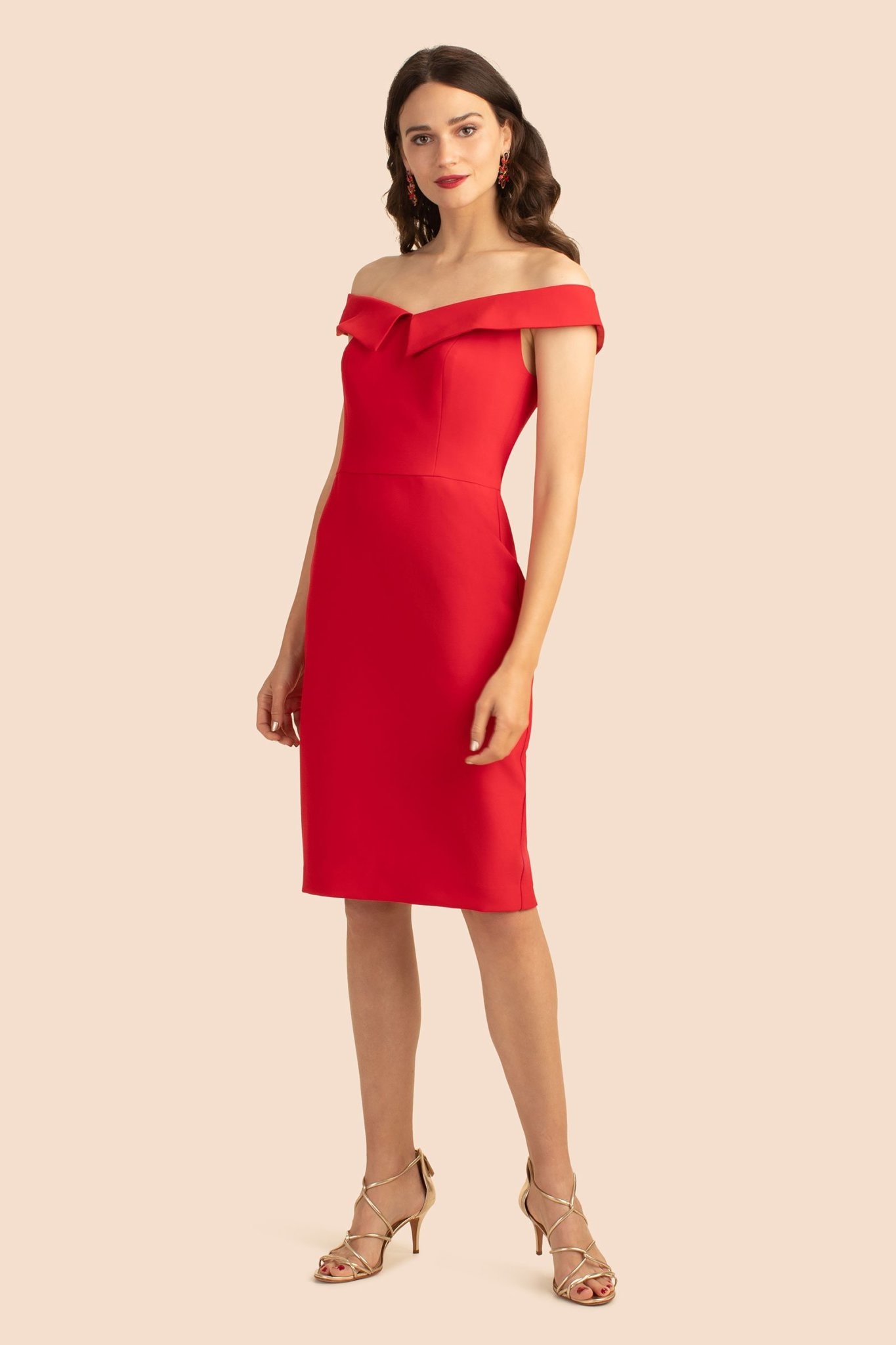 For the more cozy and chic style, the Kerisma Zayda Top makes a great Valentine's Day top option for brunch or family gatherings. With a cowl neckline and a fringed hem, this women's sweater knit top has an oversized design for comfort without sacrificing chic and sophisticated style.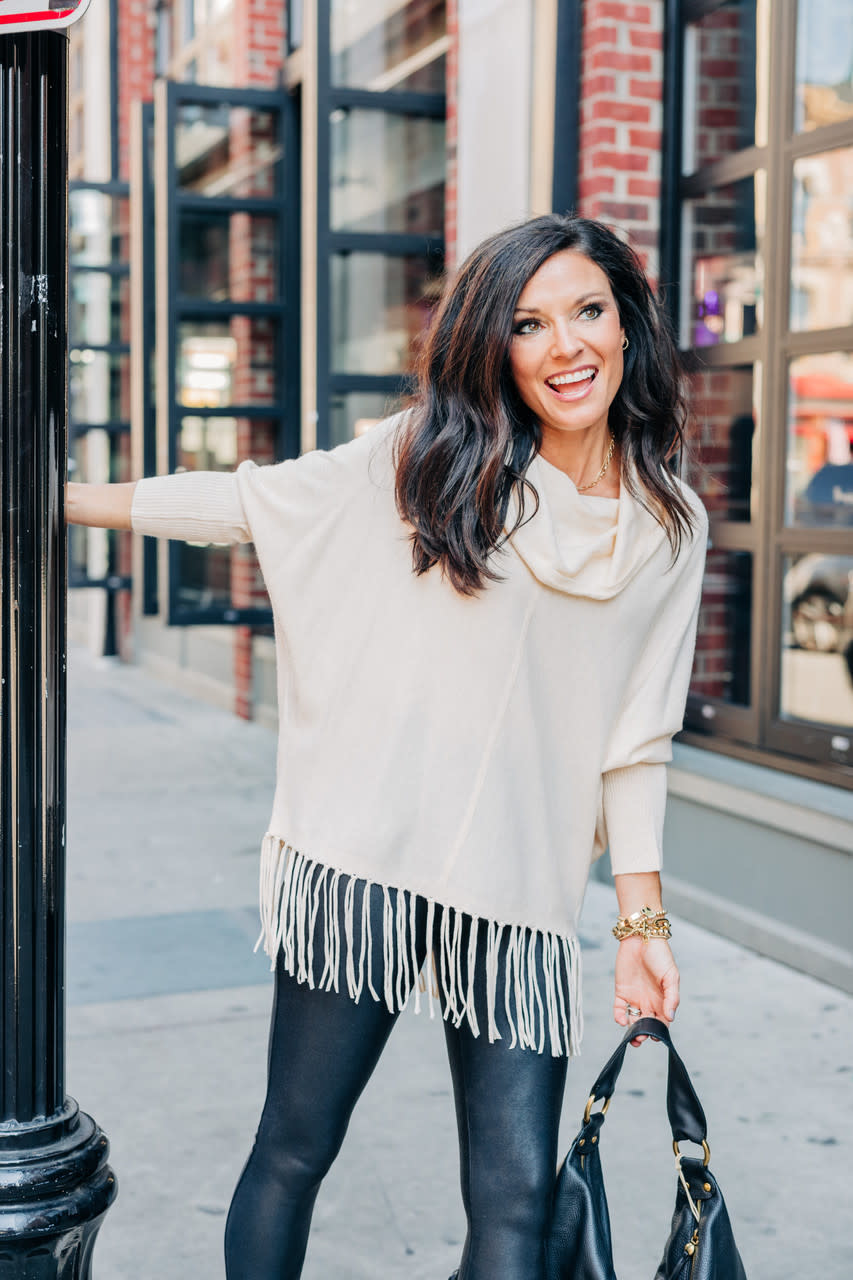 Perfect for a Galentine's Day brunch or Valentine's Day event, the Trina Turk Block Party Dress is a chic and sophisticated piece to wear for this love-filled holiday! This sleeveless shift mini dress features high-quality fabric that's comfortable and easy to wear and boasts a fashionable geometric pattern all over.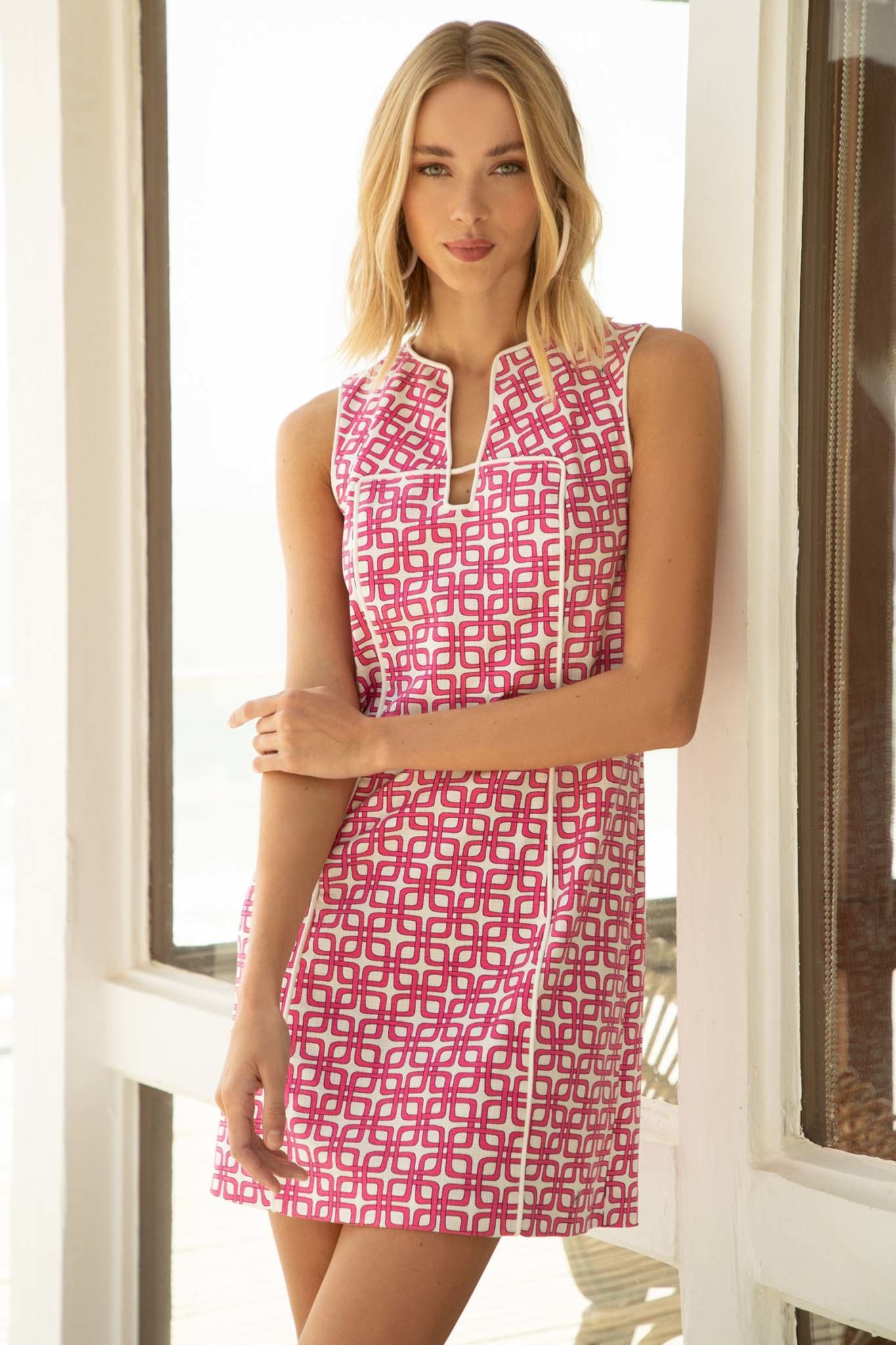 Be bold with your Valentine's Day style with the THML Smocked Print Top! This women's animal print top gives you a trendy and modern look, elevating your style with a cheetah spot animal print, elbow-length puff sleeves, and a smocked design around the collar and upper torso.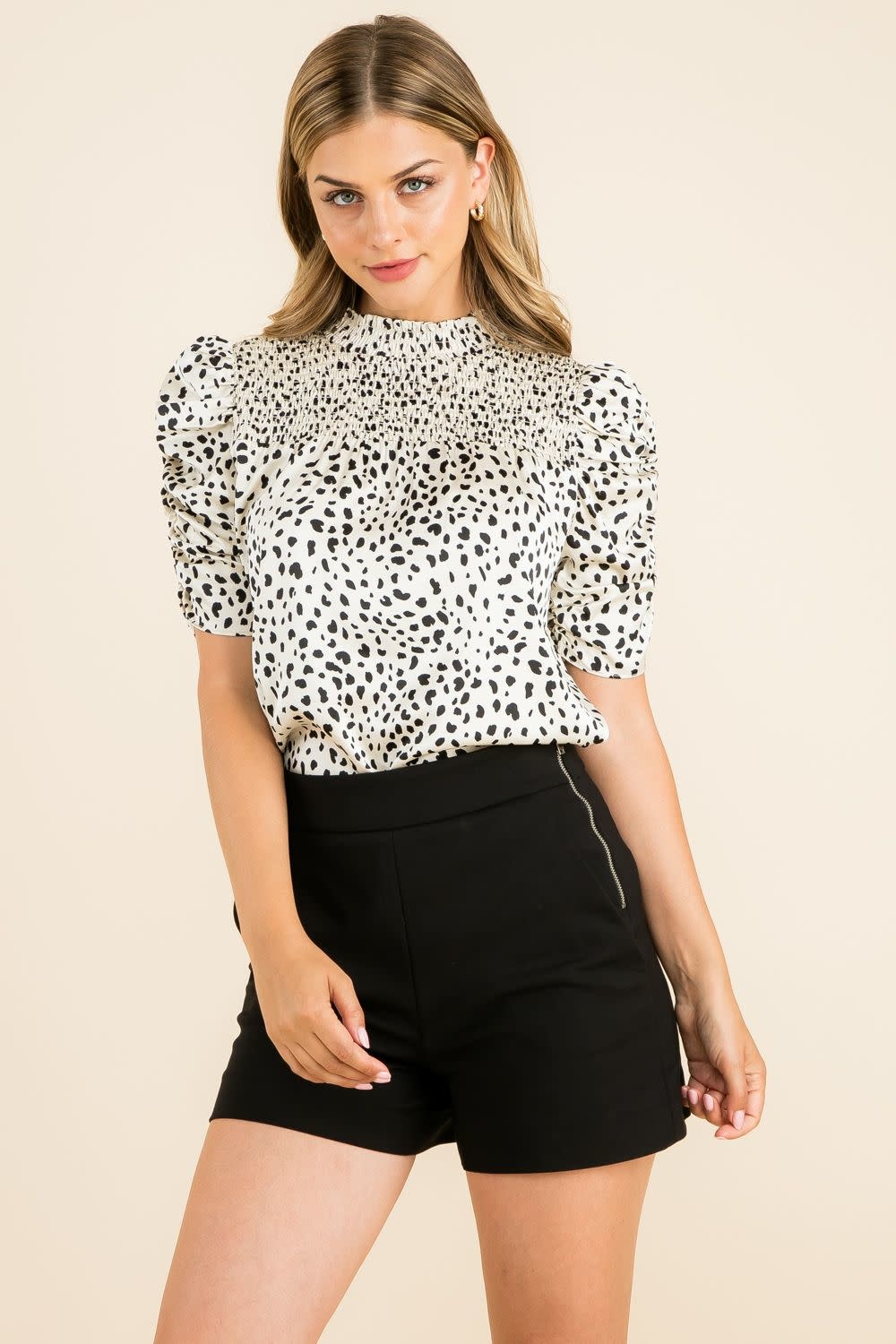 Feminine, romantic, and stylish, the Trina Turk Haipo Top brings a classic and timeless style that's versatile and effortlessly chic! This women's top features split long sleeves and a flowy hem - a gorgeous top to wear for any occasion!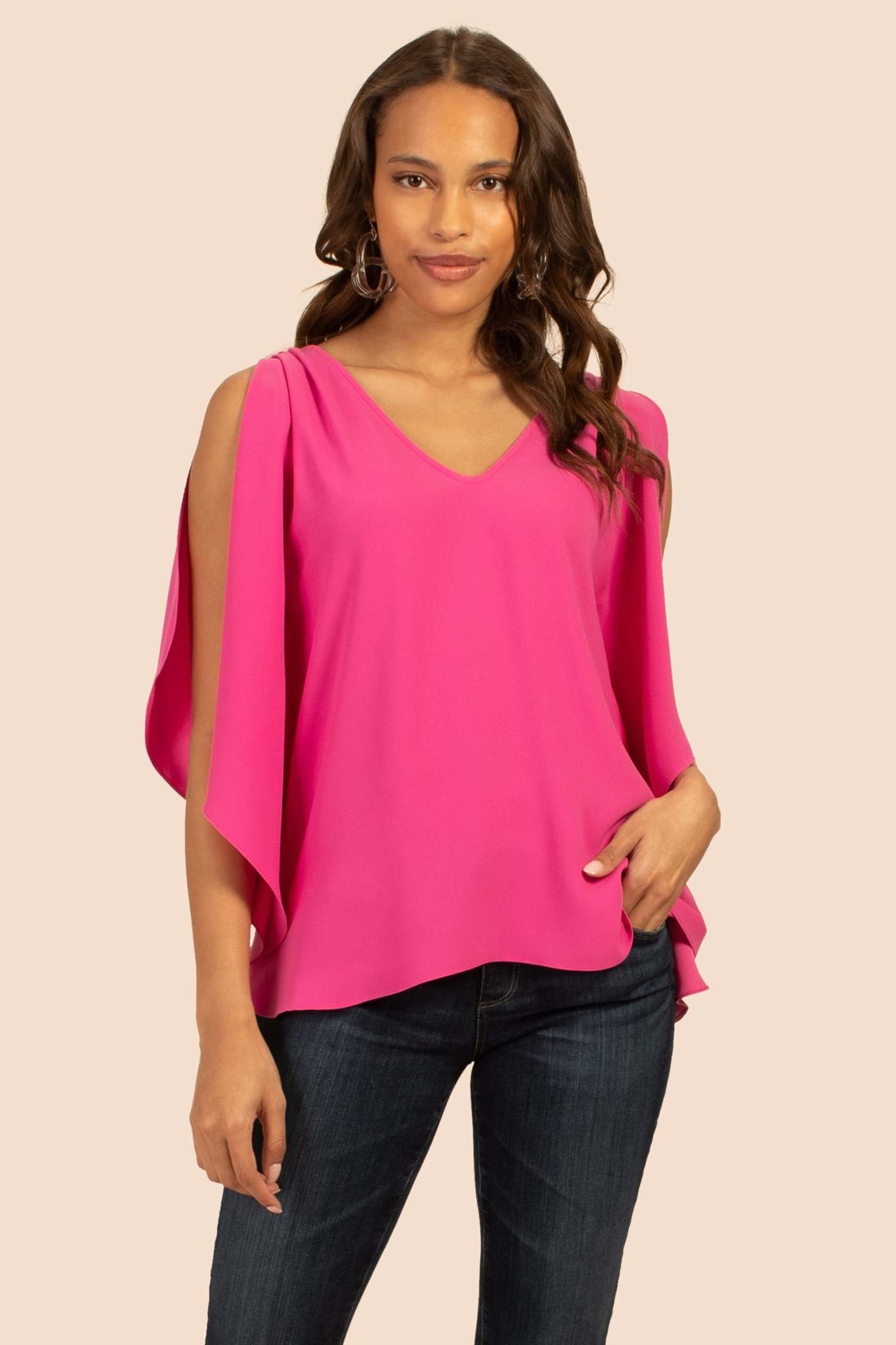 Another stunning off-the-shoulder dress from Trina Turk! The Witty Dress is a sweet and stylish off-the-shoulder dress with elbow-length puff sleeves and a slim-fit shift style for a sleek, polished look that's timeless and classy.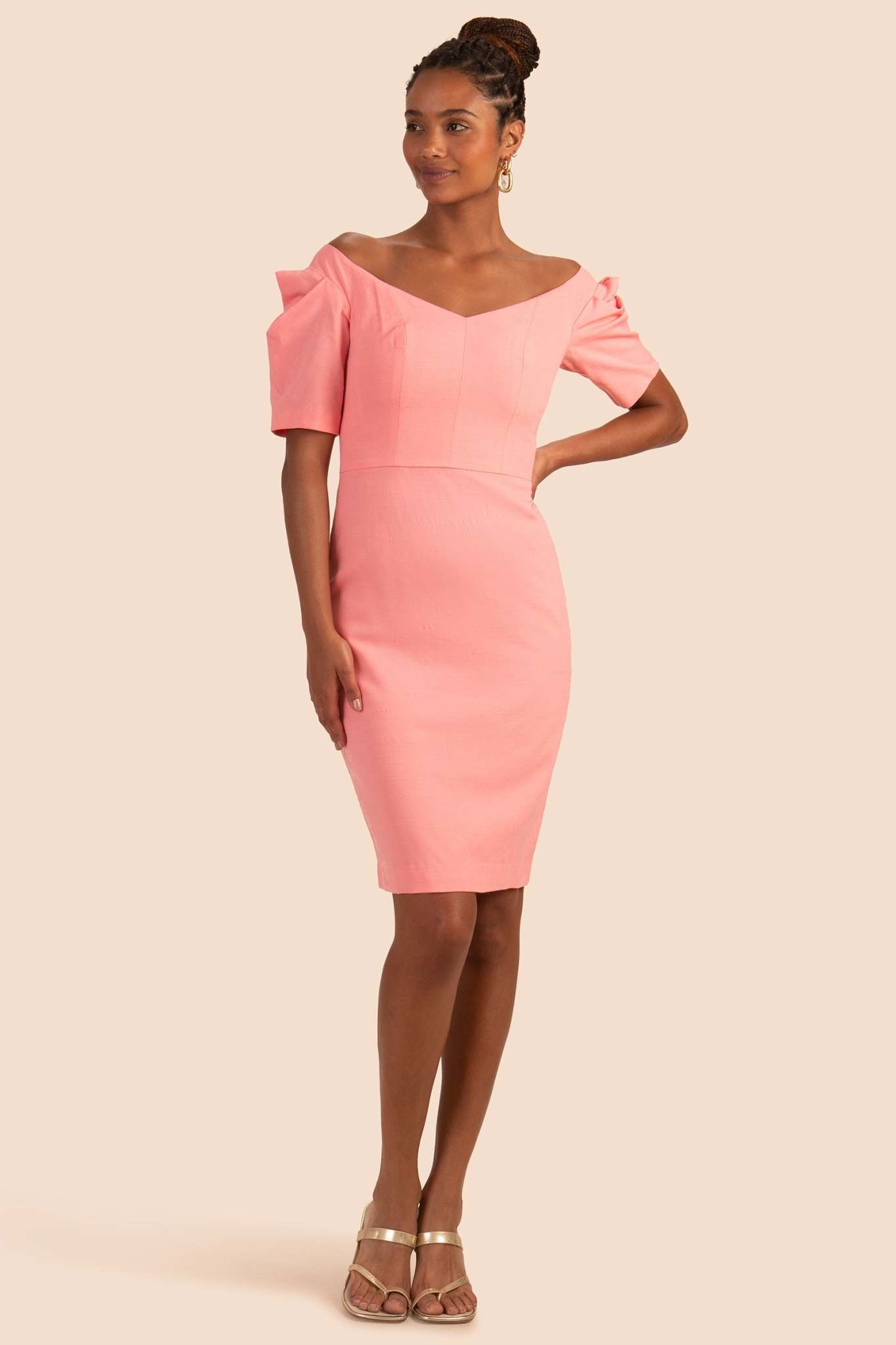 Not into the off-the-shoulder dress look? Go for something more laid-back, yet stylish and romantic for Valentine's day like the BB Dakota Girl Talk Top! This women's wrap top features a stretchy smocked front with an off-the-shoulder design. Pair with the BB Dakota See You Later Skirt for a romantic, feminine look for Valentine's Day!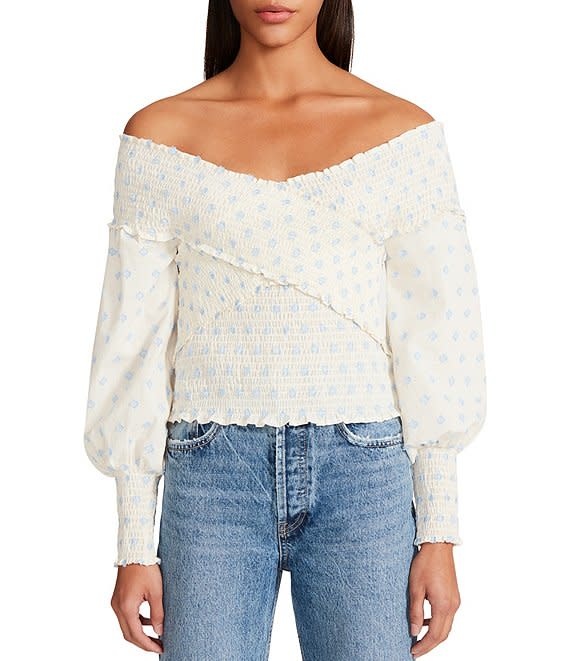 PJ Salvage Love In Camo Tank and Love In Camo Jogger Set 
If you're planning to lounge or have a casual, relaxing day, the PJ Salvage Love In Camo Tank Top and Jogger Pants are just what you need to be in the Valentine's Day spirit and stay comfy! Comes in a fun camo heart pattern.
*Sold separately.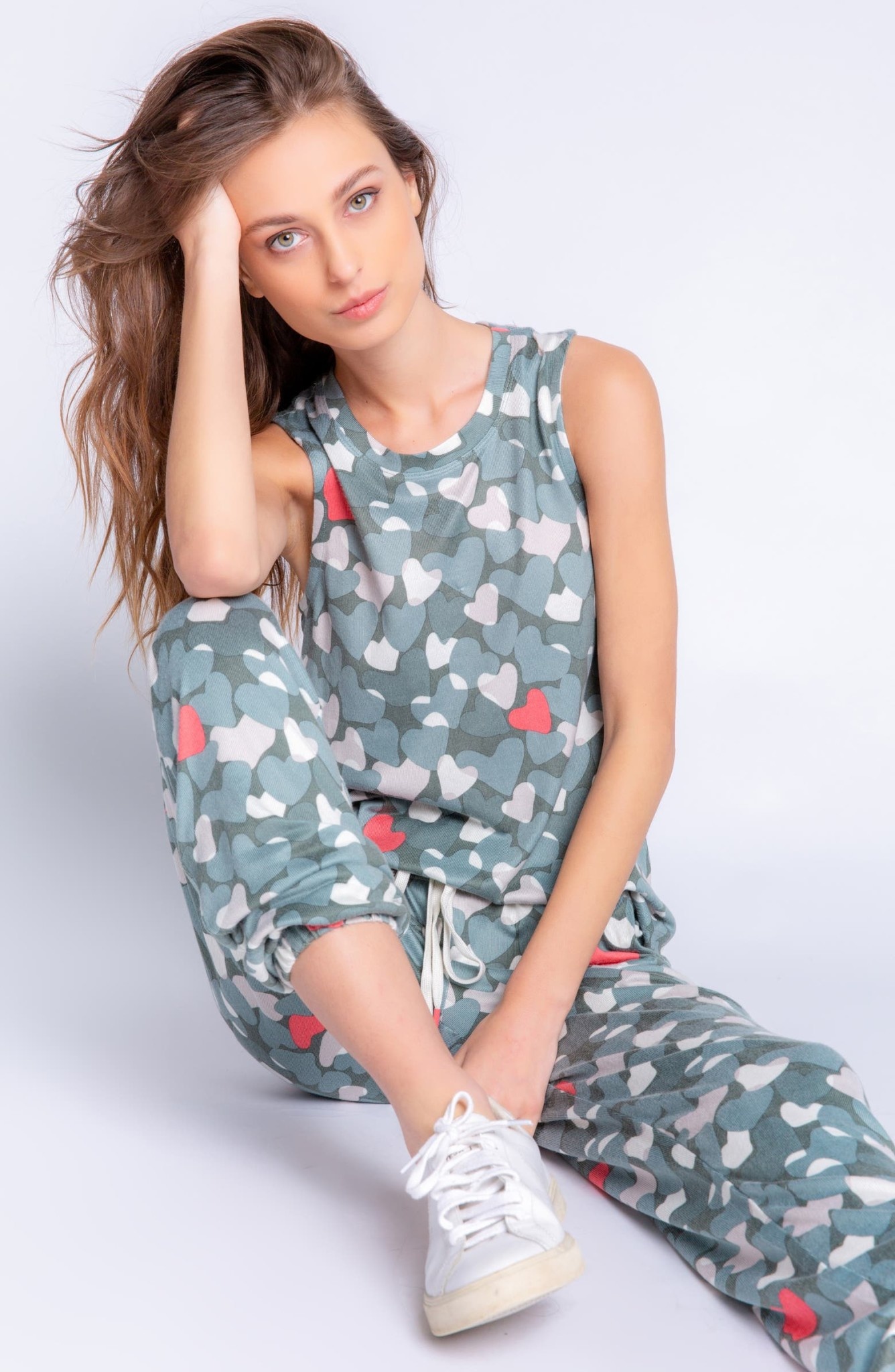 Jazz up your Valentine's Day look with the ultra-colorful BB Dakota Color My World Skirt! In a flowy A-line style, this flouncy skirt adds a fun twist to your look and can also transition into spring and summer attire! Pair with colorful tights that match the colors on the skirt.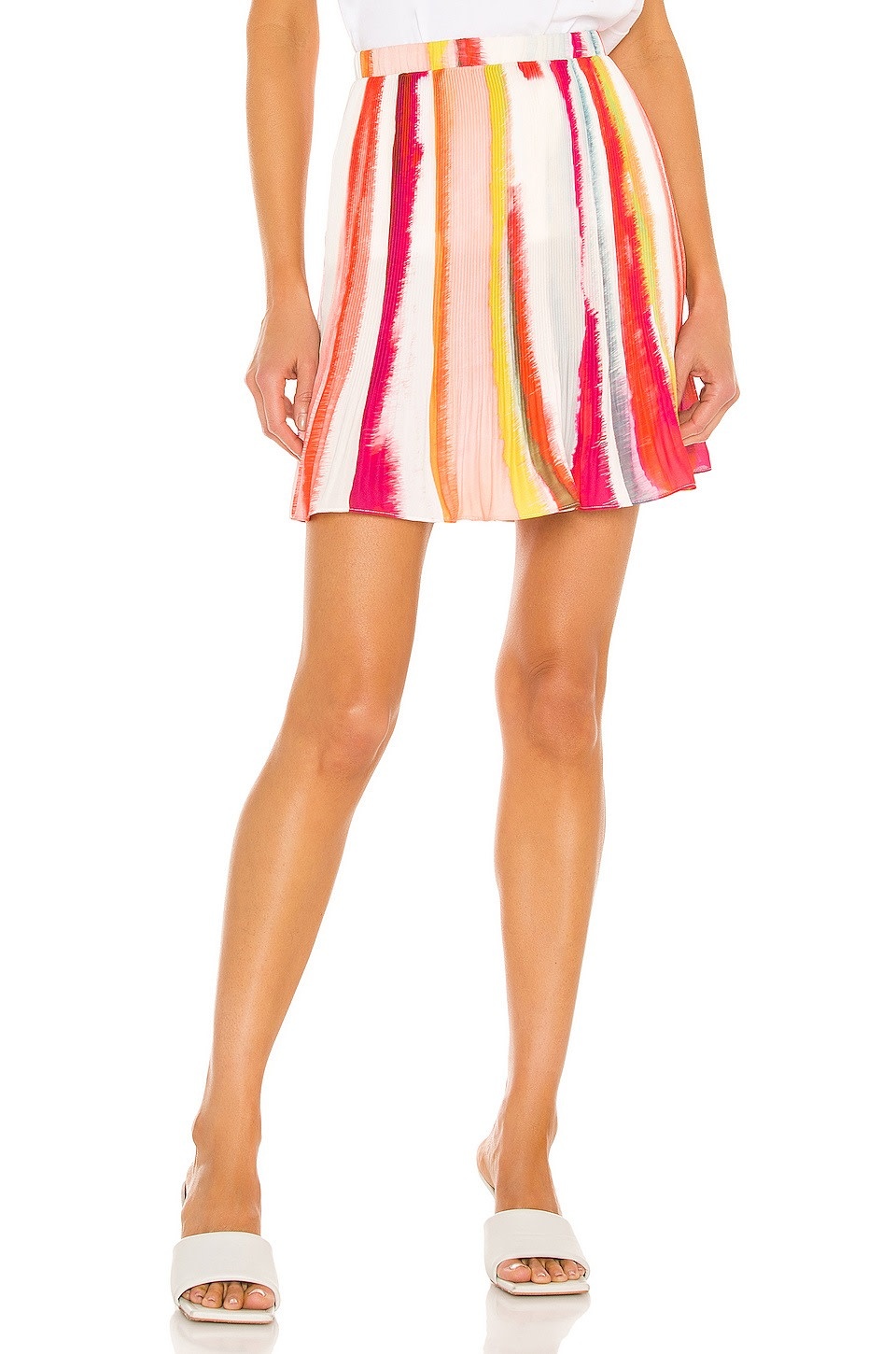 We hope you liked our gift and style guide for Valentine's Day 2023! Happy Valentine's Day and enjoy this February holiday!
~ Abraham's