If you're looking for a jewelry piece to help complete your Easter Sunday look, Abraham's boutique stocks unique, chic, and classy jewelry styles for any special occasion. Whether you're looking for pearl earrings or you want a gorgeous pendant necklace to add to your collection, we feature a wide range of boutique jewelry that can accommodate any outfit - casual or formal! You can also find timeless pieces that you can wear every day and that will stay in your jewelry collection for years to come. Enjoy this guide on our best boutique jewelry for Easter Sunday - and every day of the year!
Julie Vos Juliet Pearl Stud Earrings 
There's nothing like a classic pair of pearl earrings to dress up your Easter Sunday attire! The Julie Vos Juliet Pearl Stud Earrings are a timeless set featuring luminous shell pearls encased in golden petals encrusted with glittering CZ stones for an elevated look. Versatile and chic, these pearl stud earrings are sure to make an elegant statement with anything you wear.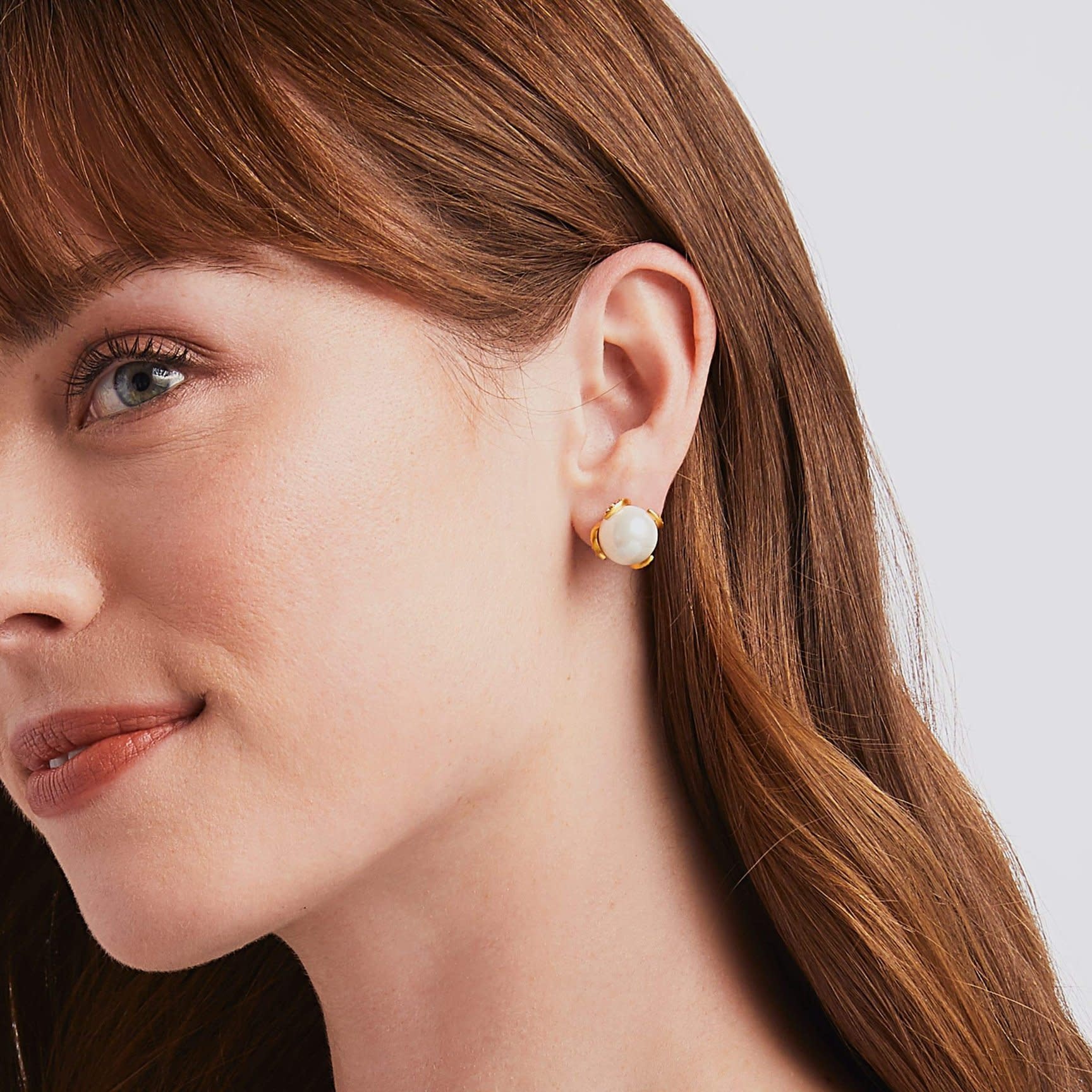 Meridian Hoop & Charm Reversible Gold Earrings
Get 2-in-1 earring styles with the gorgeous Meridian Hoop & Charm Reversible Gold Earrings! These darling dangle charm earrings feature small hoops that hold a reversible charm with a mother of pearl on one side and a golden compass-inspired design on the other side. You can interchange these earrings for a different look every time! Pair with the following necklace for a complete set.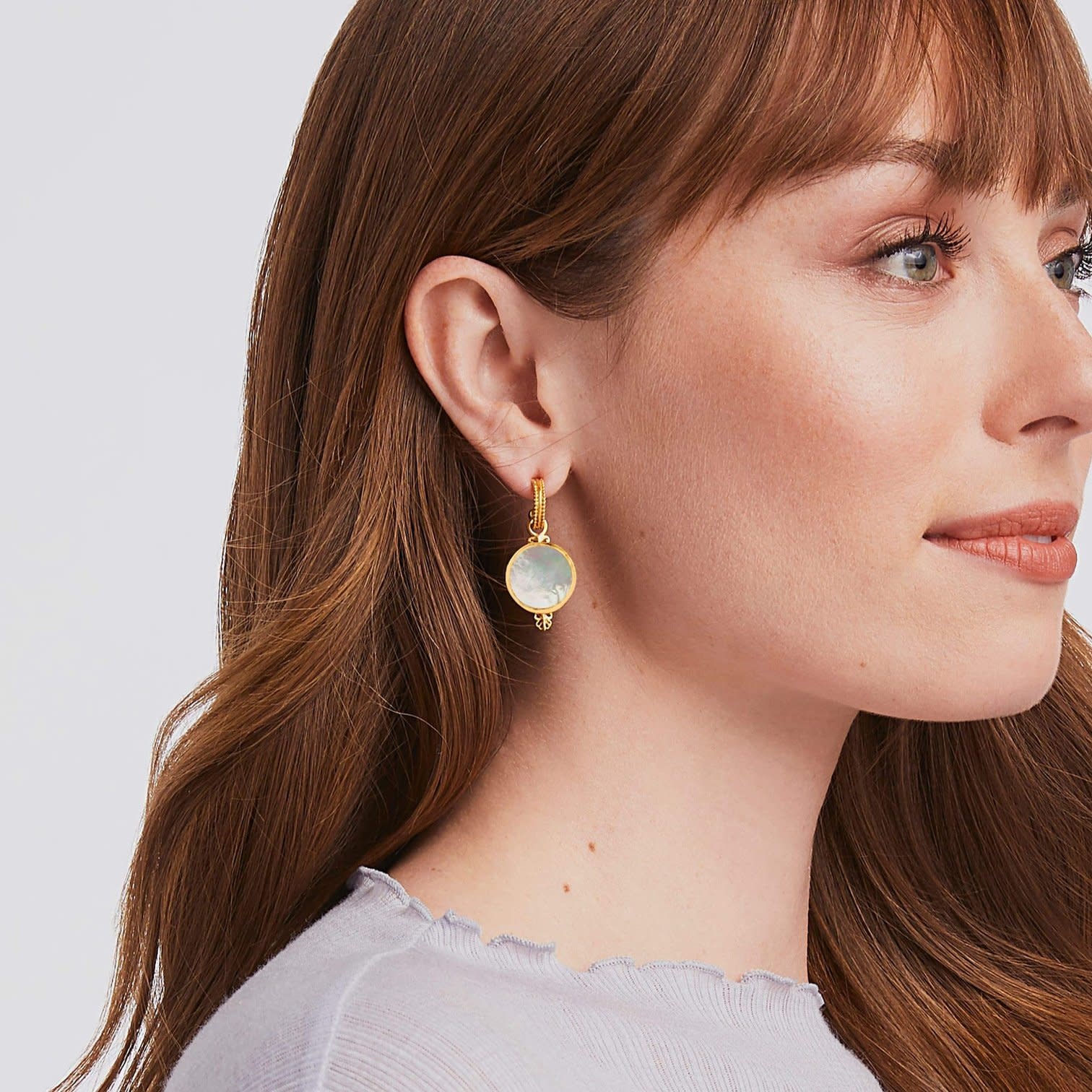 Meridian Delicate Reversible Necklace 
Dainty and classic, the Meridian Delicate Reversible Necklace features a coin-like pendant with a reversible style. One side has a stunning mother of pearl while the other side has a vintage-inspired compass-like golden pattern. The pendant dangles from a dainty 24k gold-plated chain for an elegant look. Pair with the earrings previously mentioned for a complete matching boutique jewelry set.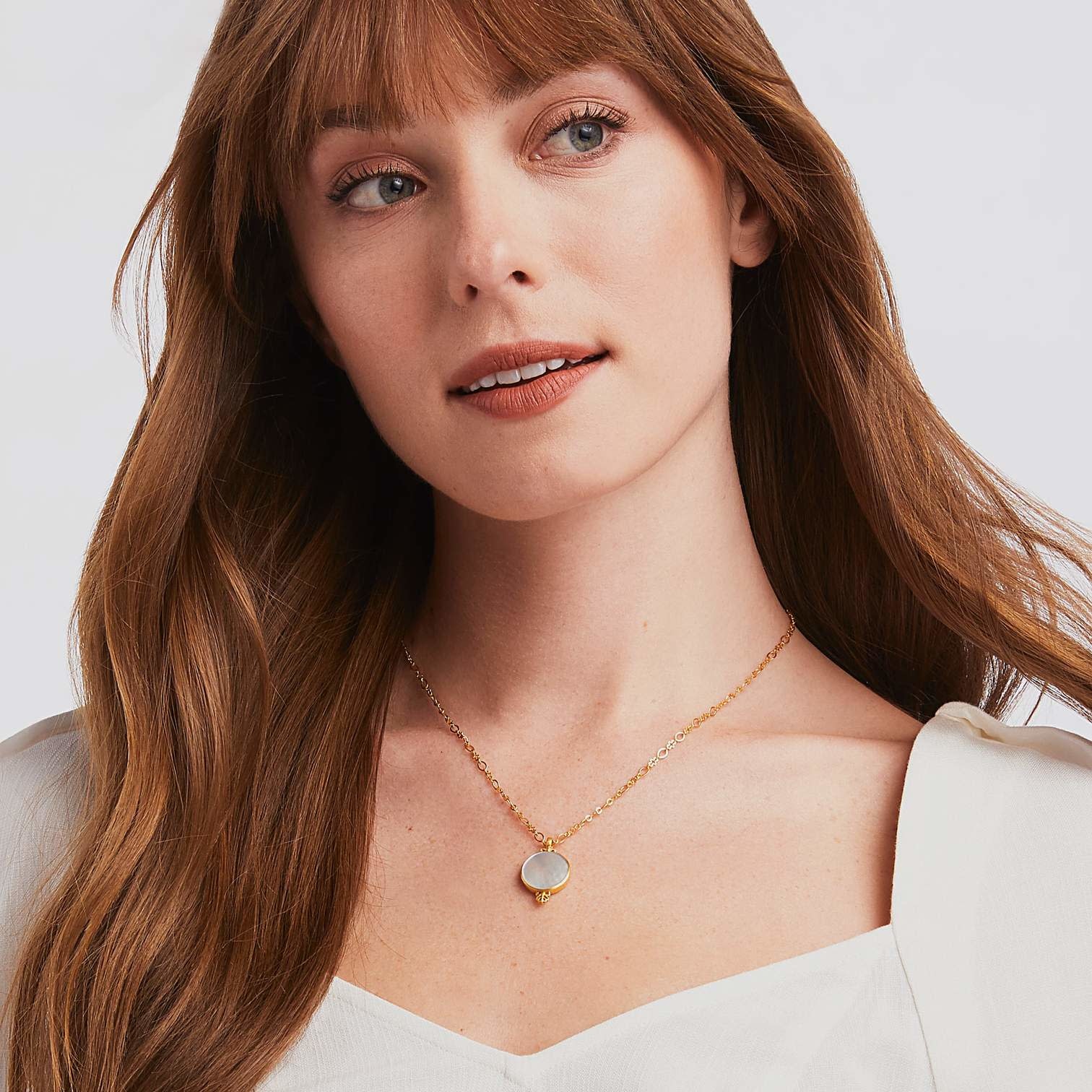 Savannah Stone Bangle Bracelet 
Stackable, versatile, and ultra-chic, the Savannah Stone Bangle Bracelet for women features a 24k gold-plated bangle studded with pearls and designed with diamond-patterned stations. You can pair this bangle with other bangle bracelets for a custom-style look. Stack with the Catalina Gold Bangle for a lovely mix-and-match bangle set!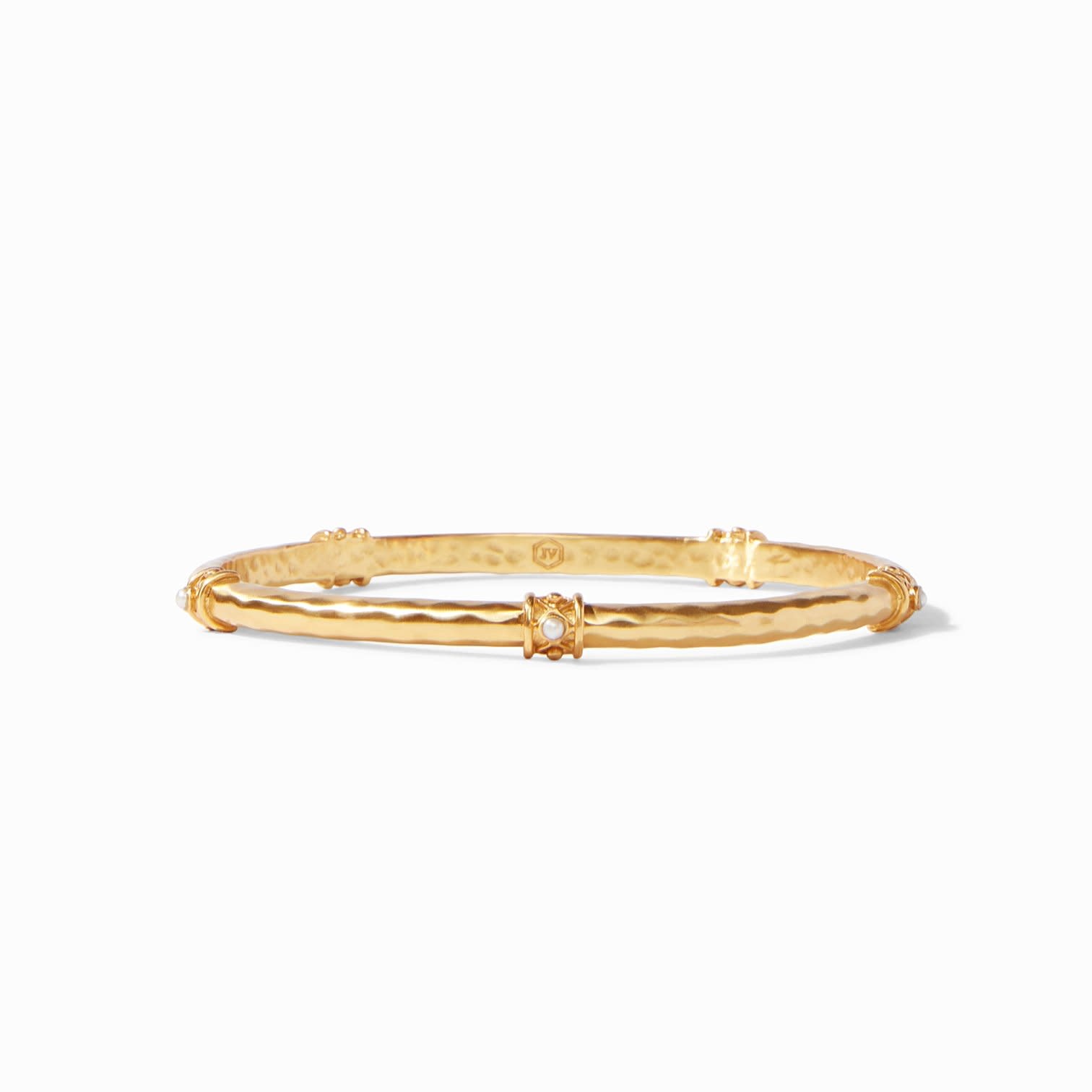 Susan Shaw Scroll Cross Quartz Necklace
Celebrate Easter Sunday in stunning and sophisticated style with the Susan Shaw Scroll Cross Quartz Necklace! This stylish necklace features a chunky quartz gemstone chain with a beautiful gold cross pendant.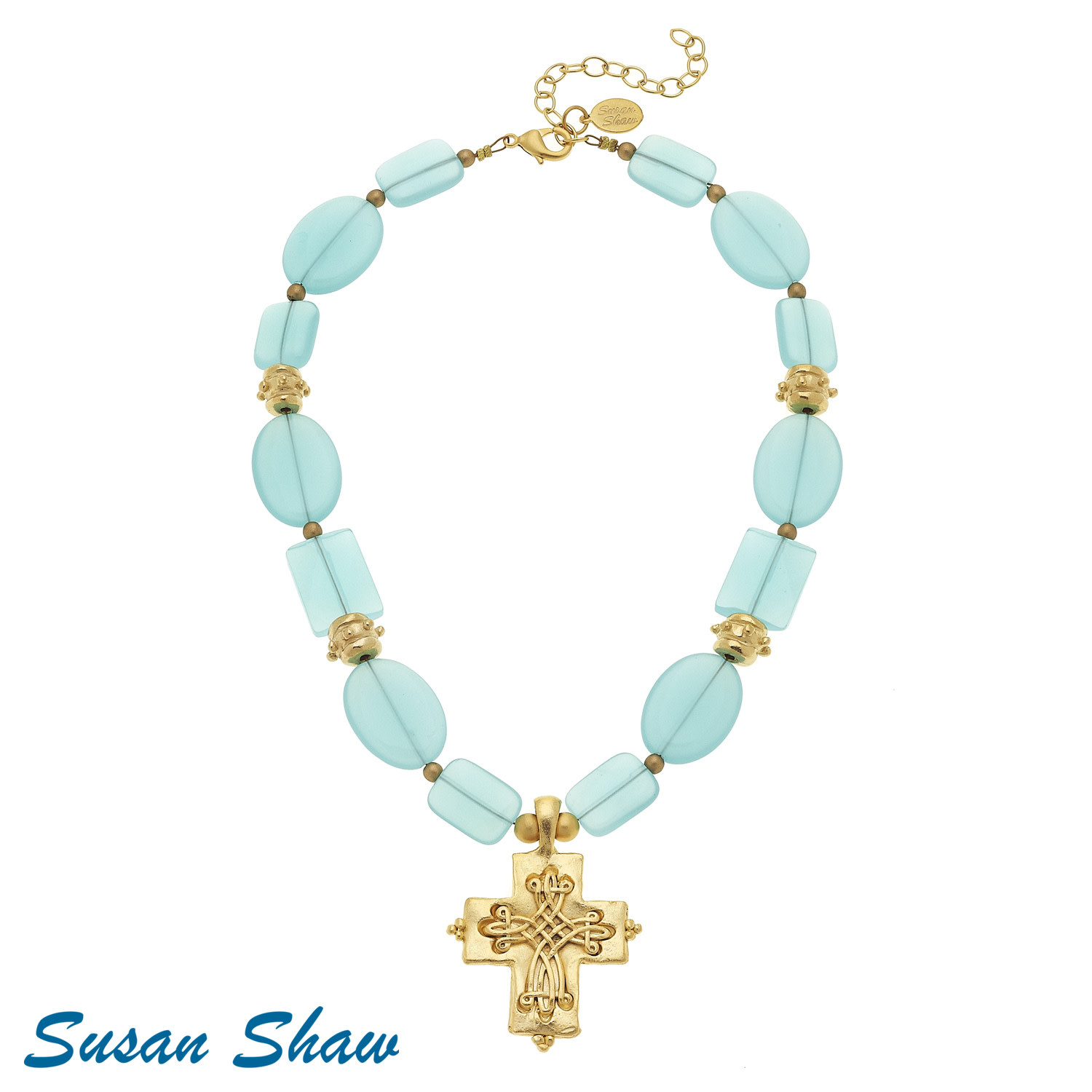 Beautifully and intricately designed, these Small Round Filigree Earrings by Susan Shaw are sure to impress when you're attending Easter events! With her classy and striking design, the Filigree Earrings are delicately small and round for just enough of a fashion statement to stand out, yet remain elegant simultaneously. Perfect to wear for other special occasions as well!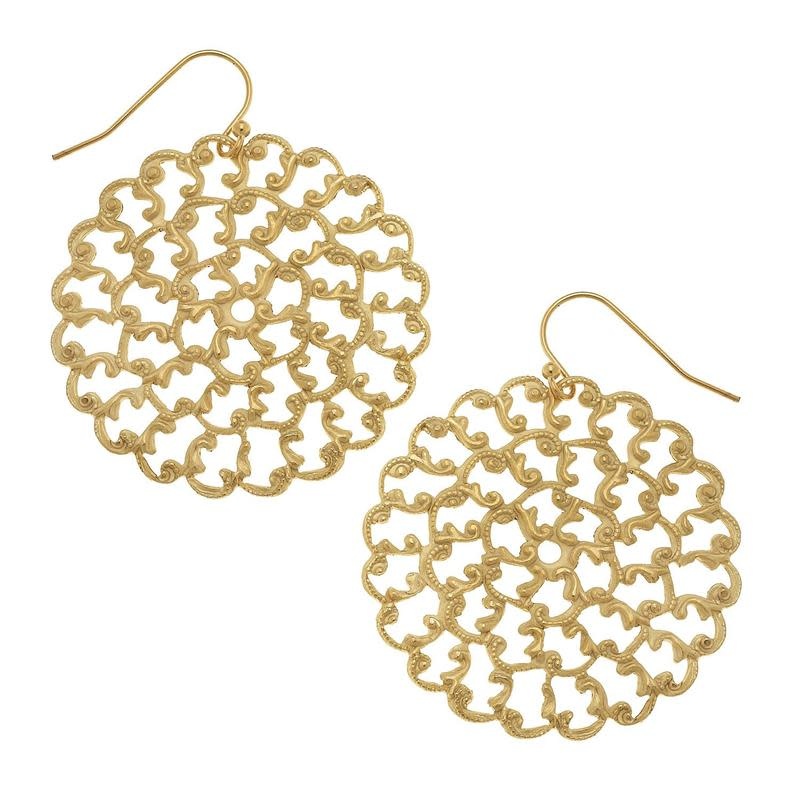 Bees, just like bunnies, have always been one of the renowned symbols for the Easter holiday - a representative of the upcoming spring and the Easter gatherings. With the Julie Vos Bee Stud Earrings, you can attend any Easter event with these charming earrings! These golden and detailed Bee Studs for women have a simple, yet stylish, look without any extra pearls or gemstones - a versatile, casual piece to wear for any occasion.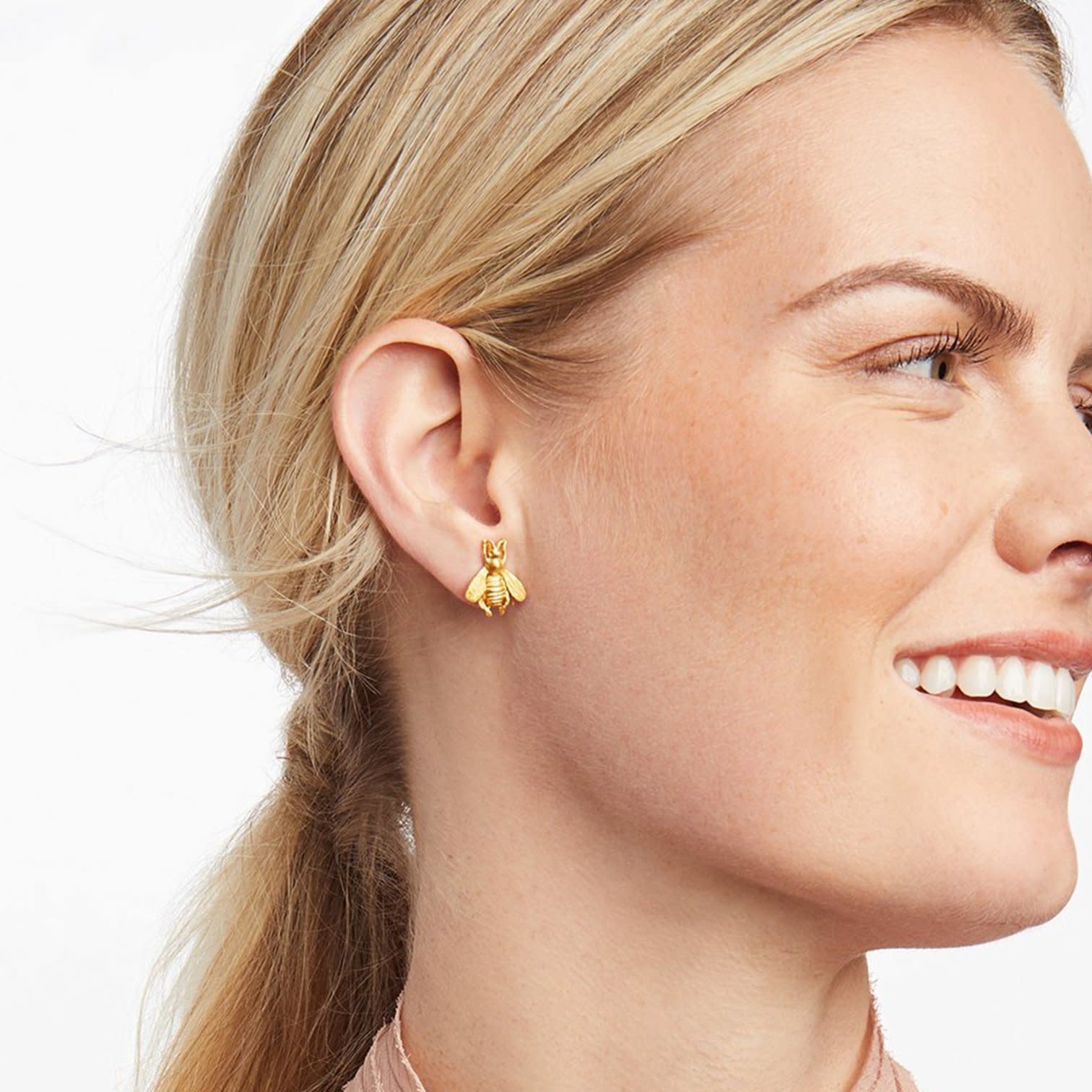 Adorn yourself with a lavish and luxurious jewelry statement with the Savoy Demi Bracelet! This exquisite women's bracelet features a chunky design with sparkling rose-cut gemstones in 24k gold-plated geometric settings for a mesmerizing look. The bracelet connects with a toggle closure and has two toggle rings for fit adjustments.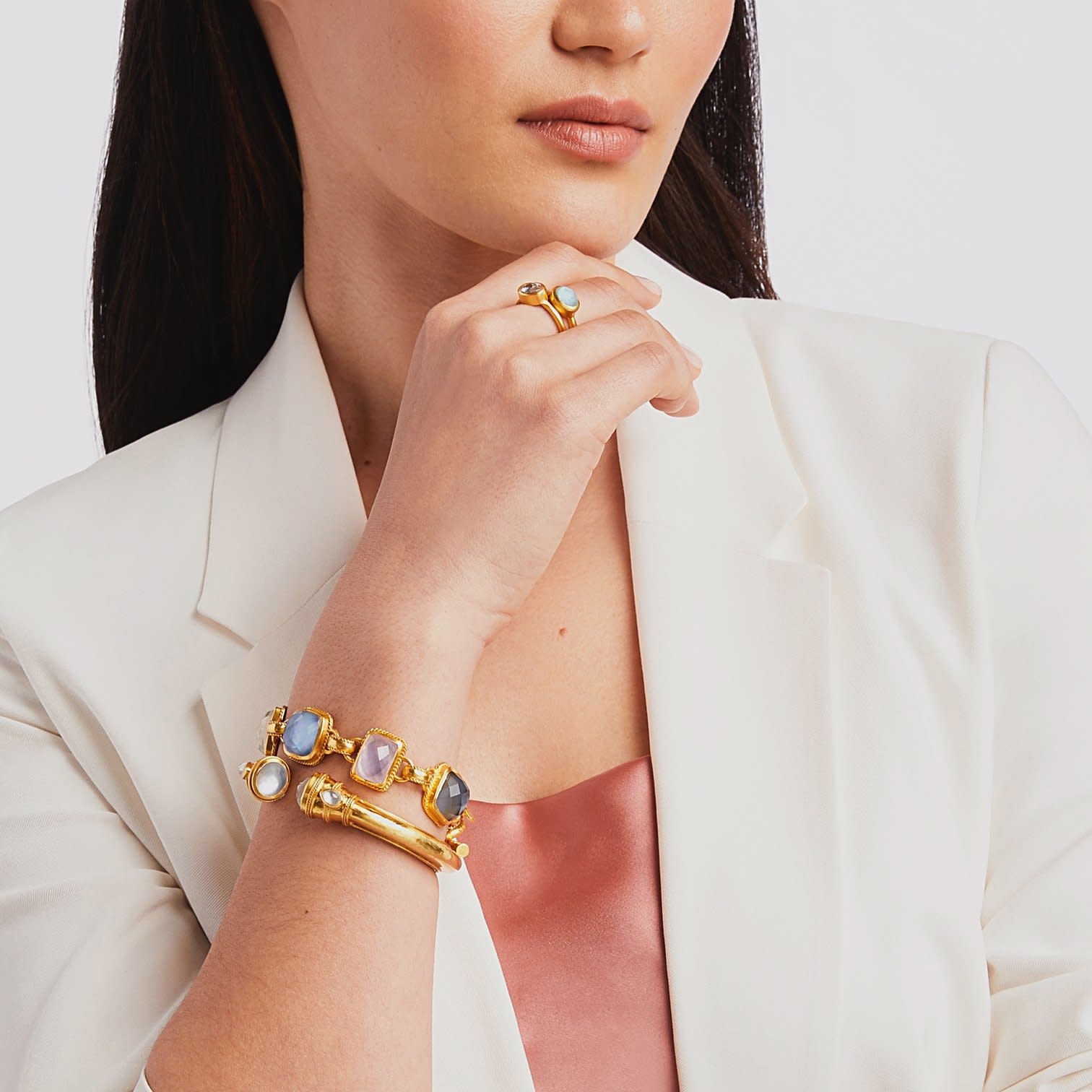 Penelope Delicate Station Necklace
Dainty and charming, the Penelope Delicate Station Necklace is a small pearl necklace with a thin, barely-there chain that's subtle, yet sophisticated and timeless. Each pearl is wrapped in gold petals, leaving a peek of each pearl. Great as an everyday necklace, too!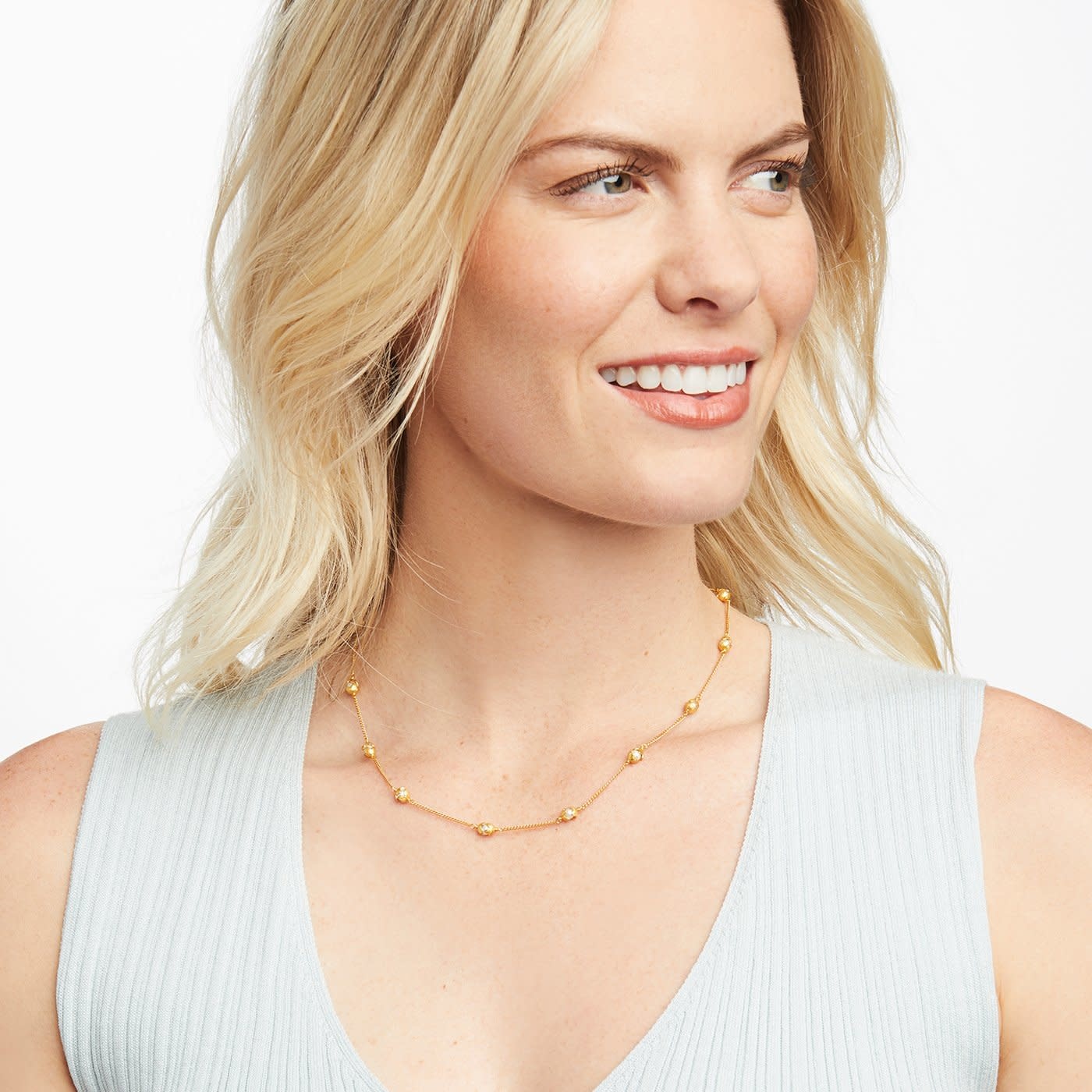 Small Gardenia Textured Hoop Earrings 
Shaped like a flower, the Small Gardenia Textured Hoop Earrings by Julie Vos are also a spring favorite and can be worn for any Easter event you're attending. These earrings have a unique texture and open hoop design with a delicate flower shape. You can find the large size here.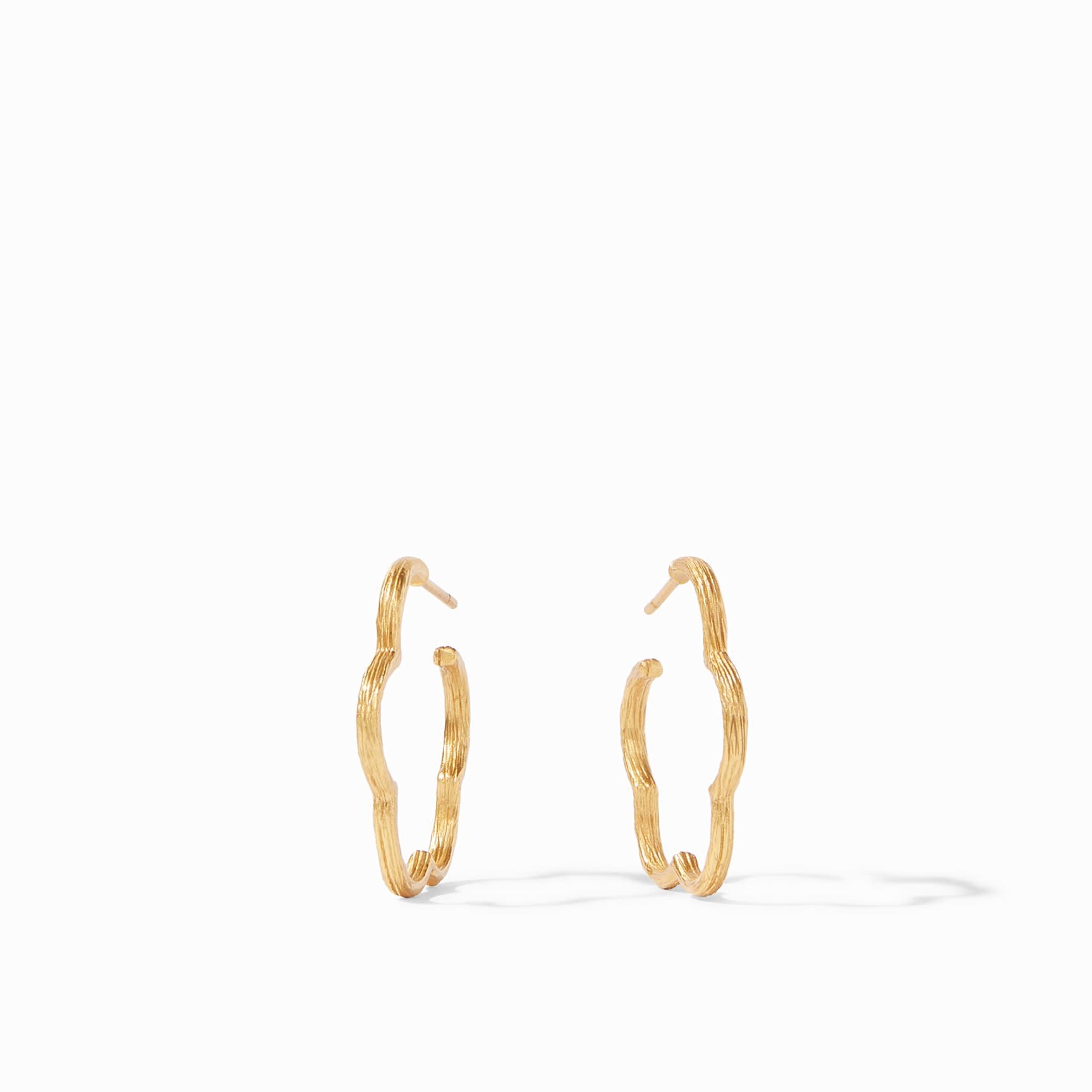 Sheila Fajl Lilou Stud Earrings
If you're looking for a more basic earring that doesn't sacrifice style, the Sheila Fajl Lilou Stud Earrings are sure to give you the look you want! These round golden stud earrings have a sleek, polished texture and brighten up any attire you wear for holidays like Easter or even when you head back to the office on Monday.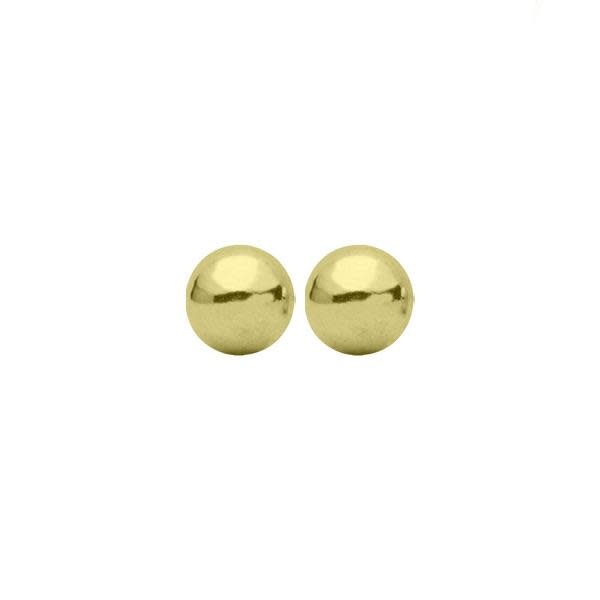 Susan Shaw Turquoise Pendant Necklace 
Freshen up your Easter Sunday outfit with the classic Susan Shaw Turquoise Pendant Necklace! Turquoise is a popular gemstone that features a dazzling blue color that's perfect for Easter. This necklace has a turquoise gemstone set in a teardrop-shaped setting and a 24k gold-plated thick chain with adjustable lobster claw clip closure.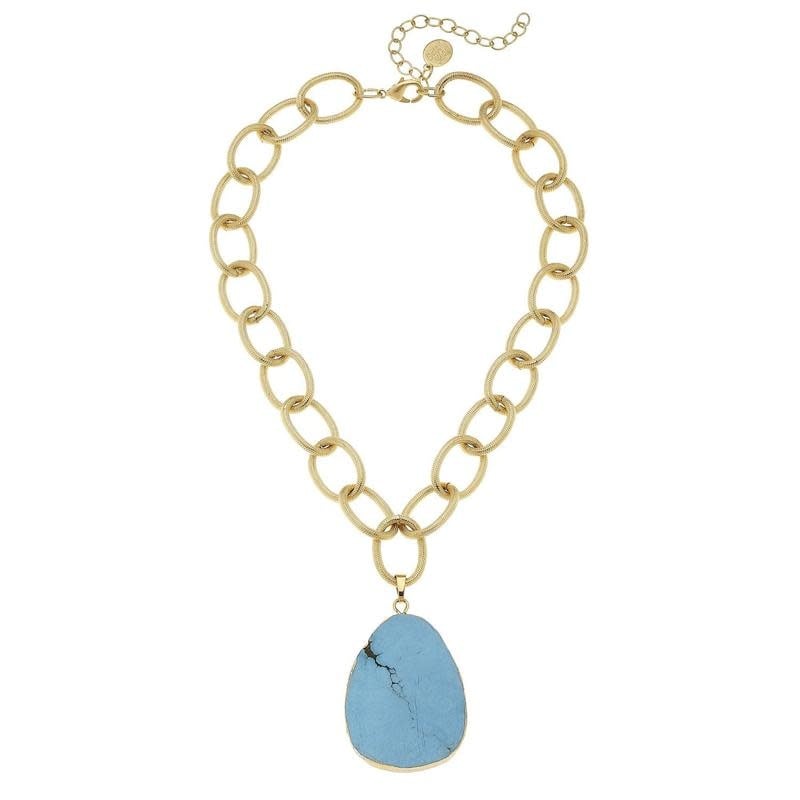 Add a delightful charm to your Easter outfit with the Cotton Pearl Toggle Bracelet! This chunky chain bracelet for women features a classic chain link design with a rope-like textured surface and a toggle closure. The dangling pearl brings an elegant and exquisite touch to the bracelet.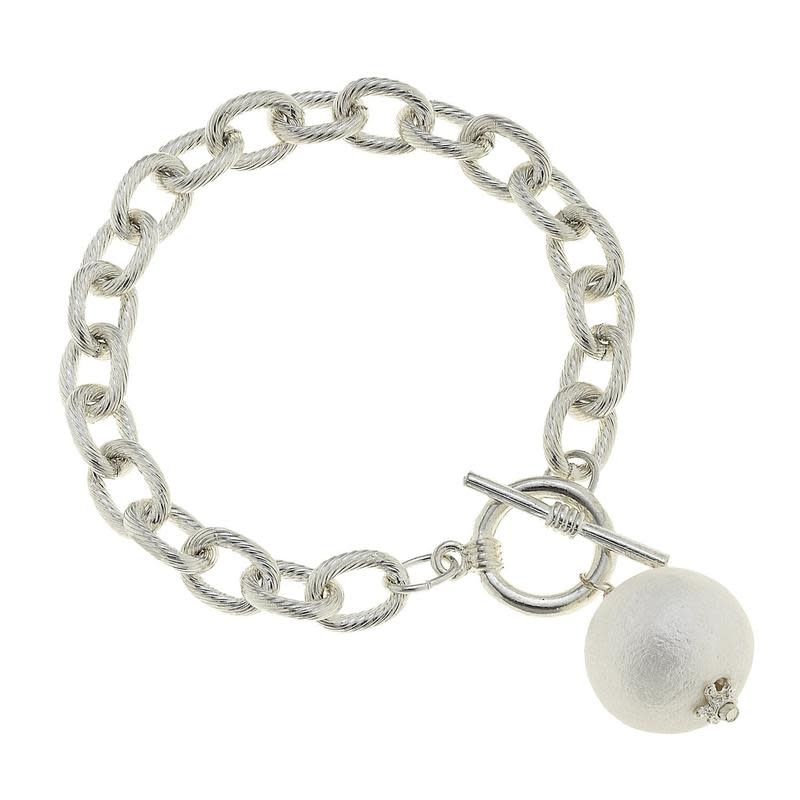 Give your outfit a captivating look with the Milly Tier Earrings! These graceful earrings feature blue or white crystals stationed between gold pieces that contrast seamlessly with the crystals.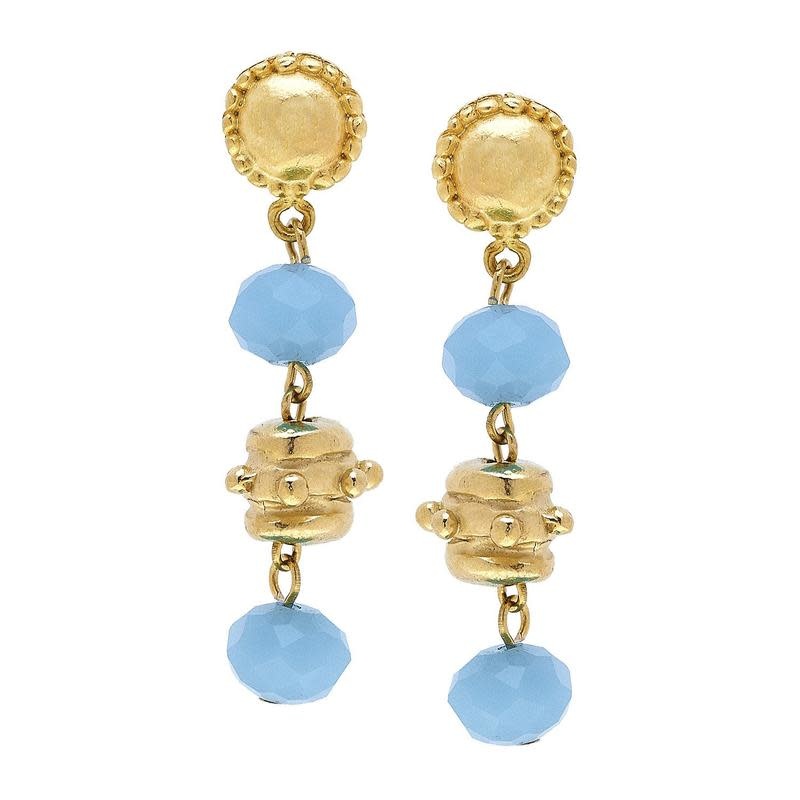 Embellish your Easter attire with the spectacular Catalina Gold Gem Earrings! These geometric earrings feature layered squares made with 24k gold-plated material and a rose-cut, multi-faceted gemstone for an elegant look. The golden square post has a hammered texture for a unique touch.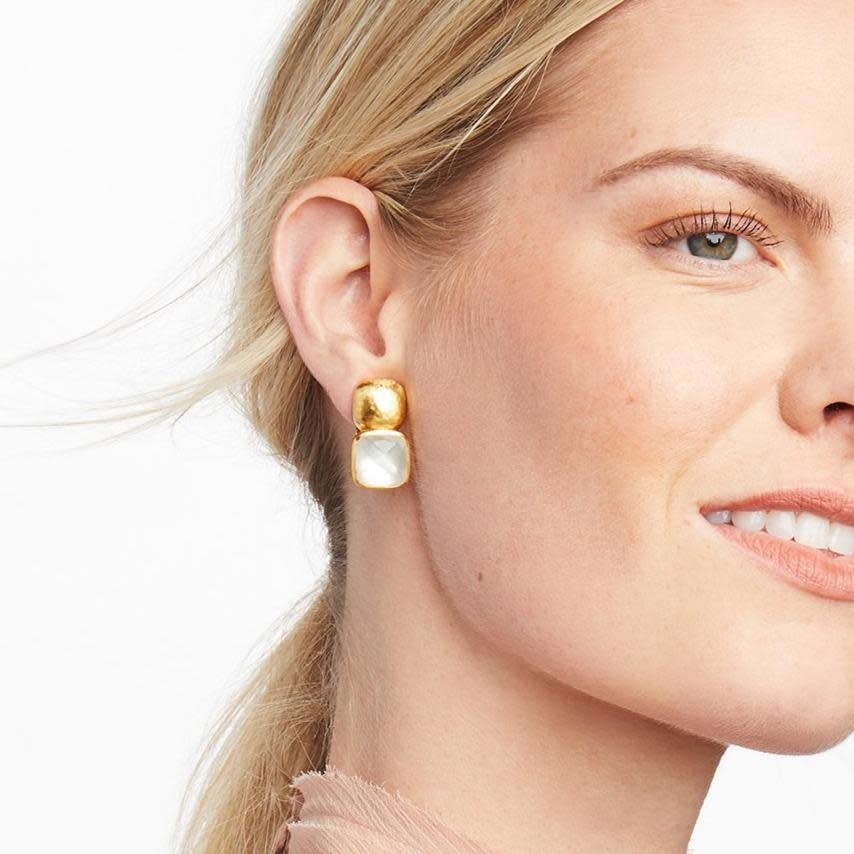 Complete your look with the Paris Demi Cuff Bracelet! This women's 24k gold-plated hinge bracelet opens up from the center for comfortable and convenient on-and-off wear. The bracelet is decorated with mother of pearl ends and freshwater pearl accents and features a lightly hammered texture along the shank of the bracelet. With inner chevron carvings, every inch of this bracelet is covered in a stunning design for a unique jewelry piece you can wear for any event.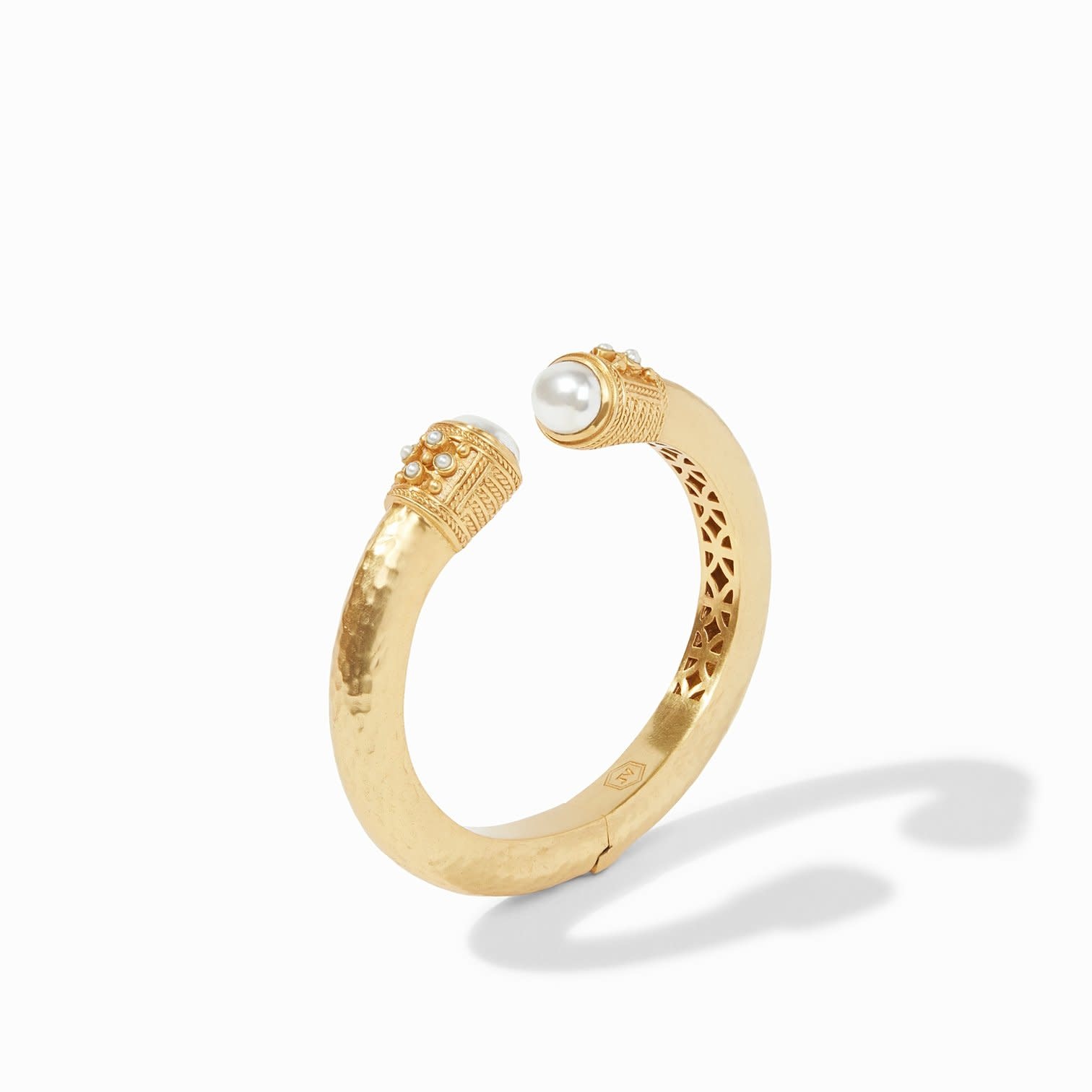 Triple Tier Pearl Drop Earrings 
Gracefully cascading with her pearly elegance, the Triple Tier Pearl Drop Earrings is a lovely pair that's timeless and can be worn for Easter or other occasions. The delicate freshwater pearls dangle in a linear form for a beautiful, classic design.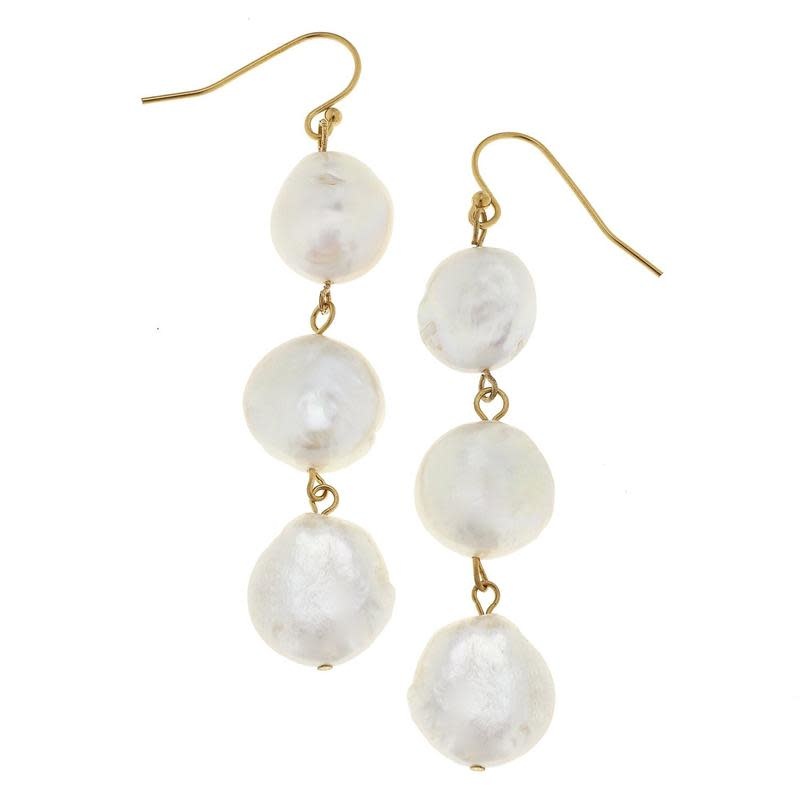 Simple with a hint of vintage charm, the Virtue Pearl Washer Bracelet is a pearl bracelet that is perfect for pearl lovers! These gorgeous pearls shine with the signature iridescent look and the bracelet makes a great everyday piece.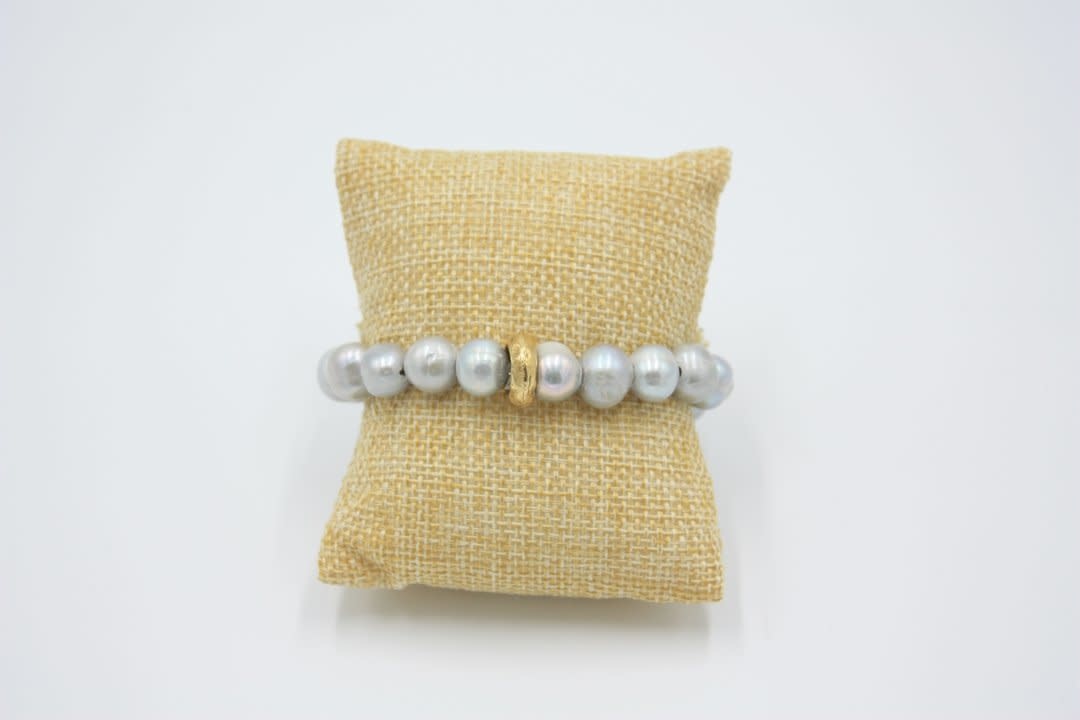 Fleur-de-Lis Hoop & Charm Reversible Gold Earrings
Charming and elegant, the Julie Vos Fleur-de-Lis Hoop & Charm Reversible Earrings is an alluring set of small dangle earrings with a reversible charm designed with a rose-cut crystal on one side and a fleur-de-lis gold engraving on the other side. You can mix-and-match these earrings with any outfit or even flip the charm in the middle of the day when you feel like switching up your style! The charm hangs securely from the small golden hoop.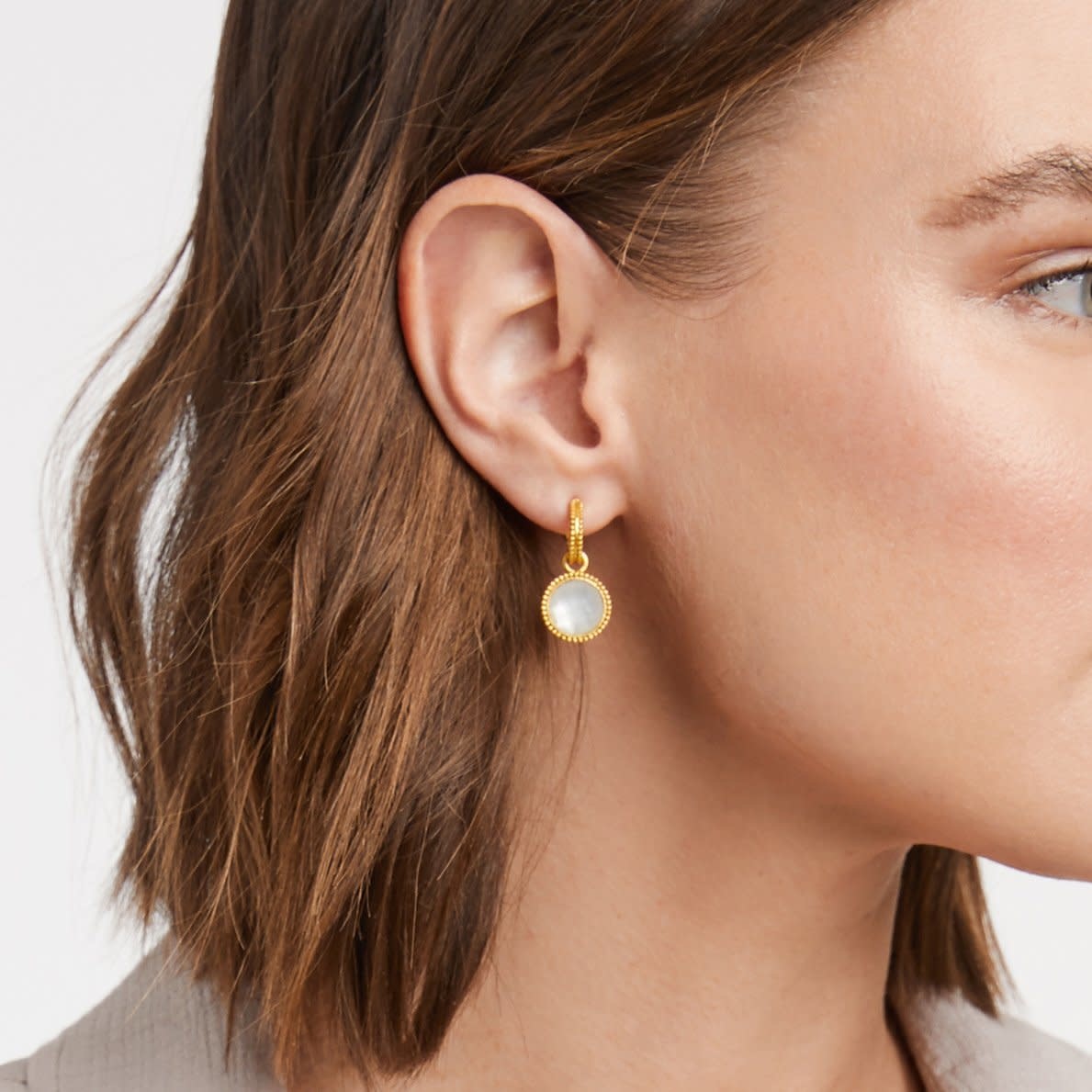 Handcrafted with a stunning blue glass and a chunky, stylish gold chain, the Susan Shaw Venetian Glass Cross Necklace presents an elegant, vintage-inspired piece starring a charm with a cross engraving, covered with Venetian glass. The charm itself has gold protrusions for added design and dimension. You can adjust the necklace to the perfect fit with the 3-inch extender chain.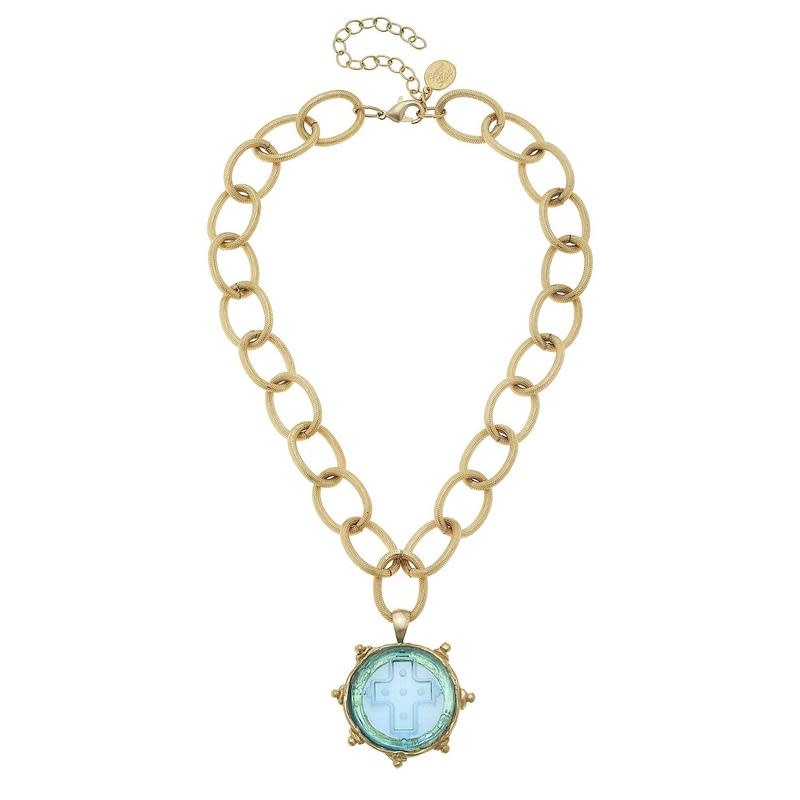 Stack on the bangles with the Medium Milano Bangle Bracelet by Julie Vos! This vogue-style bracelet features a slim, lightly hammered bracelet with glimmering crystals stationed all around for a pop of sparkle and design. You can purchase multiple Milano Bangles and stack them for a bold statement look or keep it simple and delicate with a single bangle.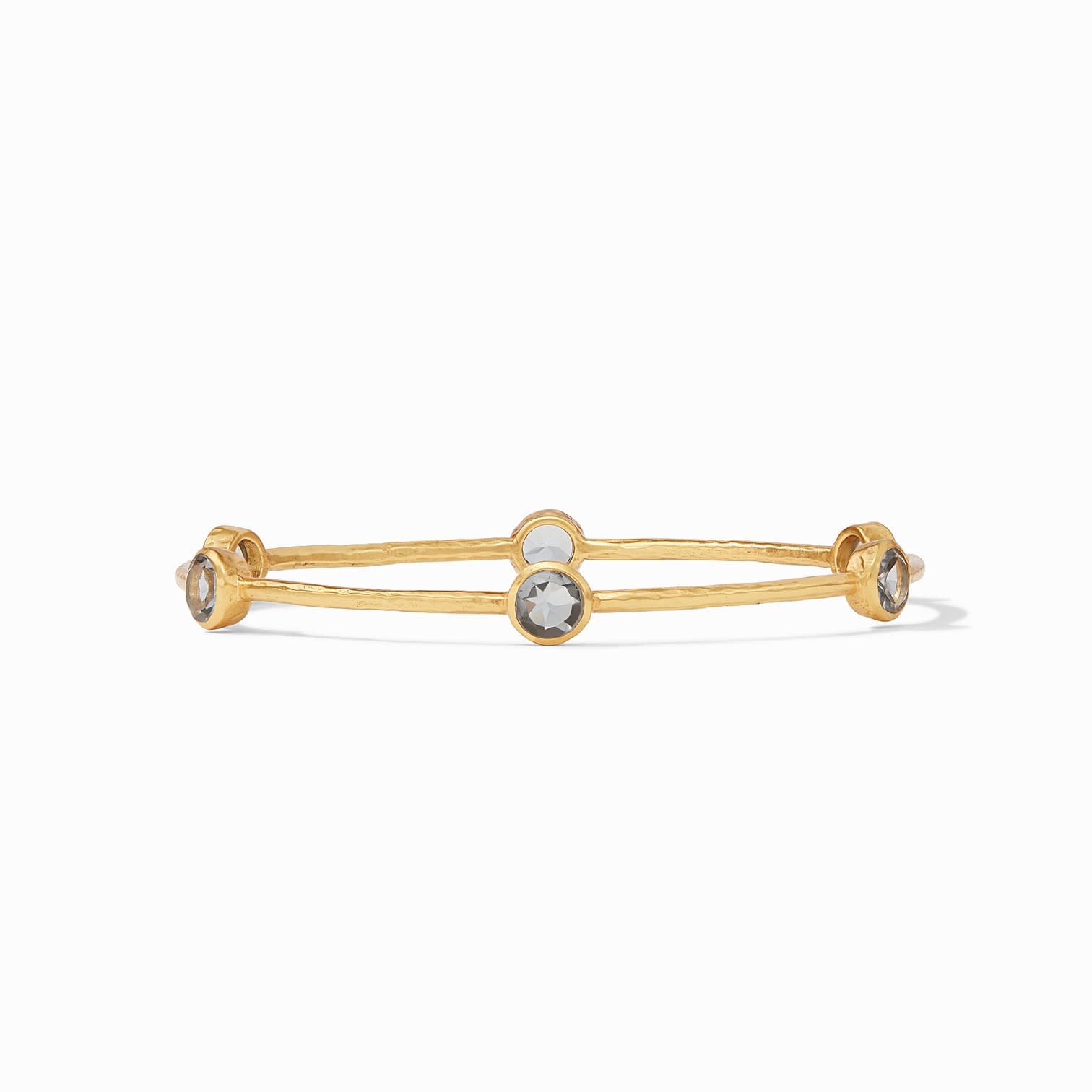 Something that you can wear for any occasion, and is versatile enough to wear as your go-to everyday earrings, these small hammered hoops have a sophisticated look that's also modern to complete your perfect fashion statement! These small hoop earrings have a lightly hammered look to give it a multi-faceted design.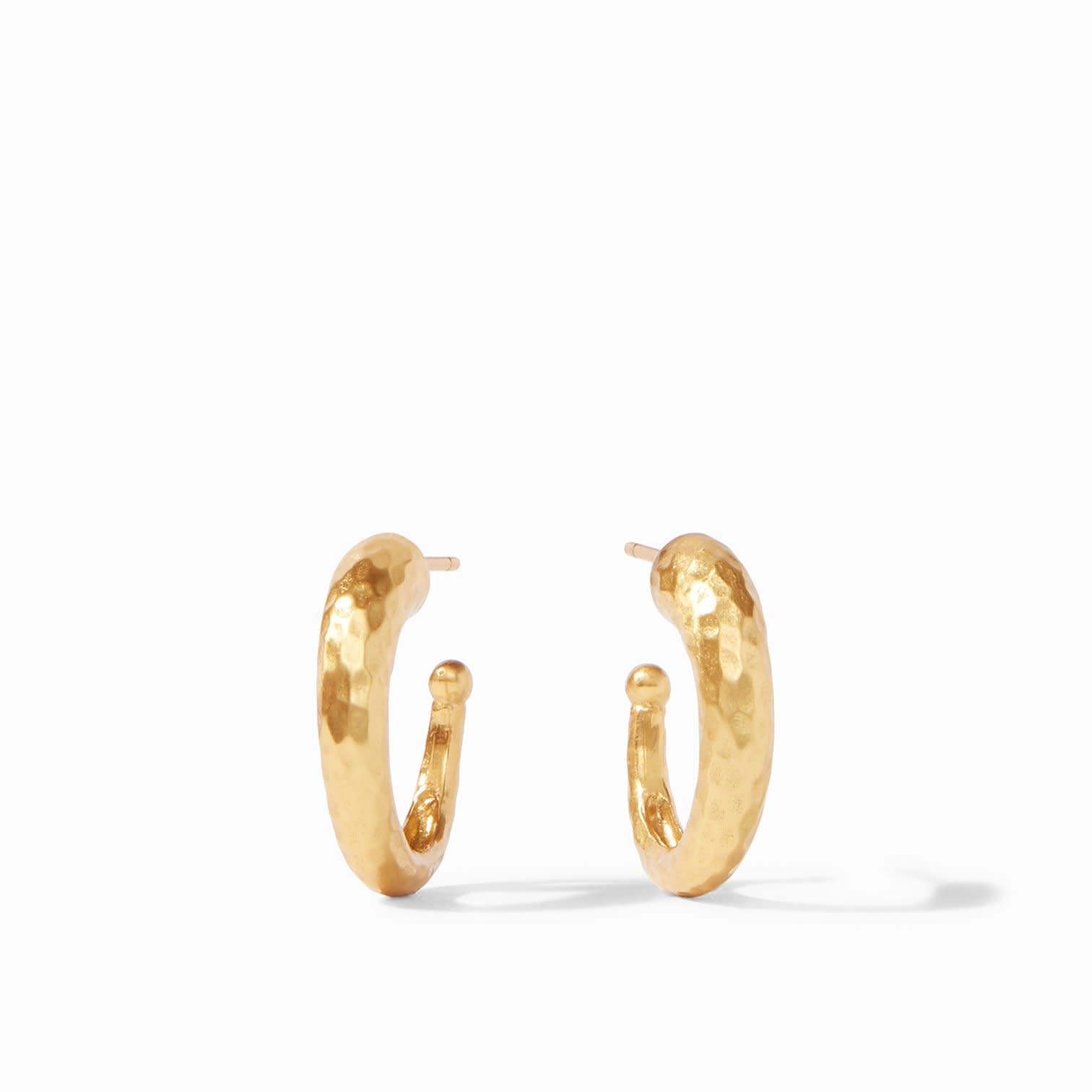 Other Women's Accessories For Your Easter Sunday Outfit
Of course, if you're looking for more than just jewelry, we wanted to give you a sample of other accessories we offer at Abraham's in case you would like to add other pieces to your Easter Sunday look. Here are some of our best-selling items from our women's accessories and clothing collections: 
Perfect to wear over a lovely Easter Sunday dress or top, the Kerisma Eden II Poncho is ultra-versatile and timelessly stylish for any occasion. You can wear this poncho in 8 different ways so that you can enjoy it for an Easter Sunday event and roll into the office on Monday looking effortlessly chic and fashionable!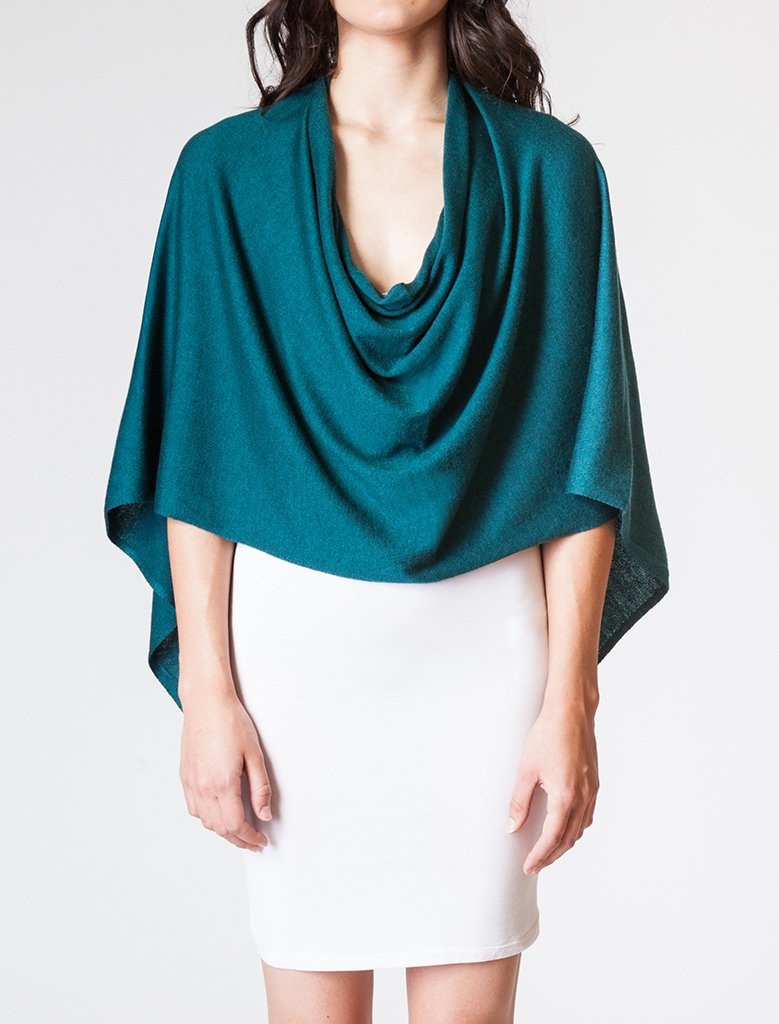 Cocoon House Short Silk Kimono 
Graceful and versatile, the Cocoon House Short Silk Kimono is a light, eye-catching layer that can be worn over a simple Easter Sunday outfit or dress and elevate your attire without being too bold in style. This kimono is made with 100% genuine silk material and features a hand-painted design of your choice. Multiple designs are available! Another favorite from the Cocoon House is the Cocoon House Frida Silk Infinity Poncho.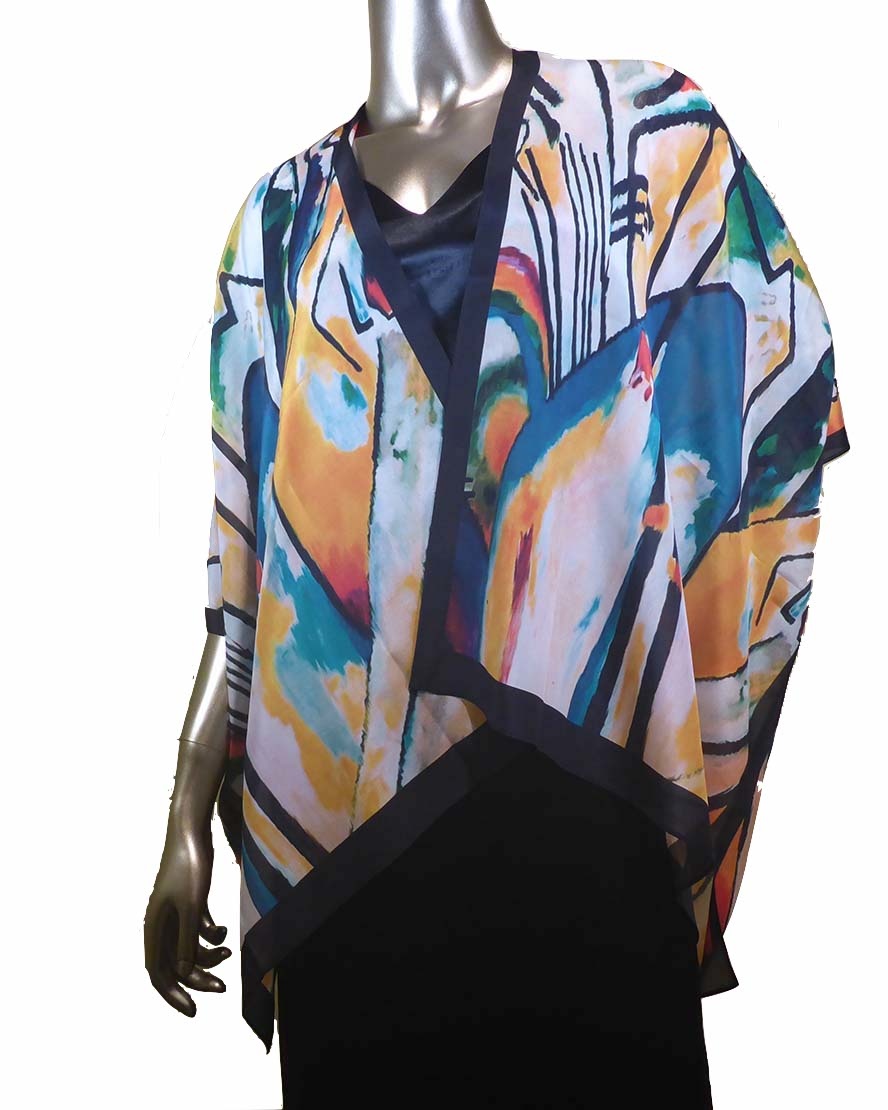 Raffinalla Crossover Solid Cape 
For both coverage and an extra layer of elegance for your Easter Sunday ensemble, the Raffinalla Crossover Solid Cape drapes over your shoulders and secures in the front for a classy, put-together look that's effortless and chic. Wear with a sleeveless dress or top for a more modest, sophisticated look.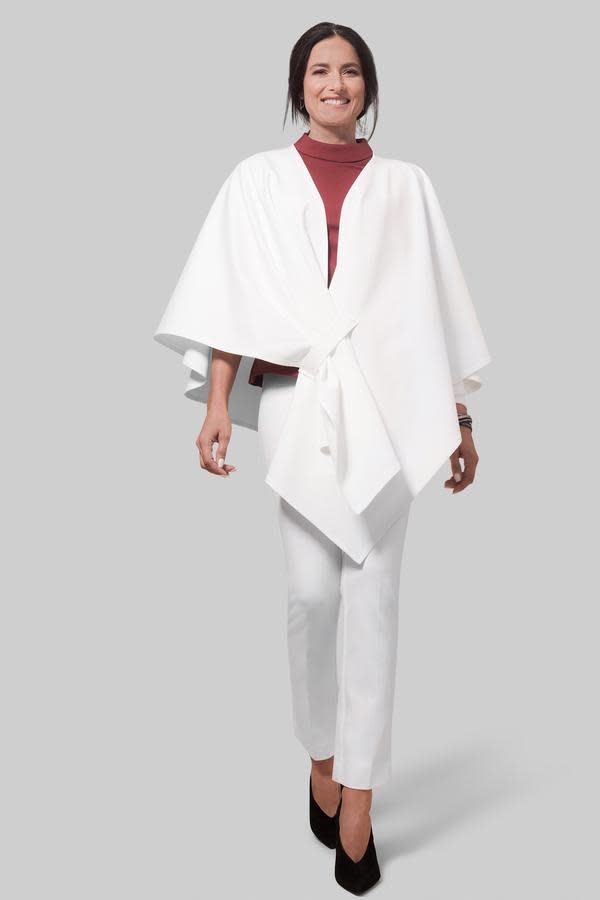 BB Dakota Long Walks Duster Cardigan 
Slim-fitting, flattering, and chic, the BB Dakota Long Walks Duster Cardigan features a ribbed design with an ankle length and an open-front with a waist tie. This women's long duster cardigan helps tie in your look and gives you extra coverage when you need it, especially for a more conservative and formal Easter Sunday event.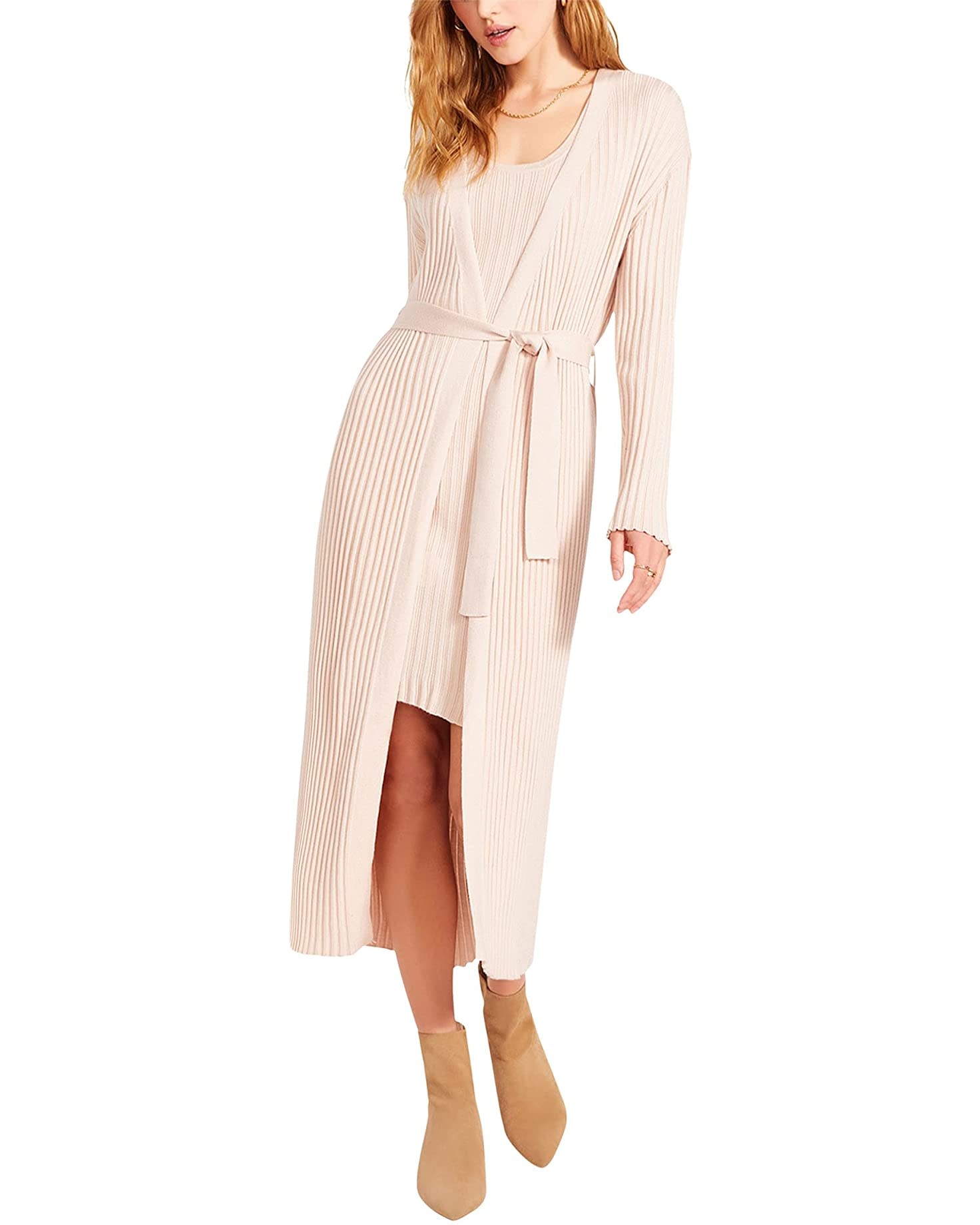 Sharon Young Open Front Cardigan 
Another lovely long cardigan for women from our collection! The Sharon Young Open Front Cardigan is a simple open-front cardigan with hand pockets for a more laid-back look without sacrificing style. Perfect to pair with any outfit!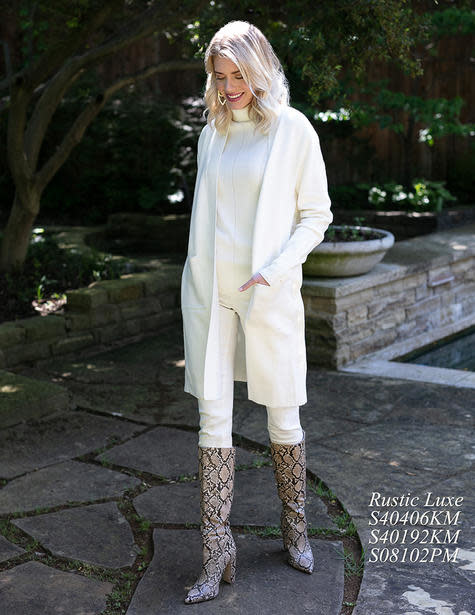 Karen Kane Draped Cardigan Sweater 
If you prefer a cardigan that has more style and movement, the Karen Kane Draped Cardigan Sweater is sure to be a wonderful addition in your closet. This drapey cardigan features an open front and no pockets. The long length provides more coverage and gives you a cozy, comfortable layer to wear for Easter.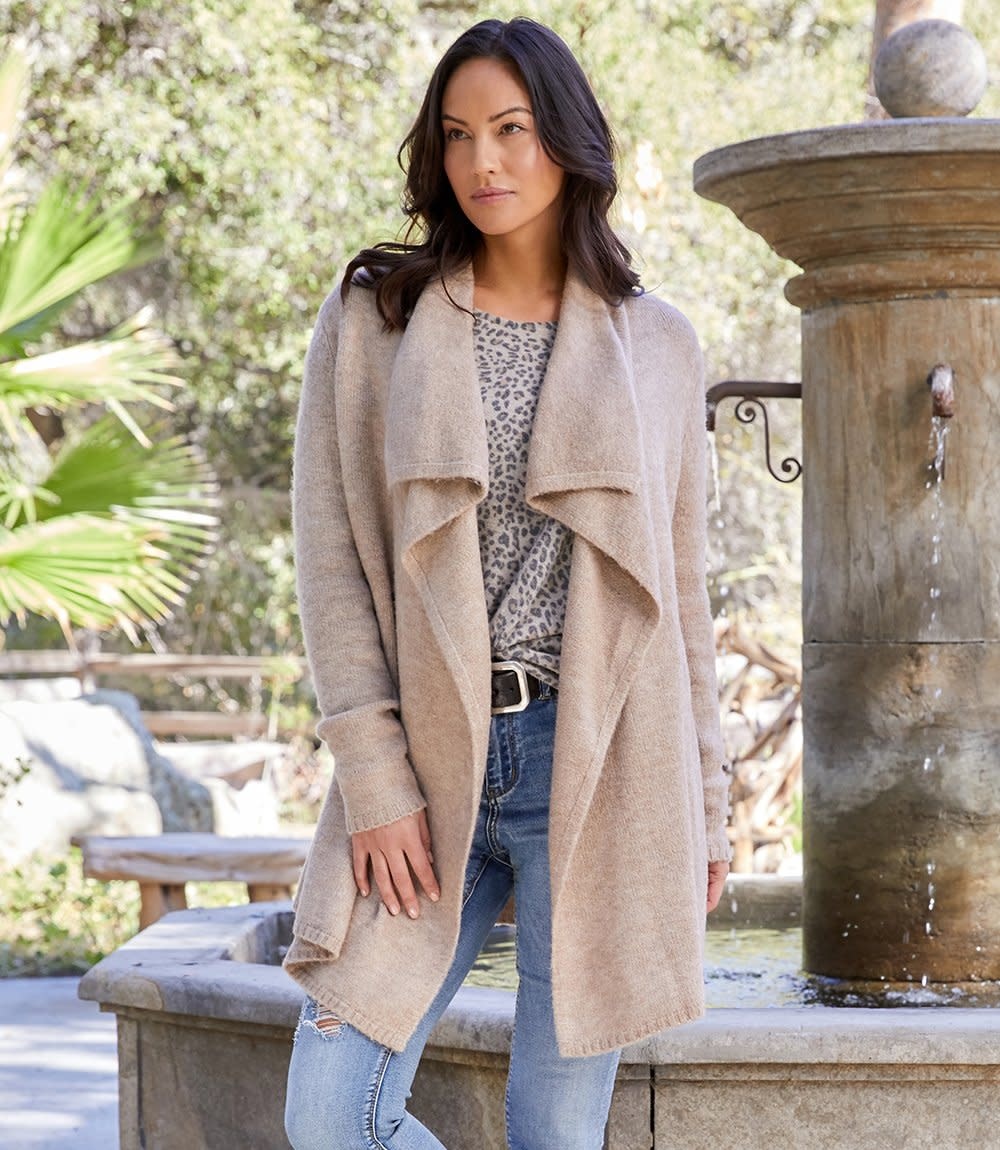 Be sure to check out the rest of our Women's Boutique Clothing Collection for trendy tops and blouses, stunning spring and summer dresses, chic women's shoes, and more, especially if you need a new look for Easter. Please also take a look at our women's accessories, handbags, and perfume collection if you need anything else for any occasion. 
Happy Easter from our family to yours.
~ Abraham's Boutique