If you want to give a Valentine's Day gift that isn't flowers, chocolate or a stuffed teddy bear, we'll help you choose Valentine's Day gifts for the special and loved women in your life that's both luxurious and praise-worthy.
Best Boutique Valentine's Day Gift Guide for Her
Need some Valentine's Day gift ideas for your girlfriend or wife or want to surprise your gal pals with boutique goodies from Abraham's? If you want to give a Valentine's Day gift that isn't flowers, chocolate or a stuffed teddy bear, we'll help you choose Valentine's Day gifts for the special and loved women in your life that's both luxurious and praise-worthy. From pajamas to travel bags, our Valentine's Day Gift Guide for Her will help you get more gift ideas for this love-filled holiday. 
Women's Luxury Pajama Sets or Separates
Help your sweetheart relax and feel classy and stylish even in her pajamas with an elegant women's pajama set or loungewear apparel. PJ Harlow is one of our favorite women's luxury loungewear brands that we offer at Abraham's as well as Barefoot Dreams and other women's boutique clothing brands. Here are some of our recommendations if you want to gift a beautiful pajama set or sleepwear separate to the special lady in your life or as Galentine's Day presents for your best girlfriends: 
PJ Harlow Shala Satin Trim Robe with Pockets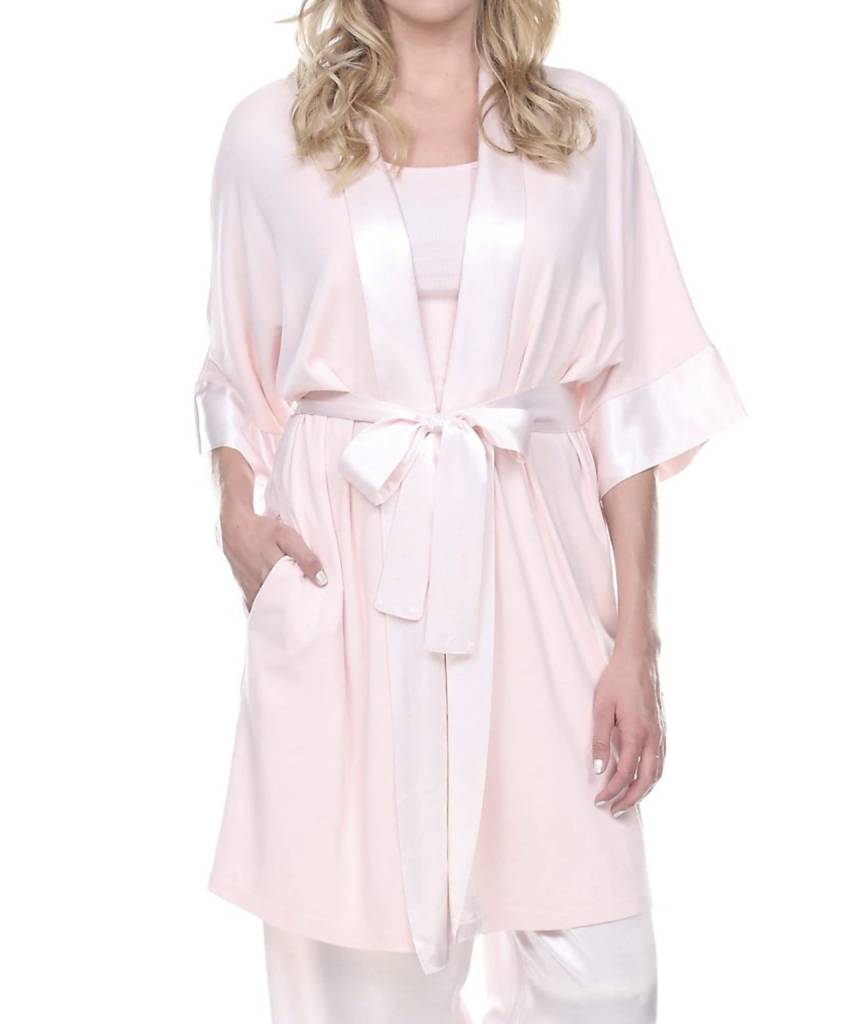 Feel like you're staying at a 5-star hotel resort with the PJ Harlow Shala Satin Trim Robe. Glamorous, yet comfortable, this gorgeous women's mid-length silky knit robe features a lovely satin trim along the opening and sleeves of the robe, giving it both dimension and design. This roomy robe flows off your body and doesn't cling like other bedroom robes do. You have plenty of material to cover yourself with and feel wrapped in complete luxury! The satin tie keeps the robe together for maximum coverage and keeps the robe in place while you move around. Pair this robe with other PJ Harlow pajama exclusives, such as the PJ Harlow Jolie Capri and the PJ Harlow Jackie Cami. 
Barefoot Dreams Luxe Milk Jersey Piped PJ Set 
As one of Oprah's Favorite Things in 2017, the Barefoot Dreams Luxe Milk Jersey Piped Pajama Set is a must-have classic matching pajama set for every woman's sleepwear collection. This simple, yet stunning, designer pajama set features a light and flowy long-sleeved button-up collared sleep shirt and a pair of ultra-soft pajama pants. The piped lining adds more shape and depth to the pajamas. The button-up sleep shirt has a large front pocket to mimic the design of a dress shirt. 
For those hot summer nights or when you want something simple and sophisticated to slip into for bedtime, the Monrow Long Satin Gown is a beautiful addition to your pajamas collection. The long length provides lots of coverage while the thin, adjustable straps of this long silky nightgown makes it easier to cool off and feel super comfy. Versatile and comfortable, this sleeping gown for women can be paired with a loungewear cardigan like the PJ Harlow Shelby Jacket or the Barefoot Dreams Hi-Lo Cardigan.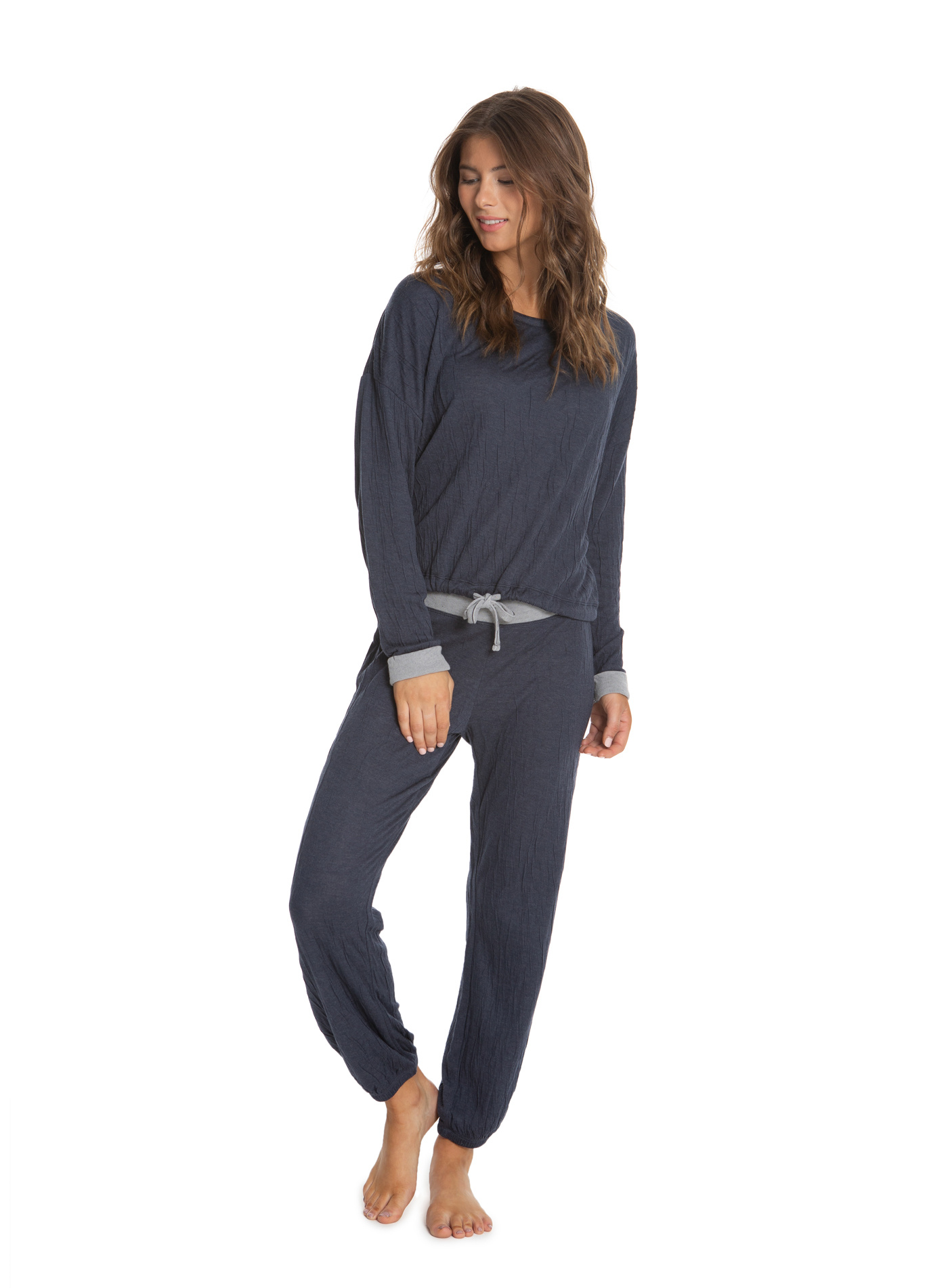 You may not like wrinkles and crinkles in your clothes for work, but with the Crinkle Jersey Lounge Set for women, you'll love its relaxed and crinkly look! This comfortable and soft jersey knit features a loose-fitting long-sleeved lounge top and jogger-style drawstring lounge pants. The sleeves of the shirt are cuffed to keep you warm and keep air out while the wide waistband of the jogger pajama pants provides some snug comfort. The drawstring allows you to adjust the waistband for a better, more comfortable fit. Mix and match the lounge shirt with other pajama tops and separates from our collection! 
Find more sleepwear sets, pajama tops and pants, luxury bathroom robes, and more in our Women's Intimates and Sleepwear collection. 
Women's Statement Jewelry, Handbags, and Perfumes
Women's accessories and fragrances are great go-to Valentine's Day gifts, and you can find a plethora of women's purses, jewelry, perfumes, and other gift ideas here at Abraham's. From stunning and bold gold hoop earrings to designer fragrances for women, you can find a wide range of Valentine's Day presents for the women in your life. 
Sheila Fajl Arlene Hoop Earrings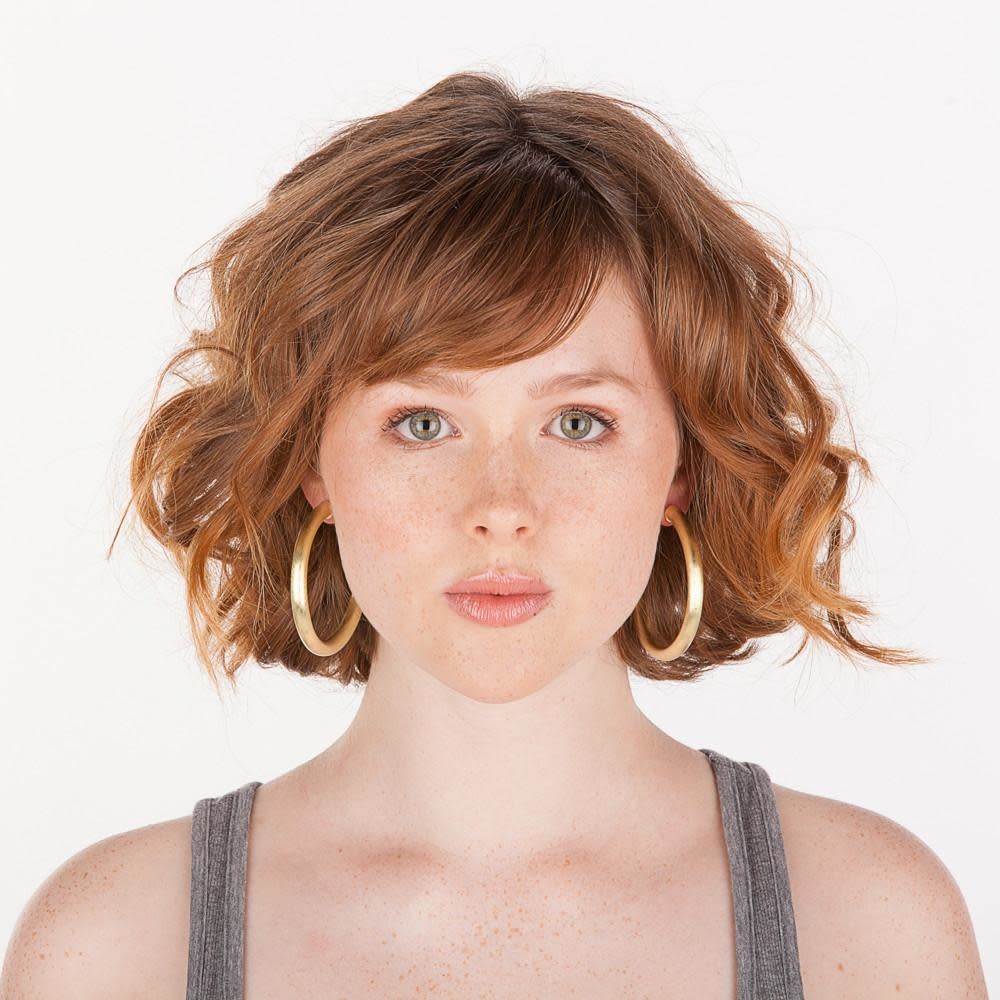 These large handmade gold hoop earrings feature an 11mm thick tube design that gives you a bolder statement look. Great to wear with both formal and casual women's apparel, the Sheila Fajl Arlene Hoop Earrings are convertible and make every outfit pop with trendy style. Check out some other boutique hoop earrings here: 
Unbillion Valeria Vegan Tote Bag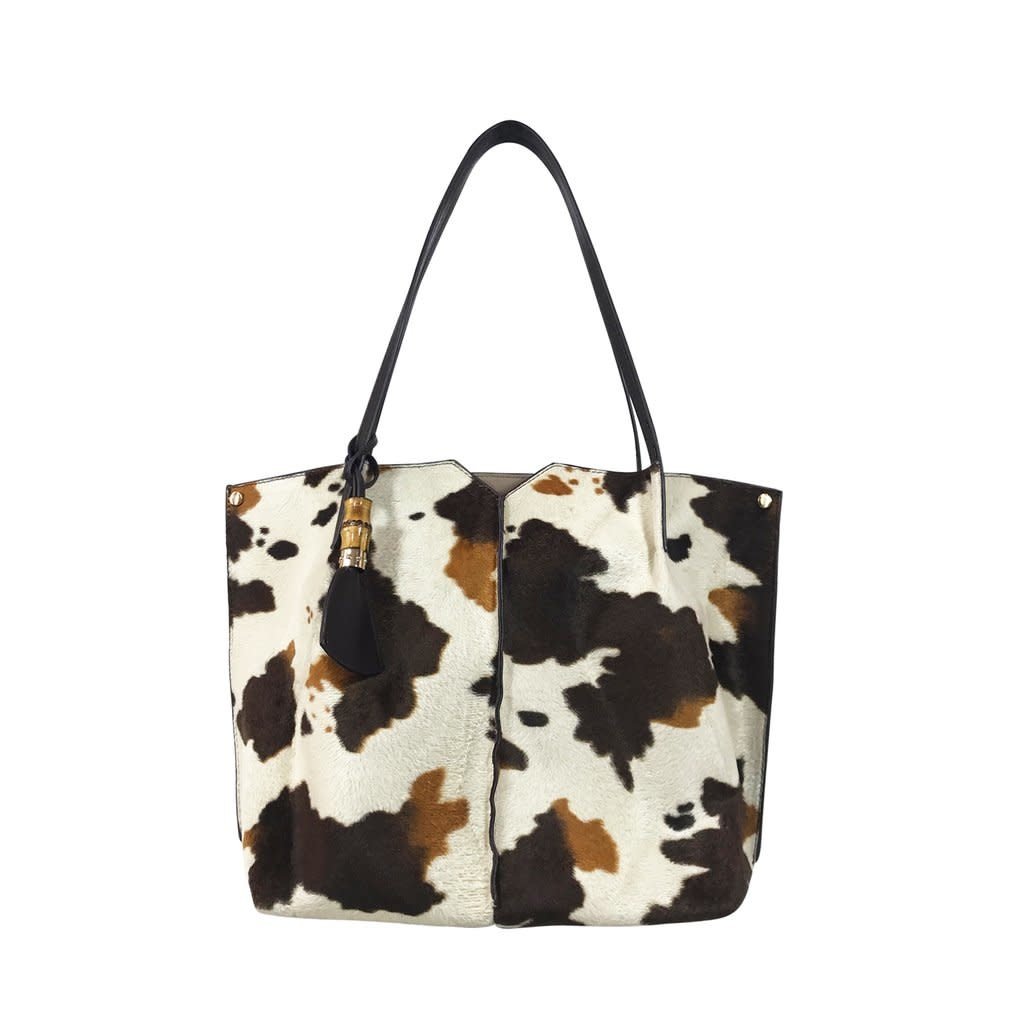 For the environmentally conscious gal in your life, the UnBillion Valeria Vegan Tote Bag, featuring stylish animal prints (cow, dalmatian, and leopard), is a wonderful cruelty-free women's handbag option. Made with faux leather and microsuede materials, this vegan-friendly women's large tote bag is a handy purse to have when traveling and made to last. 
Bond Park Avenue South Eau de Parfum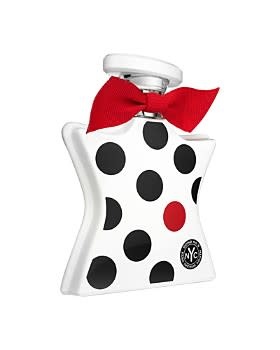 Fruity, flirty, and fun, the Bond Park Avenue South Eau de Parfum is a refreshing women's perfume with notes of green apple flowers, peach, jasmine, musk, and dry amber. Though it starts off fruity and floral, it has deeper and more mature scents of musk and dry amber, balancing out the notes of the green apple flowers and peach. The perfume bottle itself has fun Valentine's Day elements, such as the vibrant red bow and polka dot pattern, which makes this perfume an excellent choice for a Valentine's Day gift for her. Here are other women's designer perfumes we recommend: 
Bond New York Nights Eau de Parfum

– A blend of jasmine, gardenia, carnation, sandalwood, marine accord, coffee, and caramel in a beautiful midnight blue bottle exhibiting the colorful lights of the skyscrapers in New York City. 

Bond Hudson Yards Eau de Parfum

– A fusion of wet petals of Lily of the Valley, sparkling freesia, pink pepper oil, peony buds, Bulgarian rose oil, vibrant lychee, Orange Flower Absolute, Iris Absolute, and White Ray of Musk in a bright green bottle with a green rose on top to represent the Hudson Yards in Manhattan. 

New Bond St. Eau de Parfum

–  A bold, warm, and sensual concoction of bergamot, muguet, pepper, cocoa, coffee beans, creamy chestnut, patchouli, vanilla, leatherwood, and sandalwood stored in an eye-catching red leopard print bottle. 
Travel Luggage and Accessories
For the travel bug lady in your life, Abraham's offers a range of women's travel luggage and travel accessories, such as cosmetic travel bags and even hair styling tool cases, to make traveling smoother and more organized. Take a look at the boutique travel cases and bags we carry: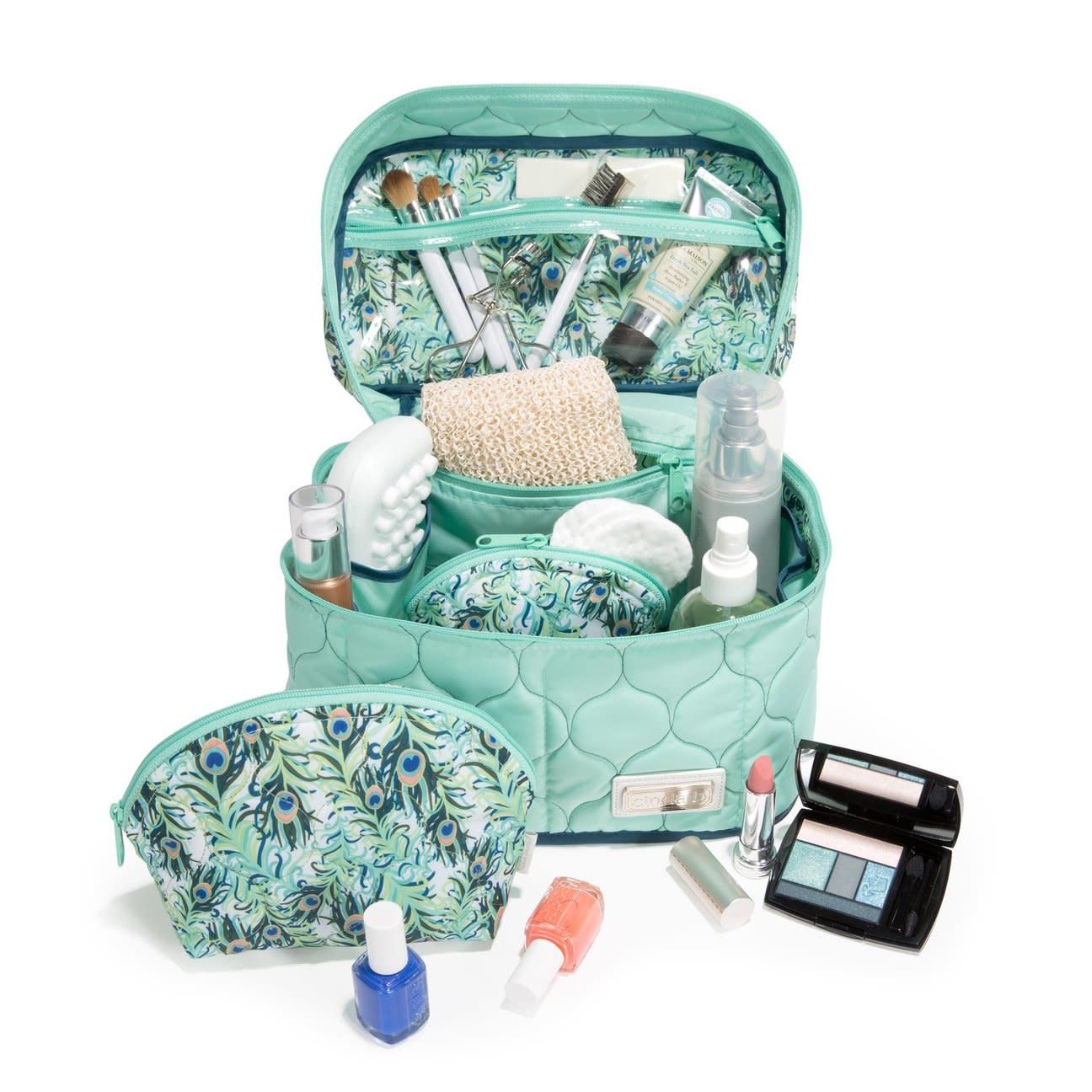 The Cinda B Grand Train Case cosmetics bag has all the storage space you need for your skincare and makeup essentials. It also doubles as an organizer with its multiple zippered and open slip pockets. The compact and small zippered makeup bag included gives you a more portable way to carry your beauty necessities in your purse. Durable and stain-resistant, this stylish patterned train case is great to have for all your travel needs.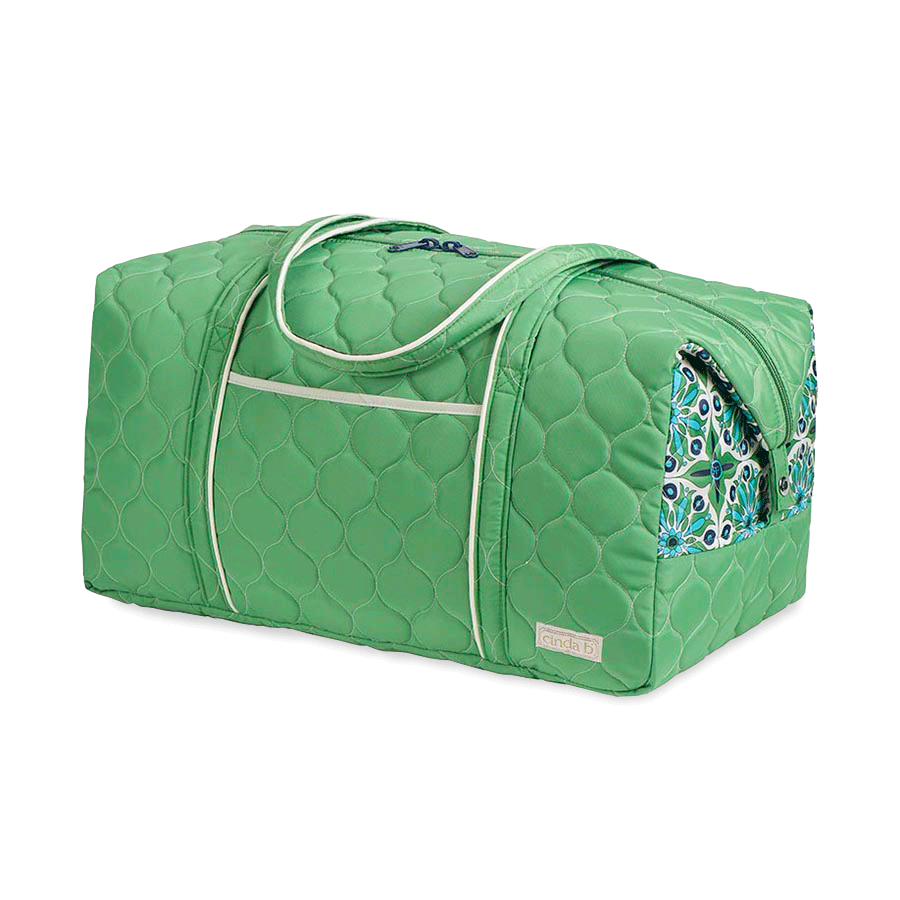 If you don't want to carry a large suitcase with you on your weekend travels, or if you're going on a road trip or staying overnight somewhere, the Cinda B Weekender Duffel travel bag gives you plenty of room to pack several outfits, your favorite shoes, and other travel must-haves. This boutique designer duffel bag has multiple pockets to organize your personal items. Made from beautiful and durable patterned material, this stylish weekender bag for women is ideal for all your quick trips. 
Drop by our Abraham's online store for more Valentine's Day gift ideas for women! If you're close by, we have in-store pickup available as well for your convenience.