Let this guide show you how we can help you find the right Valentine's Day outfit for that special dinner date or a Valentine's Day brunch with your girlfriends.
Best Valentine's Day Date Night Boutique Outfit Ideas for Women
Get ready for the most romantic time of the year! If you need outfit ideas for Valentine's Day, Abraham's offers a wide selection of romantic dresses, cozy sweaters and cardigans, bold leopard print tops, and more to fit your Valentine's Day attire. Find boutique-standard Valentine's Day apparel and accessories here at Abraham's. Let this guide show you how we can help you find the right Valentine's Day outfit!
Style: Red, White, and Pink
Romance is in the air, and if you're a romantic at heart, we know you love showing off your Valentine's Day spirit with the classic Valentine's colors: red, white, and pink! From sweater cardigans to elegant lace dresses, our collection of Valentine's Day women's clothing can make your love-filled day extra special and memorable. 
RD Style Pink Leopard Cardigan 
Not feeling a dress for your Valentine's Day date night? A stylish alternative is to wear a sweater cardigan like the RD Style Pink Leopard Cardigan with a lace cami underneath and a pair of Spanx leggings for slimming, body-sculpting effects. For shoes, go with ballet flats for a more conservative, casual look or spice it up with your favorite heels or booties. The wild leopard print of the RD Style Leopard Cardigan gives it a more sophisticated twist with this roomy and comfortable V-neck button-up sweater cardigan. It's perfect to wear on a chilly February evening! 
BB Dakota In The Moment Scarlet Lace Dress
Bring out your inner girly-girl and enhance your femininity with the In The Moment Lace Dress in red. This beautiful and sophisticated mini dress features a lace overlay and ruffled 3/4 sleeves. Black pumps or strappy heels make a wonderful finishing touch to this outfit. You can also play up your wrists with stunning bracelets.
Eliza J Off-The-Shoulder Sheath Dress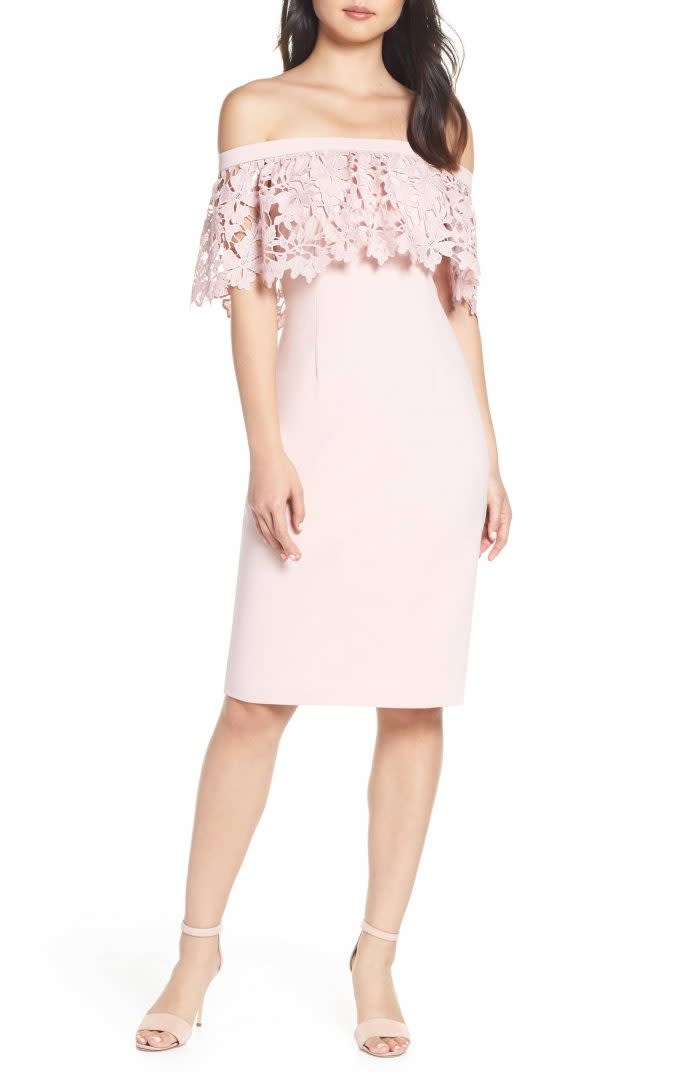 Another dress option for your Valentine's Day dinner date! This off-the-shoulder dress is a sensual and classy evening dress that's figure-flattering and the lace top overlay adds more eye-catching design to this sheath dress. The open neckline lets you play around with a variety of necklaces and the sleeveless look allows you to wear bangles and bracelets to embellish this dress.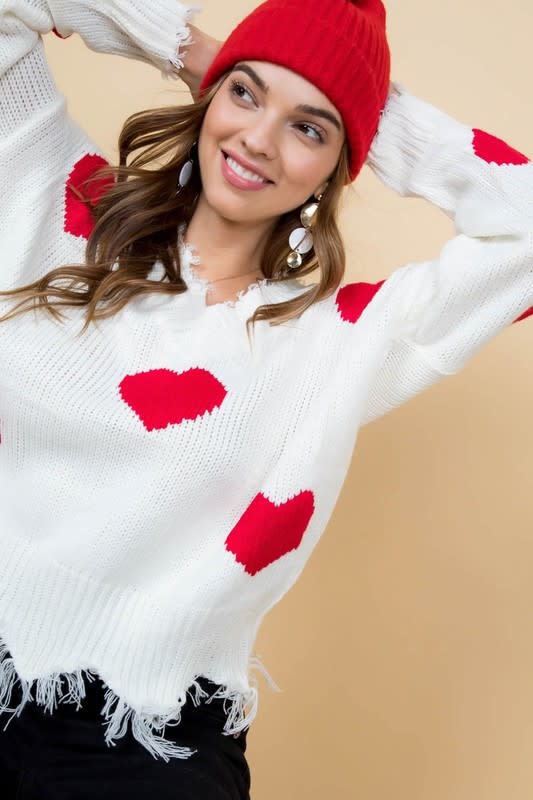 Perfect for this lovey-dovey occasion, you can wear your heart on your sleeve (or sweater) with the Main Strip Heart Sweater! This oversized fashion sweater for women features a large red heart pattern on a pure white sweater with frayed, pointed hems and a V-neck design. The wide neckline lets you play around with the sweater and turn it into an off-the-shoulder sweater for more varied style. Black jeans like the Articles of Society Waxed Sarah Raw Hem Bryce Jean or women's black leggings make a great contrast to this snow white sweater. Sneakers can make this look ultra casual and cozy or you can go for heels or flats for a more womanly attire.  
Karlie One Shoulder Crepe Jumpsuit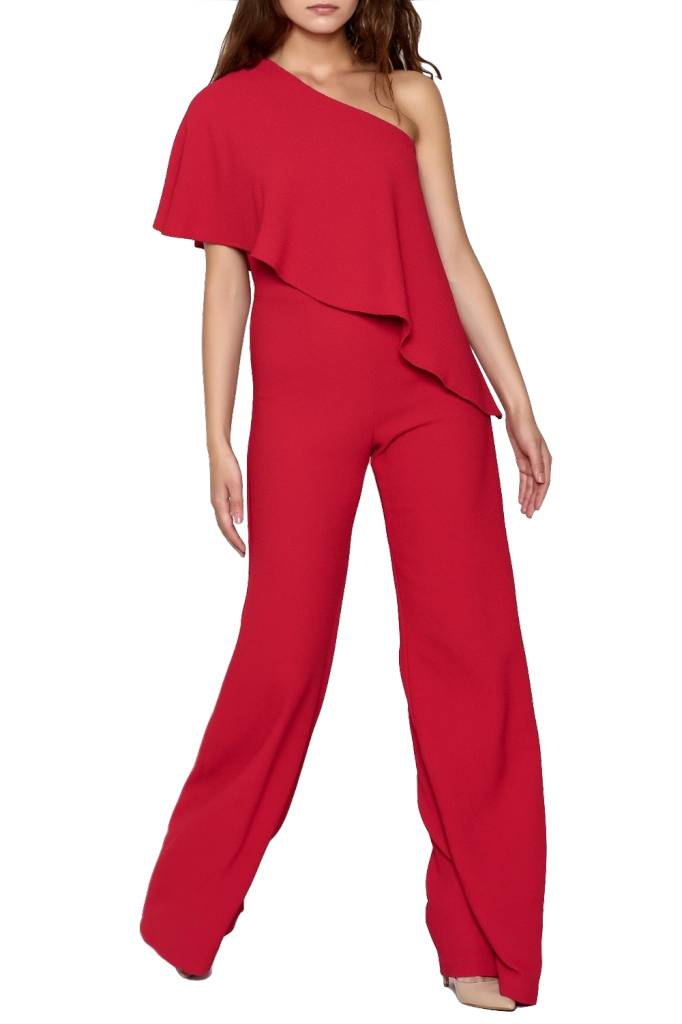 For a modern-style, all-in-one Valentine's Day women's outfit, the Karlie One Shoulder Crepe Jumpsuit is a stunning option that you can wear if you're not feeling a dress tonight. You can still look elegant and dressed up with this jumpsuit, which features a long ruffled crepe overlay and an asymmetrical, one-shoulder design that gives you a mix of bold, yet conservative and sophisticated, style. Wear your favorite heels or stilettos with this jumpsuit to highlight the wide-leg pants. 
Bold Animal Print Boutique Clothing for Women
Feeling a little daring on Valentine's? Our animal print women's apparel, from dresses to sweaters, are fun outfit options for you to wear if you want to go off the traditional red, white, and pink Valentine's Day fashion path! See what we have here at Abraham's for animal print dresses, tops, and more: 
RD Style Animal Jacquard Sweater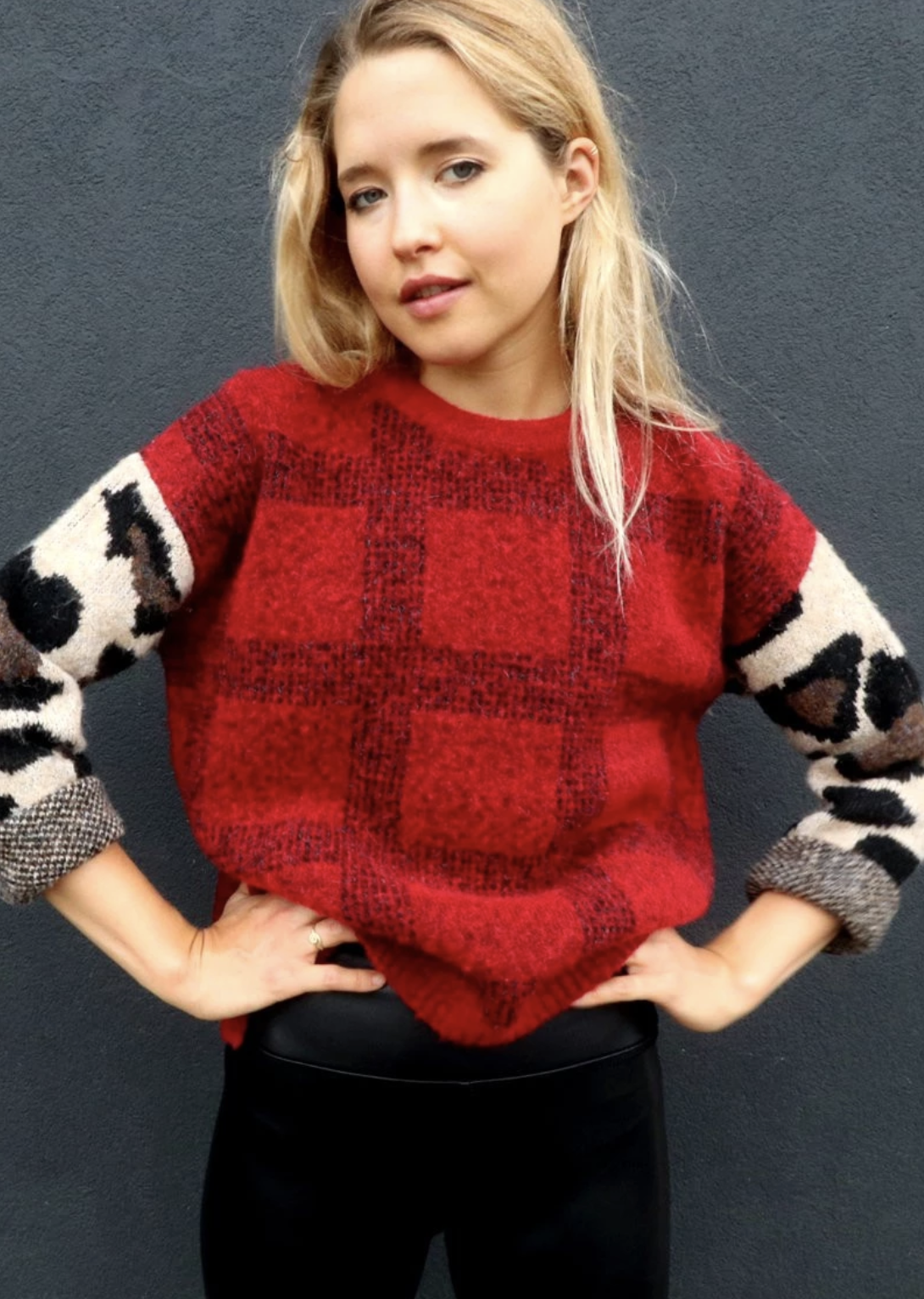 Designed with leopard print sleeves and a red jacquard pattern center, this colorful and vibrant sweater features complementary patterns and colors that make you stand out with unique and quirky style. If you love the laid-back look of an oversized sweater, but want the sweater to have a more sophisticated and one-of-a-kind flair, this one belongs in your closet! 
Karen Kane Leopard Print Dress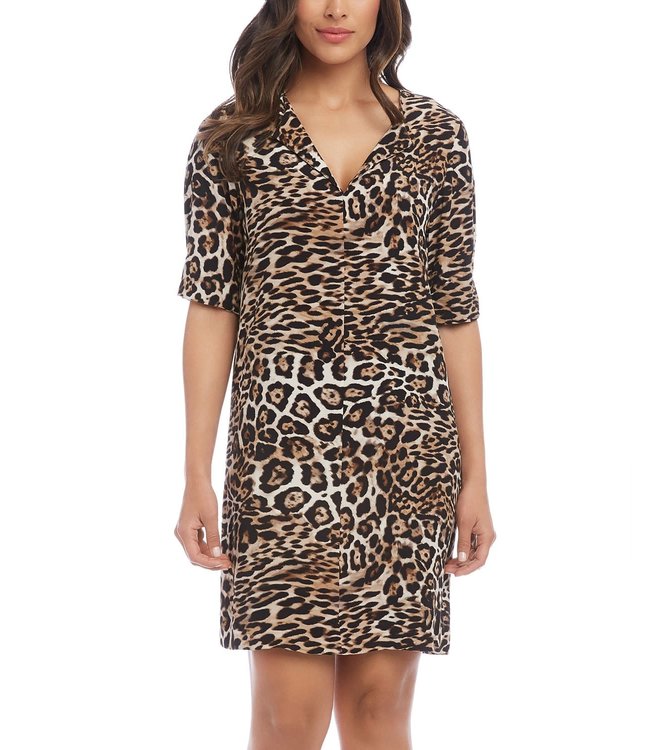 Covered in gorgeous leopard spots, this leopard print dress may have a bold design, but the sheath-like cut of the dress and the 3/4 sleeves make this dress great to wear for your dinner date and in the office. Comfortable and flattering, this animal print above-the-knee women's dress isn't too snug so that you can feel stylish, yet relaxed, while on your date.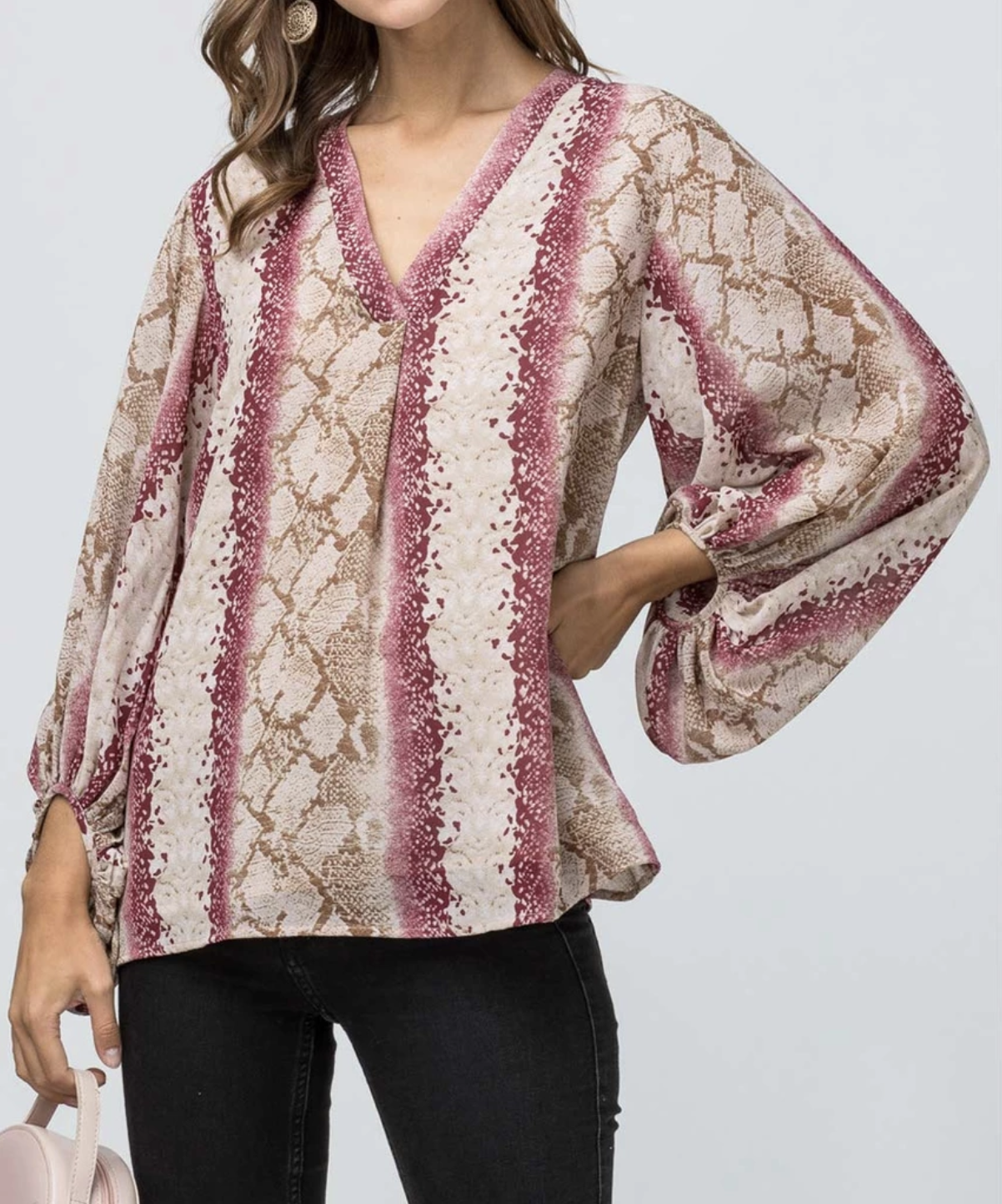 Pair your favorite women's leggings or dress pants with the Entro Reptile Top. With billowy sleeves, this women's snakeskin blouse has a romantic and Victorian-like design with a mix of modern and trendy flair added to it. The blend of burgundy, rose, tan, and beige colors are very Valentine-esque colors, but you can also wear this top as an everyday blouse throughout the year, even after Valentine's Day.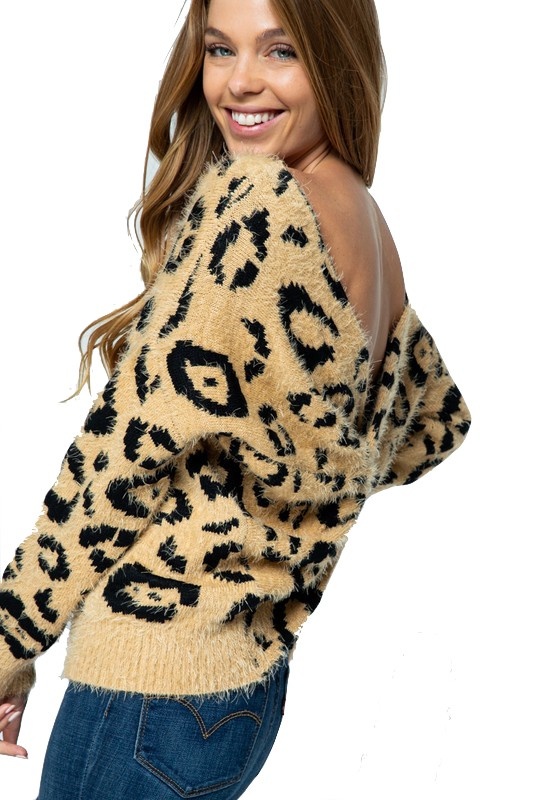 Flirty and fun, the &Merci Leopard Twist Sweater is an oversized sweater with a twist, ruched back and an open-back design that subtly shows off your back in a demure, yet captivating, way. You can wear your hair up in a romantic ponytail or bun to really showcase this lovely leopard print sweater and its unique twist back.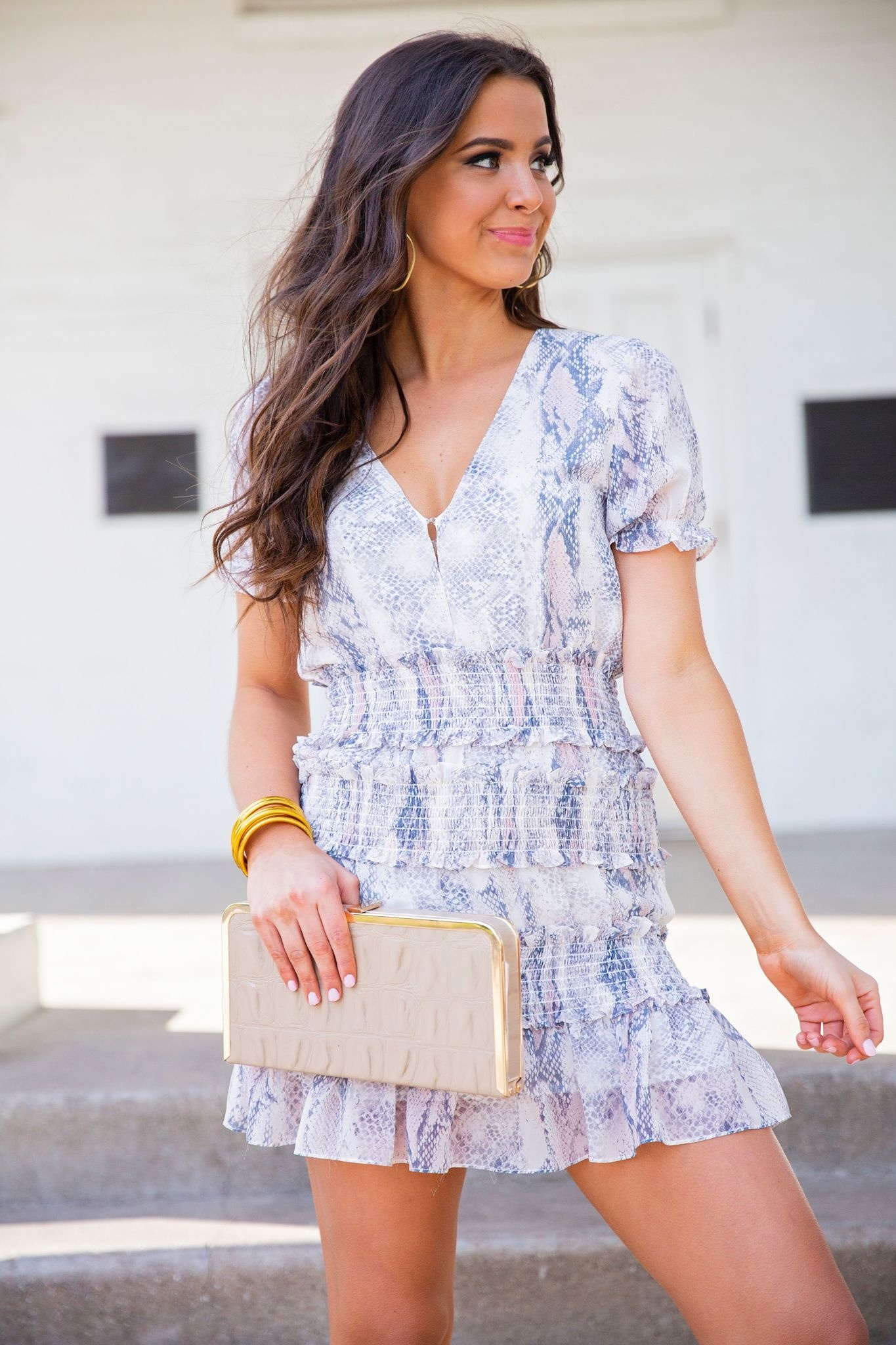 If you're going to a Valentine's Day lunch date with your sweetheart or meeting your girlfriends for a Galentine's gathering, this mini chiffon smock dress is a fun and flirty dress with a blue and pink snakeskin pattern and plenty of ruffles for a feminine touch. 
BONUS: Slimming Shapewear
Need to look your best and achieve that svelte silhouette? Slimming shapewear such as Spanx are fantastic wardrobe savers when you're wearing a bodycon dress or a slim-fitting skirt or women's tuxedo suit. From contouring bras to tummy-control mid-thigh bottoms, you can find a variety of shapewear to target different areas of your body. 
Discover more romantic or flirty outfit ideas in our women's clothing collection! Be sure to accessorize with our featured women's handbags and purses or statement jewelry.