During these risky and changing times, the COVID-19 pandemic has changed the way we live our everyday life and how we travel. If you have mandatory trips to make in 2020, we hope that this blog post can help make your travels smoother and comfortable despite the circumstances we're currently facing. Be sure to read our tips on staying safe while traveling during a pandemic in our women's travel essentials blog post.
During these risky and changing times, the COVID-19 pandemic has changed the way we live our everyday life and how we travel. If you have mandatory trips to make in 2020, we hope that this blog post can help make your travels smoother and comfortable despite the circumstances we're currently facing. Be sure to read our tips on staying safe while traveling during a pandemic in this blog post.  
Comfy Travel Clothing For Men You Need To Pack
Online shoppers aren't just looking for comfy clothing to wear while stuck at home: traveling in comfort is essential, and we've got plenty of options for you to choose from in our menswear collection. Check out our recommendations below and look around our men's clothing section yourself: 
Southern Tide Brrr Bimini Stripe Performance Polo 
The perfect polo for a hot summer's day! This Southern Tide Performance Polo for men features a unique moisture-wicking, cooling fabric that helps regulate body temperature and has sun protection (UPF 50+). This polo is available in various colors so you can mix-and-match and have several of these summer-proof men's shirts on hand for comfortable all-day wear.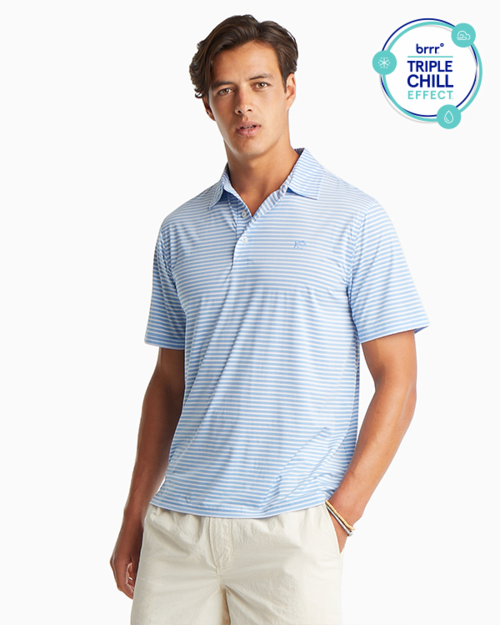 Duck Head Gold School Chino Khaki
For modern-style and comfortable pants, the Duck Head Gold School Chinos are slightly tailored men's pants that are more on the slim-fit side compared to regular khakis, but are stretchy and comfortable to wear for both casual and business. The belt loops allow you to customize the style of the pants with your favorite belt (find leather belts here at Abraham's) and give yourself a more put-together look. Great to wear with polos, dress shirts, and more!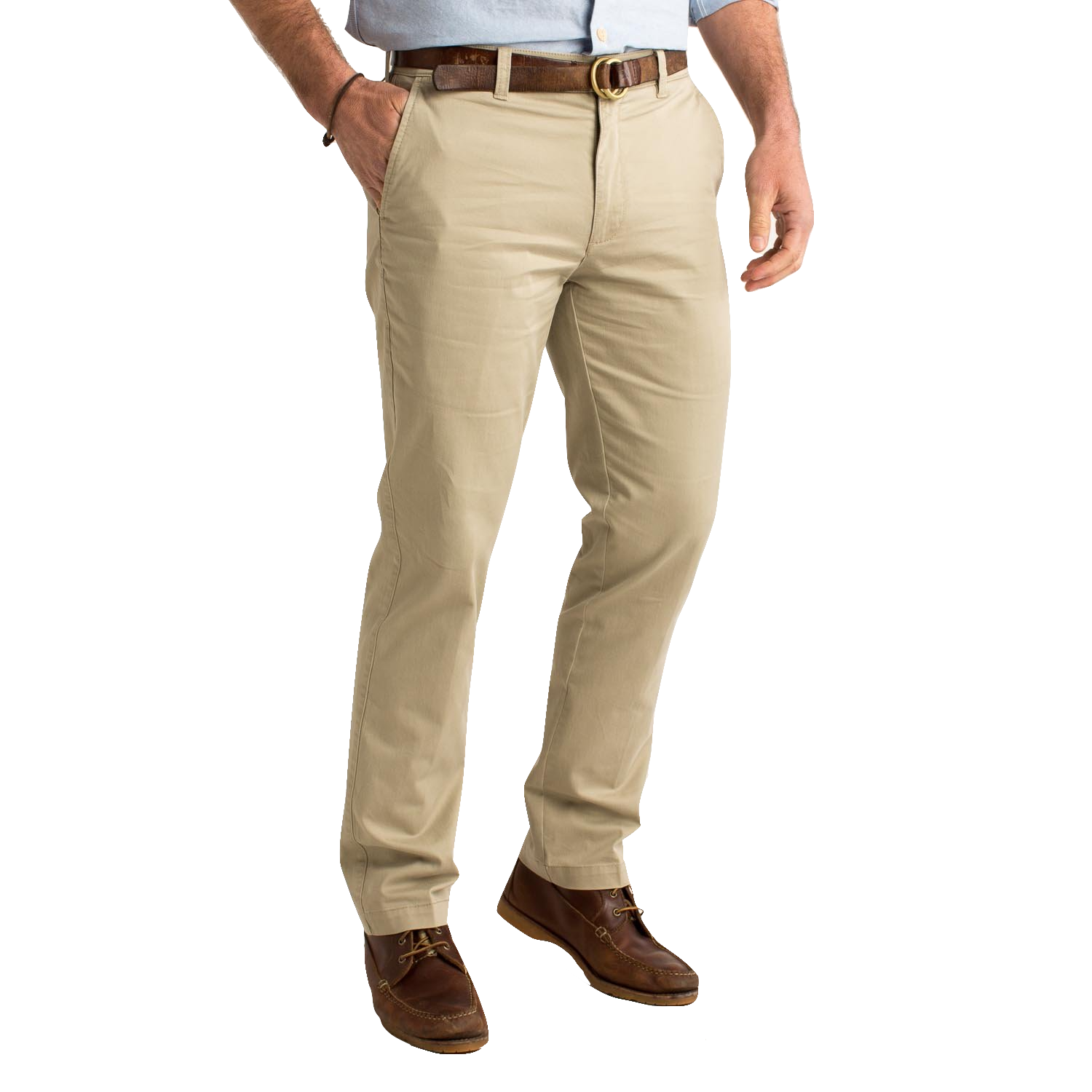 Heading to the lake or just need a super comfy cotton tee to lounge in when you're on a trip? This Live Oak Relax Lake Time Tee is all about relaxing and enjoying the outdoors. It's made with 100% cotton material that's light and breathable, ideal for those hot sunny days. You can find other Live Oak tees designs here at Abraham's boutique.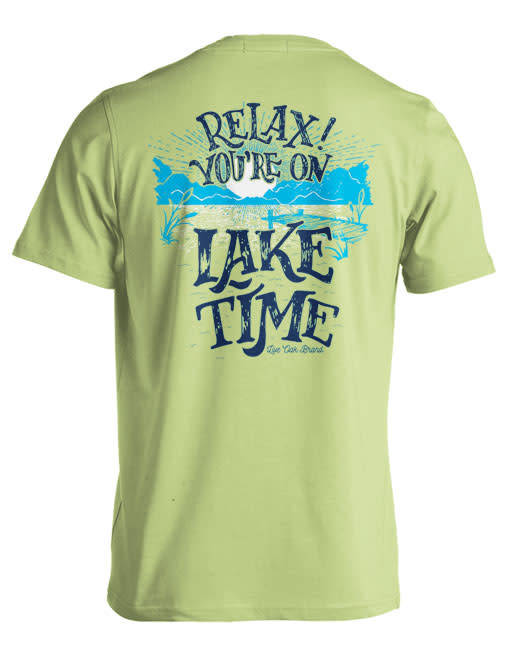 Kuhl Konfidant Air Short 8" Inseam
Cool off and keep your style casual with these Kuhl men's hiking shorts. With its classic cargo fit and many pockets, these shorts are perfect to pack for casual wear when you want to lounge and relax and can be worn for outdoor activities as well. The fabric also has UPF 50+ sun protection to keep the harmful sun rays off your skin.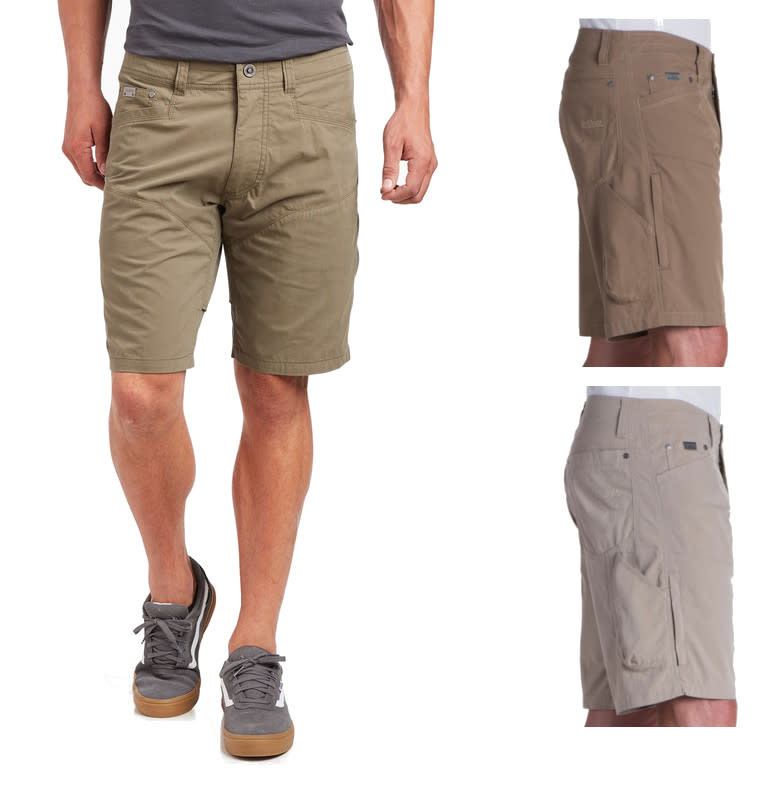 Silver Zac Relaxed Straight Leg Jeans
Jeans are always a must, whether at home or while traveling, and the Silver Zac Relaxed Straight Leg Jeans are a comfy alternative to men's skinny jeans. Thanks to its classic, relaxed fit, these jeans give you plenty of room to move around and breathe. You can get the traditional dark wash or go for the vintage washed for a more unique style.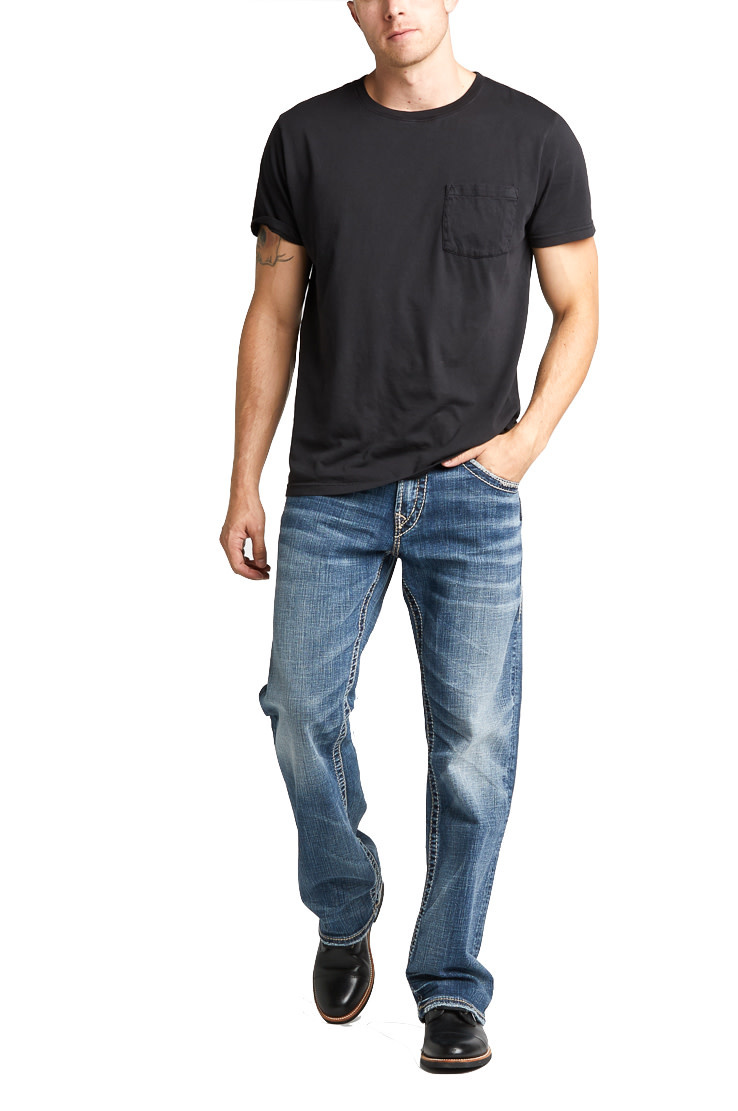 Ralph Lauren Polo Solid Classic Crew T-Shirts 3-Pack
Have a pack of undershirts ready to go when you need one most with this 3-pack crew neck tee set from Ralph Lauren. Available in either solid black or white, this men's undershirt pack features 100% cotton tees for breathable, comfortable wear, no matter if you wear under a dress shirt or polo or separately.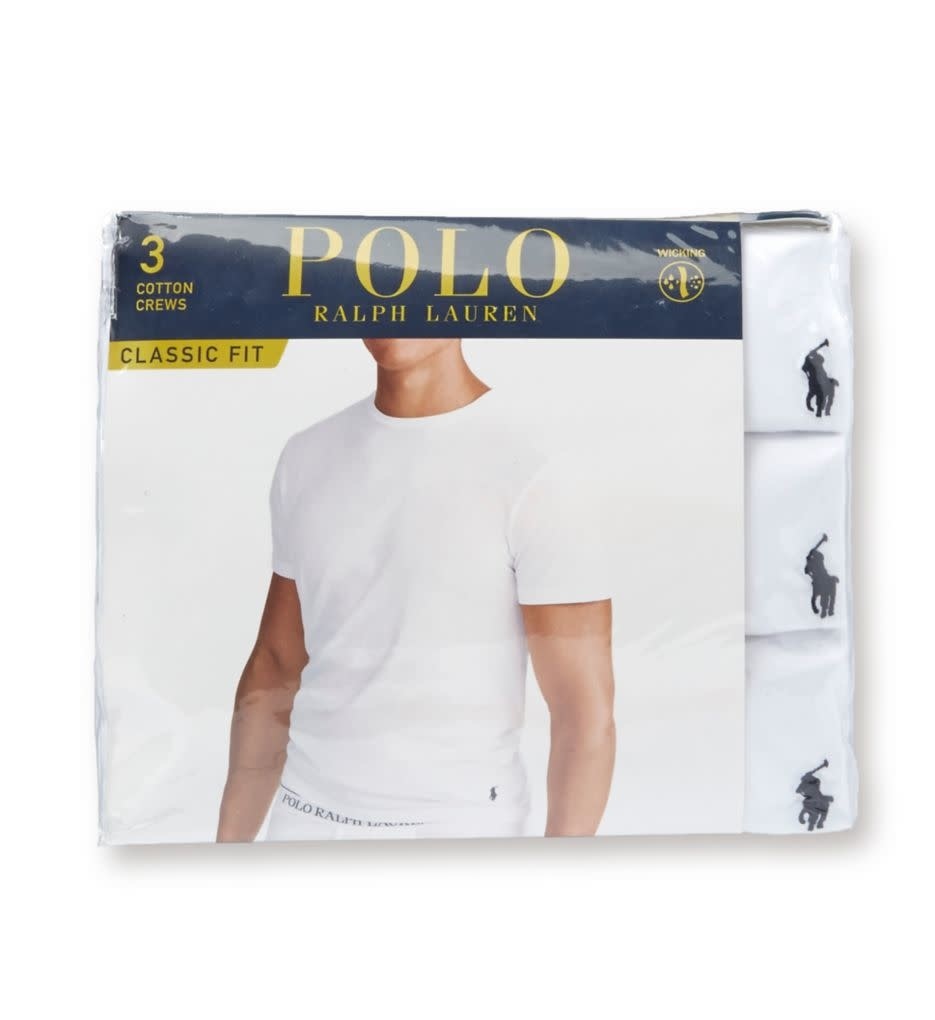 Still look dressy and stay cool with this short-sleeve plaid button-down shirt! You can switch your long-sleeved dress shirts for this more casual men's shirt. Featuring a classic button-up and collared shirt design, this plaid shirt has a sophisticated look to it and a bold plaid pattern that works well with chinos, khakis or jeans. We also have other designs and colors for short-sleeved dress shirts.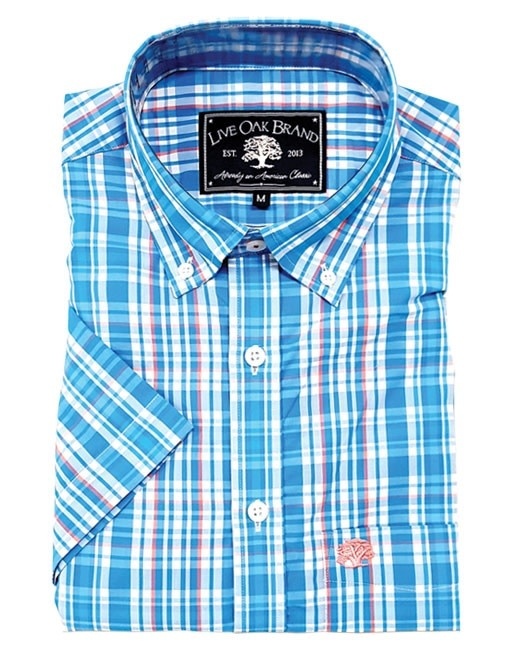 7" Inseam Gold School Chino Shorts for Men
The Duck Head Gold School Chino Shorts are a great alternative to your usual long khakis or chinos. You get the comfort and tailored style of chino pants without the length, making these men's shorts a must-have for spring and summer attire. Pair with your favorite dress shirts, polos or even graphic tees for a versatile pair of pants you can wear for any occasion, from frat parties to lakeside trips.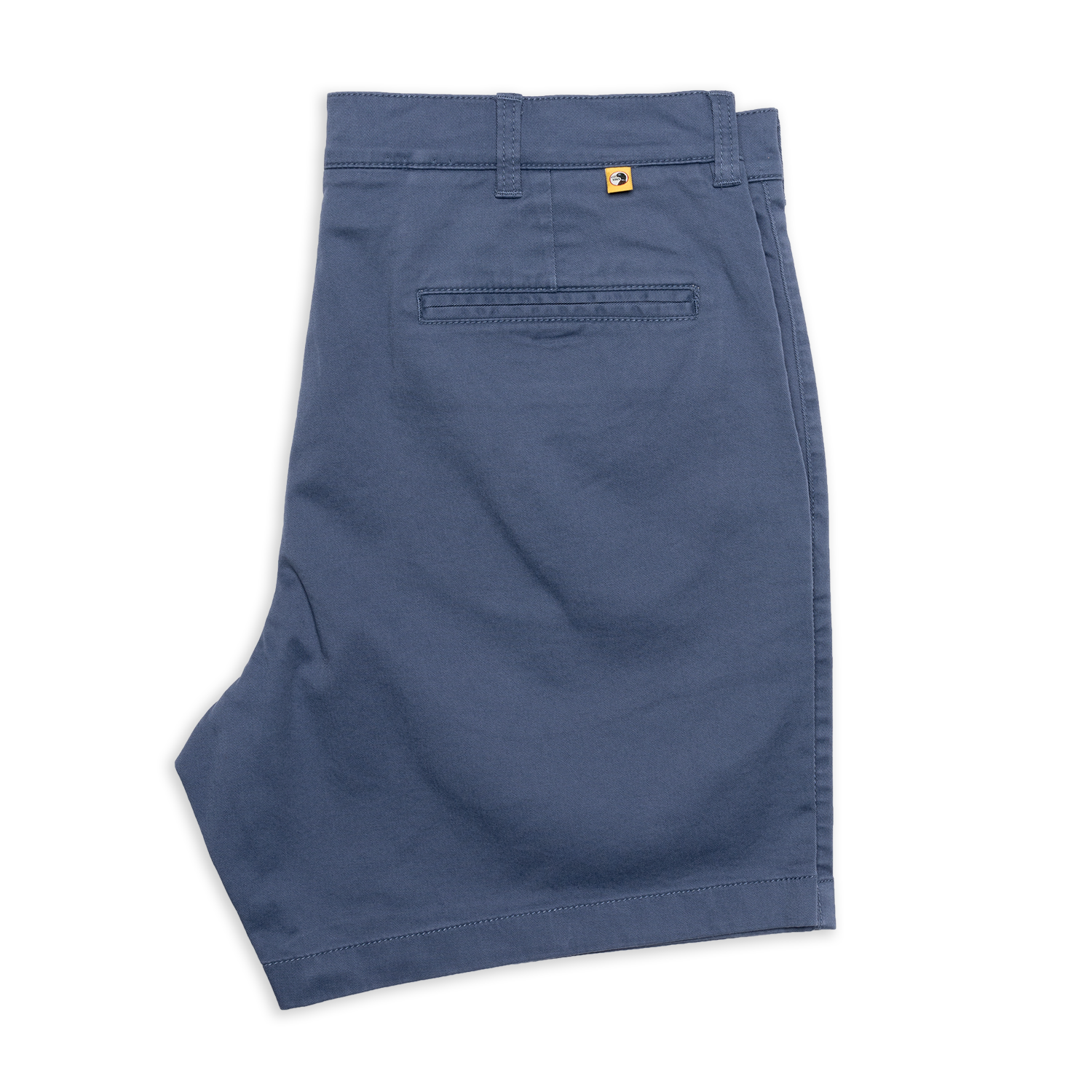 Be sure to browse through our exclusive boutique collection for men's clothing here to find stylish and comfortable pieces to add to your suitcase. 
Get Men's Caps, Belts, Colognes, and Other Essentials While You're Here
If you need extras to take with you on your travels, we have men's accessories available here at Abraham's, so see some of what we have to offer here: 
Official MLB Caps from 59Fifty 
At Abraham's, we currently carry authentic MLB caps (that even the pros wear!) from 59Fifty's Authentic Collection and feature many of the Major League Baseball teams, from the New York Mets to Oakland A's. Summer is baseball season, so even when you're traveling or at home, you can support your favorite team and protect yourself from the sun when outdoors.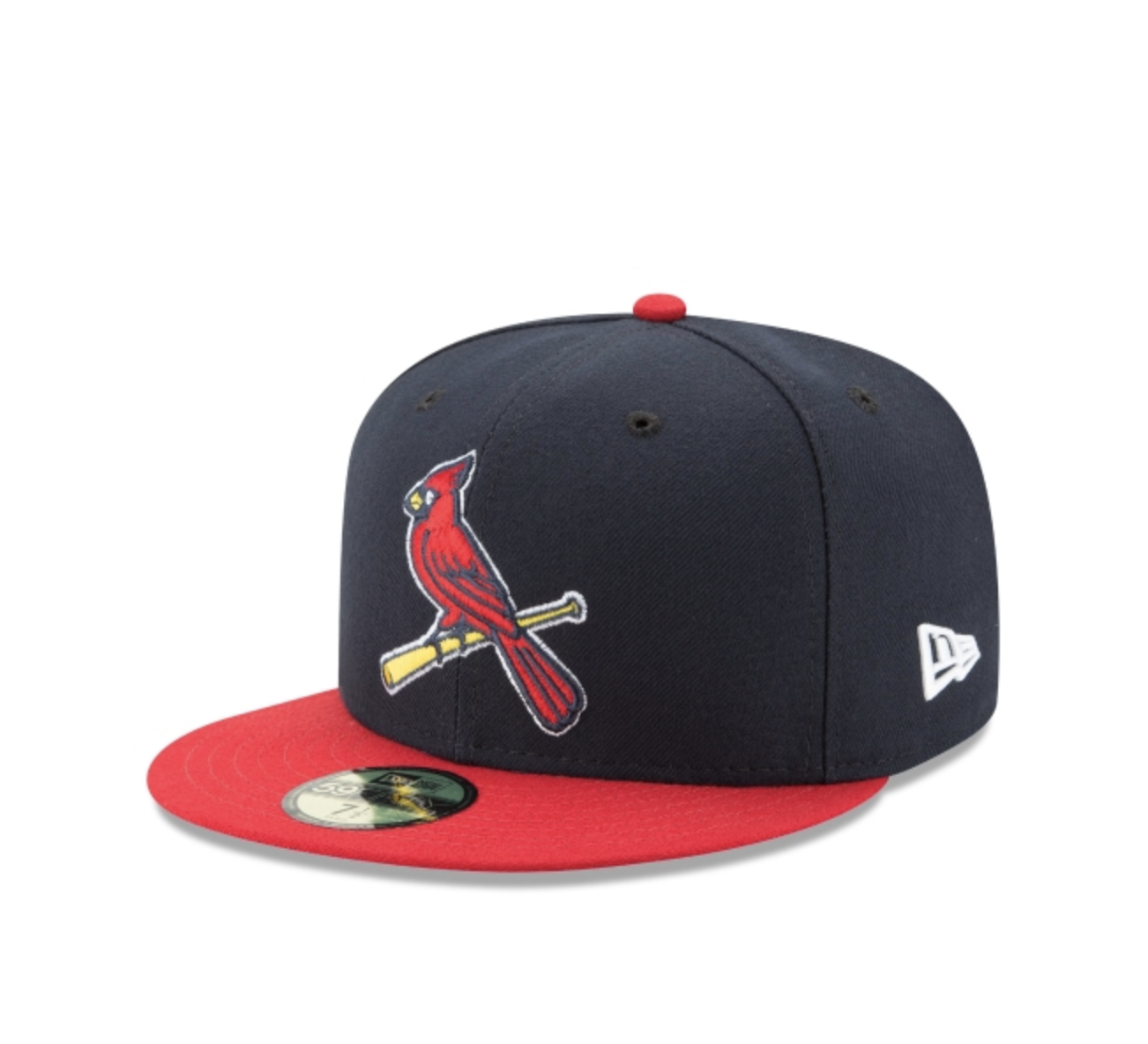 Not an MLB fan or need other types of hats or caps? Browse our men's collection here. 
Torino Alligator Grain Embossed Calfskin Leather Belt
Complete your attire with this genuine leather belt made from calfskin and designed with an alligator embossed grain for a masculine appeal. This belt is adjustable and is made to last with its high-quality leather material.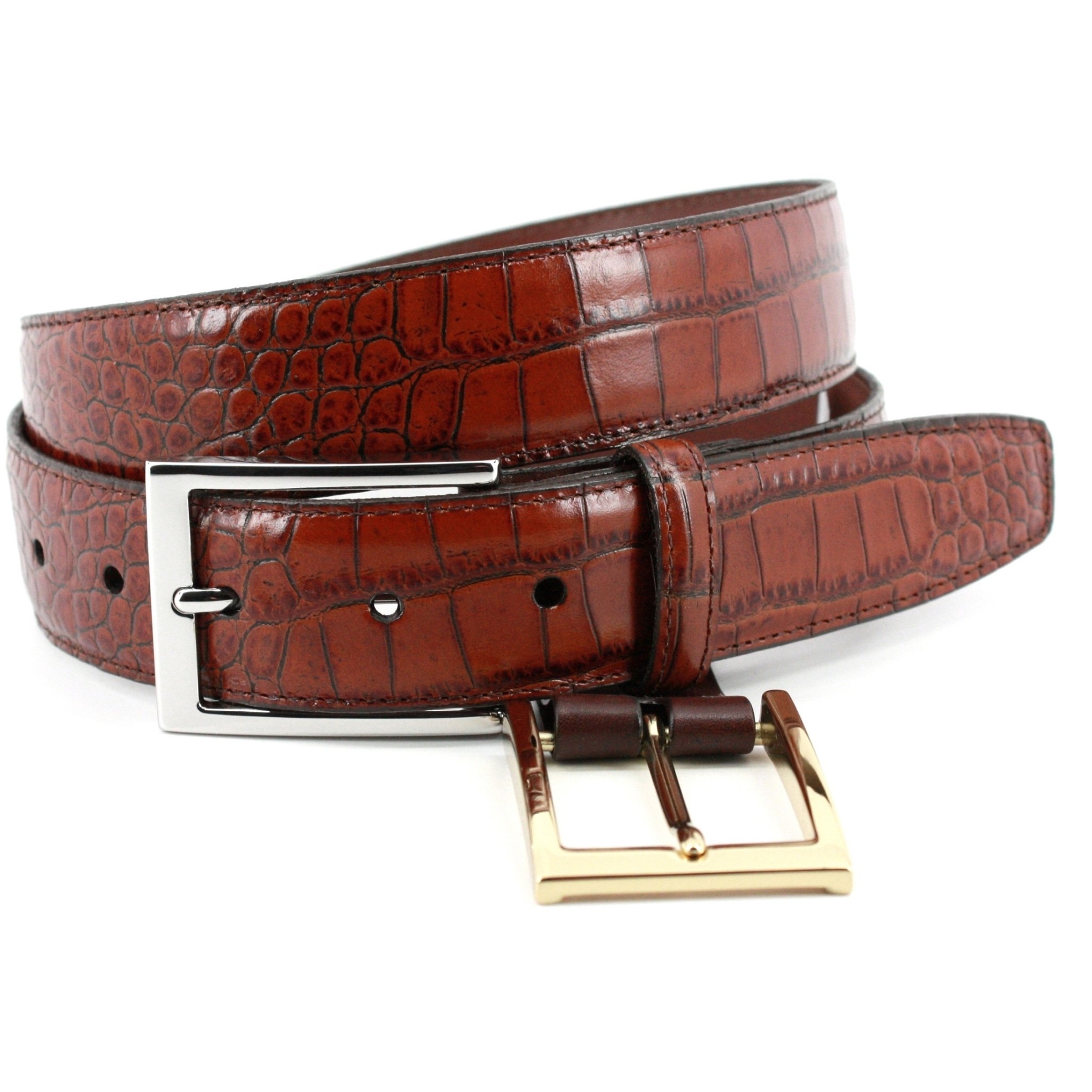 Discover other genuine leather belts for men here. 
Smokey and spicy, this men's cologne comes in a Cuban cigar spray bottle for a classic look and features a unique scent that resembles tobacco. With subtle notes of jasmine, lavender, and bergamot, this Cuban-inspired fragrance for men is great to have with you for travels when you want to enhance your natural aura.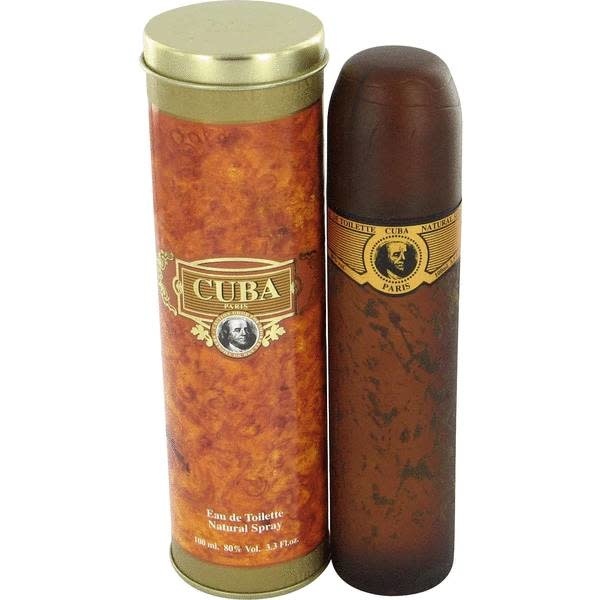 Find more men's designer colognes here. 
Men's Luggage and Travel Bags You'll Need 
Make the most of your travels by using one of our men's work and travel bags to help you stay organized. No matter where your next destination will be or if you need a rugged and reliable work bag to help you with day-to-day tasks, Abraham's delivers a wide selection of men's travel bags to suit your lifestyle.
Mountain Khakis Cabin Duffle Bag 
Made with the avid traveler in mind, the Mountain Khakis Cabin Duffle Bag is a goldmine in the realm of men's travel luggage and bags. Constructed with bomber 20oz canvas and reinforced with 18oz water-resistant waxed canvas, this duffle bag for men is built for all kinds of travels and trips, whether you're heading to the mountains for the weekend or going on a business trip. This TSA-approved carry-on travel bag features double handles and a detachable shoulder strap with a leather sliding pad for versatile and easy carrying. The 32L bag is lined with genuine leather to keep the seams together while the exterior pocket allows you to store your keys, I.D., cellphone, maps,  etc., inside for quick access.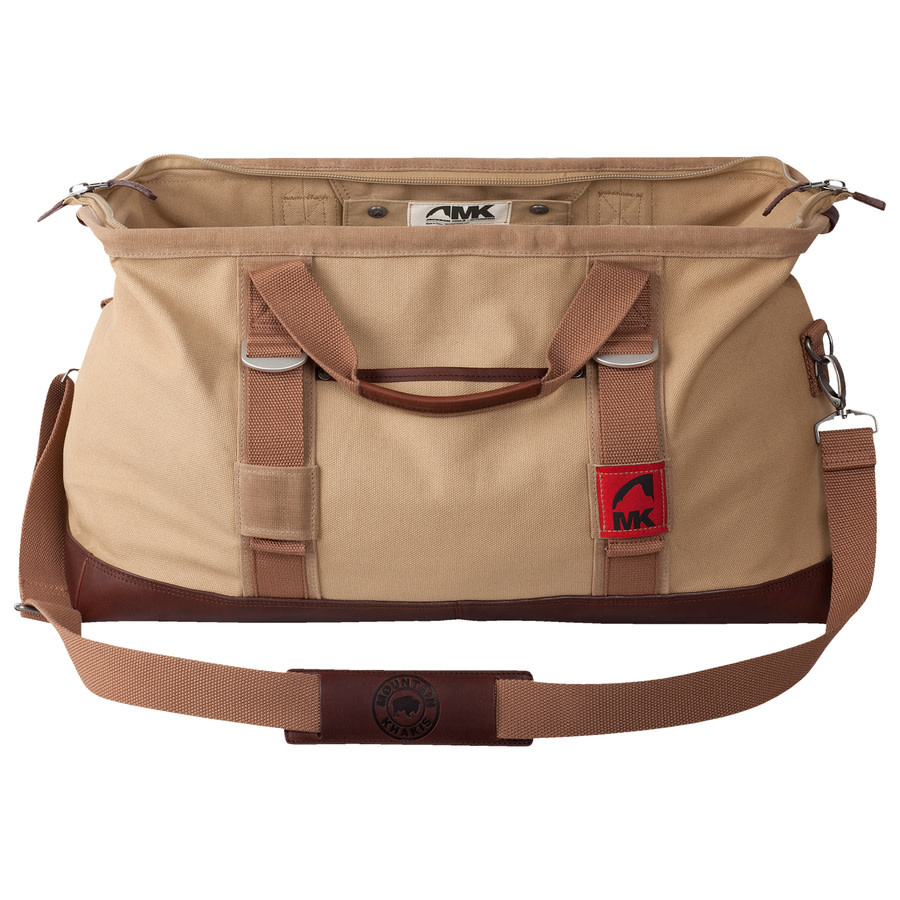 Waterproof and spacious, the GameGuard Cooler Bag can hold up to 48 cans of your favorite beer or soda and can even fit large bags of ice. Or you can use it to pack dry food, canned foods, packaged food, snacks, etc., for long camping or hiking trips. The durable bag features a front zippered pouch and buckle straps on the side of the bag to keep it compact. 
You can also fold and collapse it for easy storage in your car or garage. With the handles that come with a button-up pad, this bag is easy to carry and also includes a detachable shoulder strap for hands-free transportation. The GameGuard Cooler Bag for men is great for different events, from camping trips to family picnics and cookouts. You can also use it as a work bag if you do long-distance traveling.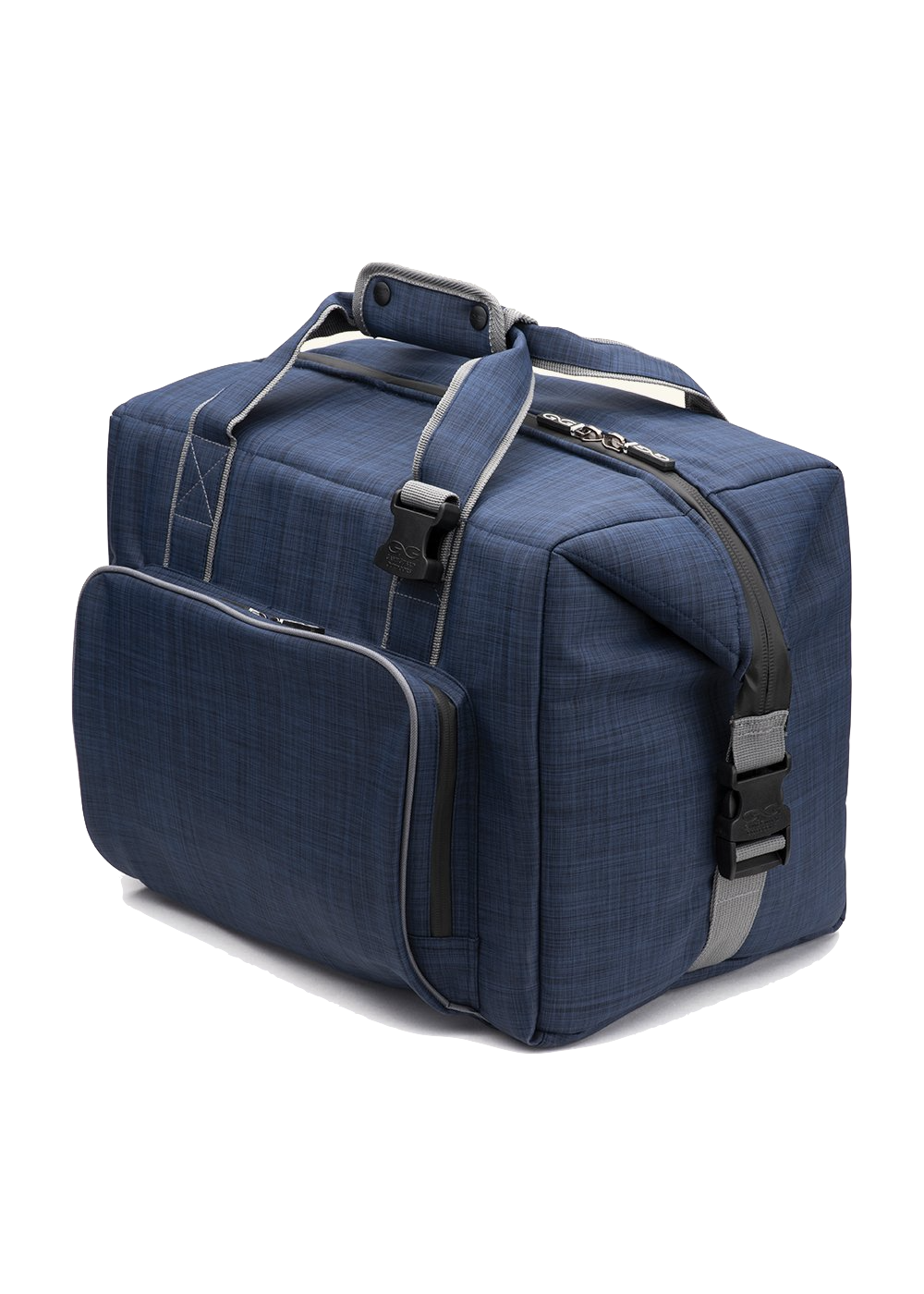 Other Designer Men's Work Bags, Travel Bags, and Travel Accessories
From leather briefcases to backpacks, you can find more high-quality travel and work bags and accessories for your lifestyle. Here are some of the different styles of bags for men you can consider adding to your own collection:  
Outdoor or Work Backpacks:

Backpacks offer hands-free carrying and are often designed with room for your laptop or other gadgets so that you can work on the go. For the more outdoorsy type, you can use backpacks to keep your trip essentials all in one place and attach a sleeping bag to it. These backpacks can range in materials and style to fit your desired look, so you can go from sporty and athletic or modern and sophisticated (think genuine leather backpacks.
Men's Toiletry Travel Kits:

Compact and portable, these toiletry bags and travel kits for men are designed to hold your toothbrush, toothpaste, colognes, and other hygiene and grooming essentials for your trips. You can also keep it as an everyday pack where you can freshen up wherever you go, even if you're using it for work. For more convenient storage for your toiletries, you can go for a hanging organizer bag that you can hang up when you're at your hotel. These bags are compact and easy to pack so that you don't have to worry about taking up too much space.
Men's Garment Bags:

Whether you're heading to a weekend wedding and need to keep your groomsman suit in pristine condition or you need multiple suits for business meetings in other cities, garment bags are a must-have for the suit-wearing gentleman. Garment bags are specifically designed to keep formalwear and professional menswear free from the wear and wrinkles that suitcases can cause to your clothing. These suit bags usually fold up for easy storage and traveling and typically are TSA-approved carry-on bags.
We hope you found this guide helpful for your next 2020 trips! Please stay safe and practice proper sanitation and social distancing procedures so that you can come home COVID-free.