Spanx are one of the most popular leggings and shapewear brands on the market, and we love having them in our boutique! Abraham's has many women's Spanx clothing options to help you look and feel your best. If you want to learn more about Spanx or find new Spanx pieces to add to your wardrobe, check out our guide and discover new Spanx favorites for your own collection.
Why Spanx are such high-quality and special leggings - worth the hype? Absolutely! Whether you're a loyal Spanx lover or you're new to Spanx and want to explore your options, here's our go-to women's guide for all things Spanx - from shapewear to iconic leggings.
Our Favorite Spanx Leggings
If you're going to be a Spanx fan, then you have to have their classic Faux Leather Leggings as part of your collection! Sleek and comfortable, these vegan-friendly leather leggings don't cling or stick to your skin and give you the perfect shape without being too tight or uncomfortable. The sheen of the faux leather adds a hint of edge, but doesn't overwhelm your attire so that you continue looking chic and stylish. These leggings are so versatile and can be worn for nearly any occasion - from a casual day of running errands to a night on the town with the gals.
Love the shiny leather look? Here's another one of our favorites from Spanx: the Faux Leather Croc Shine Leggings. These fun and funky leggings have a subtle crocodile embossed print all over for the bold and daring fashionistas. They're perfect for fall and winter outfits!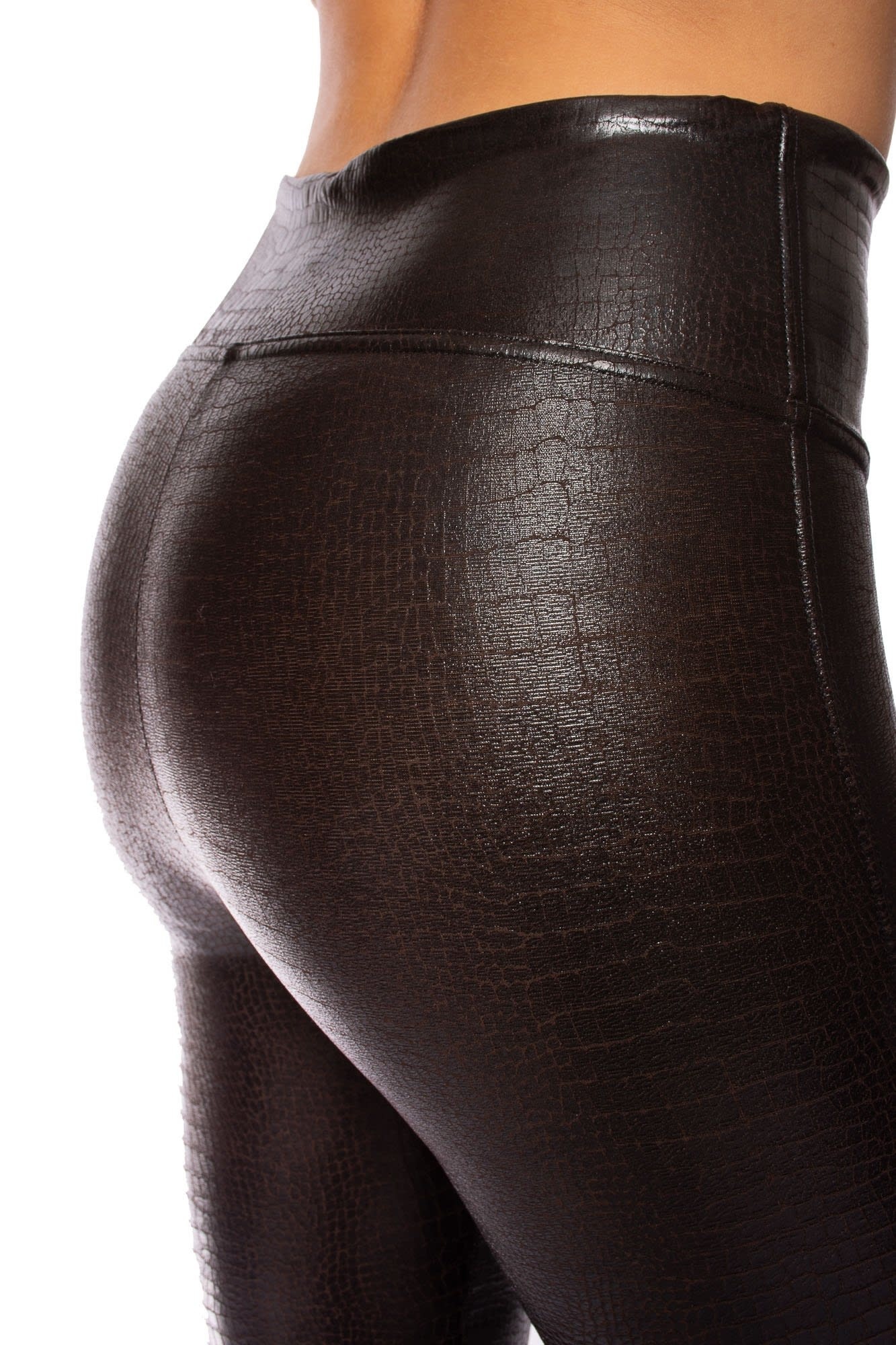 Want to ramp up your style and take it to the next level? Try out the Spanx Faux Leather Moto Leggings, featuring a textured design with a motor-babe edge! These fun leather leggings bring a whole new style upgrade to your attire, so take a ride on the wild side with the Moto Leggings!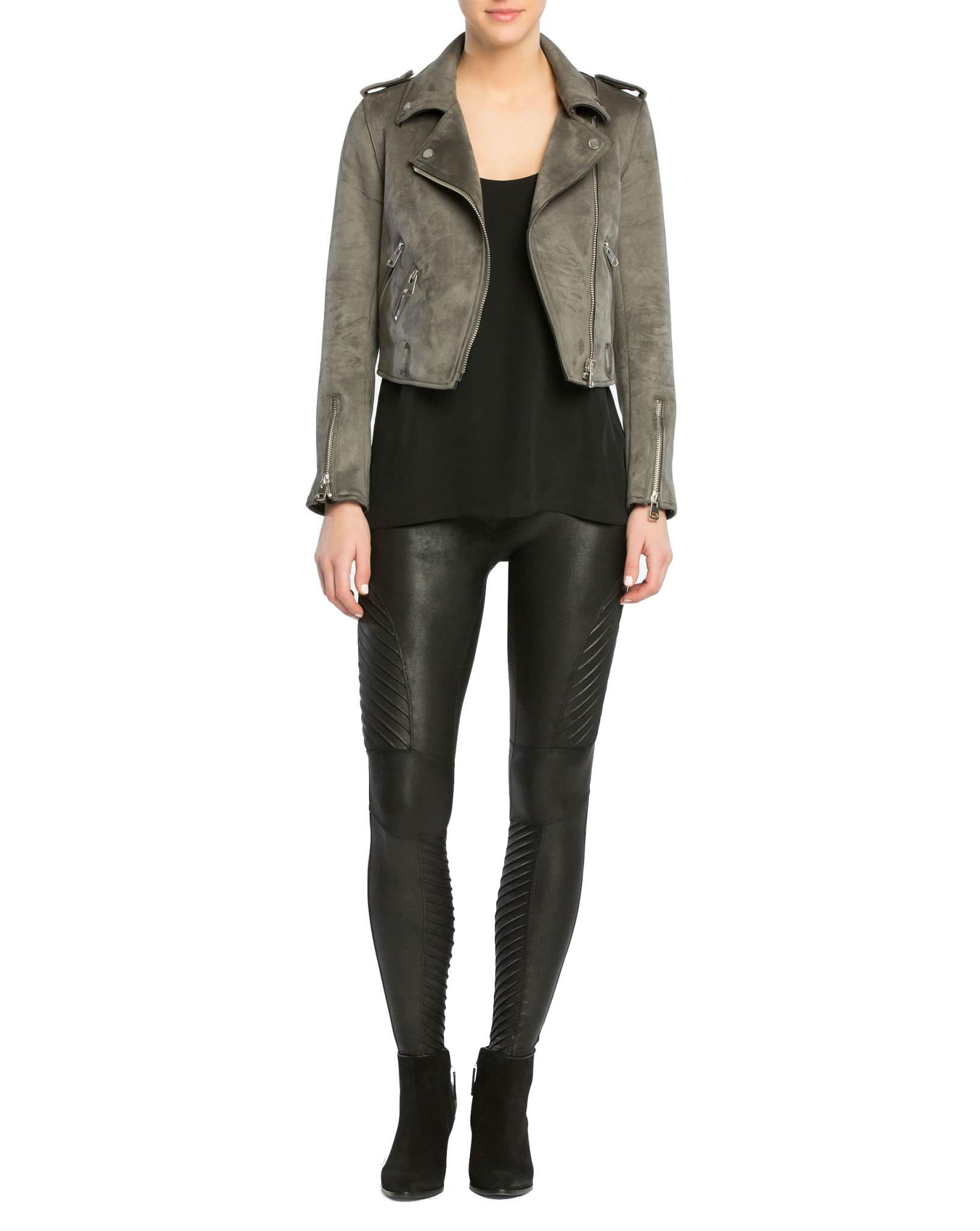 If you're not a fan of the shiny leather-look, Spanx has plenty of other options for women's leggings that stand out on their own! For example, the Look At Me Now Seamless Leggings come in a classic and trendy camo pattern and a high-waisted style for more coverage. 
Other Spanx Pants You Need In Your Wardrobe
Did you know that Spanx also has women's jeans and pants that are designed with signature Spanx technology? If you're not a fan of leggings (or just have too many and need to switch it up!), check out some of our favorites here: 
Spanx Clean Indigo Skinny Jeans
No buttons, no zippers - just pure Spanx comfort and flattering style with these skinny jeans! These jean leggings (or "jeggings") are designed to look like classic skinnies and give you the ease of slip-on wear. Figure-flattering and versatile - we love having this Spanx in our closet!
Spanx Perfect Black Pant - Backseam Skinny Ponte
Perfect to wear to the office or for a regular night out on the town, the ultra-comfy and versatile Spanx Backseam Skinny Ponte are truly the "Perfect Black Pant" of the Spanx collection! Sleek and sophisticated, these Spanx pant leggings for women have a similar style to classic cigarette pants, giving you that magical slimming effect and adding a professional, stylish flair to your outfit.
Spanx Perfect Black Pants - Hi-Rise Flare
Here's another favorite from Spanx's Perfect Blank Pants Series: the Hi-Rise Flare Women's Pants! These timelessly retro and stylish pants have a flattering bottom flare with pleated legs. No buttons, no zippers - just easy, comfortable slip-on wear that doesn't sacrifice sophistication.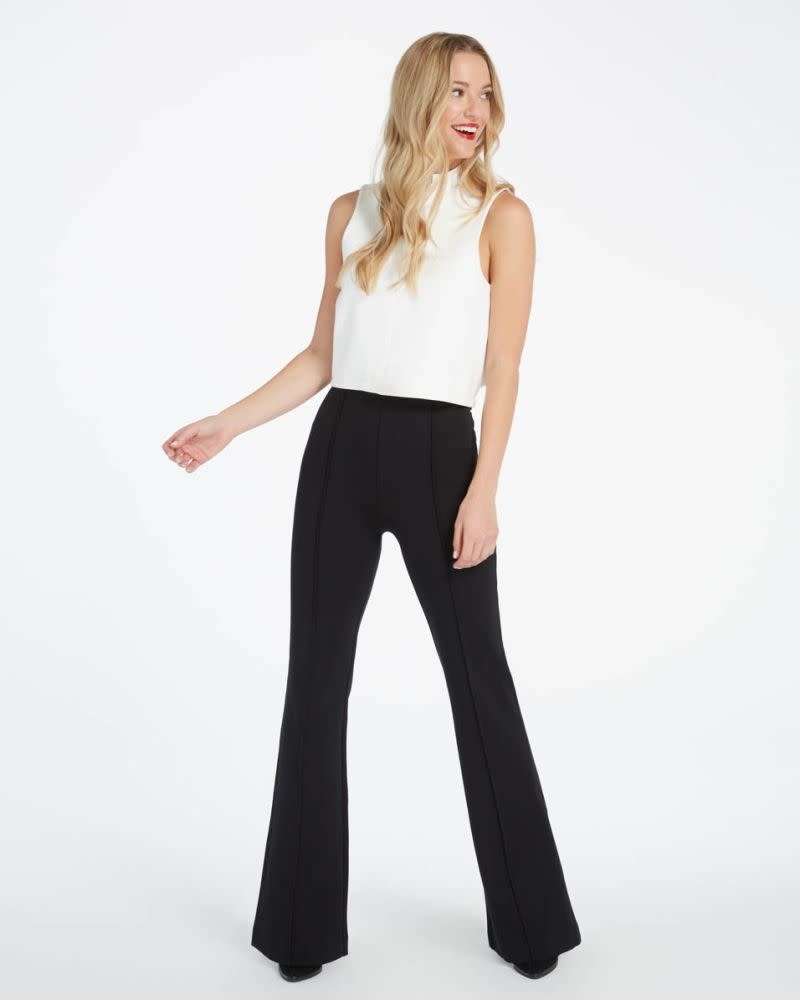 Get the best of both worlds - stylish jeans and comfortable Spanx leggings - in this pair of Ankle Jean-ish Leggings! These ankle-length leggings have the same style as classic denim jeans and come in a variety of colors, including white, black, and blue. Versatile and ultra-comfy, these jean-style leggings have the Spanx tummy & muffin top control waistband and have faux front pockets & real back pockets. You don't have to deal with a belt, zipper or button with these Spanx jeggings - enjoy easy slip-on wear! 
Spanx Shapewear For Women - All Types & Styles For Your Needs
Let's talk about Spanx's oh-so-popular shapewear! If you're searching for shapewear that's comfortable, doesn't feel like a too-tight corset, and fits your unique body shape, Spanx is renowned for its shapewear collection! Discover the various women's Spanx slimming underwear we showcase in our boutique: 
Spanx Thinstincts® Mid-Thigh Short
Perfect for mini dresses, the Spanx Thinstincts® Mid-Thigh Shapewear Short is your classic biker-style shorts that are specially made to keep everything tucked in, giving you that sleek, seamless look with anything you wear. These shapewear shorts by Spanx feature microfiber material for a breathable, lightweight texture and zero elastic bands so that you don't feel constricted. Great for everyday wear and extra versatile for all kinds of outfits!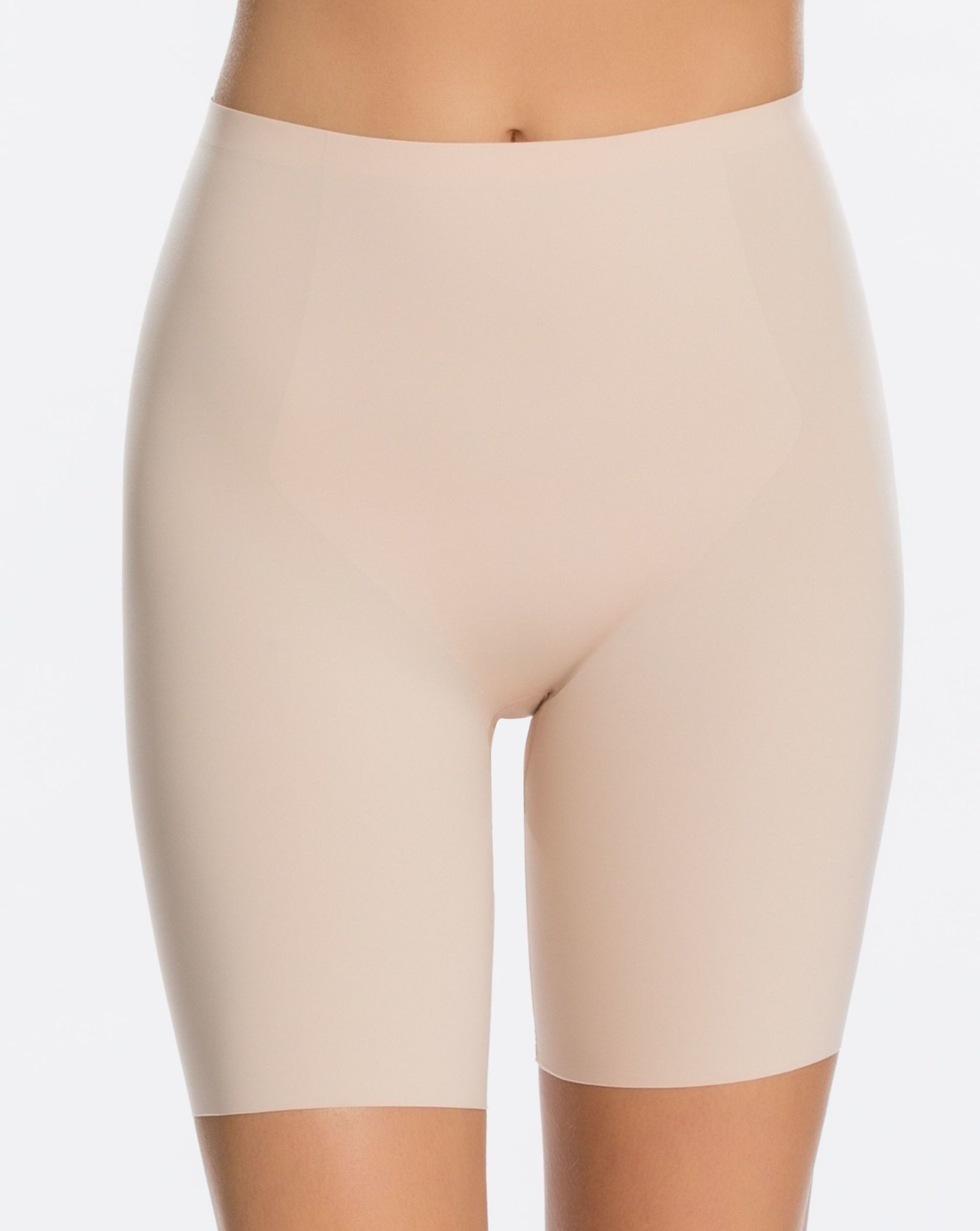 Spanx Trust Your Thinstincts® Tank
Pair the mid-thigh shorts with the Thinstincts® Tank for a complete set, or use this tank separately for form-fitting tops or other shirts and blouses. This shapewear tank features a body-smoothing, full-coverage design and a non-compression chest area that fits around your natural shape for maximum comfort. The high-back design provides all-around smoothing to give you a seamless look. Cleverly made with a wide bottom hem band to secure tank top in place.
Spanx Bra-llelujah Full Coverage Bra 
Experience maximum comfort and support with the Spanx Bra-llelujah Full Coverage Bra! Feel the magic of Spanx shapewear with this contouring and comfortable bra. Designed with SPANX SMART Straps™, this bra features wide straps that don't dig into your skin, and additional strap support is included for sizes 36C and up. The bra's flexible, breathable material provides instant custom fitting and molds against your natural shape for perfect support. 
You can even find strapless versions like the Up For Anything Strapless Bra for dresses, tops, and more.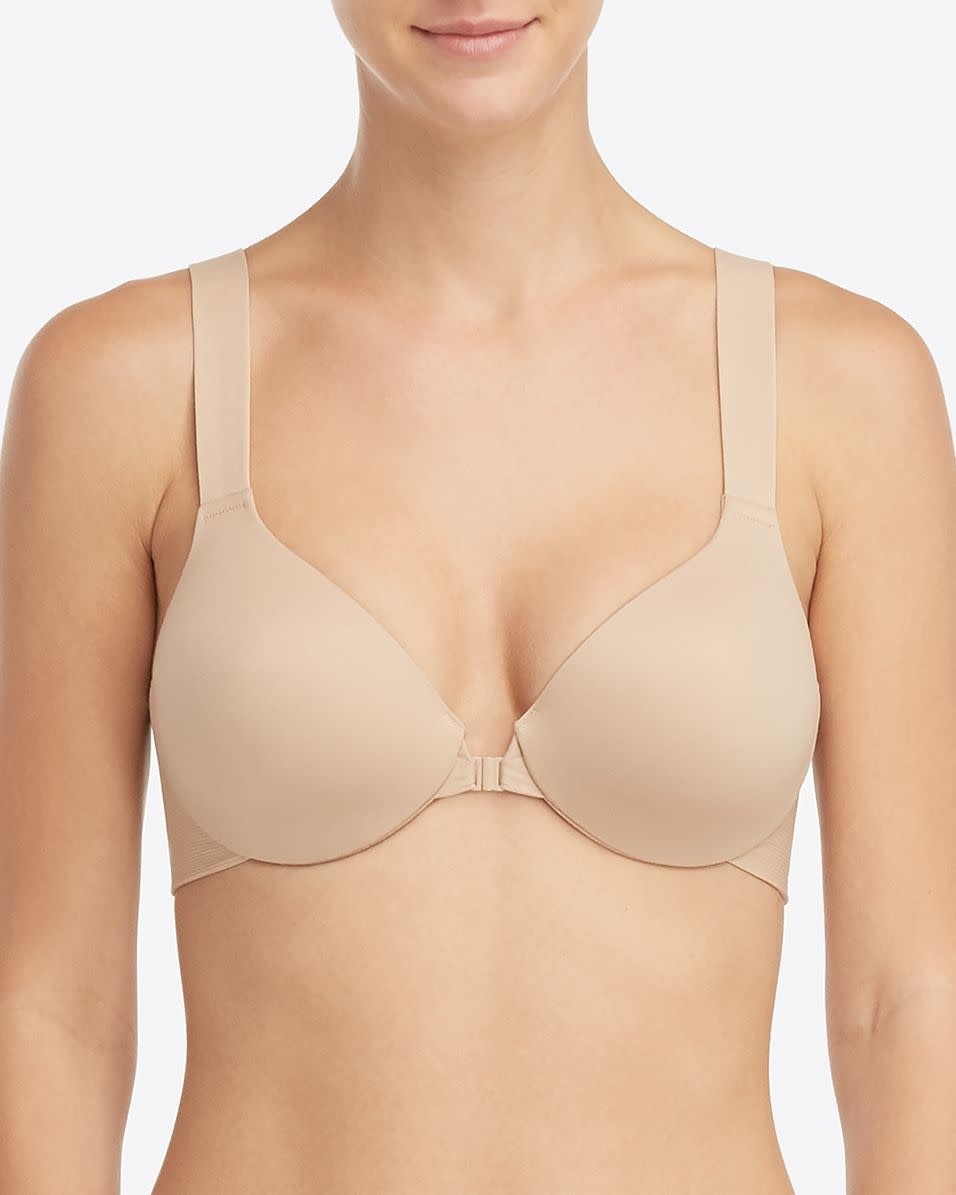 Spanx Slimplicity Open-Bust Mid-Thigh Bodysuit
If you want to go the extra mile and give yourself a natural body-contouring experience, the Spanx Slimplicity Open-Bust Mid-Thigh Bodysuit provides (almost) full-body coverage to create that sleek & slim style for any occasion - especially the very special and important ones. The open-bust design allows you to use any bra you would like with the bodysuit, including Spanx bras that we shared previously on this list. This bodysuit features a tank-top style, giving you the freedom to style however you want without showing any part of the suit. 
Spanx Slim-Cognito Full Shaping Slip
Make creating the perfect seamless look effortless and comfortable with the Spanx Slim-Cognito Full Shaping Slip! Ideal to wear with all kinds of dresses - from mini dresses to formal attire - this full shapewear bodysuit features slim straps and a sculpted built-in wireless bra to keep you lifted and supported all day long. This women's slip provides breathable, lightweight comfort all day long.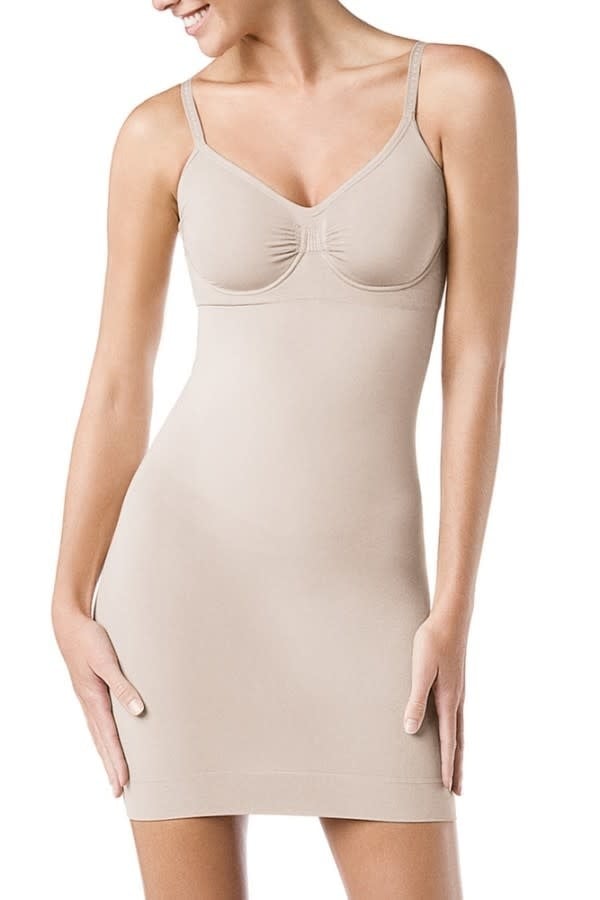 We hope this guide gave you more insight on the wonderful world of Spanx shapewear and clothing for women! We always feature Spanx products in our boutique, so be sure to browse more Spanx leggings and tops or come into our physical store if you're in Indianola, MS! 
~ Abraham's