Let's celebrate the 2023 spring season with the new Women's Spring 2023 Boutique Clothing Collection Guide! Featuring the latest 2023 spring style trends, our guide gives you a sneak peek at what we're stocking up in our boutique store - both online and in our physical Indianola, MS, location! Explore our guide and get your spring 2023 wardrobe ready for trendy, chic, and elegant pieces from our collection.
Check out our 2022 Women's Spring Boutique Collection Guide for more spring styles!
Get yourself ready for the spring season with the chic and trendy Tart Collections Betsy Dress! Made with sleek and premium faux leather material, this women's sleeveless dress features a pleated A-line skirt with a boxy top and a wide waistband for an hourglass shape. Great to dress up or down for daytime or evening wear!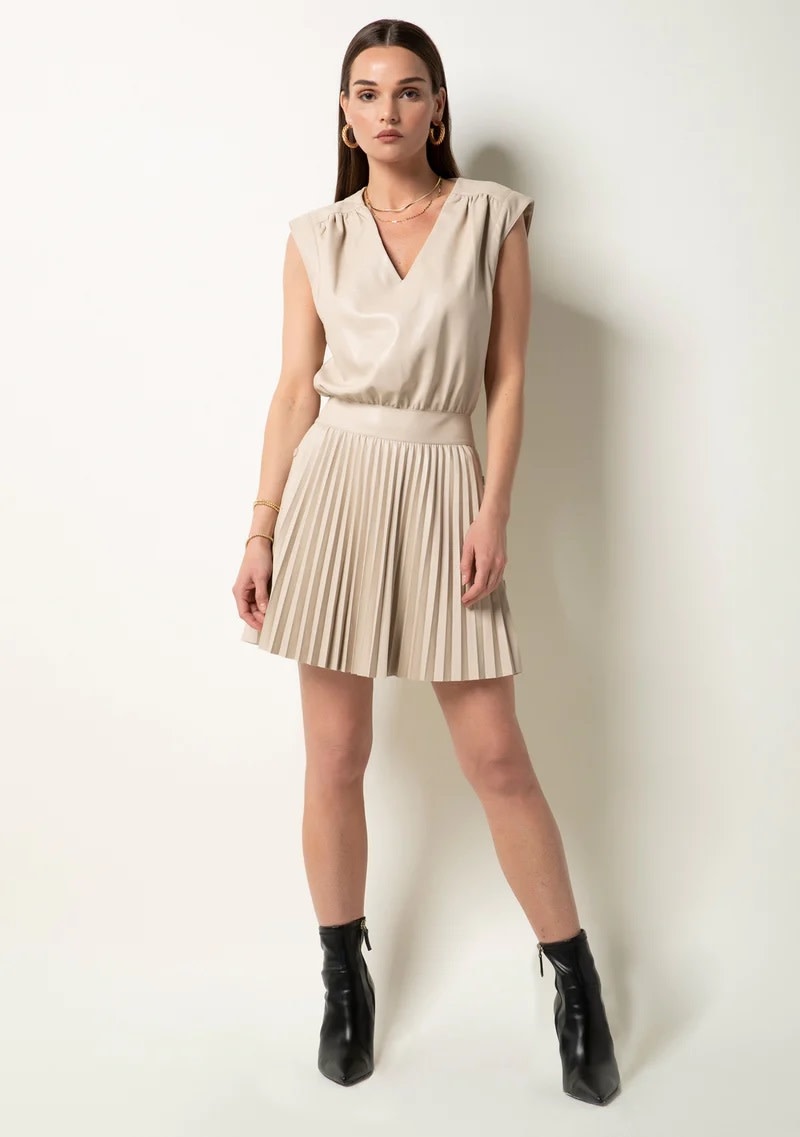 Elevate your spring wardrobe with the Emily McCarthy Lola Dress! Delightfully designed with spring motifs and a sweet, Southern style, this women's spring dress makes a charming and fashion-forward piece to add to your wardrobe and wear for springtime events! The dress has a wrap ruffle skirt with a tie on the side and a round-neck bodice with puff sleeves for a flair of extravagance and feminine style. Handmade in Savannah, GA! 
Love the pattern and design of this dress? Get it in top form here: Emily McCarthy Stella Top!
Lysse Boyfriend Repreve Denim Pants
Have a pair of comfortable, breathable denim jean leggings that you can wear for the spring with the Lysse Boyfriend Repreve Denim Pants! Stylish and trendy, these women's boyfriend jeans feature roll-up cuffs and a casual, laid-back style that's feminine and flattering. These women's denim leggings are stretchy and tailored to fit your natural shape for maximum support and comfort.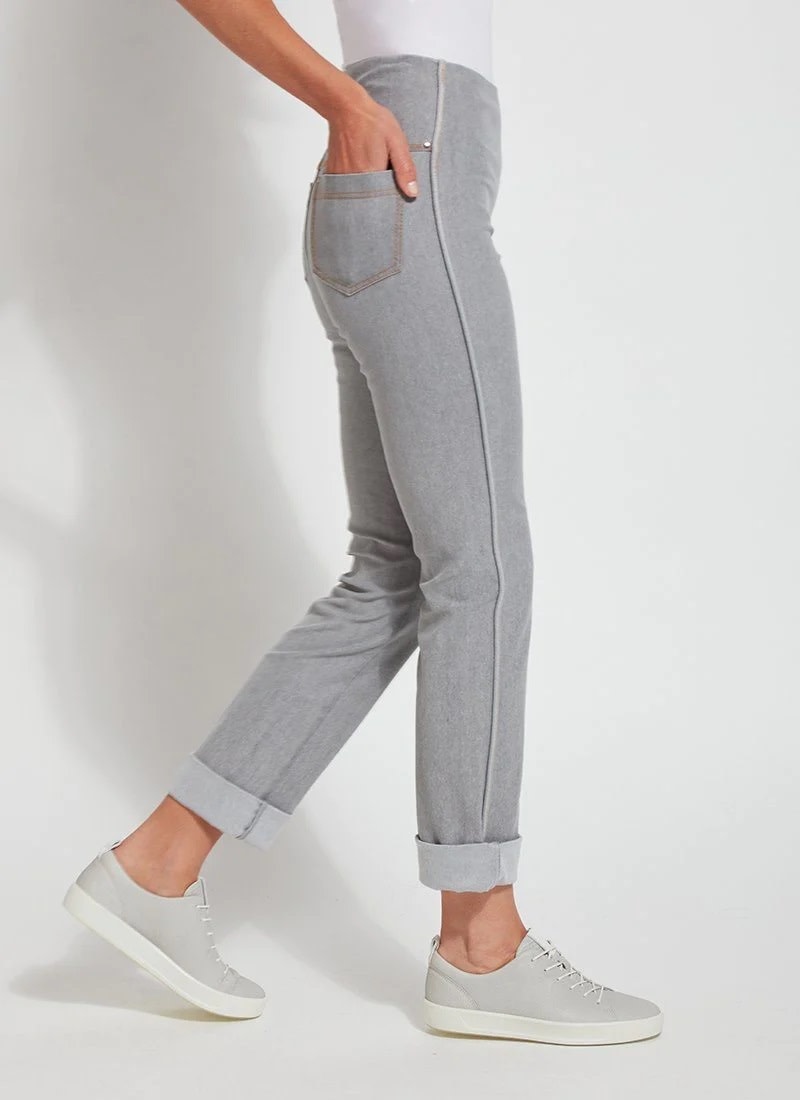 Brighten up your wardrobe with the Emily McCarthy Bradshaw Blazer! In a stunning shimmering gold color and modern, professional design, this stylish blazer elevates any outfit and makes a wonderful addition to your special occasion attire, especially for holidays or New Year's Eve! The ruched detailing on the shoulders and sleeves add a unique flair to the blazer!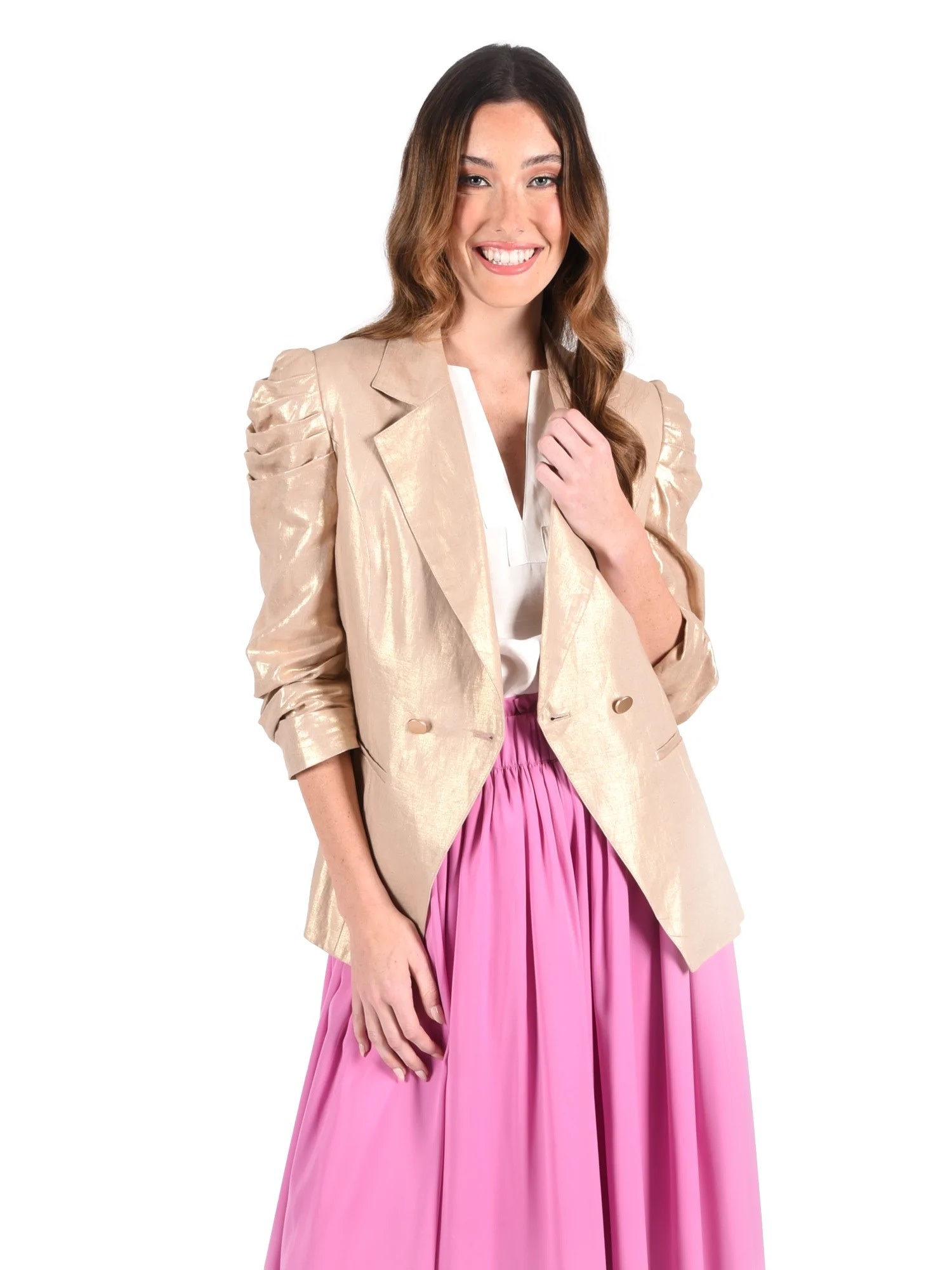 Take your casual look to the next level with the THML Multi Pattern Knit Vest! Covered in a bright and eye-catching contrast geometric pattern, this fun sweater knit vest for women pairs well with your tees or as a fun Easter outfit!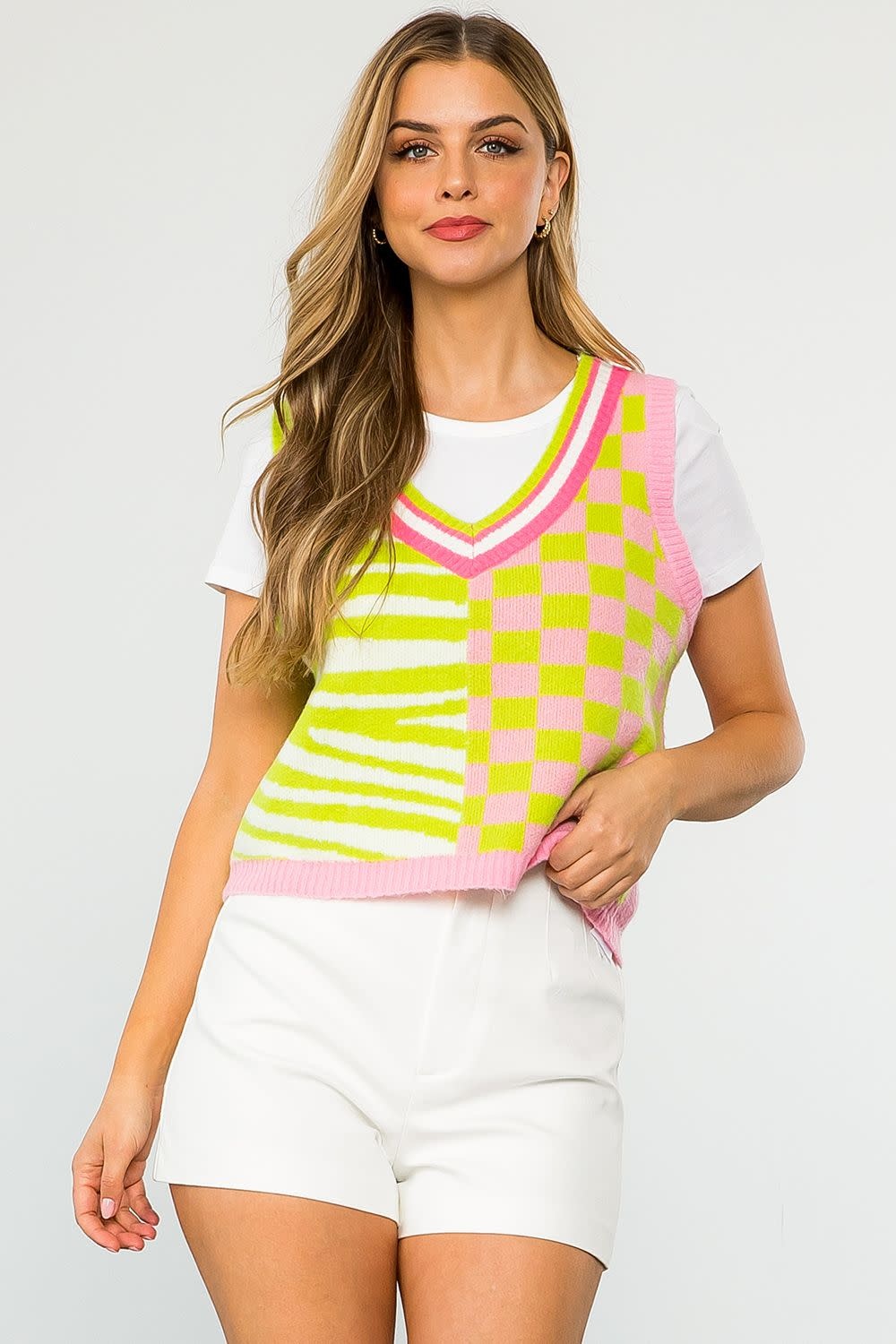 Liverpool Half Placket Raw Hem Trucker Jacket
Spring is the perfect time to don a jean jacket, and you can make the Liverpool Half Placket Raw Hem Trucker Jacket your go-to denim jacket for all your spring outfits! This fashionable and functional jean jacket has a tailored fit and a feminine silhouette that add shape to the jacket while a raw-cut, frayed hem brings a unique touch to this jean jacket. The jacket has a button-down front with two chest flap pockets with button closures.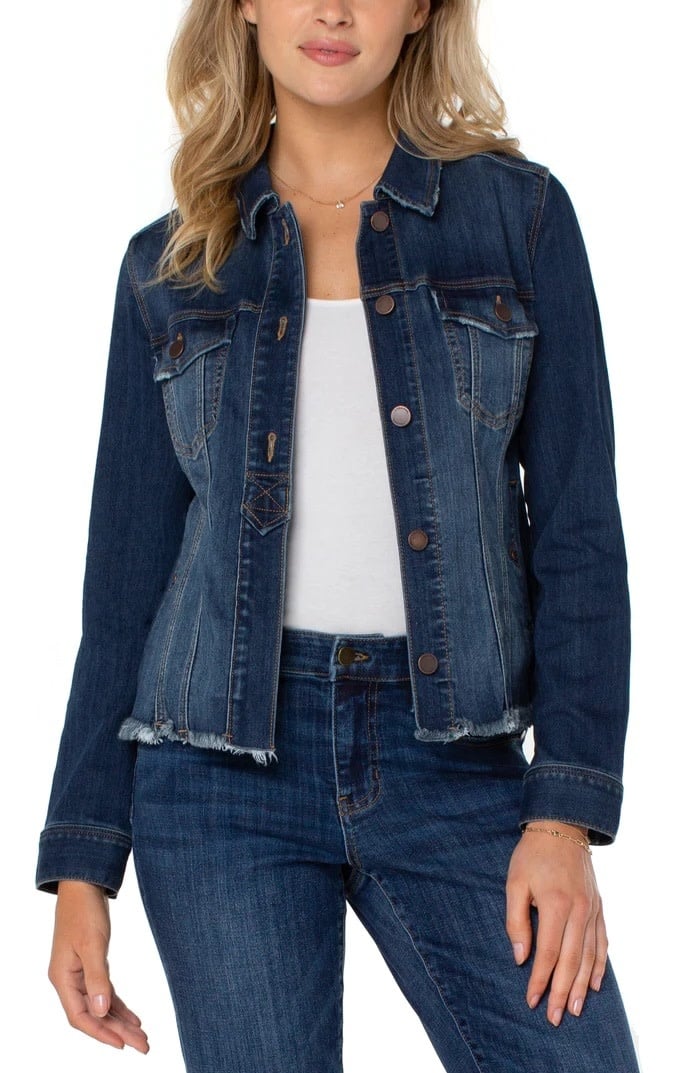 Karlie Solid Satin Sleeveless Maxi Dress
Take your wardrobe to the next level with the Karlie Solid Satin Sleeveless Maxi Dress! This gorgeous Grecian-style maxi dress for women is just what you need to have an effortlessly chic dress you can wear for any spring occasion. Sleek and silky soft, this women's maxi dress is light and flowy and has a drapey front with a cinched waist and a slide slit on the left hem.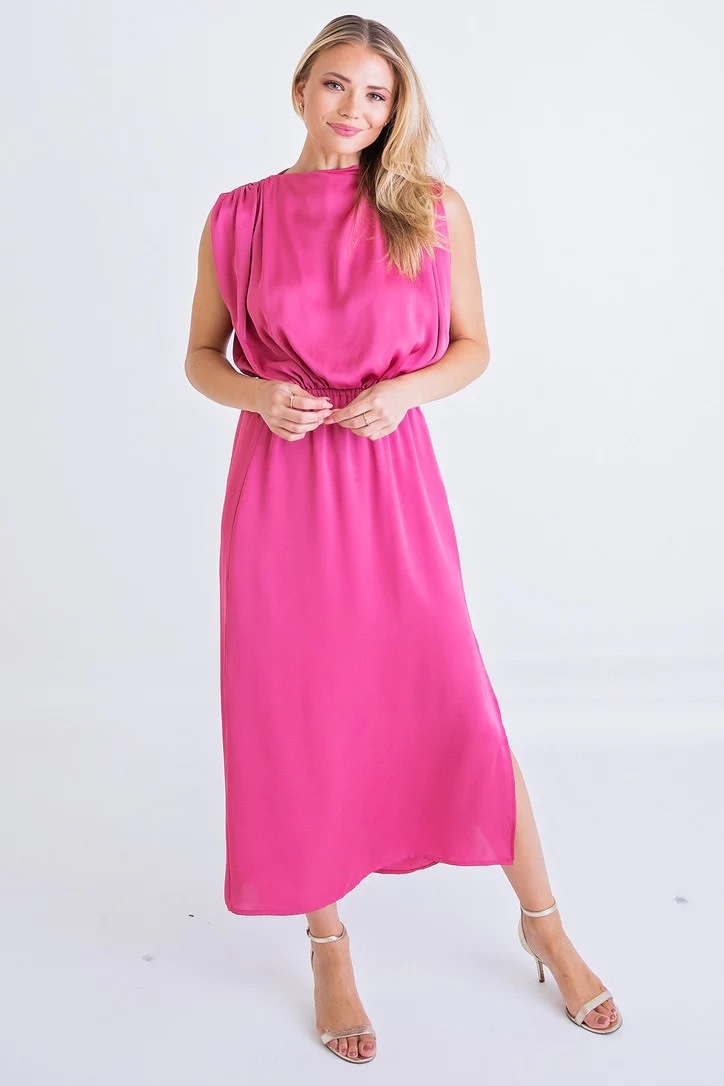 A must-have for your spring wardrobe, the Karen Kane Tie Front Top comes in a gorgeous, silky soft material and features a bold and classic leopard spot print design. The flouncy sleeves, flowy design, and relaxed V neckline collar add a laid-back, effortlessly stylish look to this beautiful blouse. With a tie-front, this top makes a lovely pairing to high-waisted leggings or jeans.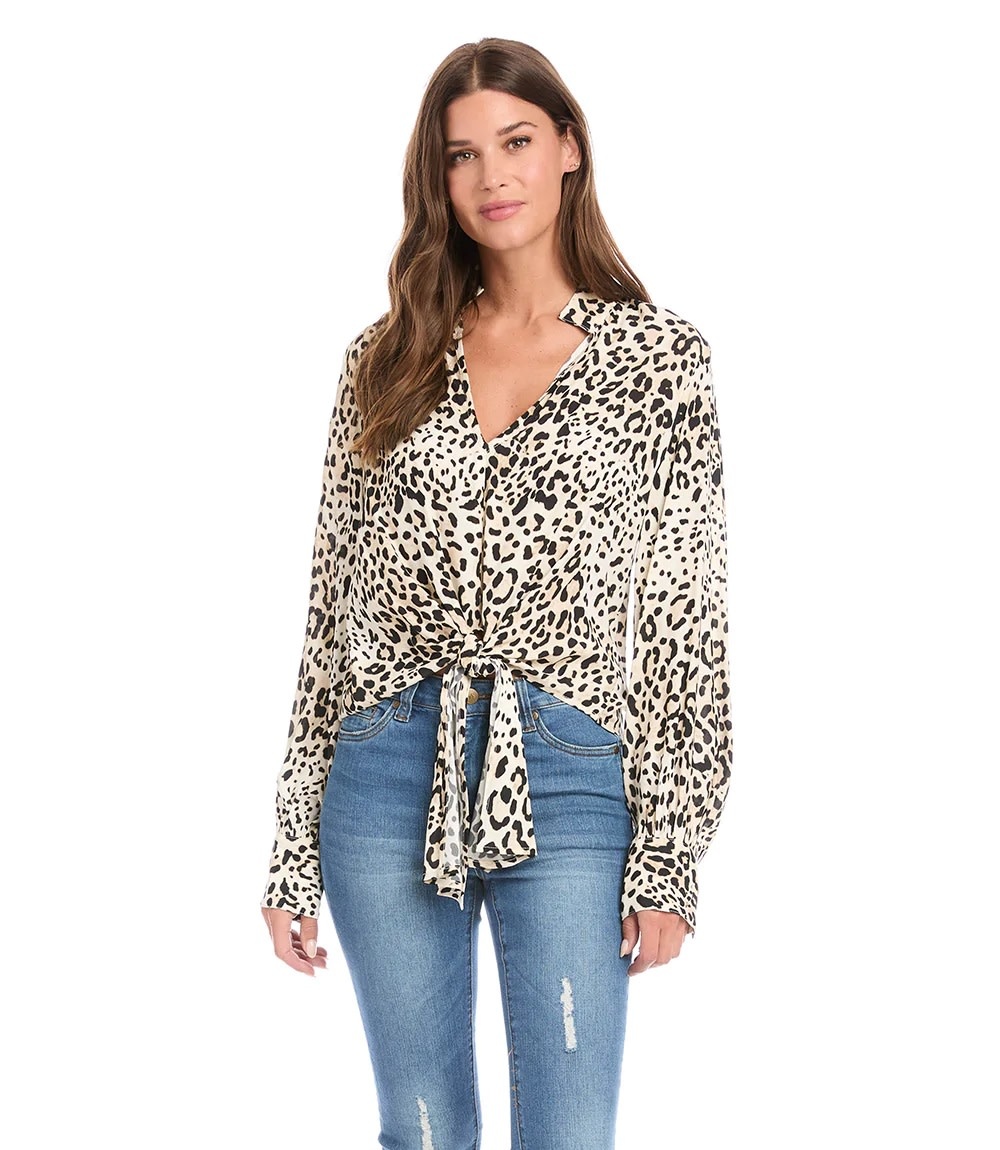 Skip the plain tees and go for the Emily McCarthy Hampton Top to dress up your denim jeans or leggings! This unique top for women features a 70s-style swirl pattern and elaborate puff ¾ sleeves with slim-fitting cuffs and a high-low hem with a slightly cropped front.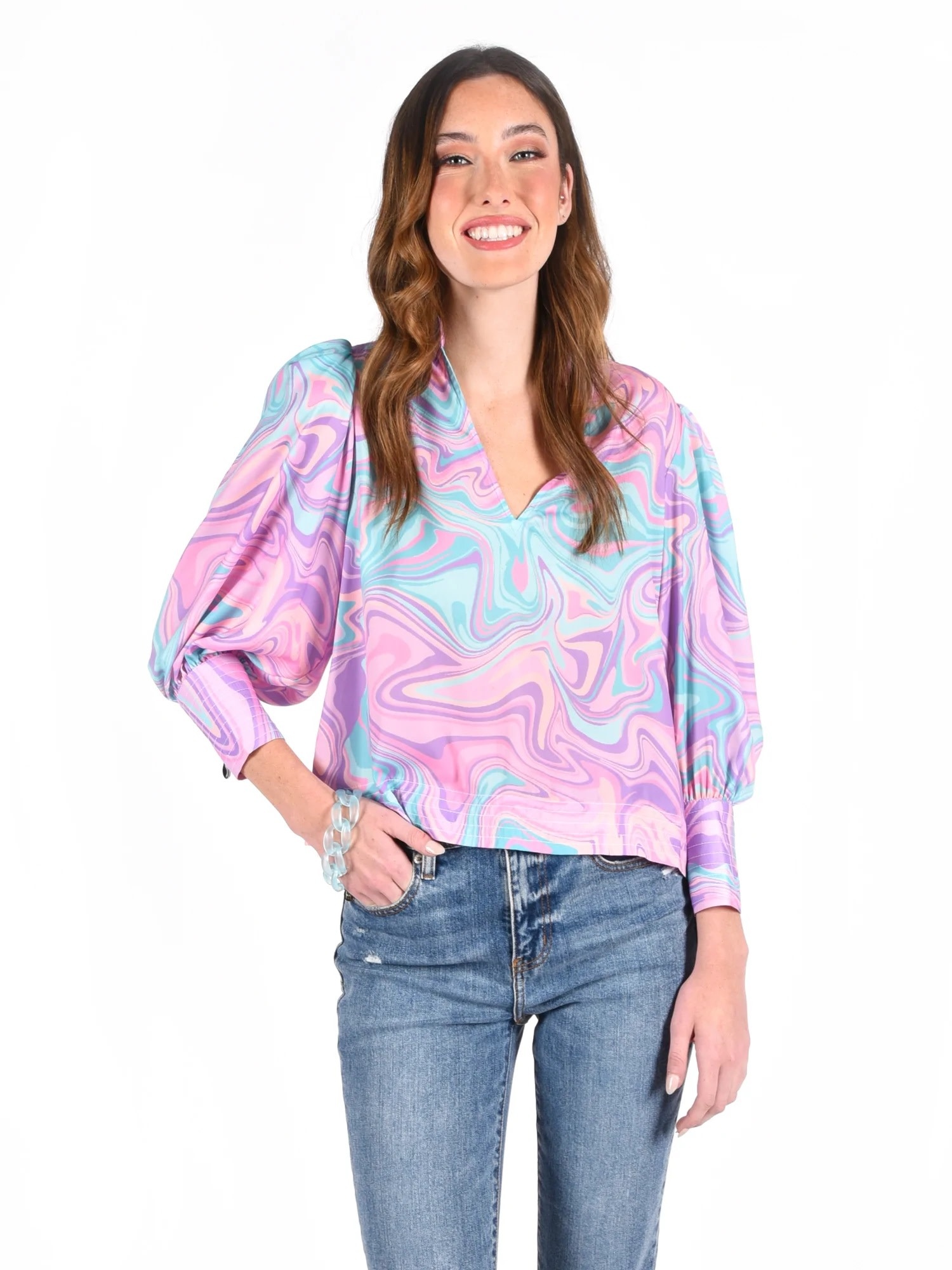 Current Air Long Sleeve Split Neck with Self Tie Blouse
Light and flowy, the Current Air Long Sleeve Split Neck (with Self Tie) Blouse is the perfect addition to your spring wardrobe! Pair with capris, denim jeans, skirts and more for a casual, elegant style that's effortless. This women's blouse has a flouncy and airy design and can be dressed up or down to fit your preference.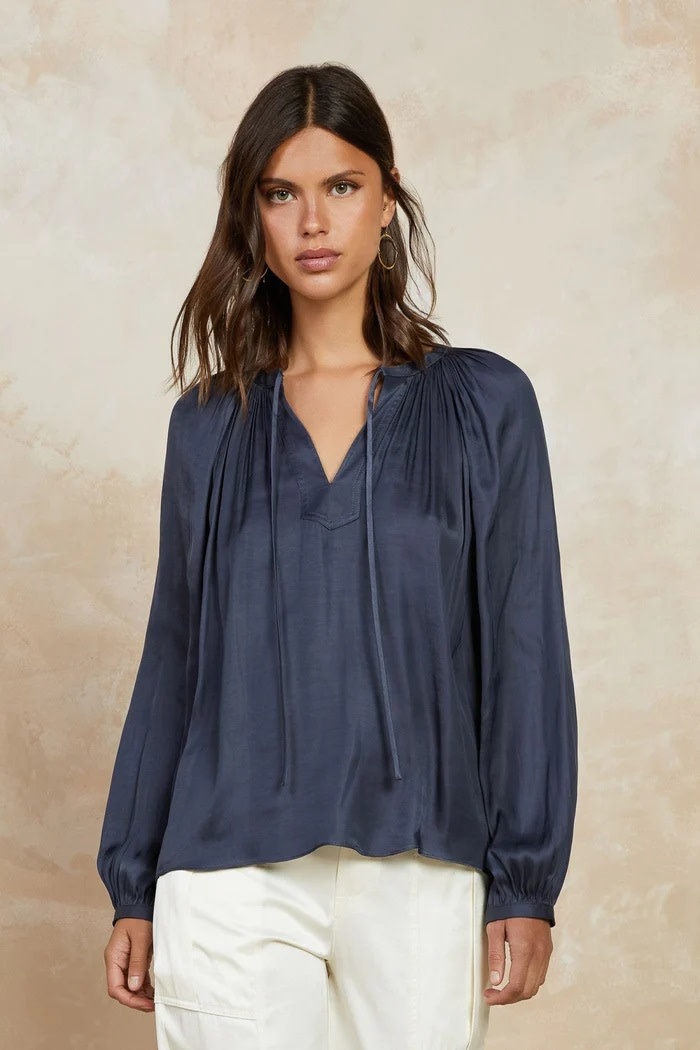 Karlie Multi 70's Button Puff Sleeve Dress
Give your spring wardrobe a pop of color and a throwback charm with the Karlie Multi 70's Button Puff Sleeve Dress! This women's spring dress features a bold, colorful pattern and a button-down front for a dressy, classic look. The puff elbow-length sleeves add a sweet flair to this incredible dress!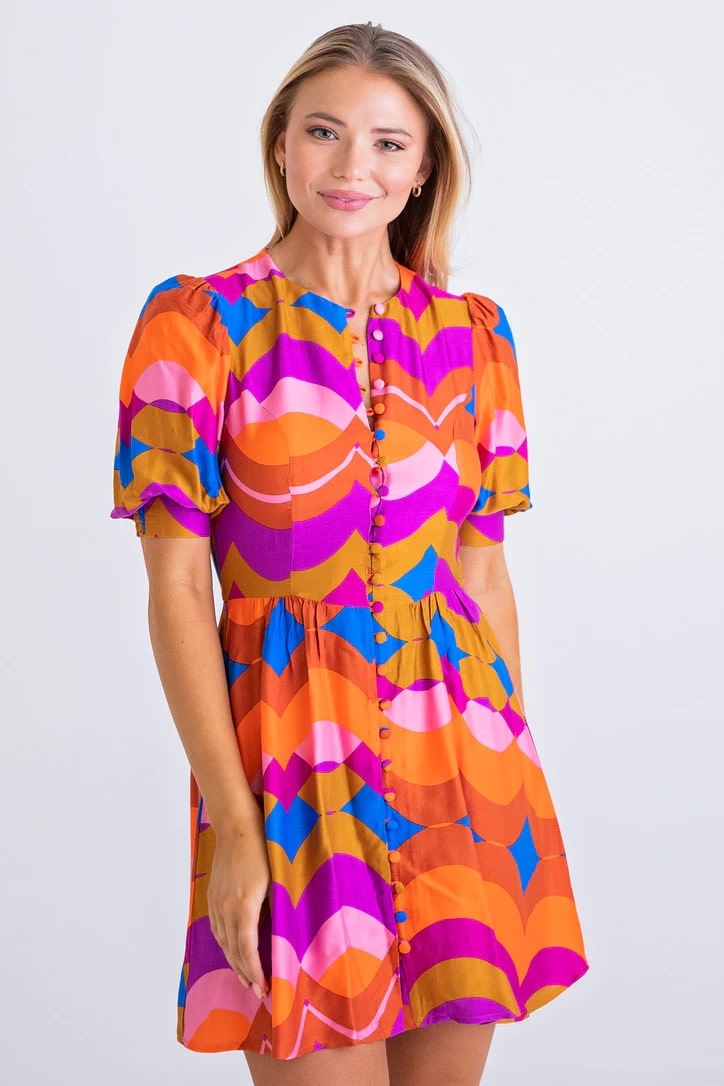 Add shimmer and shine to your spring wardrobe with the Tart Collections Nicolette Top! This women's classic blouse boasts puff sleeves for an elegant flair and a glittering design for an eye-catching top you can wear casually or all glammed up!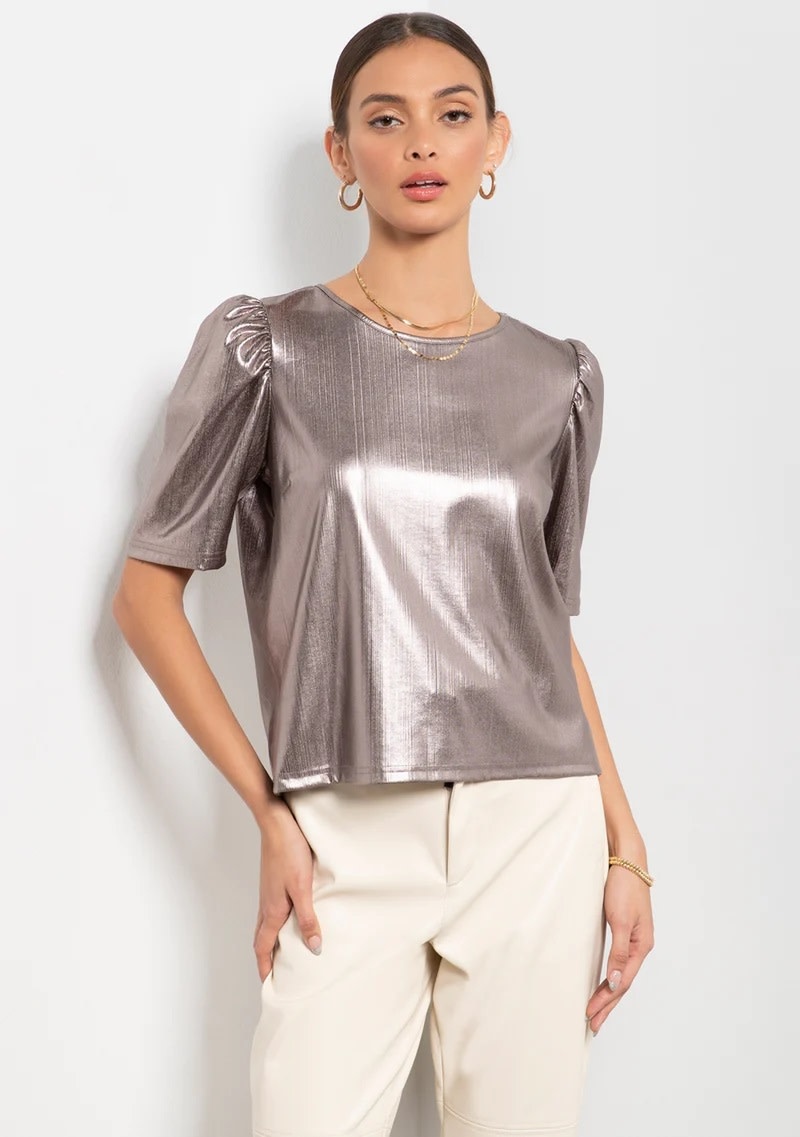 Jazz up your spring wardrobe with chic and colorful style with the Emily McCarthy Poppy Dress! This stunning and fashion-forward women's above-the-knee dress features a figure-flattering boxy fit and an optional stand-up collar for a sophisticated flair. The puff sleeves add a classic touch to this stylish dress.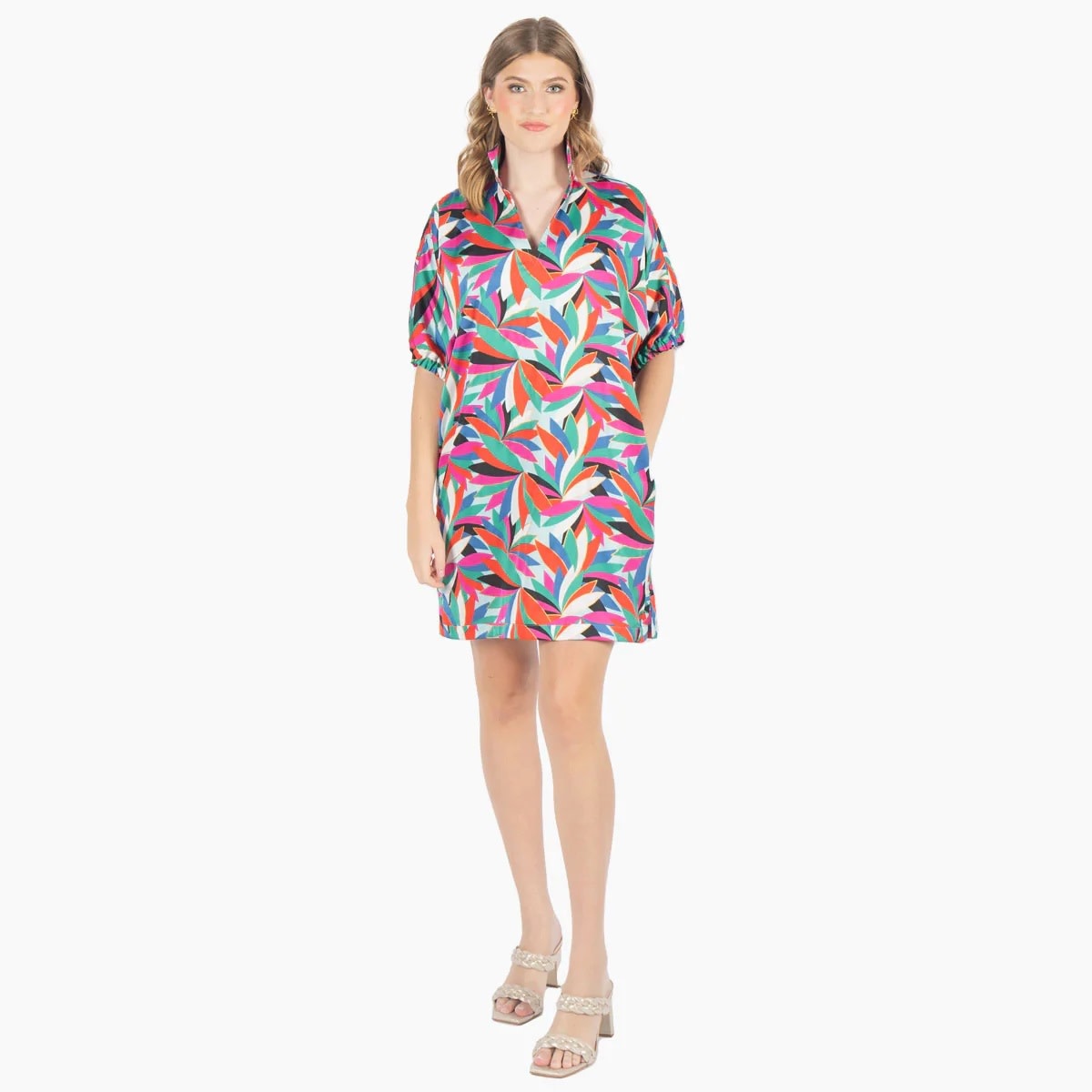 Elastic Waisted Pleated A-Line Skirt
Flowy, whimsical, and charming, the Current Air Elastic Waisted Pleated A-Line Skirt is a classic midi skirt with a pleated design and A-line cut for a versatile, timelessly stylish look you can dress up or down. This skirt has a stretchy elastic waistband that makes it easy to slip on and off without a fussy zipper or buttons.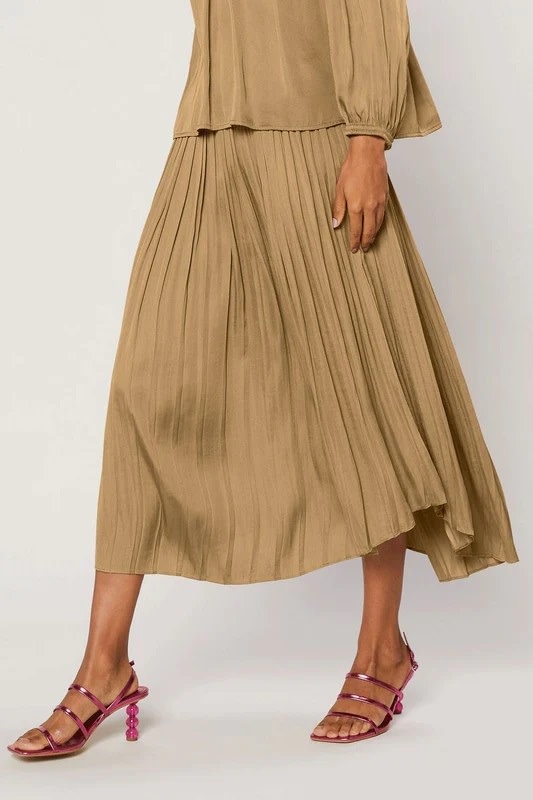 Sweet and stylish, the THML Embroidered Poplin Sleeve Top is a stunning piece to add to your spring wardrobe! With an elevated peasant top style, this women's top brings a homey design with its endearing embroidered floral print on the elbow-length puff sleeves and a ruffled collar for an elegant touch.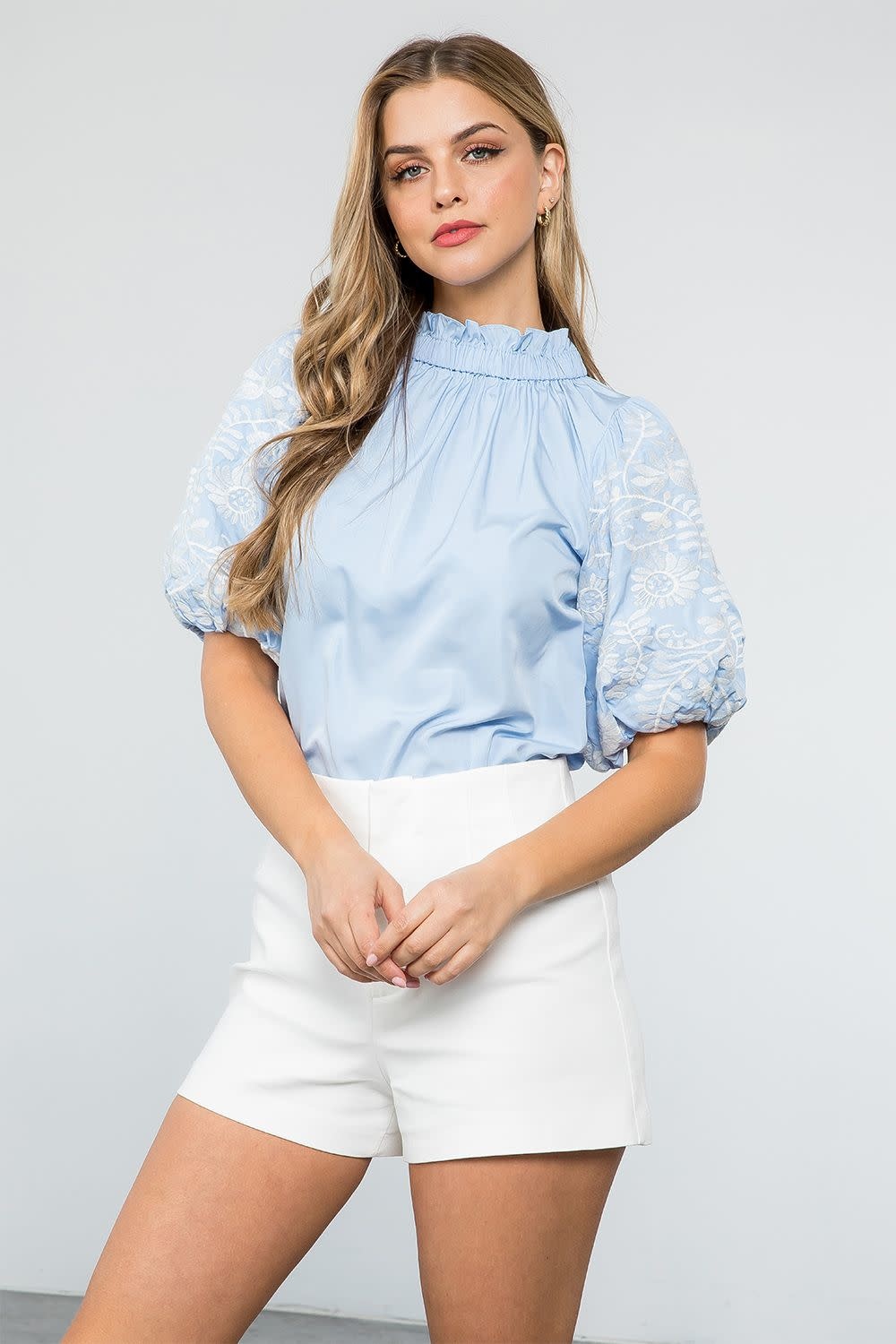 Bring out the wild styles like the Emily McCarthy Stella Dress! With a unique and trendy tortoise pattern, this women's statement dress features a full-bodied style with a flouncy skirt, elbow-length puff sleeves, and a stand-up ruffle collar.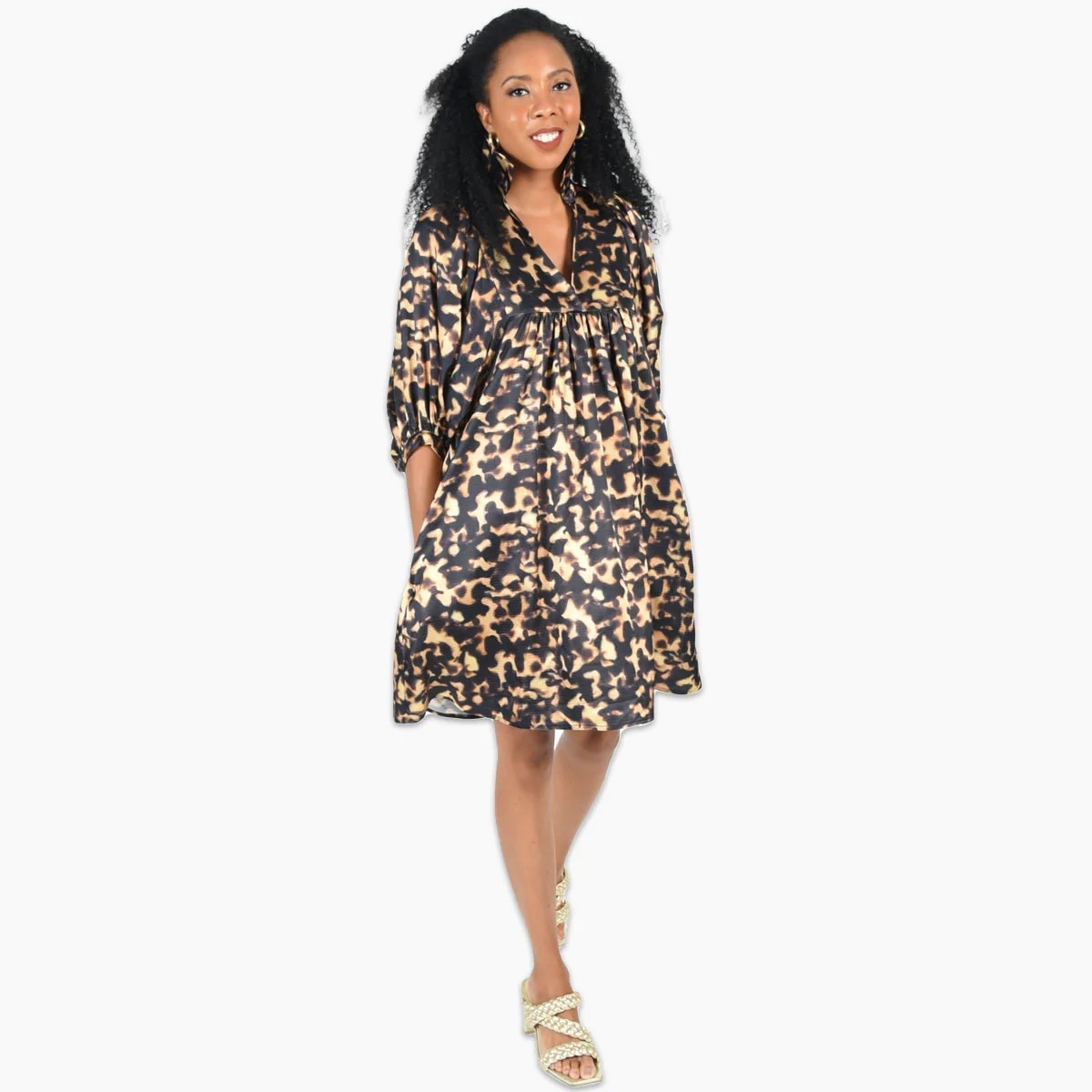 Have a blouse you can dress up or down for any spring occasion with the Tart Collections Kaiyo Georgette Top! This women's classic blouse features a wrap front with a drapey, billowy style with a cinched hem and sheer long sleeves with sleek cuffs. The V neckline lets you dress up the top with a gorgeous boutique necklace!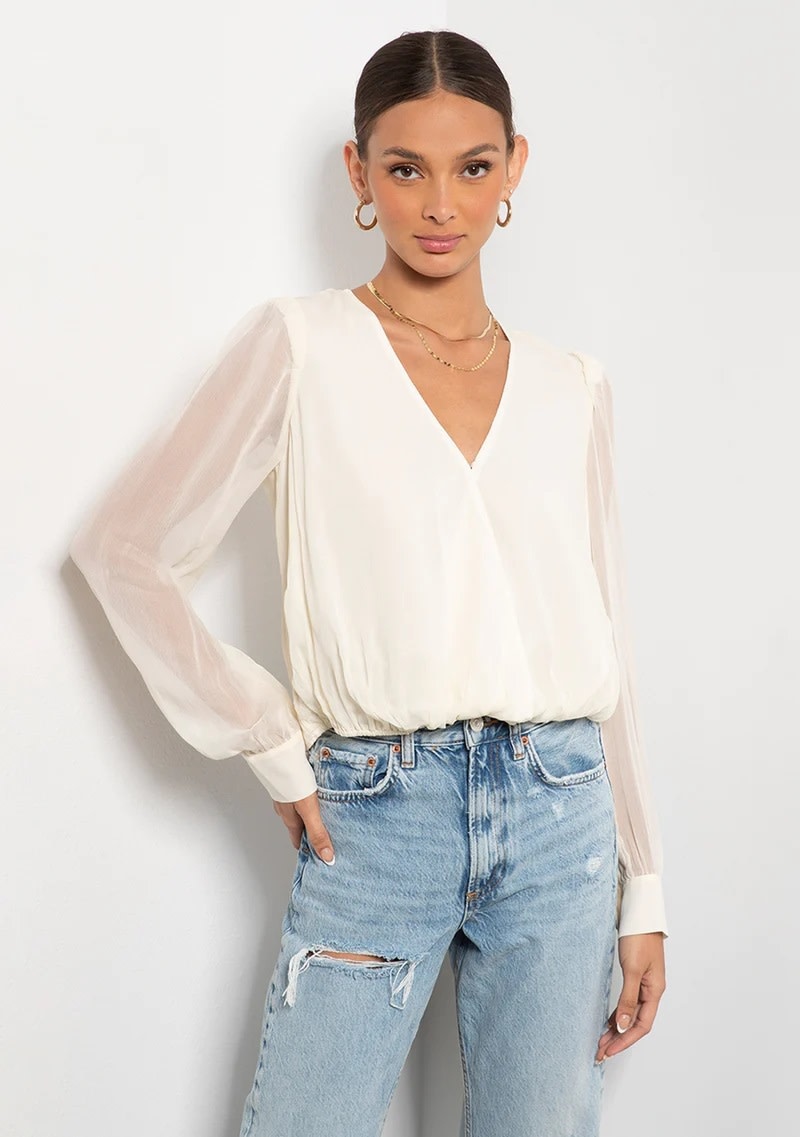 Have a pair of linen pants you can feel comfortable in all spring with the Letter to Juliet Linen Jogger pants for women! Functional and easy to wear, these women's joggers are made with breathable, comfortable linen material and have a roomy, relaxed fit with a stretchy draw tie waistband. Side flap pockets and hand pockets take these joggers to the next level.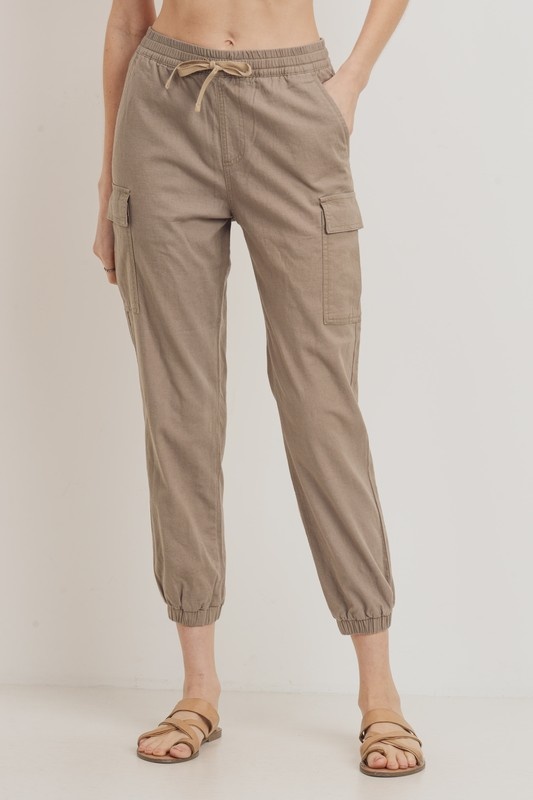 Achieve a stylish athleisure look with the Tart Collections Loretta Dress! This women's hoodie dress features a unique watercolor-like chevron striped pattern with a hoodie sweater overlay on top of a slim-fitting shift-style dress - perfect to wear with sneakers or sandals on a casual day.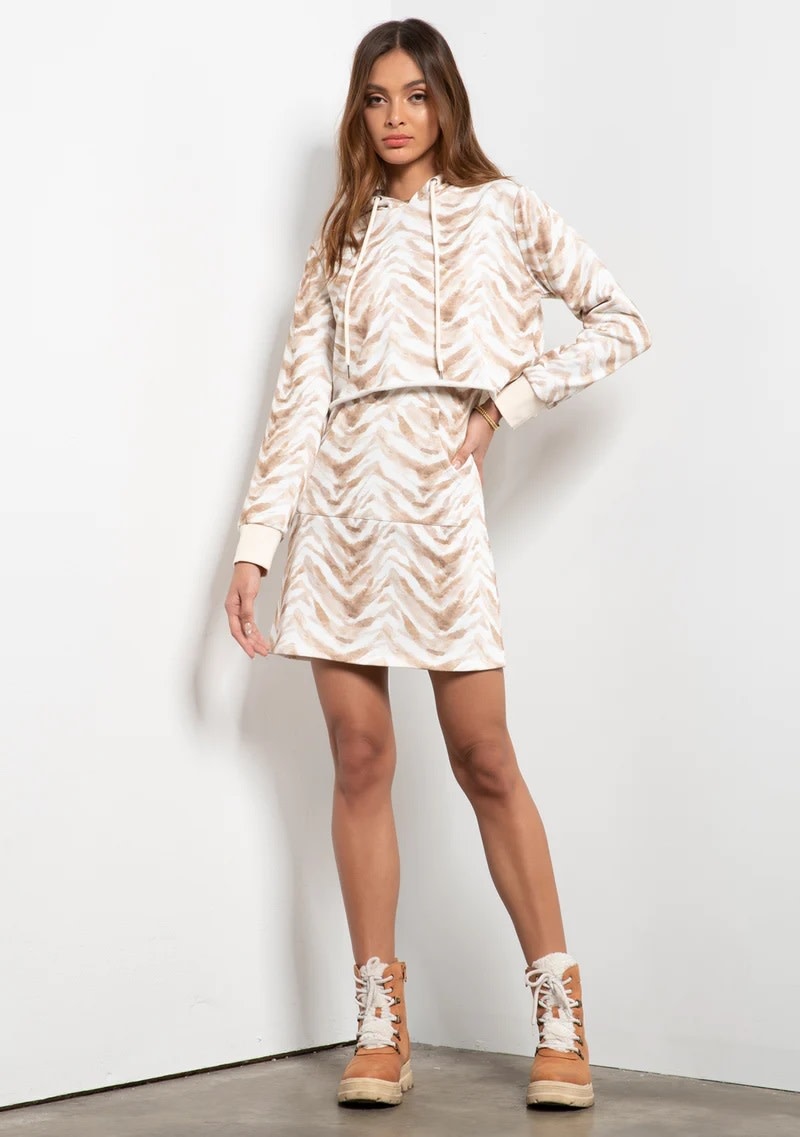 Jodifl Floral Print Chiffon Baby Doll Dress
Sweet, charming, and delicate, the Jodifl Floral Print Chiffon Baby Doll Dress is a feminine and flirty spring-style dress with a vintage-inspired design featuring long, puffy sleeves with ruffle cuffs and a flowy ruffle skirt. The smocked bodice and square neckline add unique texture and design to the dress.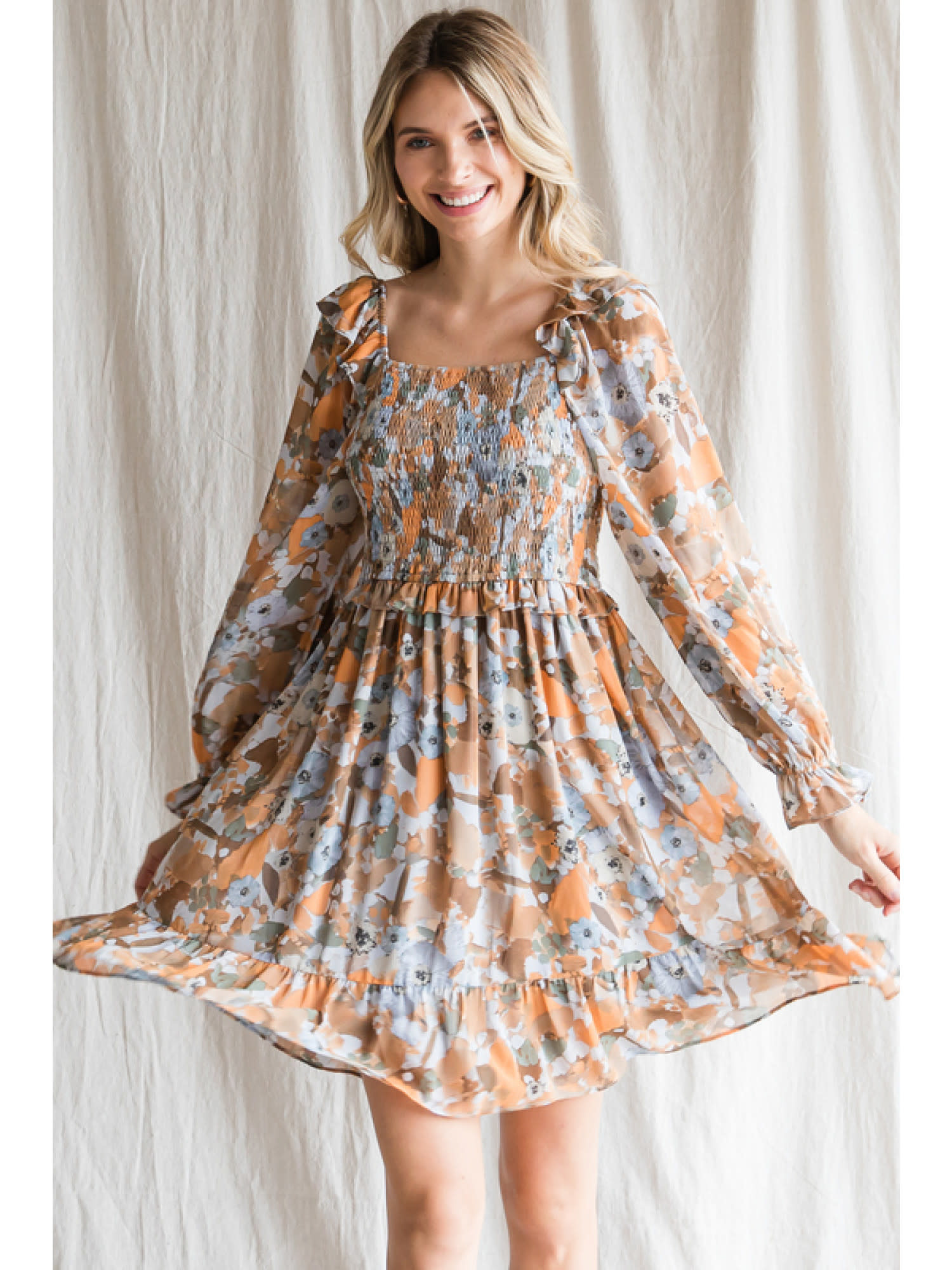 Floral Smocked Shoulder Sleeveless Top
Vibrant, decorative, and perfect for spring, the Karlie Floral Smocked Shoulder Sleeveless Top is a lightweight blouse for women with the right spring vibes for your spring styles! Designed with a sleeveless look featuring ruffle detailing and ruched/smocked design with ties, this women's spring top has fun and flirty accents for a stylish blouse you can wear any day. Pair with the Karlie Floral Smocked Skort.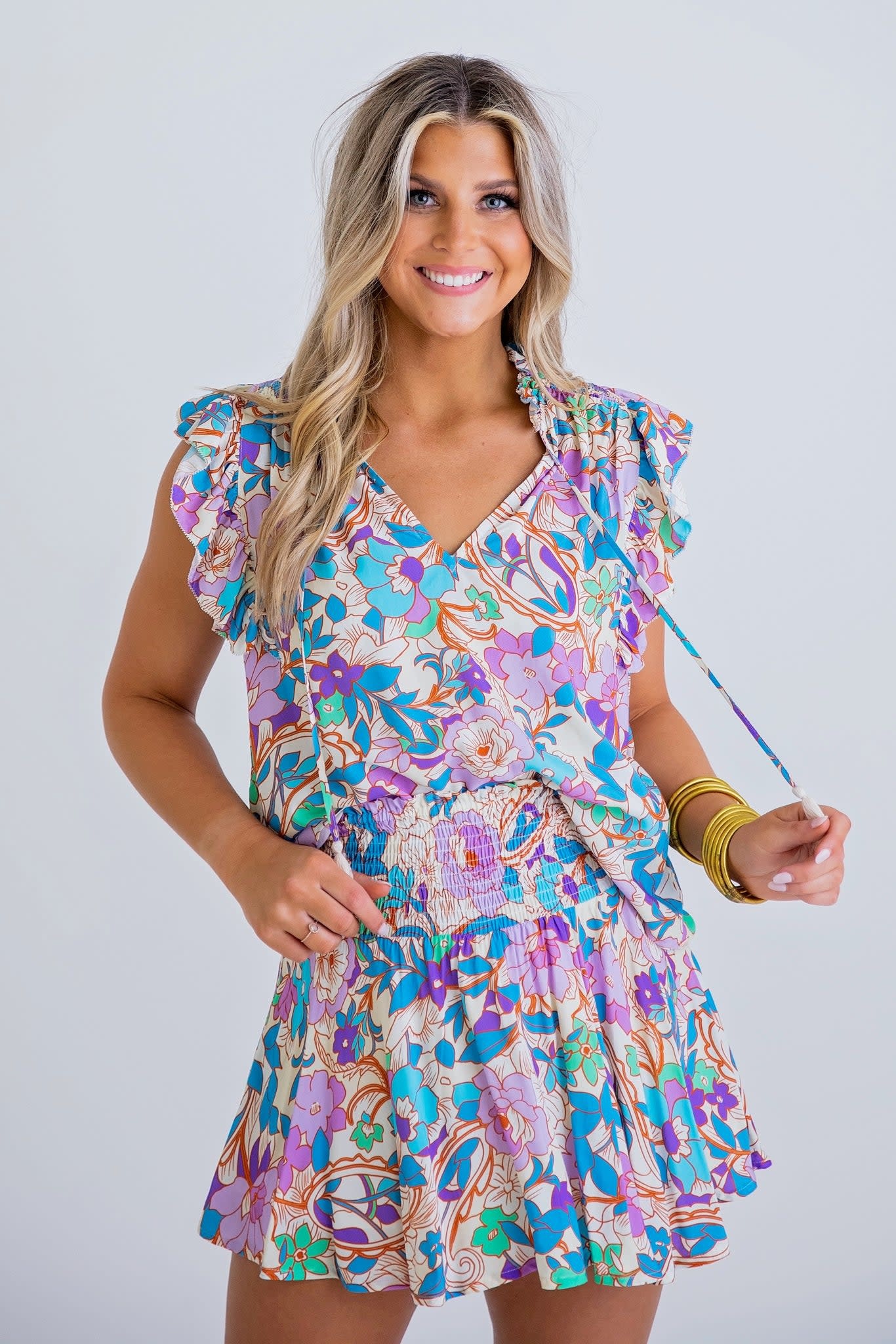 Multi Abstract 70's Halter Maxi Dress
Great to have in your wardrobe for a spring soiree or summer getaway, the colorful Karli Multi Abstract 70's Halter Maxi Dress is an ultra-chic and trendy sleeveless halter dress with a flowy style and maxi skirt length. With a throwback swirly striped pattern, this maxi dress makes a great daytime or evening dress for any occasion.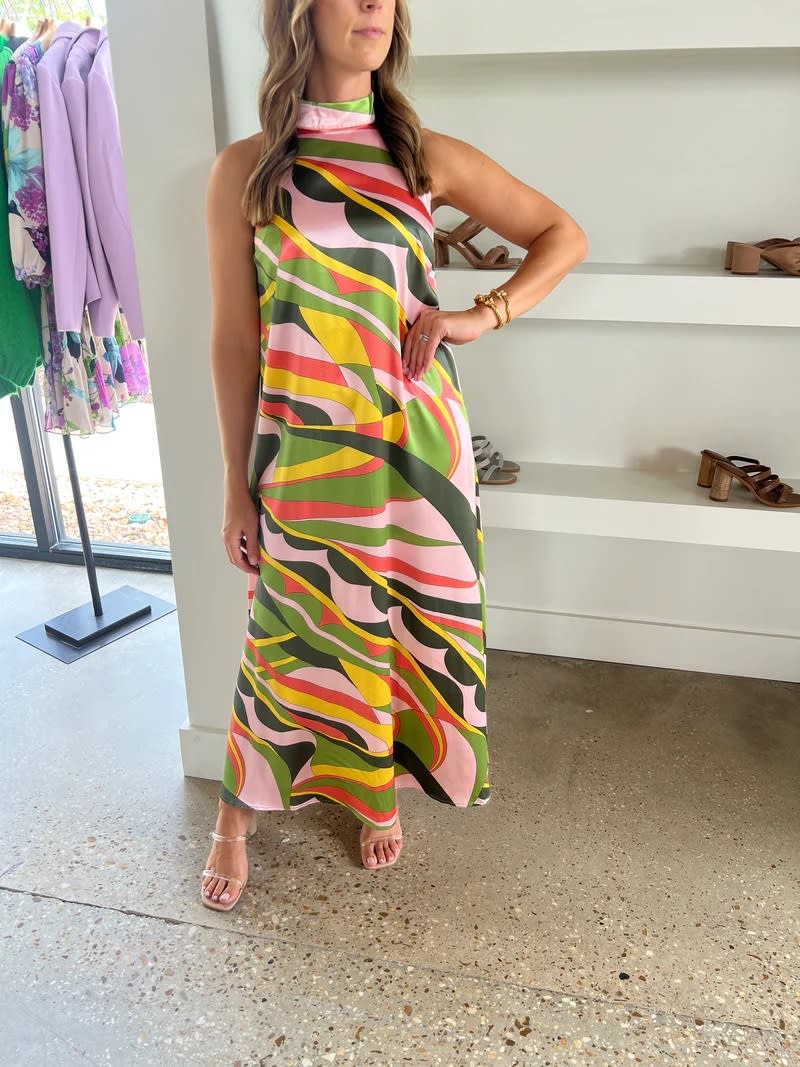 Just Black Denim High Rise Crop Flare Jeans
Have a pair of denim jeans that are comfortable, stylish, and versatile for all your spring styles like the Just Black Denim High Rise Crop Flare Jeans! These women's capri jeans feature a flared, raw-cut hem for a unique look - great to wear with sandals, wedges, and sneakers!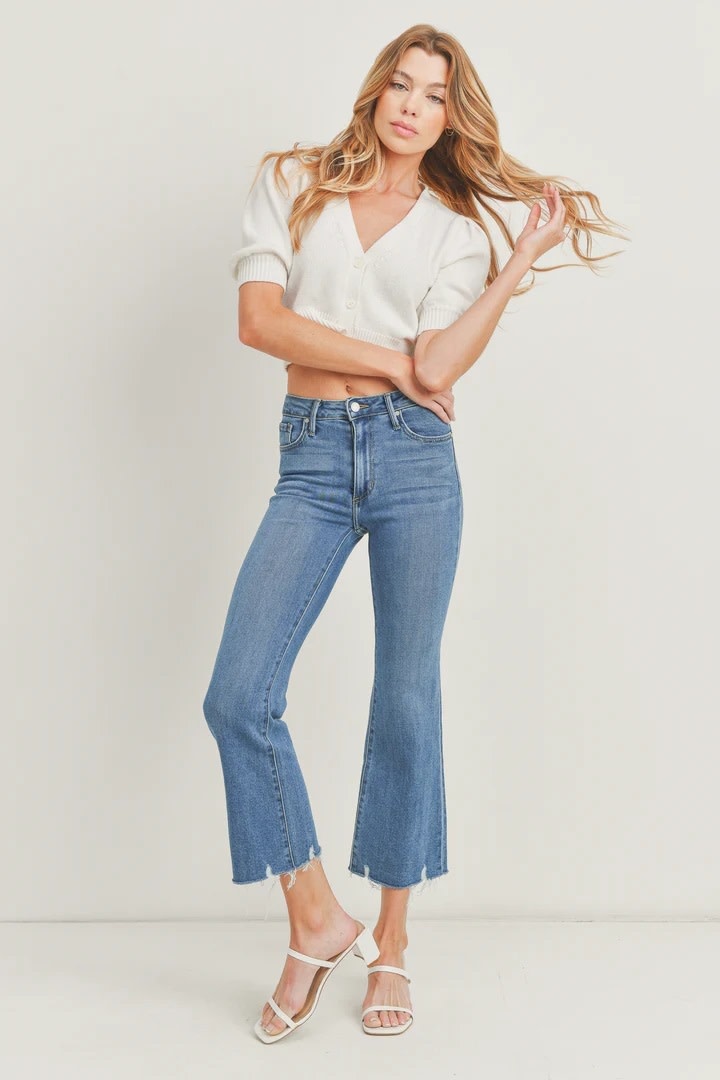 For an everyday maxi dress you can wear at the resort or when you're heading out for the day, the Karlie Solid Tiered Tank Maxi Dress brings a charming style to add to your wardrobe! This women's sleeveless maxi dress has thin straps and a deep V neckline that connects to a long, flowy tiered skirt. You can also wear a graphic or plain basic shirt underneath for a more casual, laid-back look or dress it up with a jacket/cardigan and heels!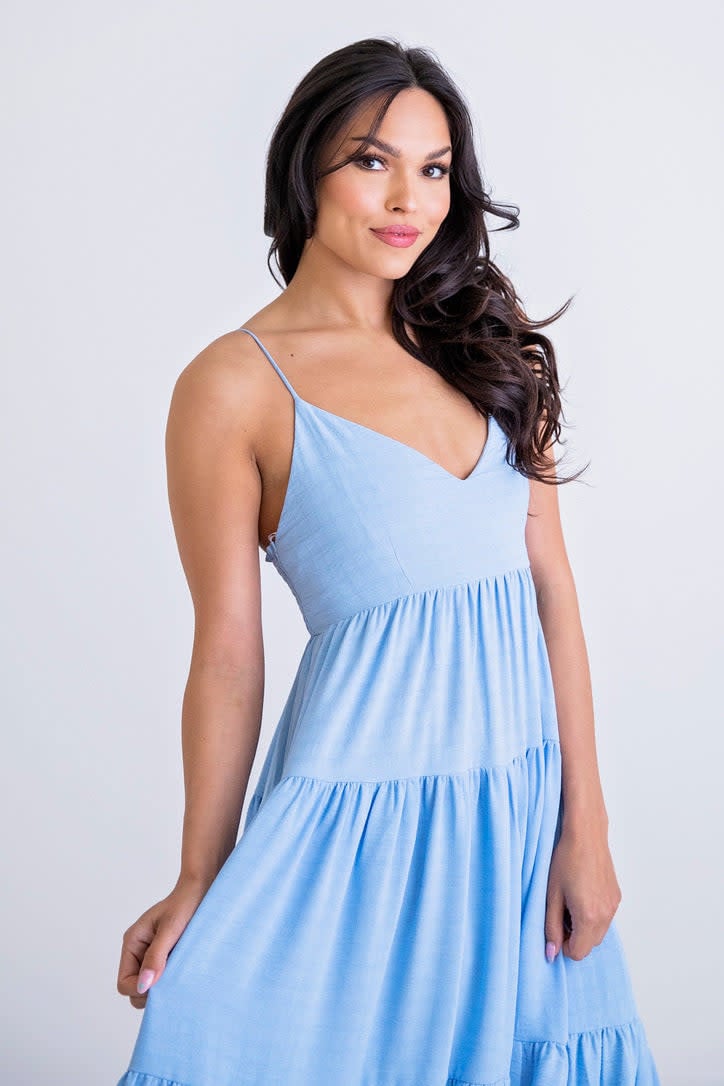 Karlie Metallic Pleather Skort
Elevate your look with a golden touch! The Karlie Metallic Pleather Skort is such a fun way to dress up your look for spring or summer! This Greek goddess style faux leather skort for women is designed with a classic skirt overlay with comfortable shorts underneath for more coverage. The stretchy, wide waistband allows easy off-and-on wear.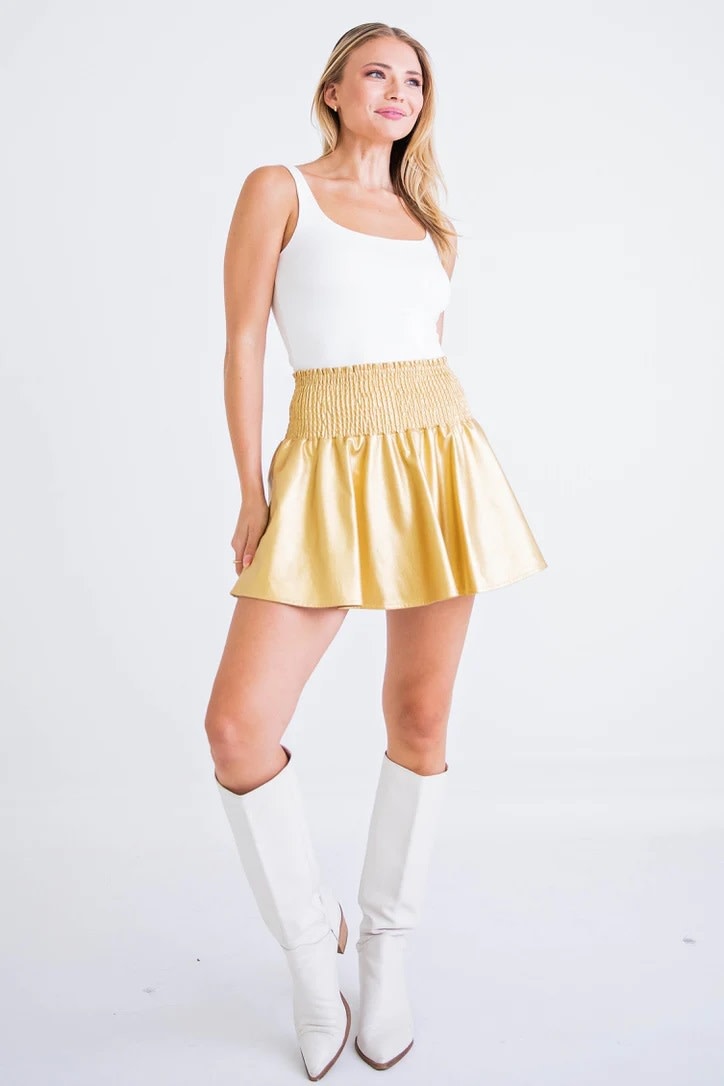 Get ready for all your spring outings and events with the Tart Collections Isono Dress! This women's long-sleeve wrap dress features a chic, modern, and sophisticated design - helping you look your best for any occasion! The dress has an elaborate waist tie with a flowing, dramatic strand that moves as you move - a lovely addition to the dress to give it more movement and design. The dress also features long sleeves and a V neckline.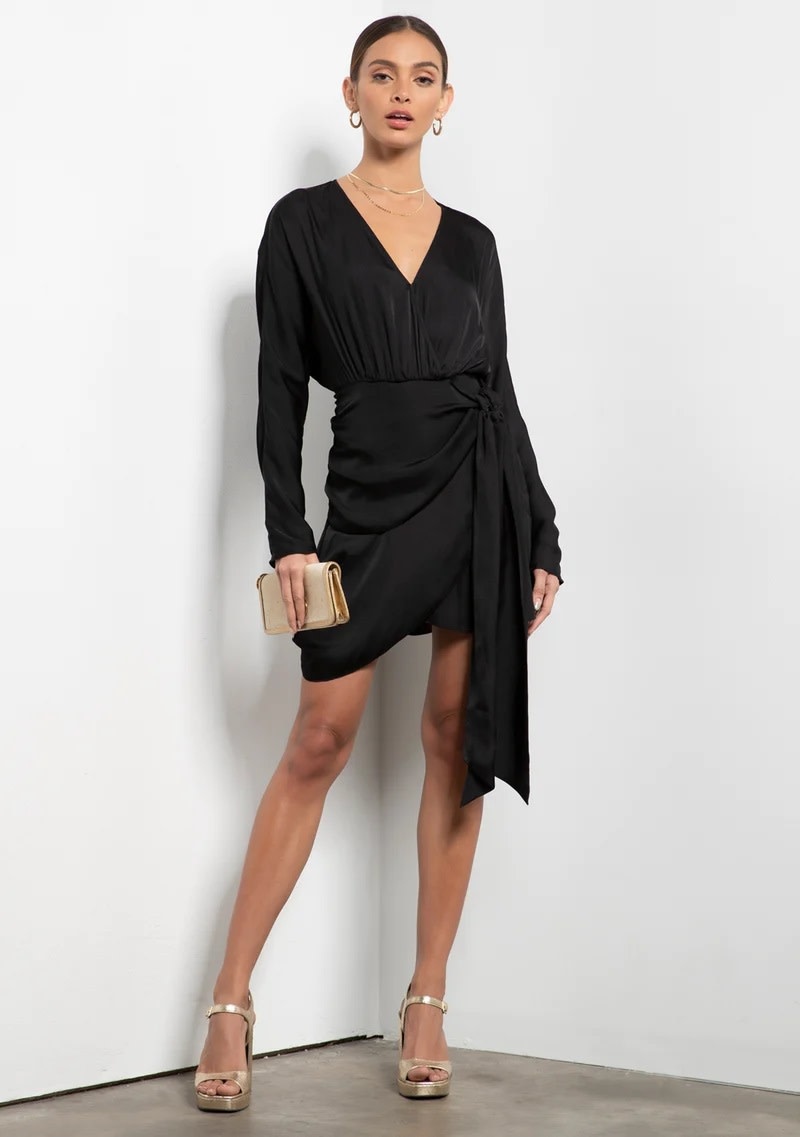 Go out in trendy, elevated style with the Tart Collections Mitena Dress! With a bold design, this women's spring mini dress features a sleeveless look with a halter neckline and a V-neck cut-out on the front. The skirt itself is tiered and ruffled for lots of flounce!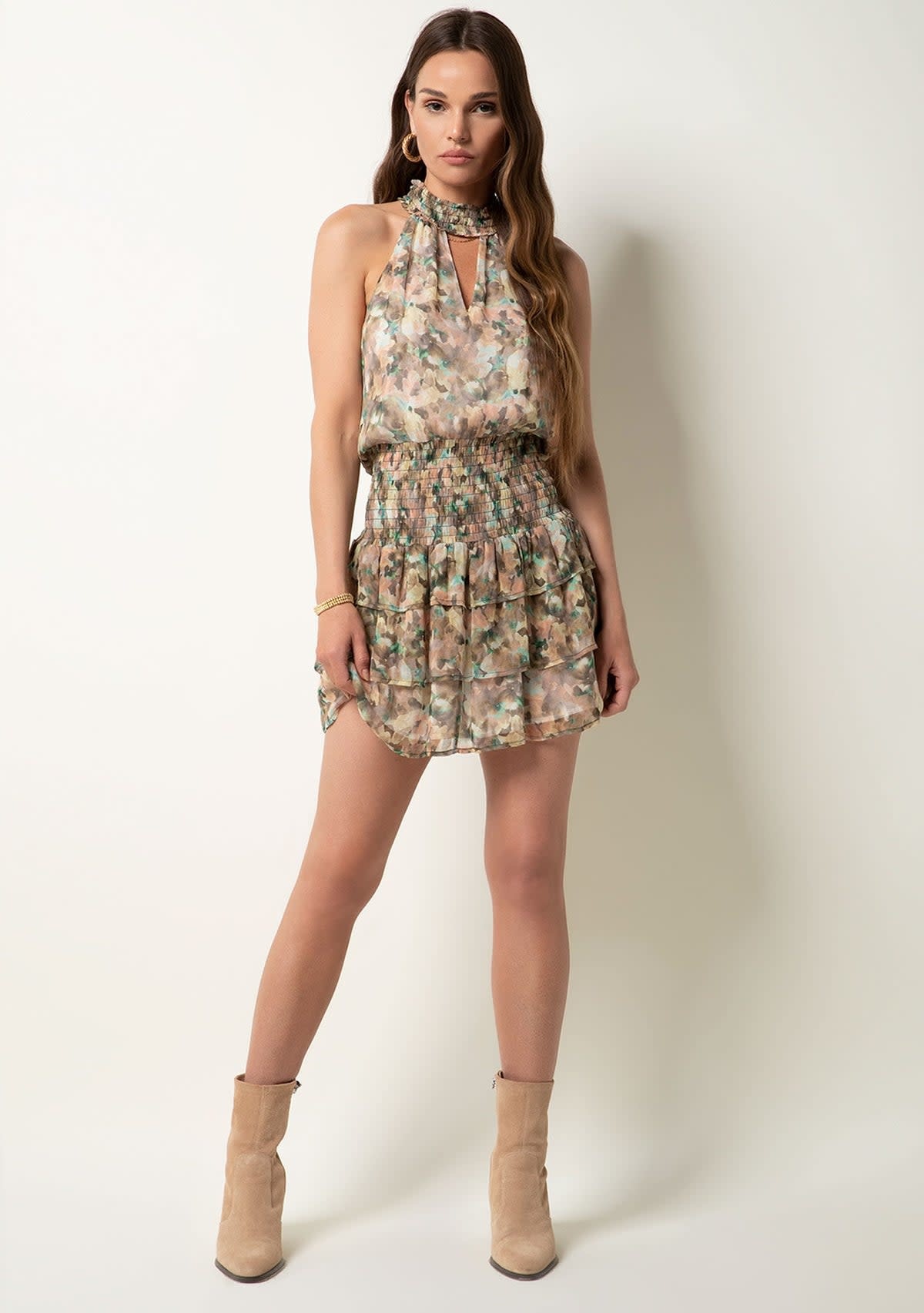 Dress up your look with the Tart Collections Veda Faux Leather Top! Sleek, chic, and polished, this elegant and modern-style top for women is perfect to wear with skirts or dress pants for the office or for an evening out!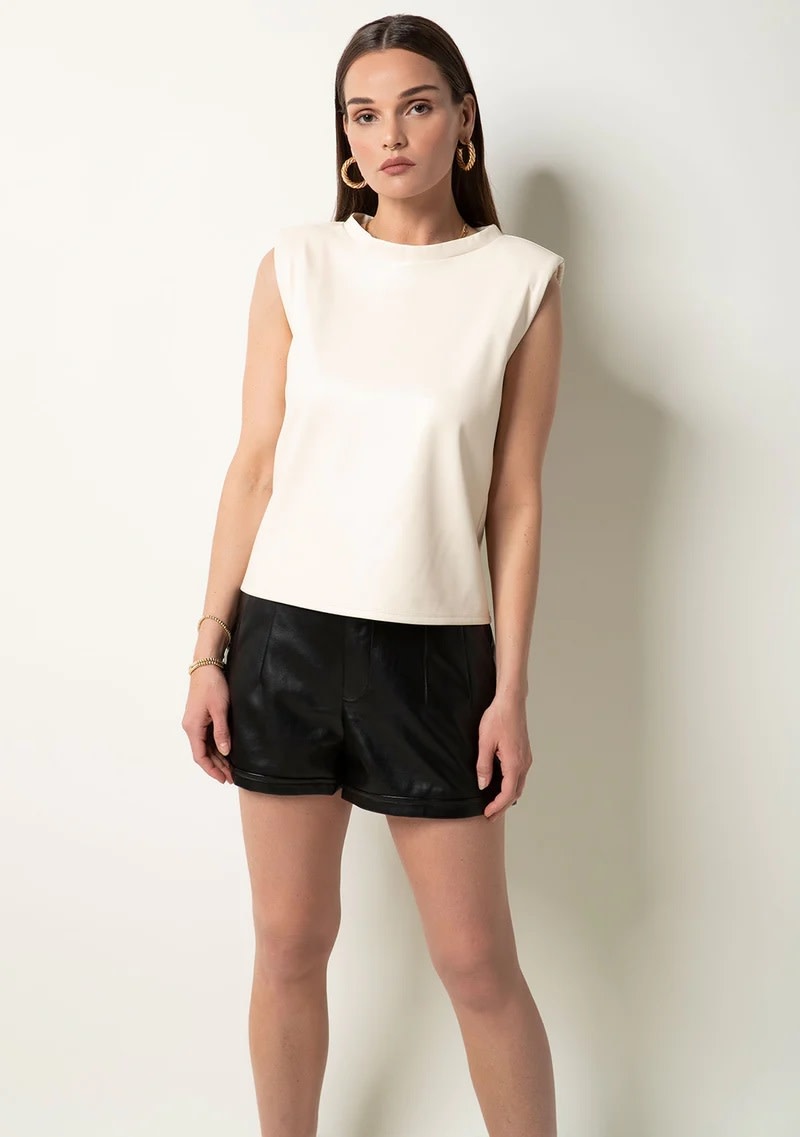 When you feel like wearing a shirt… and a dress at the same time, make the Lilla P Ruffle Shirt Dress a staple in your wardrobe! This simple shirt dress for women has a button-down front with ¾ sleeves and a collared neckline - it's also long enough to wear leggings underneath.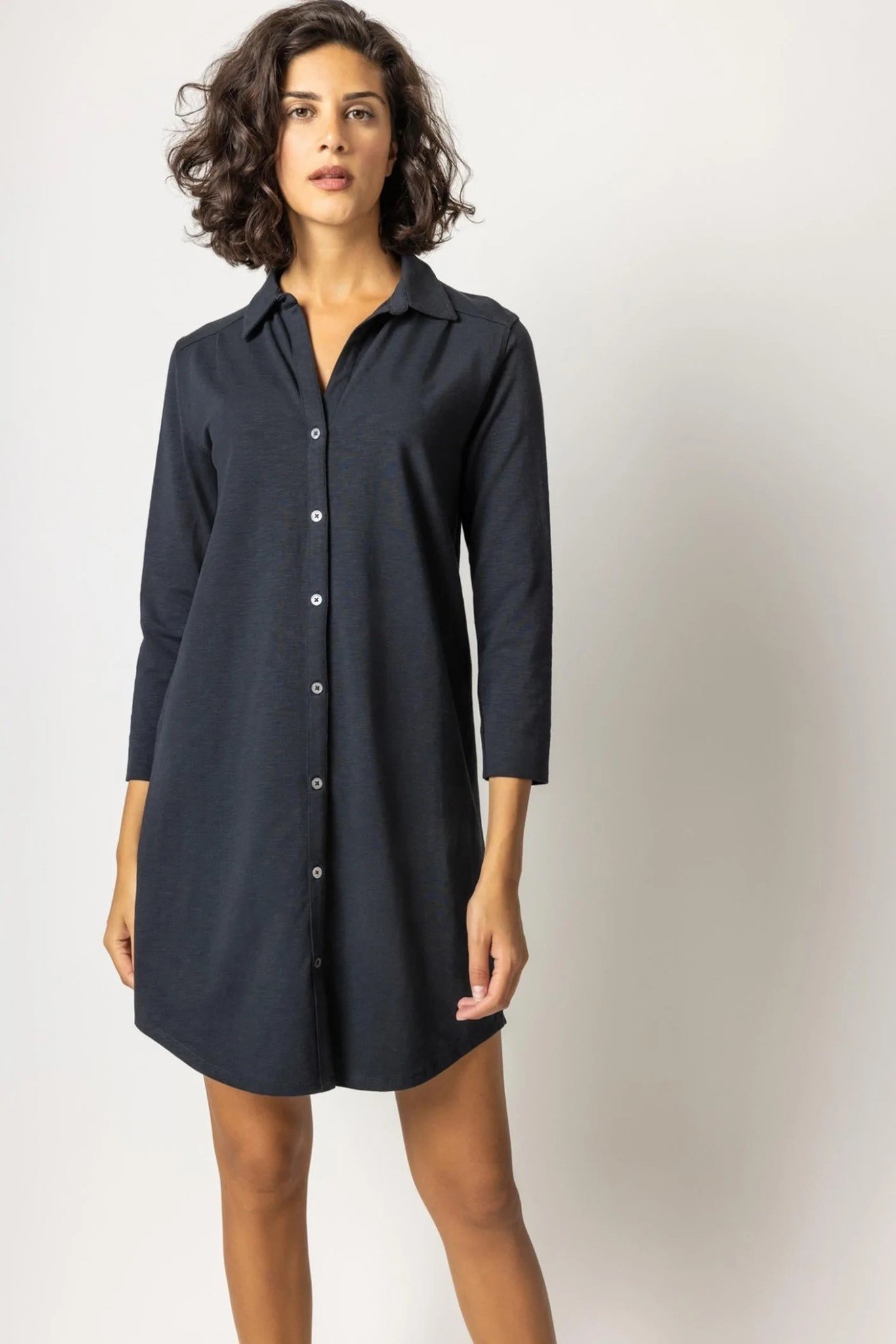 Don't forget to grab new shoes to add to your spring footwear collection, like sandals and sneakers, and make sure to check out our Women's Boutique Jewelry Collection for beautiful, chic, and sophisticated jewelry pieces to wear to complete your spring looks. You can also view our 2023 Valentine's Day Boutique Gift Guide for Women for a more detailed view of our boutique jewelry, including necklaces, hoop or pearl earrings, and bracelets!
Take a look at our full Women's Boutique Clothing Collection for more spring boutique clothing trends and ideas for your Spring 2023 Wardrobe. 
We hope you enjoyed this guide! Thank you for being here!
~ Abraham's