Here's another one of our annual Holiday Gift Guides for Women for the 2021 year! We hope you've had a much better 2021 and will be able to celebrate with your family safely this holiday season. If you're still on the lookout for the perfect holiday gifts to give for the special ladies in your life, we curated a special 2021 holiday gift guide for you to refer to. We feature a wide range of our boutique collections and promise that you'll discover unique and chic finds! Check out our guide today and see what you can add to your holiday shopping list.
The Gift Of Fashionable & Functional Women's Outerwear Essentials
A luxurious coat. A warm, cozy sweater. A stylish jacket. An elegant poncho. What's not to love about a new outerwear piece to add to your wardrobe? Whether you're looking for a new jacket for yourself or outdoor clothing for loved ones, we're featuring some of our best-selling finds in this holiday gift guide! Check out some of our best-selling sweaters, cardigans, jackets, and more found in our boutique: 
Karlie Oversized Tunic Sweater
Super comfortable and soft, the Karlie Oversized Tunic Sweater combines the classic style of a tunic top with the coziness of a sweater! Perfect to pair with your most comfy jeans or leggings, this sweater tunic top has an oversized, relaxed fit with long sleeves and a high-low hem with side slits. You can also layer with a cami or light t-shirt underneath.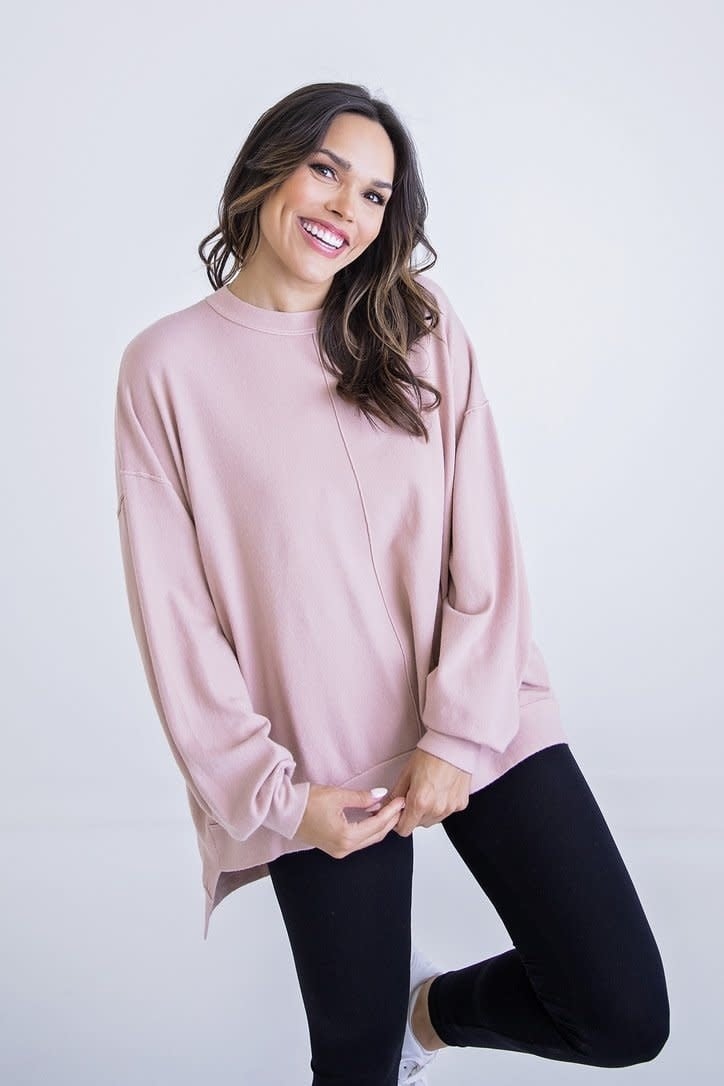 Made from plush and premium material, the women's Barbour Forth Quilted Jacket features a sleek and feminine style with a tailored waist and a zippered front with a large button flap closure. This quilted jacket has a folded collar and a tartan-patterned interior for a sophisticated and classic look. Layer with a light sweater or a thermal top underneath for extra warmth.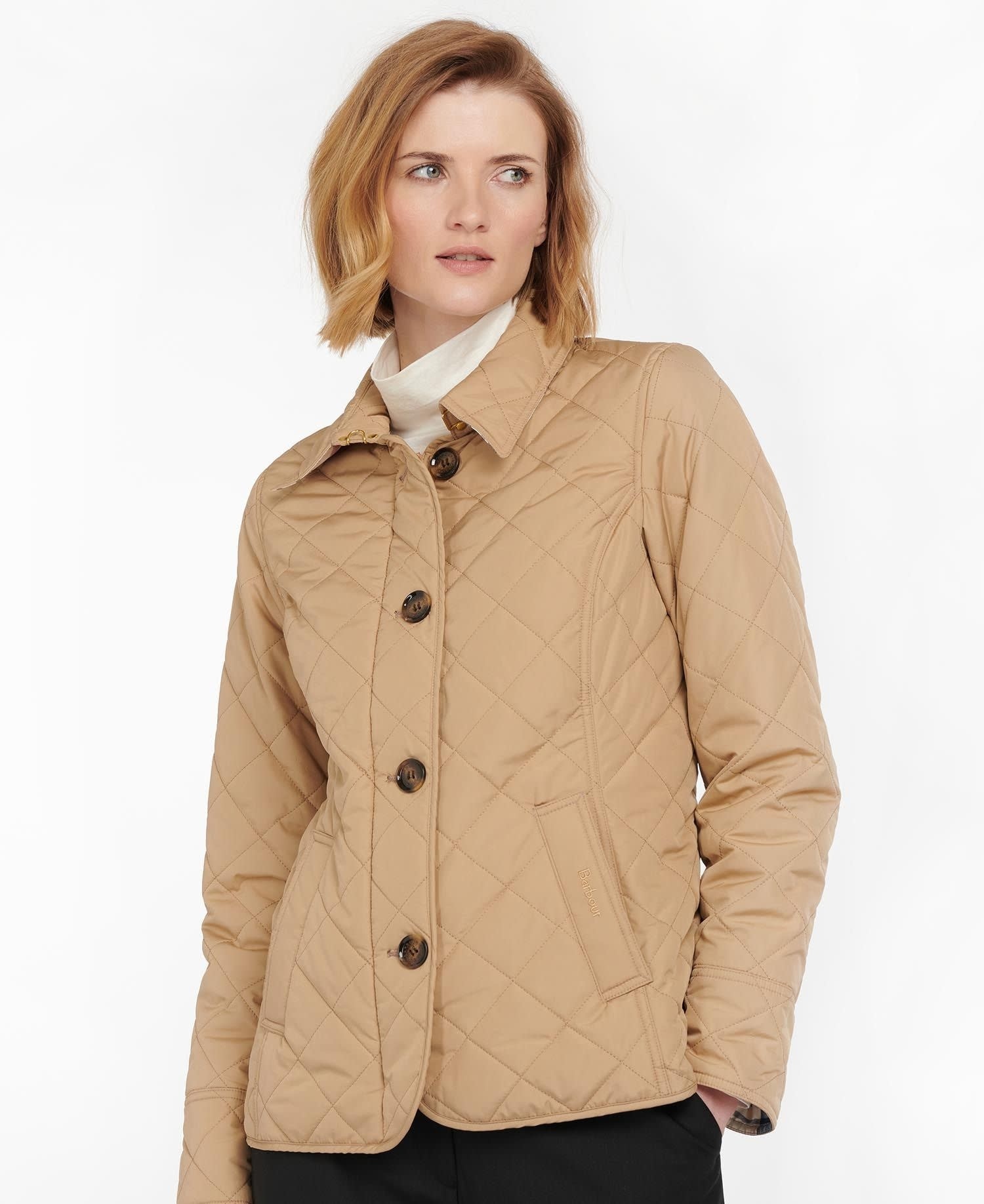 Ciao Milano Celia Hooded Puffer Vest 
For the cooler days that don't require a heavy coat or jacket, go for a chic and cozy vest like the Ciao Milano Celia Hooded Puffer Vest. With a plush quilted design, this women's puffer vest features glittering gemstones along the sides of the zipper for a luxurious look. This vest is also water-resistant and can help protect you from light rain and moisture while you're outdoors.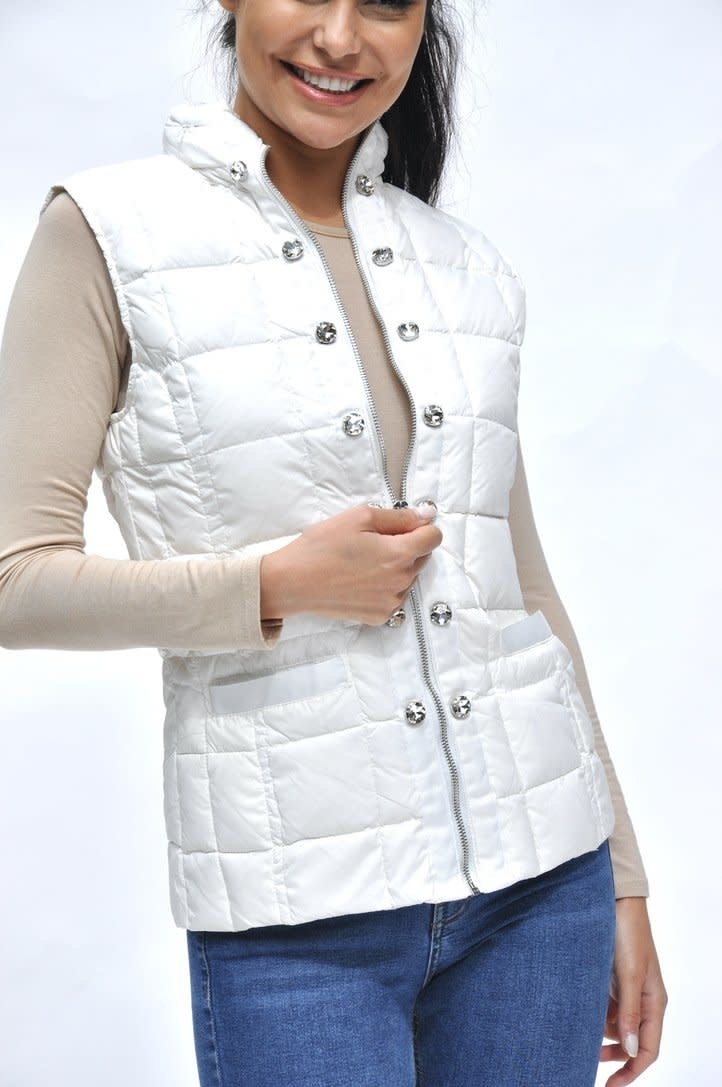 Note: Another women's vest style you may like: the Barbour Fleece Better Liner - a non-bulky, slim-fit vest with fleece lining to give you an extra snug layer of warmth (great to layer with jackets or other vests!). 
&merci Balloon Sleeve Ribbed Turtleneck Sweater 
Turtlenecks are a fashion staple for the fall and winter seasons, so give the gift of cozy style with the &merci Balloon Sleeve Ribbed Turtleneck Sweater! This gorgeous white turtleneck sweater top features a classic ribbed design and can be paired with your favorite denim jeans or leggings.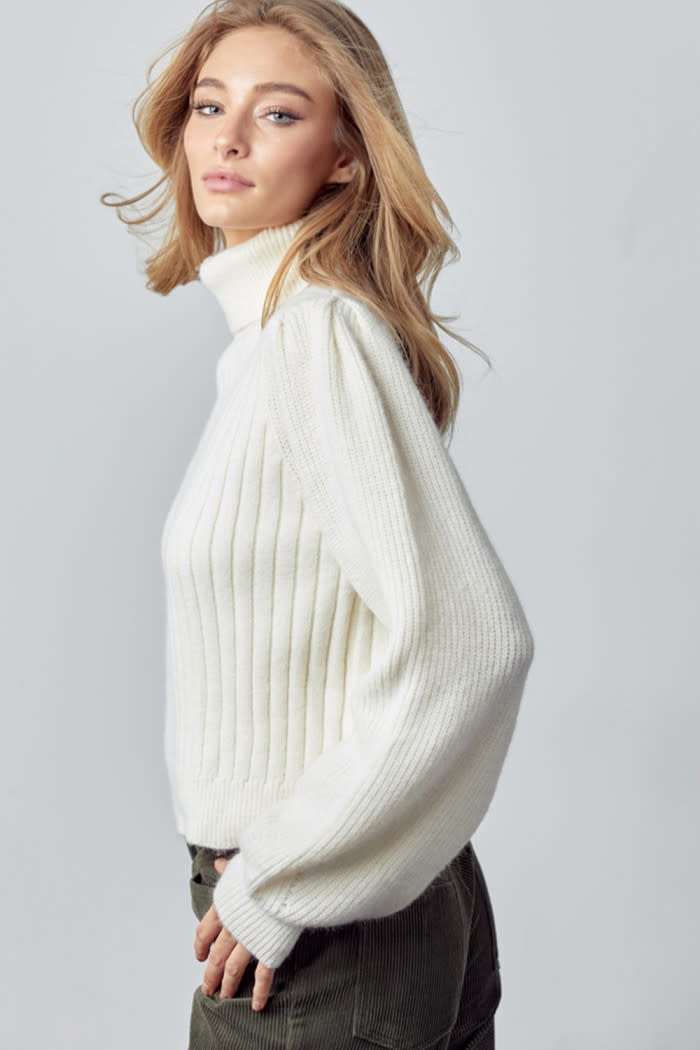 BB Dakota Long Walks Duster Cardigan 
Perfect to wear with a fall dress and booties, the BB Dakota Long Walks Duster Cardigan is a chic and elegant long cardigan sweater for women with an open front and ribbed design. The robe-like waist tie allows you to secure the cardigan in place or you can leave it open for a more casual, relaxed look. This cardigan has a slight stretch and has a more slim fit for a sleek look.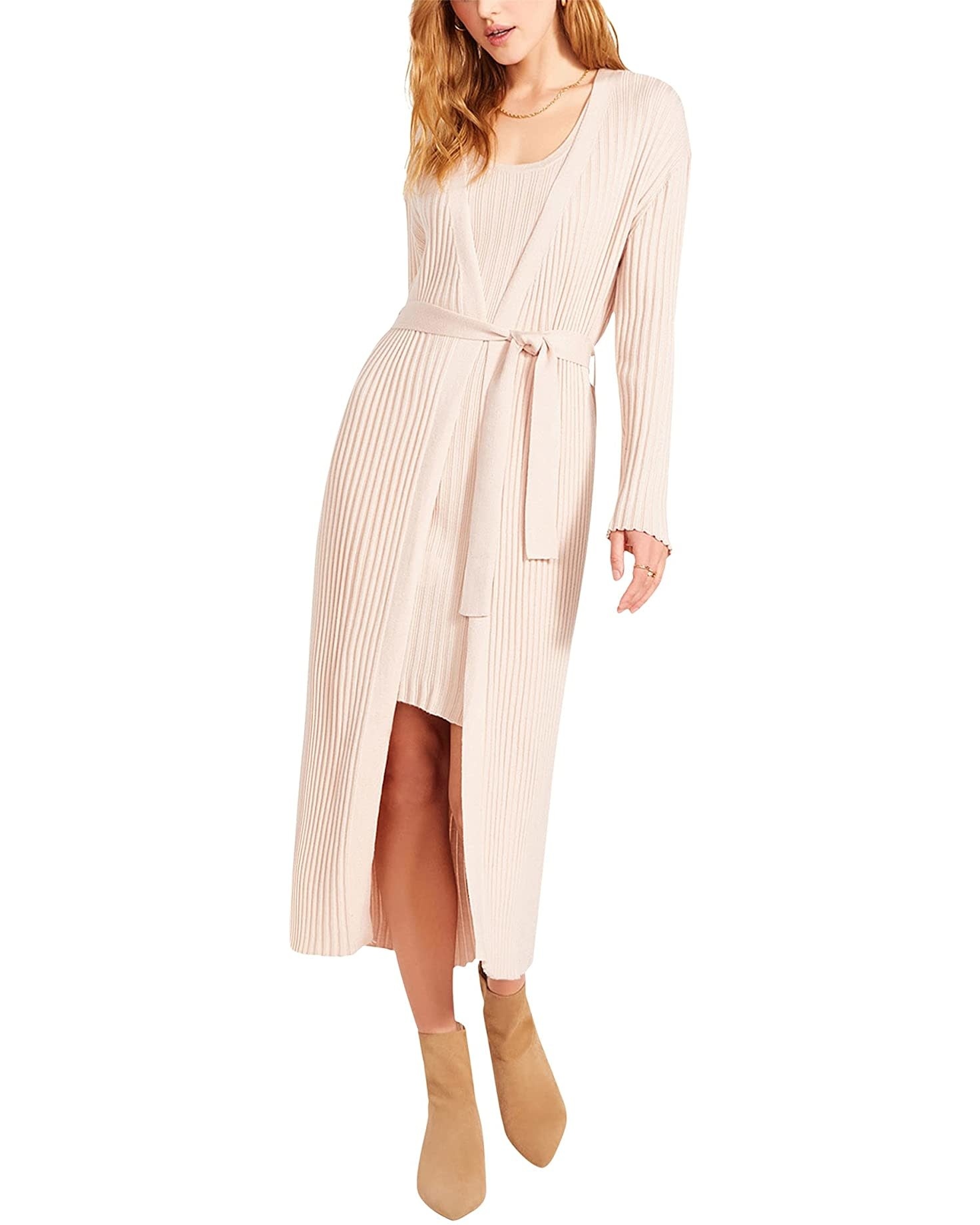 Note: Here's another duster cardigan we think you'd like as well: Karen Kane Duster Cardigan. 
Ciao Milano Serena Rain Jacket 
Stay dry and stylish on those rainy days with the Ciao Milano Serena Rain Jacket! This stunning and light rain jacket for women features a modern and feminine style with an adjustable drawstring waist. Made from 100% waterproof material, this rain jacket protects you from moisture and comes with a hide-away hood that you can use or store inside the collar conveniently (without bulking or detaching). The front closure is a zipper with a snap-button storm flap for extra protection.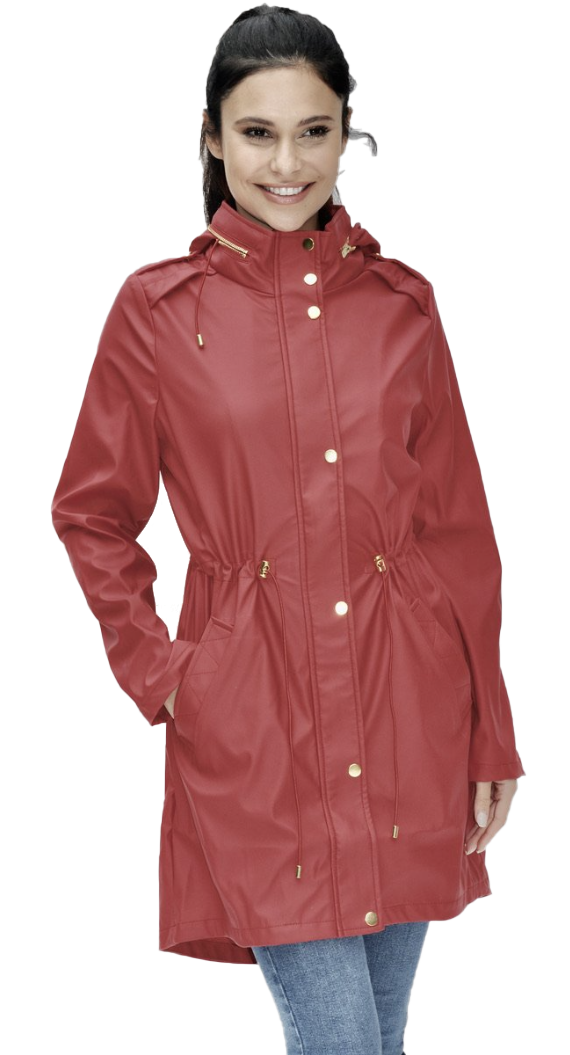 Note: You can find other Ciao Milano Rain Jackets for women like the Ciao Milano Savina Rain Jacket if you would prefer another style. 
Wrap yourself in elegant style with the Scapa Buckle Poncho! This bold and sophisticated poncho for women features a classic buckle design on the front and a leopard print inner for a peek of fun fashion. The poncho comes in a bright and festive red that's perfect for the holiday season! This women's poncho is easy to wear (pullover-style) and has a cowl neck for an extra fashionable flair.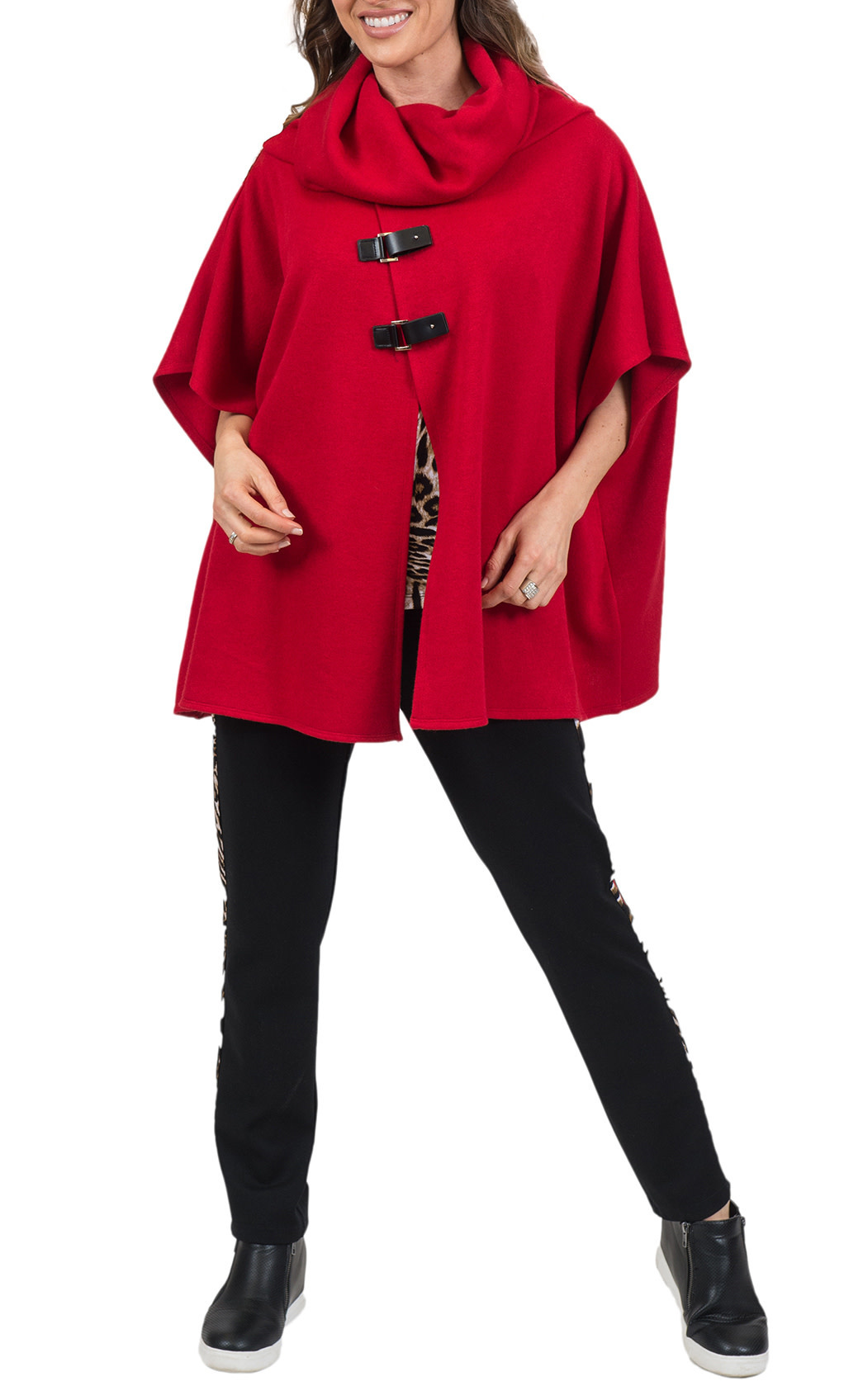 Note: If you prefer a more neutral color, check out the Scapa Animal Trim Poncho that comes in a warm tan color and features a red and leopard print trim for a pop of color and design. 
Barefoot Dreams CozyChic Lite Santa Monica Cardi 
Every woman needs a reliable and comfortable cardigan she can wear at home or outside! The Barefoot Dreams CozyChic Lite Santa Monica Cardi is the perfect everyday cardigan that can be used for loungewear or for regular attire. Made from ultra-soft material (a signature from Barefoot Dreams), this women's mid-thigh, open-front cardigan has a subtle shawl neckline and a sleek style that's versatile. This cardigan also has deep hand pockets for your convenience. Wear with a simple tee and leggings for the ultimate comfy outfit!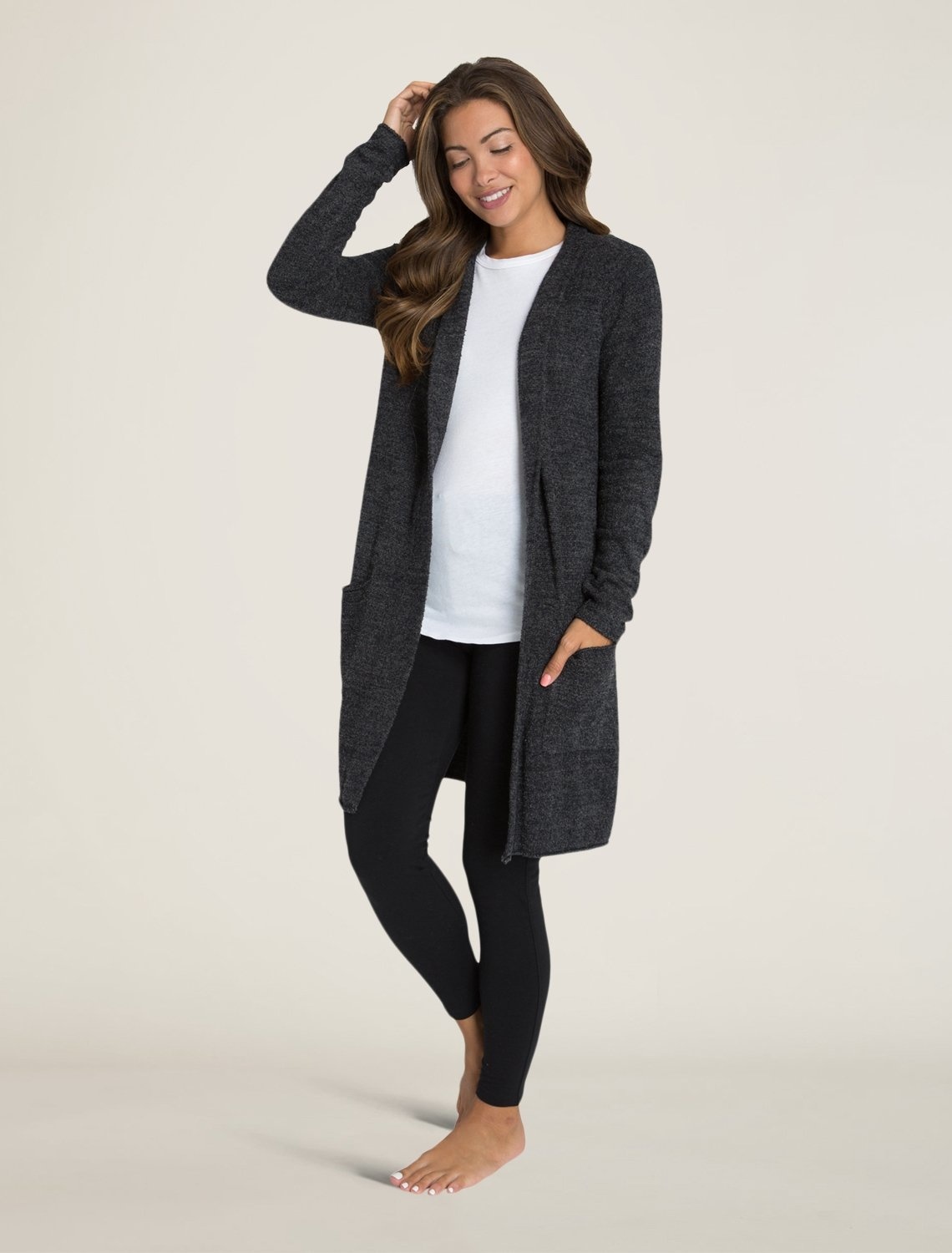 With a luxuriously soft feel and chic style, the Kerisma Veda Sweater Top for women is a relaxed fit knit top with a V neckline - a simple, yet stylish staple, to have in your wardrobe for any occasion. Instead of a classic ribbed hem, this sweater top has a raw hem with a slight fray for a unique look. 
Share The Love With Spanx & Leggings This Holiday Season
Who doesn't love a pair of Spanx leggings or two under the Christmas tree?! As one of the most popular leggings and shapewear brands in the market, Spanx has perfected the slimming and shaping technology to ensure that each pair of leggings gives you that seamless, stylish look effortlessly. Spanx leggings and pants come in a wide range of colors, designs, and styles, so there's something for every woman's fashion preferences. Here are some of our favorites from our collection (plus a few honorable legging mentions from other brands like Liverpool!): 
Give your outfit a boost in style with the Spanx Faux Suede Leggings! These super stylish leggings have a slight sheen and a luxuriously soft fee due to the faux suede material. These leggings feature seams on the front and back for added detailing and have a comfortable stretch.
Spanx Clean Indigo Skinny Jeans 
For a pair of jeggings that will always fit perfectly and comfortably, go for the Spanx Clean Indigo Skinny Jeans! These jean leggings for women have the classic denim look without sacrificing Spanx-shaping technology that helps give you the signature seamless look. These jeans are easy to wear thanks to the slip-on convenience.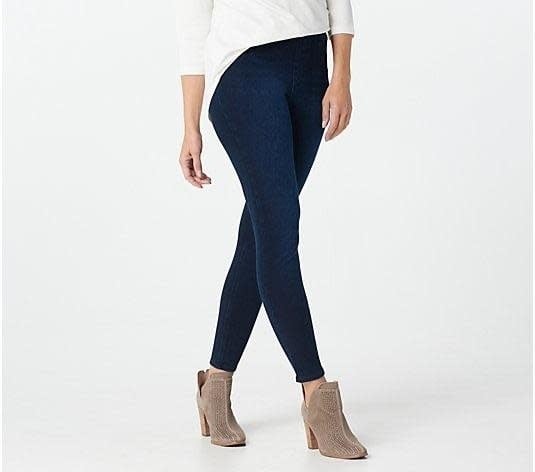 Spanx Look At Me Now Seamless Leggings 
If you want a more casual, athleisure look, make the Spanx Look At Me Now Seamless Leggings in Heather Camo or Very Black a part of your collection! These leggings make a great everyday piece for your attire, and you can mix and match as much as you want since these Spanx leggings are so versatile.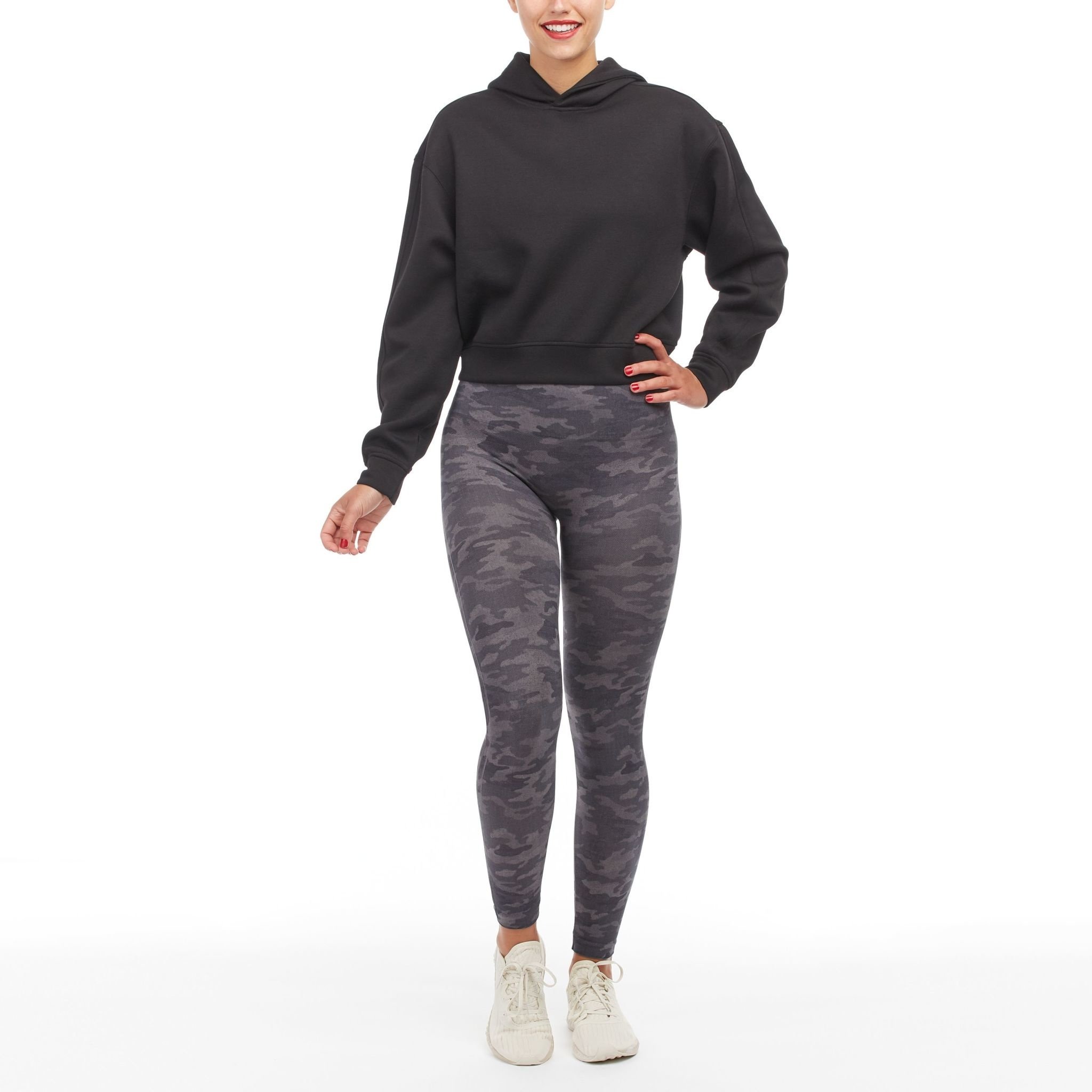 Here's Spanx's best-selling faux leather leggings! These leggings are built with your comfort in mind and are breathable and easy to move in. The faux leather material gives these leggings a subtle shine that helps give your outfit a stylish edge. 
Perfect to wear for special occasions and for the holiday season, the Spanx Velvet Leggings are sure to give your ensemble a unique, elevated look! Similar to suede, these leggings have a silky soft feel and a super comfy stretch for all-day comfort. 
Lysse Patterned Matilda Foil Leggings 
Elevate your outfit with an extra shiny flair with the Lysse Patterned Matilda Foil Leggings! These slim-fit and comfortable leggings have a snakeskin foil pattern that creates a shimmery sheen that's not over-the-top - it's subtle and stylish! Pair with your favorite tees and tops. 
Check out other Spanx exclusives and leggings in our collection. 
Note: Be sure to take a look at our Ultimate Guide To Spanx blog post for more information! 
A Match Made In Holiday Heaven - Matching Gift Sets
A timeless holiday gift is a matching set outfit - whether as pajamas, casual wear or loungewear. If you want to give a dear friend or family member an all-in-one gift, a matching set is a wonderful way to show your love. Take a look at some of our featured holiday gift set recommendations: 
Matching Set 1: Scapa Printed Piped Top + Piped Pants (+ Bonus: Animal Trim Poncho)
Go for a wildly fashionable look with the Scapa Printed Piped Top and Piped Pants! The ¾-sleeve top has a bold leopard print with red lining on the sleeves while the black pants have red and leopard print lines on the sides - perfect for a casual everyday look. If you want to elevate this matching outfit, be sure to add the Scapa Animal Trim Poncho to this set as well for a 3-piece ensemble! The poncho comes in a warm neutral tan color and has a red and animal print trim along the hem. 
Matching Set 2: Mustard Seed Round Neck Striped Top + Stripe Jersey Jogger Pants
Simple, classic, and trendy, the Mustard Seed Round Neck Striped Top and Stripe Jersey Jogger Pants make a casual and stylish look that you can wear for everyday attire or even for loungewear. The top has delicate flutter sleeves and a round neckline while the striped women's joggers have an adjustable drawstring waist and back pockets.
Matching Set 3: Liverpool Moto Python Jacket + Liverpool Python Abby Ankle Skinny Jeans
Give your outfit a bold flair with the Liverpool Moto Python Jacket and Python Abby Ankle Skinny Jeans! Upgrade your denim jeans to the Liverpool Python Abby Ankle Skinny Jeans, which are super comfortable and figure-flattering jeans that have an all-over snakeskin pattern. The women's moto jacket has a sporty-chic style that brings your attire to the next level. Pair with a neutral top to balance out the wild snakeskin design. 
Matching Set 4: BB Dakota Nothin' To See Here Sweater Top + Urban Jungle Jogger
Feel comfy and look like a stylish badass with the BB Dakota Nothin' To See Here Sweater Top and Urban Jungle Jogger! This fun camo set features a classic crewneck sweater and relaxed fit jogger pants with an adjustable drawstring waist and side pockets. Layer with a basic black or white tee/tank underneath the sweater. 
Matching Set 5: Tart Collections Chase Top + Ferrah Shorts
Perfect for the spring and summer seasons, the Tart Collections Chase Top and Ferrah Shorts feature an intricate and elaborate white and navy blue pattern that's eye-catching and stylish. The Chase Top has delicate flutter sleeves and a crewneck design while the Ferrah Shorts have a tailored, slimmer fit compared to other women's shorts and an adjustable drawstring waist band. 
Matching Set 6: Karlie Leopard Sweatshirt Set
The Karlie Leopard Sweatshirt Set is one of our favorite matching sets in our boutique! Designed for maximum comfort and style, this sweatshirt and shorts matching set features an oversized crewneck sweater and slim-fit lounge shorts with a drawstring waist for adjustable fitting. Both pieces have a classic leopard print that's timelessly trendy and chic! Great as a loungewear gift set for a beloved friend or family member.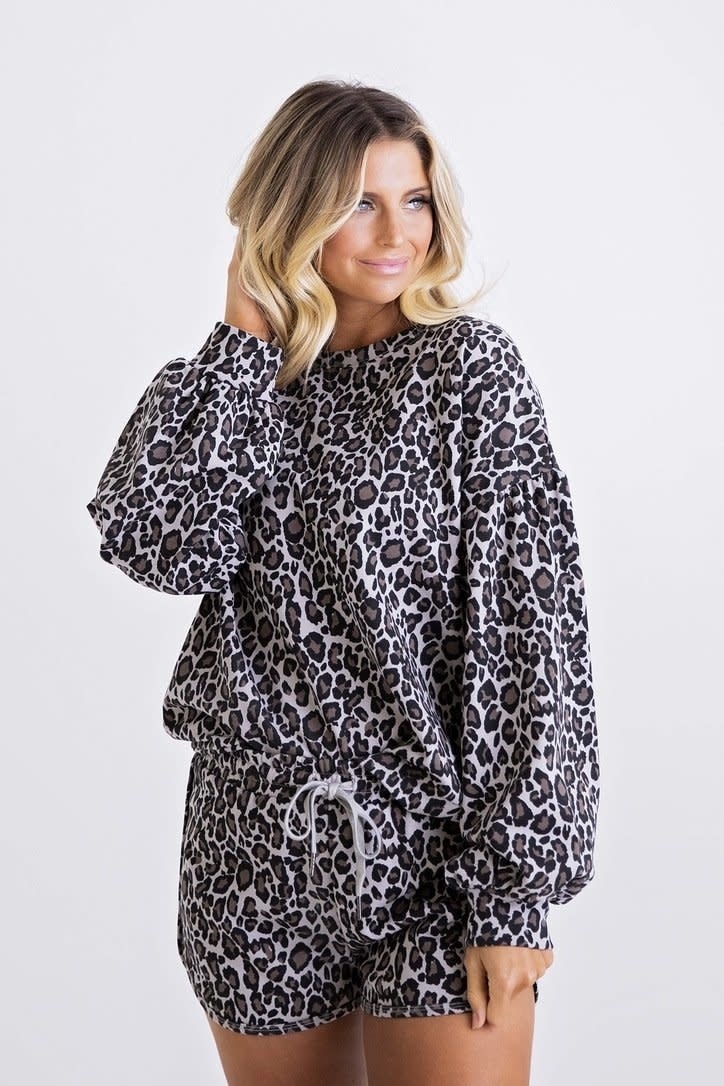 Cozy Women's Pajamas & Loungewear for At-Home Comfort
Get cozy with your holiday gifts this season! Women's pajamas, loungewear, and sleepwear sets and separates are excellent gifts to share with your loved ones. In our 2021 Holiday Gift Guide, we're showing you some of our best selections of women's comfort clothing and more: 
Barefoot Dreams CozyChic Lite Ribbed Robe 
A sophisticated and silky soft addition to your wardrobe, the Barefoot Dreams CozyChic Lite Ribbed Robe makes a beautiful holiday gift for every woman! This women's robe features a ribbed design for a slimmer, tailored fit and has a fold-over shawl collar and waist tie. Instead of thin silk or satin material, this robe is designed to keep you warm and cozy during the cooler seasons. 
Note: You can also go for the Barefoot Dreams Unisex CozyChic Robe as an alternative. 
Light, soft, and comfortable, the Lilla P Tank/Pant Sleep Set makes at-home attire an extra luxurious experience! This set includes a classic tank top and wide-leg pants with an adjustable drawstring waist. The Lilla P Sleep Set can also be paired with the Barefoot Dreams CozyChic Robes for a 3-piece set!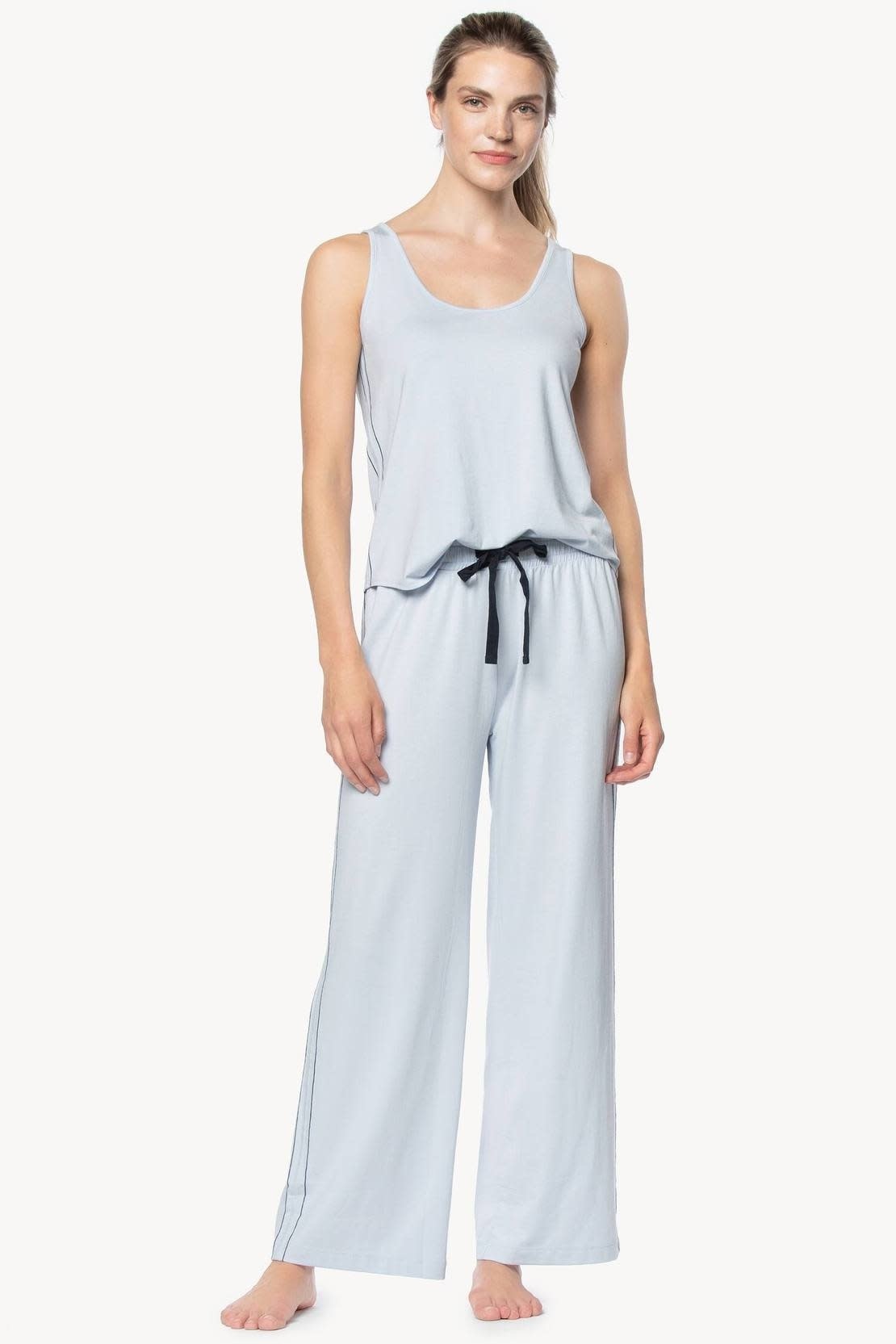 PJ Salvage Spot The Dot PJ Set 
Lounge and sleep in this silky soft and cozy pajama set! The PJ Salvage Spot The Dot PJ Set for women comes with a long-sleeved collared and button-down sleep shirt with classic pajama pants - both covered in a fun polka dot design. The pajama top is also designed with a chest pocket!
Grab yourself a pair of Barefoot Dreams' Heathered Cozy Socks to keep you warm during the fall and winter seasons! These classic cozy socks for women come in a super soft material and are available in various colors, making them a great stocking stuffer as well. 
Sneak in a new pair of shoes for the special ladies in your life! Shoes make a lovely holiday gift, and we have plenty of shoes to choose from our collection. From fall boots to summer sandals, we feature a wide range of styles and designs in our shoe selections, so there's something for everyone. Here are some of our favorite women's shoes: 
What Southern gal wouldn't love a pair of gorgeous leather Western boots?! The Matisse Agency Wester Boots are classic heeled calf-length boots with a chunky stacked wood heel and a subtle textured design. Perfect to wear with your favorite dresses and jeans. 
42 Gold Loyalty Kid Suede Peep Toe Bootie
Slip into these beauties from 42 Gold! These peep toe booties for women have a sleek, soft texture thanks to the kid suede material and are easy slip-on shoes with an inner side opening. The heel features stacked wood and comes in a chunky style that provides extra comfort and stability. 
Chic and stylish for everyday wear, the Born Sebra Slip-On Flats are comfortable and trendy women's flats with a rounded toe and a leopard pattern. Great to wear for a pop of fun design!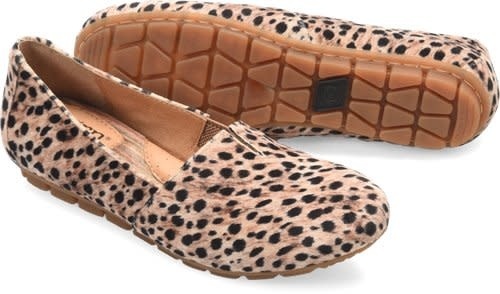 Make a bold move with your footwear when you have the Bussola Phebe Sandal in your collection! This strappy sandal features thick straps all around and a platform-style sole for extra height and design. These sandals have a back zipper for comfortable slip-on wear.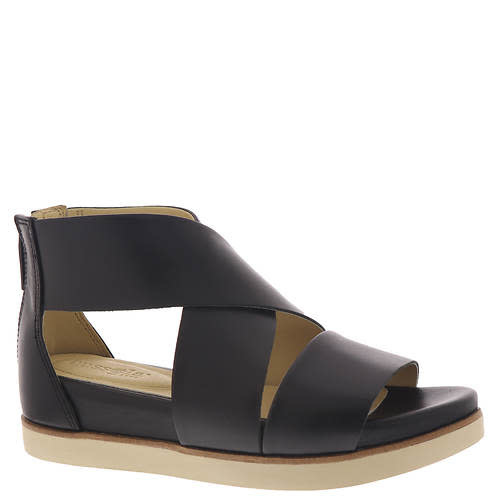 Always have a pair of classic black knee-high boots for all your fall and winter attire. The Ellendale Knee High Boots have a timelessly trendy and chic look with her chunky heels and sleek, shiny leather look. The boots have a full-zip closure on the inner sides.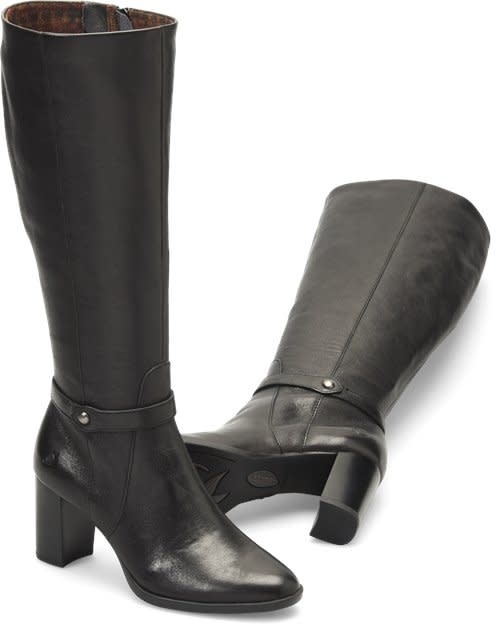 Matisse Coconuts Long Live Wedge Sneakers 
Versatile enough to wear for any season - and any outfit - the Coconuts Long Live Wedge Sneakers combine chic style with athleisure appeal. These women's ivory leopard print wedge sneakers have front zipper closure instead of lace for a sleek and minimal look and comfortable slip-on wear. 
42 Gold Becka Raffia Slide Sandal 
Be sure to bring the 42 Gold Becka Raffia Slide Sandal to your next beach vacation or poolside visit! These lovely slide sandals have an open-toe style with a charming raffia pattern on the top. 
Make Holiday Gifting Extra Special With Designer Handbags, Purses & Travel Bags
Handbags and purses make chic and trendy accessories for any outfit, and we have a wide selection of boutique bags for you to choose from! You can also find travel bags, such as makeup bags and tote bags, that you can use for on-the-go convenience. Take a peek at some of our designer women's purses and bags that we have in our boutique: 
Joy Susan Jenny Faux Suede Hobo Handbag 
The classic slouchy hobo bag with a sophisticated and stylish twist! The Joy Susan Jenny Faux Suede Hobo Handbag is a 2-in-1 bag with a removable insert bag inside. You can use the smaller bag separately or use it as a purse organizer with the main bag. The small insert bag comes with its own detachable shoulder strap. Both bags are made with vegan-friendly leather suede material to give it an elegant and chic look.
Keep your makeup and skincare essentials in the trendy and chic Cinda B X-Large Cosmetic Bag! This quaint makeup bag features a loop snap-button closure concealing the zippered closure underneath. The bag unfolds and opens up to reveal a spacious interior to store all your necessities. You can also use this bag as an organizer for larger purses and bags. When you close the bag, it creates a cube-like shape, making the bag an adorable addition on your bathroom sink. 
Karina Convertible Wristlet & Wallet
Go from day to evening styles with the Karina Convertible Wristlet & Wallet. This versatile and stylish wristlet bag for women can be transformed to an evening bag or shoulder bag by simply attaching the included bag strap to the wristlet. You can also use your own bag straps or switch out the strap with other designs like the Joy Susan Embroidered Geo Guitar Strap to customize your Karina wristlet. This faux leather small wristlet purse has two pockets and a bonus slide bill fold wallet inside that matches the bag. 
A must-have staple for every bag collection, the Rene Easy Reversible Tote is an everyday bag for all your on-the-go needs. Since the bag is reversible, you can switch sides to use the bag for longer and to match with your outfit for the day! Inside this tote bag is an extra bag insert for organizing inside the tote or using separately when you want to wear a smaller purse for the day.
Make Your Gifts Shine With Our Boutique Jewelry & Accessories
Sneak a few statement jewelry pieces in Christmas stockings this year with our unique and artisan-crafted boutique jewelry! From crystal pendant necklaces to pearl drop earrings, explore our collection of boutique necklaces, earrings, and bracelets from various artisan brands. We'll also share some of our most noteworthy women's accessories that you can include on your gift list. Take a look at some of our favorite pieces: 
One of the timeless jewelry pieces to have, the Juliet Pearl Stud Earrings instantly elevate your attire to a classy and chic level. These large, round shell pearls are encased in golden petals accented with CZ gemstones. 
Julie Vos Honeybee Statement Necklace 
Charming and chic, the Julie Vos Honeybee Statement Necklace has a reversible pendant featuring one side with a round glass gemstone and a honeybee etching on the other side - giving you complete customization and a new look each time! 
Complete your outfit with the Chloe Cirque Earrings! These classic gold hoop earrings are lightweight and stylish and are accented with a flower-shaped mother of pearl top. 
Your wrist never has to feel empty and bare anymore when you're wearing ¾ sleeve blouses and tops! With the Paris Demi Cuff, you can accessorize and add the finishing touches to your look. This gold, lightly hammered statement bracelet has a hinged design for easy off-and-on wear and is decorated with mother of pearls. 
Susan Shaw Venetian Glass Cross Necklace 
Perfect for spring and summer wear or for church Sundays, the Susan Shaw Venetian Glass Cross Necklace boasts a stunning, eye-catching turquoise glass gemstone with a cross design. The necklace has a chunky chain link style for a modern, stylish look. 
Penelope Delicate Station Necklace 
A dainty and timeless necklace for you to wear any time! The Penelope Delicate Station Necklace is a simple gold chain necklace with miniature pearls for a subtle and feminine look. Each miniature pearl is enclosed in golden petals. 
Adorn your wrist with the gorgeous Catalina Demi Link Bracelet! This elegant women's chain bracelet features a 24k gold plate and has a toggle closure embellished with miniature freshwater pearls. 
With a nod to the vintage chinoiserie style, the Baroque Pearl Ginkgo Earrings are lovely and whimsical dangle earrings featuring ginkgo leaves (top and bottom) and a freshwater pearl bead in between the leaves. These elegant dangle earrings add a sophisticated and unique flair to your look!
Fleur-de-Lis Pavé Stud Earrings
Have a set of mod and chic stud earrings in your collection for everyday or formal wear! The Fleur-de-Lis Pavé Stud Earrings are large and golden bottle-cap studs encrusted with sparkling CZ stones for a statement earring set. 
Who doesn't love a pair of small, gold, and fashionable hoops? The Sheila Fajl Biana Hoops are small and dainty with a geometric edge and are handmade in Brazil. 
A timeless and beautiful turquoise stone embedded in a tear-drop pendant hanging from a classic chain link necklace! The Turquoise Pendant Necklace by Susan Shaw is sure to impress as a thoughtful gift for a loved one.
Sleek, sophisticated, and ever-so stylish, the Palladio Hinge Bangle Bracelet comes in a lightly hammered, 24k gold-plated design that shimmers and shines wherever you go! This versatile and polished bangle hinges to open for hassle-free off-and-on wear. 
Make a bold style statement with the Julie Vos Large Hammered Hoops! These 24k gold-plated hoop earrings have a lightly hammered pattern and a small ball on the tail of the earrings. Perfect to wear for the office or everyday attire!
Royal Standard Olivia Suede Gloves 
Perfect for keeping warm and stylish during the fall and winter, the Royal Standard Olivia Suede Gloves have a slim-fit and elegant design to complete your cold-weather outfit. 
Cocoon House Short Silk Kimono 
Silky soft and covered in a one-of-a-kind hand-painted design, the Cocoon House Short Silk Kimono is a versatile and light kimono overlay that complements and elevates your blouses and tops. Made with 100% genuine silk material. 
Give the Gift of Irresistible Designer Scents
Perfumes are always a classic go-to holiday gift idea for the special women in your life, and our boutique has a diverse collection of select fragrances and perfumes for women that you can explore! We feature popular brands like Juicy Couture and Tom Ford and introduce you to unique scents that will fit everyone's preferences. 
Bond No. 9 Signature Scent Eau de Parfum 
A beautiful, seamless blend of sultry, mysterious Eastern woods and distinguished Western florals, the Bond No. 9 celebrates its 10-year anniversary with the Signature Scent. Comes in a lavish golden decanter with "Bond No. 9 NYC" logo.
Tom Ford Noir Pour Femme Eau de Parfum 
Make a bold move with your signature fragrance! The Tom Ford Noir Pour Femme Eau de Parfum is a warm, spicy, and oriental-inspired women's perfume in sleek and luxe black bottle with a golden top.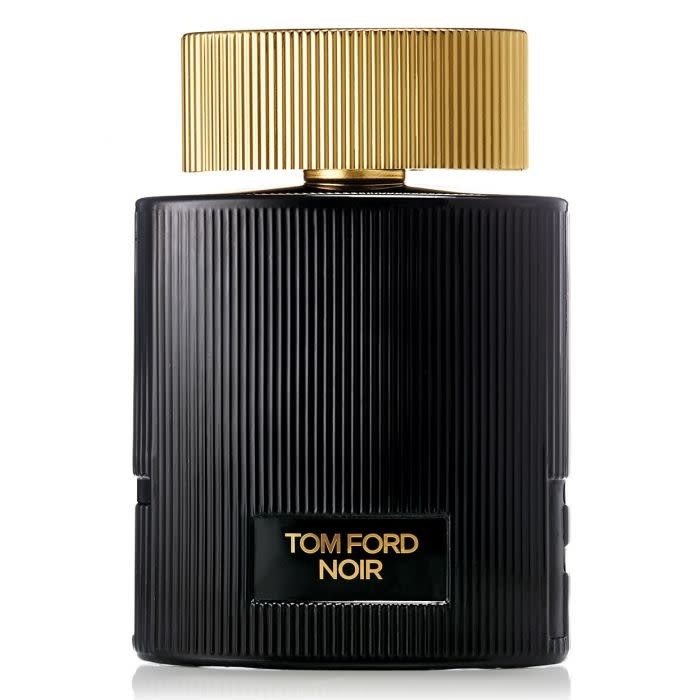 Dolce & Gabbana The One Eau de Parfum 
Accented with fruity top notes, floral heart notes, and warm base notes, the Dolce & Gabbana The One Eau de Parfum for Women is a classy and timeless scent that's perfect for an evening fragrance and a lavish night out on the town!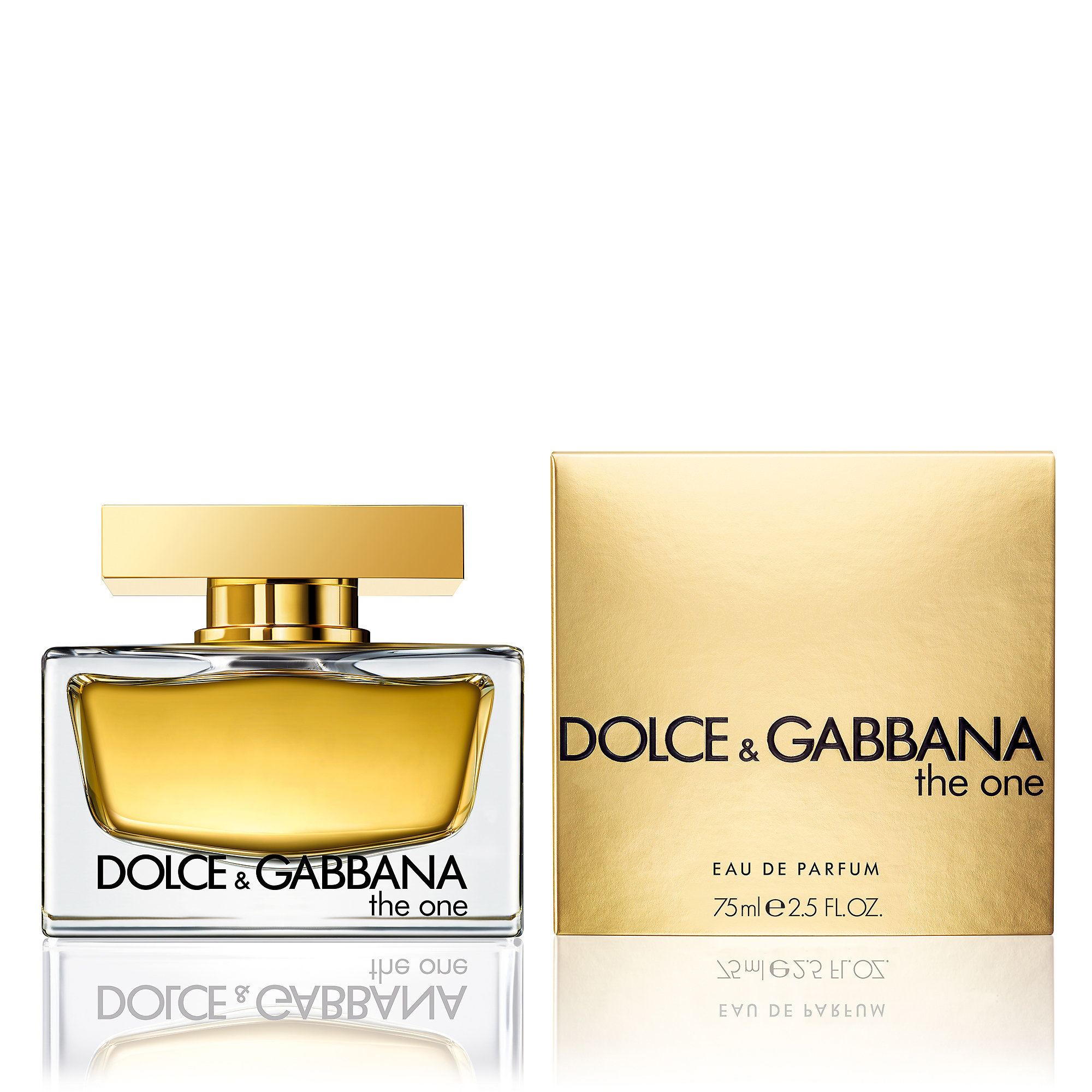 Bond No. 9 New York Spring Fling 
If you love a pure floral scent, the Bond No. 9 New York Spring Fling perfume is just what you need in your fragrance collection! With stunning floral notes like Lily of the Valley, jasmine, and honeysuckle, the Spring Fling is inspired by the famous gardens in New York and comes in a lovely purple glass decanter with a large pink flower top.
Enhance Home & Lifestyle With Charming Boutique Gifts
Although we have a wide selection of women's & men's boutique clothing, shoes, and accessories, we also love to have home and lifestyle products that you can pick up while you're here! If you prefer to give gifts for the home or for a loved one's lifestyle, we offer a variety of products that make wonderful holiday gifts: 
Will Gray Edwards Studio Trifold Note Cards 
Printed and designed in Italy, the Will Gray Edwards Studio Trifold Note Cards make an exquisite holiday gift for the stationary lover in your life. Available in various designs. 
Thymes Fresh Cut Basil Poured Candle 
Make your home smell like a refreshing herbal garden with the Thymes Fresh Cut Basil Poured Candle! This refined and luxurious candle gives you both the invigorating home fragrance and a great piece to add to your décor. You can also find other candle scents like the Frasier Fir in our boutique.
Royal Standard To Go Holiday Wine Glasses 
One of our favorites in our Home & Lifestyle collection, the Royal Standard To Go Holiday Wine Glasses always make it on our holiday gift guides every year! We just love these travel-sized, handheld wine glasses that are perfect for a girls' night in or for special occasions. Multiple holiday designs available.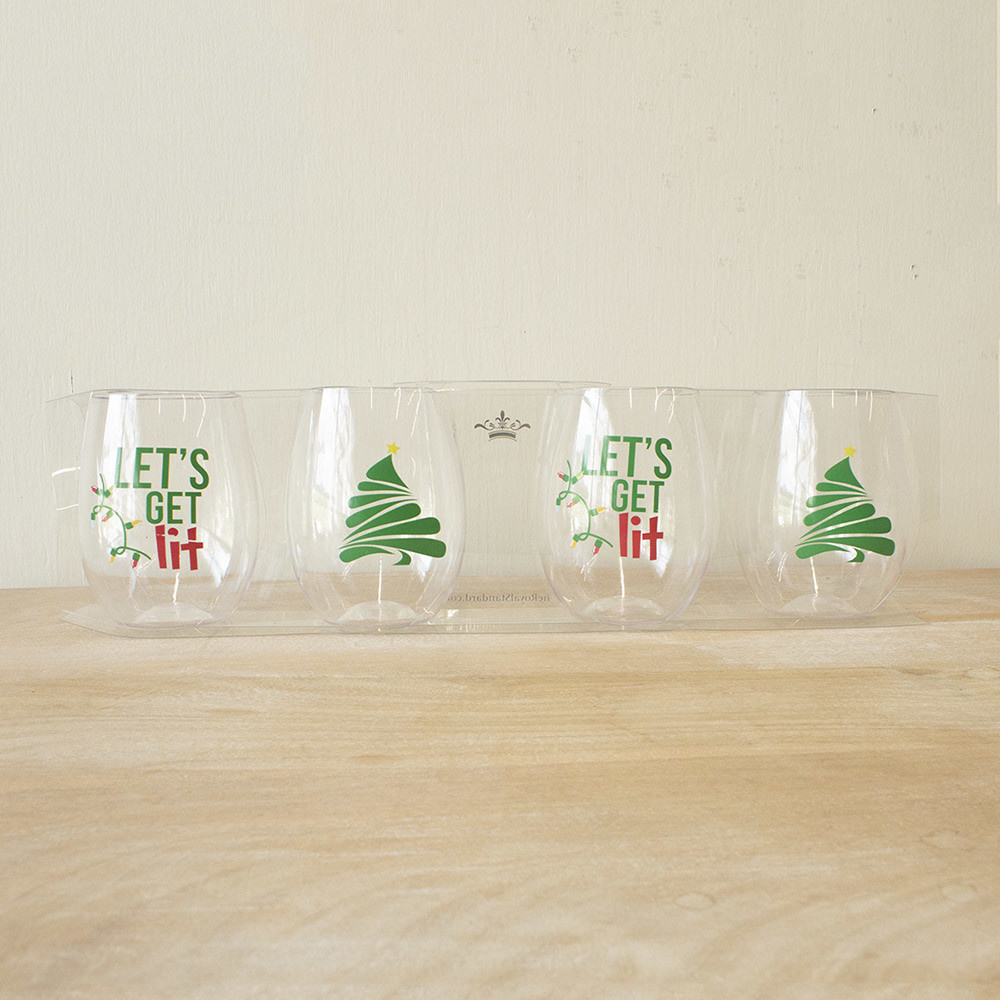 Not a fan of burning candles or spraying home fragrances? Then go for a more natural, yet effective, way to bring fresh and bright scents into your space with the Thymes Petite Reed Diffuser! All you need to do is pour a bit of the essential oil into the bottle and place the reeds inside. The reeds soak up the oil, which evaporates into the air and the scent permeates throughout the space.