Posted on
By Abraham's Boutique
Shop at Abraham's Boutique this holiday season for your gifts! We feature luxury and designer boutique items that would make wonderful gifts for your friends, family, and loved ones. We hope you enjoy our 2022 Holiday Gift Guide for Women, where we also feature our latest and trending boutique jewelry pieces, including delicate and statement necklaces, dangling earrings, and chain link bracelets. We also include other great holiday gift ideas for women, so take a look at our guide and see what you can add to your list this year!
Stylish and Chic Boutique Clothing - Unique Style for Every Woman
If clothing is one of your need-to-get holiday gifts this year, check out our women's boutique collection! In our 2022 Holiday Gift Guide for Her, we're featuring our top picks from our 2022 collection, and we always feature one-of-a-kind, fashionable pieces that make beautiful and meaningful gifts for your loved ones. Enjoy the guide, and we hope you have a wonderful holiday season! 
See more clothing gift ideas for women in our Fall 2022 Boutique Collection Guide!
Perfect for layering with your attire, the Kerisma Zelda Poncho is a stylish and chic turtleneck poncho with an asymmetric hem and flowy style. This poncho features a two-tone color scheme that makes it easy for you to mix and match with other pieces. Made from a cashmere blend, this women's poncho has a buttery soft texture and brings an effortless sophistication to your outfit.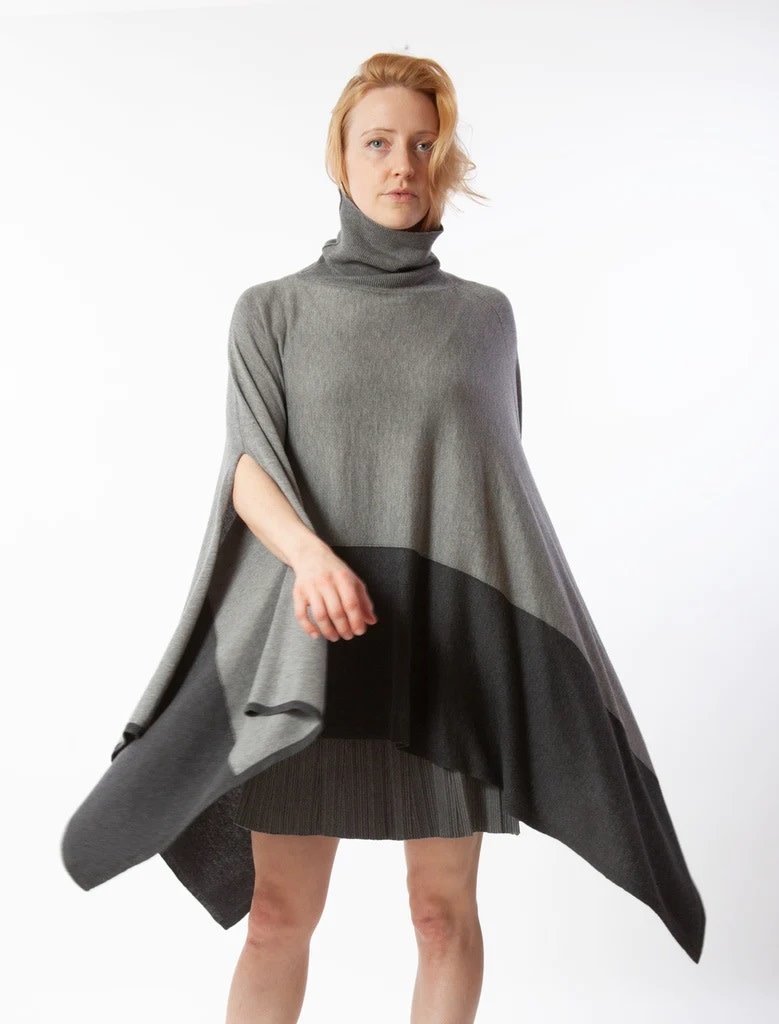 Tart Collections Kia Poly Silk Blazer
Ideal for the chic and inspiring business or professional women in your life, the Tart Collections Kia Poly Silk Blazer completes and elevates any ensemble with its sleek and modern design. With a silky smooth texture, this women's blazer has a straight fit and sleeves with gathered seams for a feminine touch. A must-have for your wardrobe!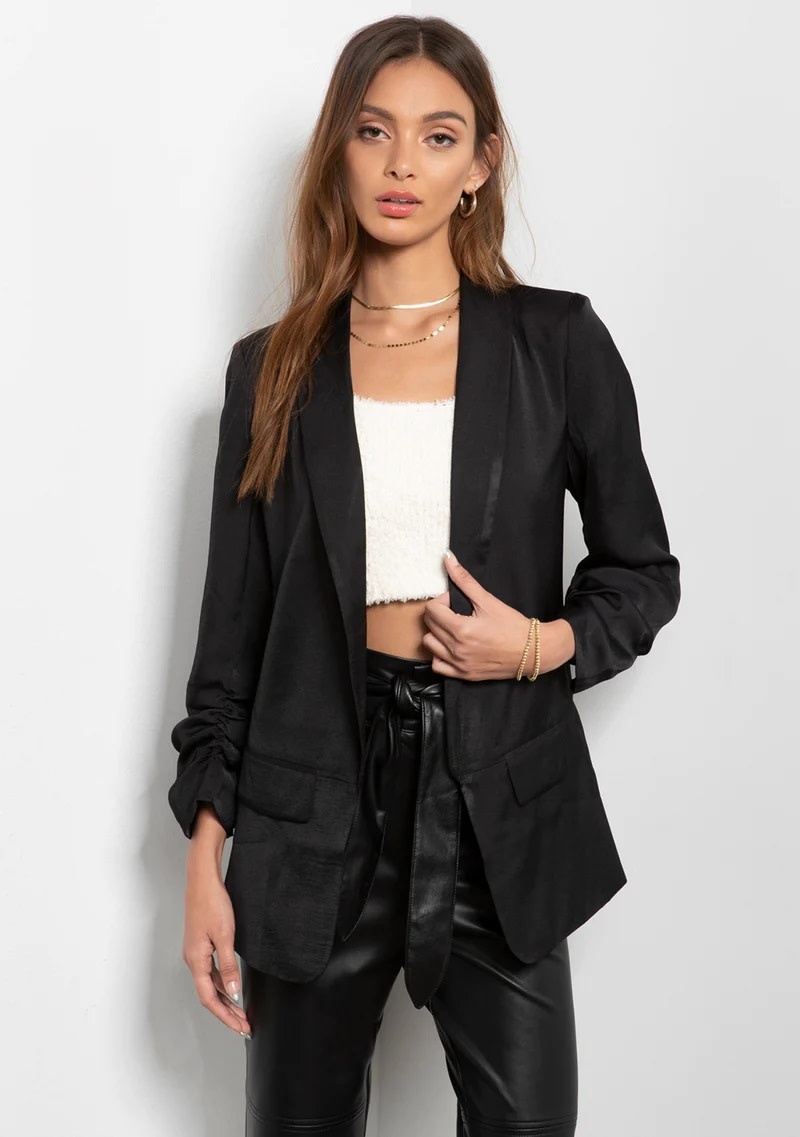 Liverpool Quilted Front Full Zip Hooded Sweater
Great to throw on when you're going out for a walk or to take with you to your next winter getaway, the Liverpool Quilted Front Full Zip Hooded Sweater is a sleek and fashionable zip-up sweater jacket for women that has a plush, quilted look and an oversized hood for extra coverage. This women's jacket gives you that comfortable and cozy look without sacrificing style!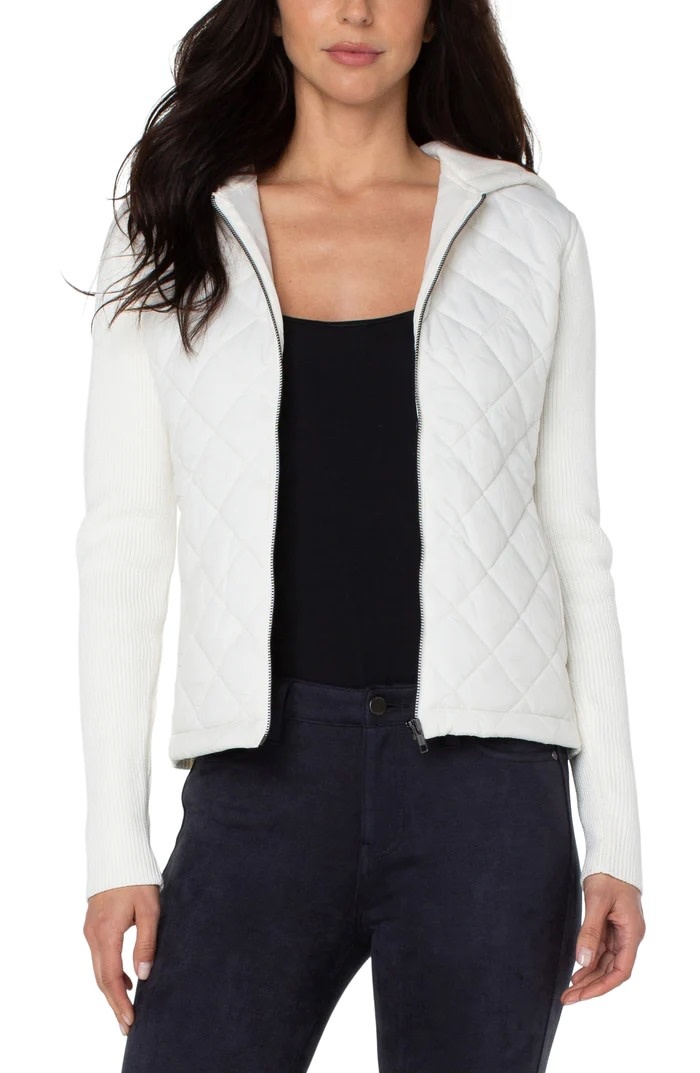 &merci Flower Pattern Pullover
Sweaters are a classic holiday gift to share with loved ones, and a boutique sweater that's unique and stylish helps make the gift extra special! The &merci Flower Pattern Pullover is a knit sweater top for women with a mock neck and a waist-length bodice (shorter hemline than traditional sweaters) for a more cropped look. Covered in a charming red floral print, this women's sweater makes a great addition for the fall or winter wardrobe.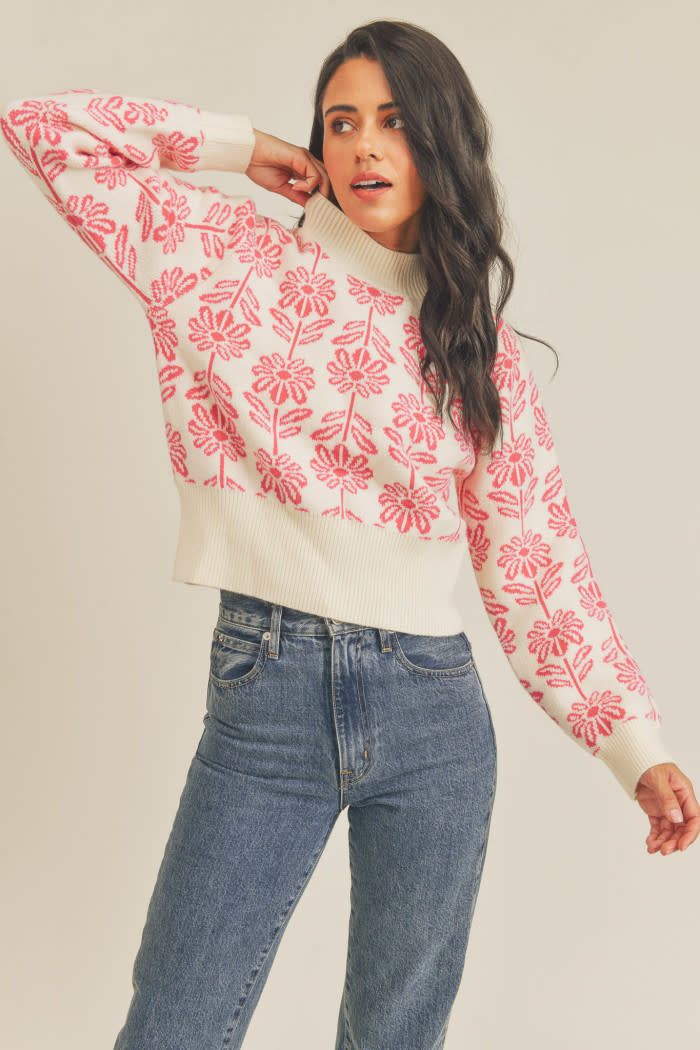 Karen Kane Gold Studded Sheath Dress
Sophisticated and classic, the Karen Kane Gold Studded Sheath Dress is a wonderful holiday gift for the dress-loving lady in your life! This dress features a straight, sheath style with ¾ sleeves and embellished with gold studs for a bold design. 
If you like this Karen Kane Dress, then check out the Karen Kane Sheer Sleeve Dress - a perfect addition to your closet for any special occasion or formal event!
Shop other women's chic & elegant designer dresses in our collection!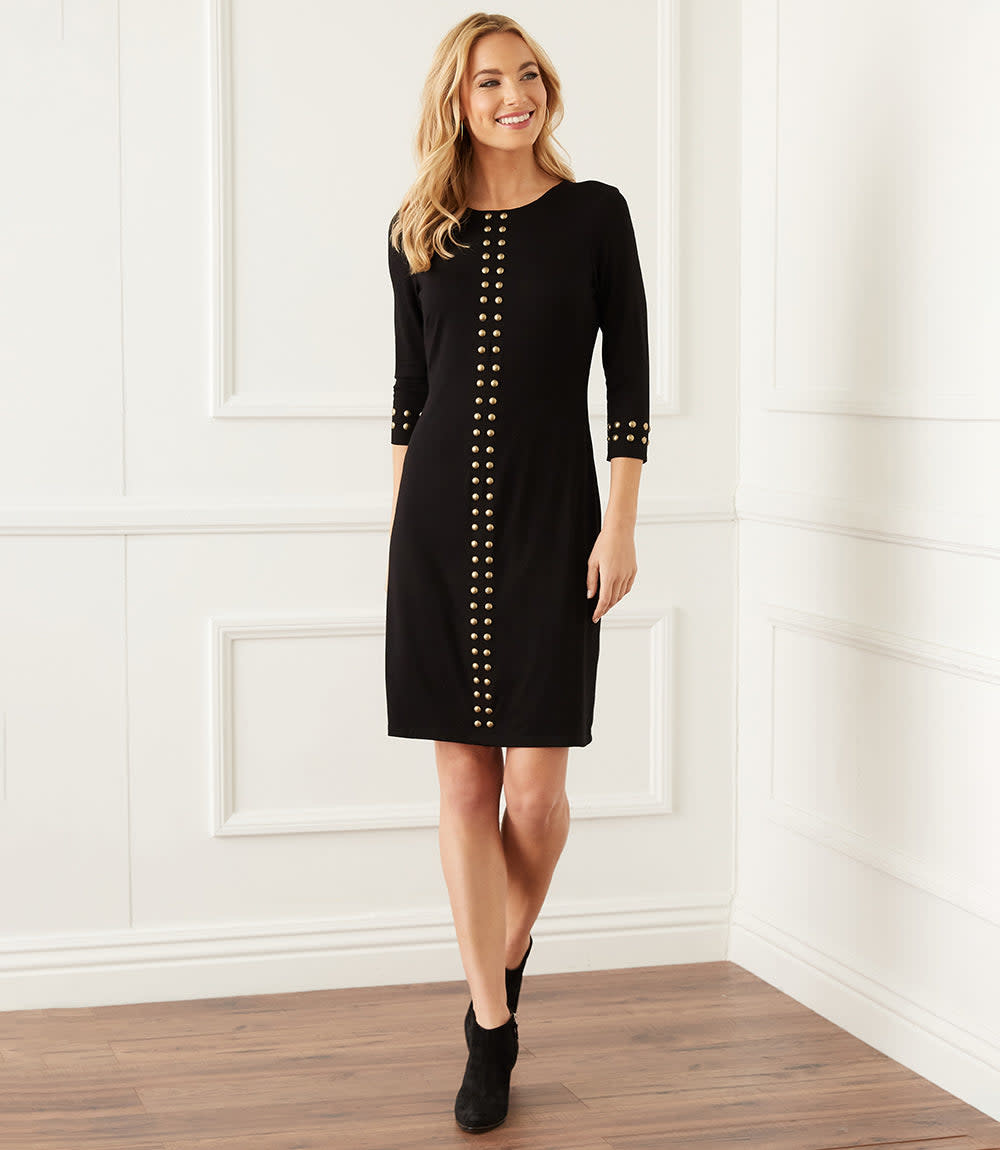 BB Dakota Retrograde Cable Knit Sweater
Always have a cable knit sweater on hand for the winter/holiday season! The BB Dakota Retrograde Knit Sweater is an excellent choice for a trendy, neutral-colored knit top for everyday wear. Slightly oversized with a cable knit pattern on the front and on the sleeves, this women's oatmeal sweater is extra cozy and chic and pairs seamlessly with leggings or jeans. 
Shop other women's sweaters in our collection!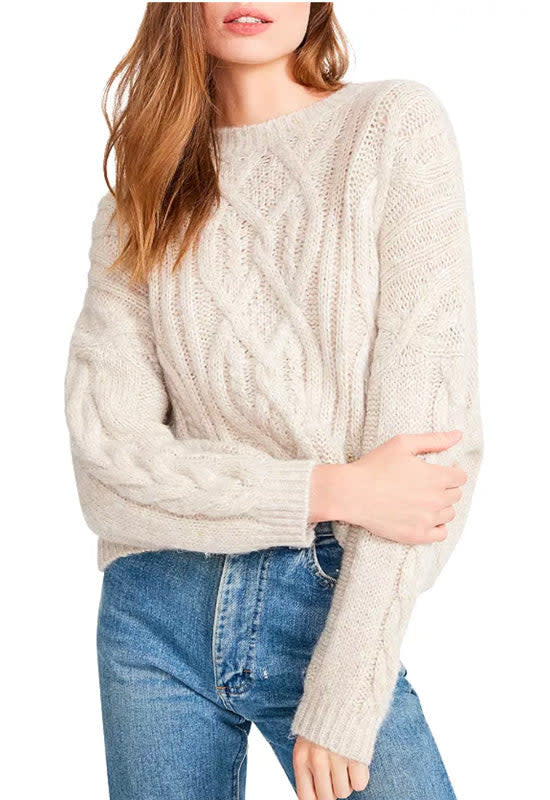 Water-resistant, lightweight, and ultra-chic, the Ciao Milano Tess Rain Jacket has a figure-flattering, feminine shape and makes a great jacket to wear for light showers. Available in a variety of stylish colors, this women's rain jacket makes a lovely holiday gift! This rain coat has an adjustable waistband to give it a more hourglass shape and features a button-up front with a zippered storm flap to keep moisture out.
Shop other women's Ciao Milano outerwear jackets and other women's coats 
and jackets in our collection!
Barbour Cavalry Polarquilt Jacket
Stay cozy and fashionable with the Barbour Cavalry Polarquilt Jacket! This women's fleece-lined jacket has an extra layer of warmth to keep heat in and boasts a classic diamond-quilt pattern and plush texture that's sleek and smooth. The jacket also has a high collar for more coverage and does not have a hood, which is great for those who prefer not to have a hood attached to their jackets or coats. 
Another Barbour women's jacket that we believe you'll also love: Barbour Jenkins Quilted Jacket! Check out the Barbour Otterburn Gilet Women's Puffer Vest for an alternative to a jacket or coat that you can layer with other fall or winter apparel.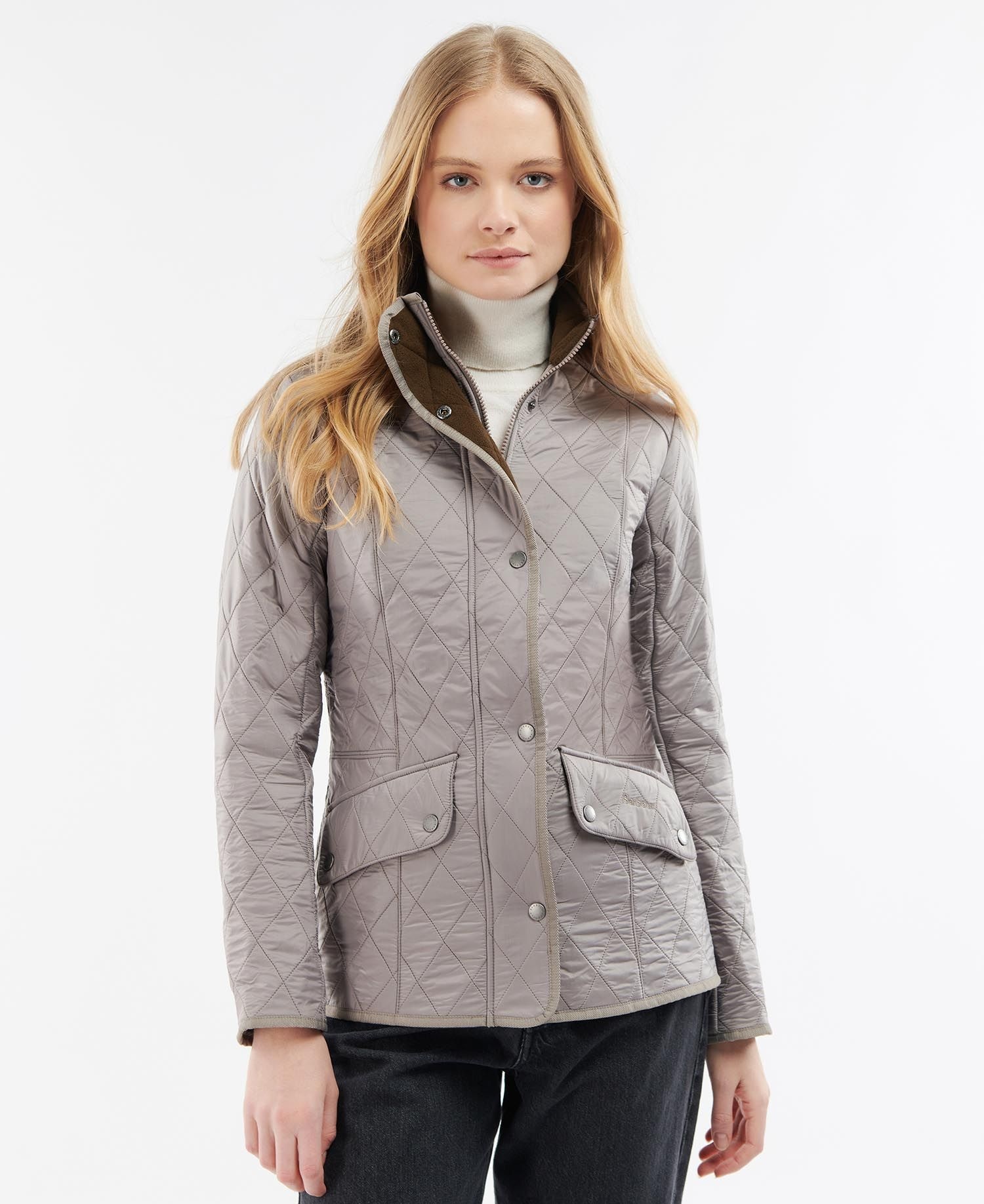 Add an elegant finishing touch to your outfit with the THML Velvet Tiered Cardigan! This gorgeous women's open-front cardigan has a velvety feel and sheen that elevates your attire and features a tiered, ruffled hem for a fun flair. This cardigan also has pockets for your convenience! A great addition to your ensemble to help give it a lift with sophisticated style. 
Shop other women's cardigans in our collection!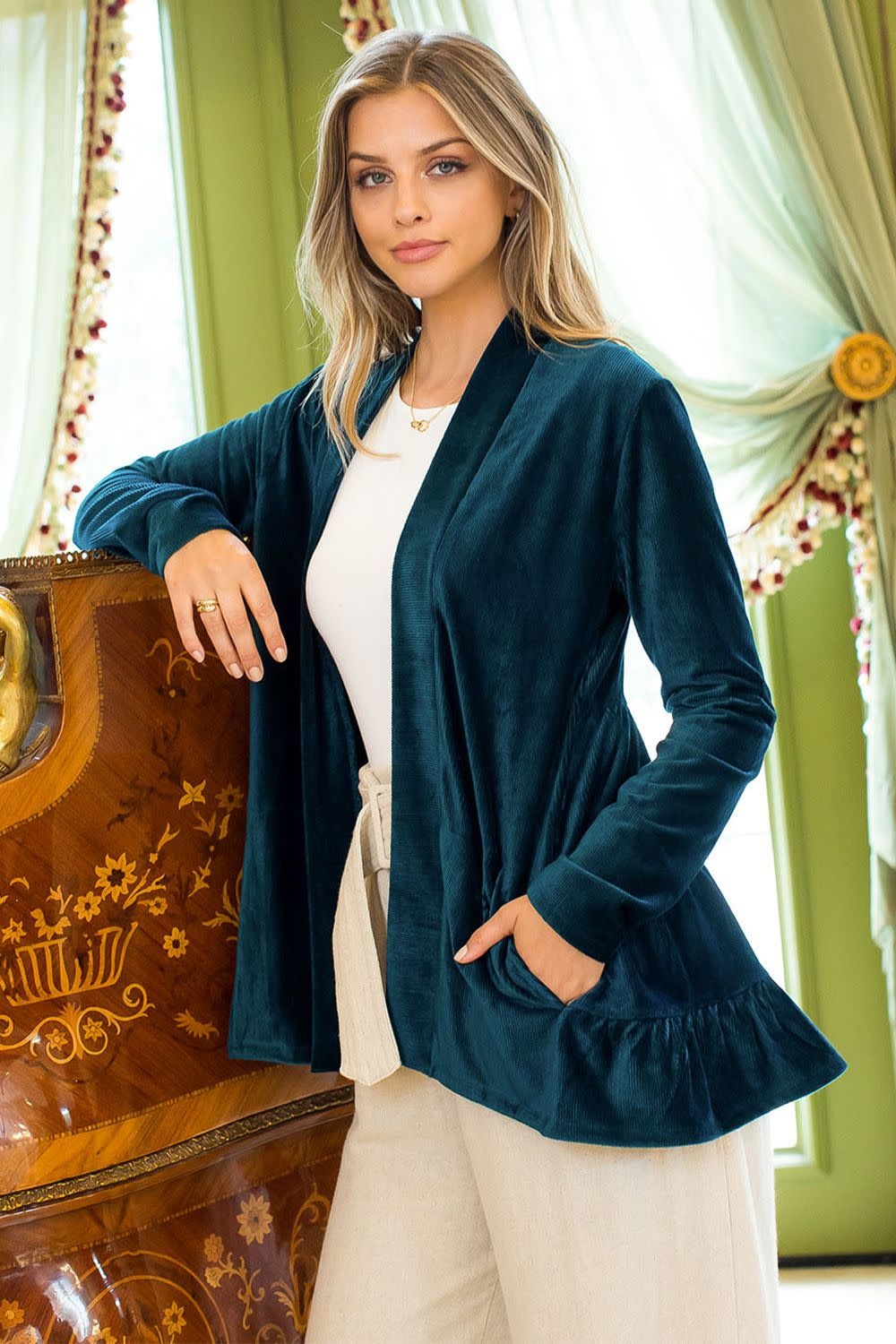 Dress up your look with the THML Colorblock Turtleneck Poncho! This pullover poncho boasts a turtleneck neckline and a colorful, chic colorblock design. No armholes for easy wear. Pair with your favorite top and jeans or pants! 
Shop for more women's boutique clothing in our collection!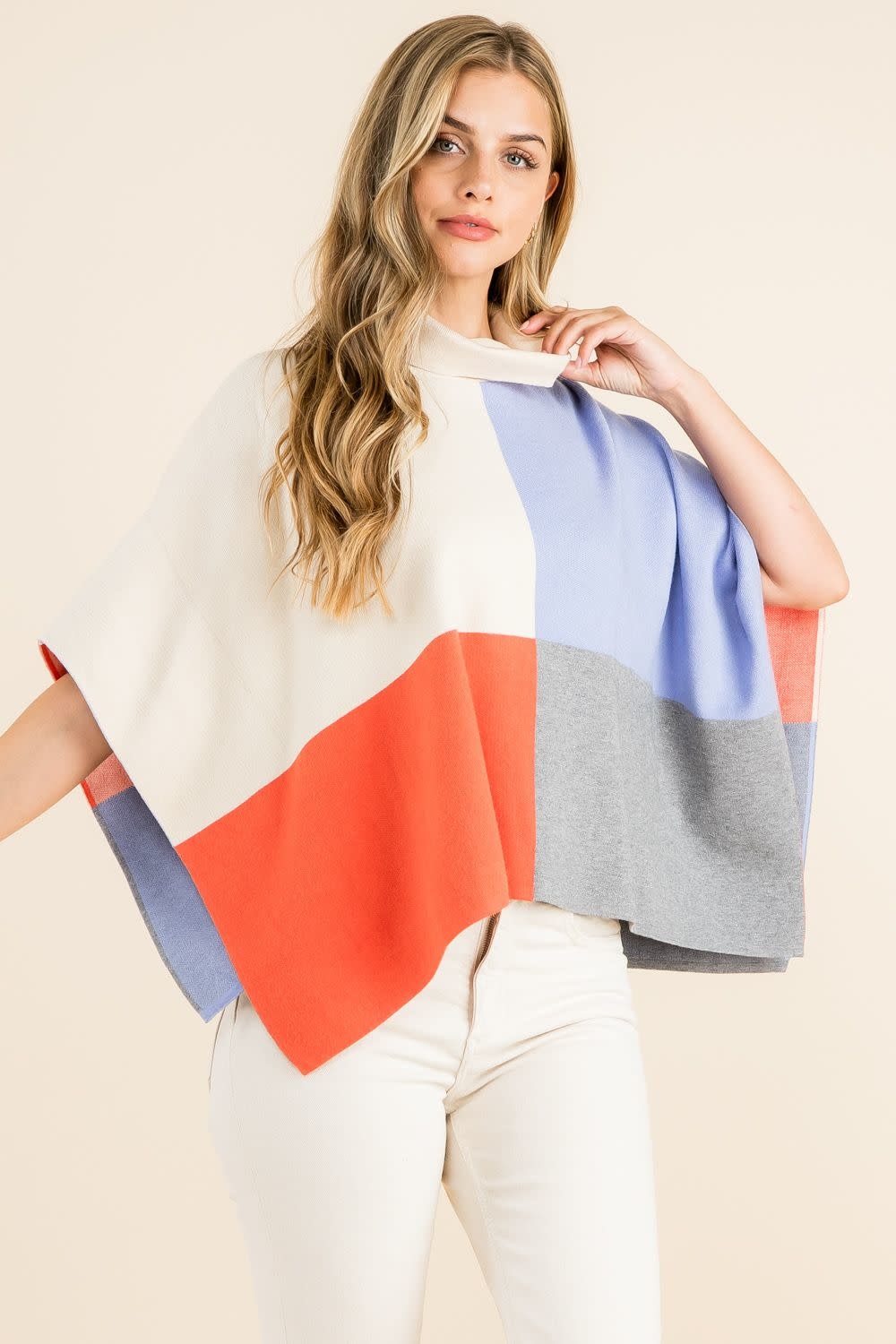 Raffinalla Crossover Solid Cape
Elevate your favorite dress or formal attire with the Raffinalla Crossover Solid Cape! Flowy and drapey, this women's designer cape covers your back and shoulders and secures in the front with a loop closure. A beautiful way to complete your attire!
Shop other women's scarves, wraps, and more in our collection!
BB Dakota Sweet Pea Sweater Cardigan
Sweaters and cardigans are great gifts to give during the holiday season, and one of our favorites is the BB Dakota Sweet Pea Sweater Cardigan! Wonderful to wear with your favorite blouses and light turtleneck tops, this oversized cardigan for women has 3 large buttons down the front with a deep V neckline collar and a cropped front with a longer back. Covered in lovely embroidered sweet pea flowers, this cardigan can be worn throughout the year and fit any clothing ensemble.
Shop other women's cardigans in our collection!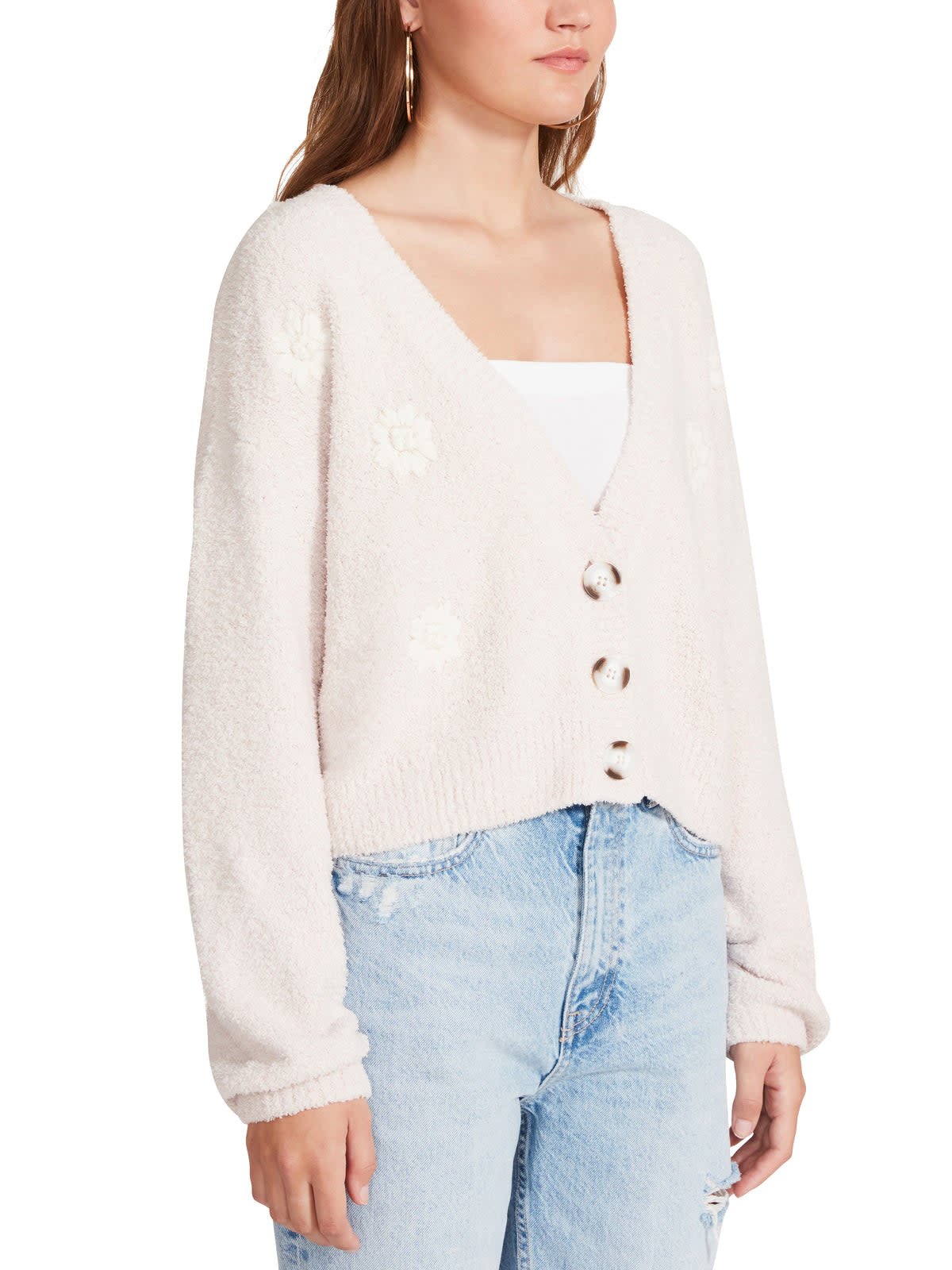 ee:some Colorblock Knit Duster Cardigan
As a stylish addition to your fall or winter capsule wardrobe, the ee:some Colorblock Knit Duster Cardigan is versatile and cozy and gives you a layer of warmth and chic style that you can mix-and-match with your outfit. This cardigan has a longer length and an open front with no buttons for a more relaxed look. The colorblock pattern and  add a modern, yet classic, touch to this women's duster cardigan.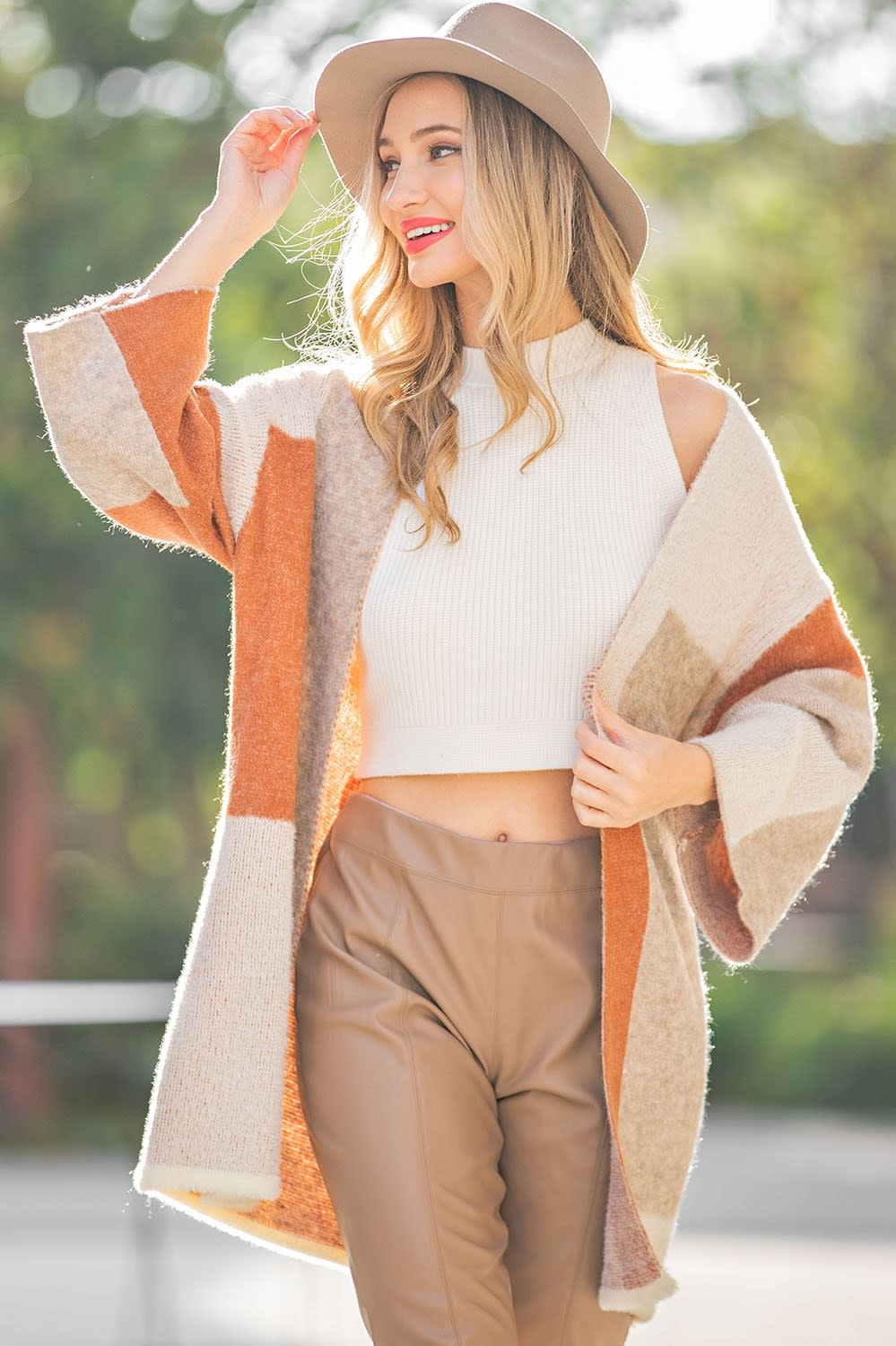 With a classic preppy style to channel your inner Clueless character, the THML Plaid Button-Up Jacket has a certain charm to it that can complete any outfit with a flair of chic style. This jacket has a dress-shirt like design with a fold-down collar, two large front flap pockets, and a button-up look - perfect to wear with turtlenecks, mock neck tops, and V-neck blouses!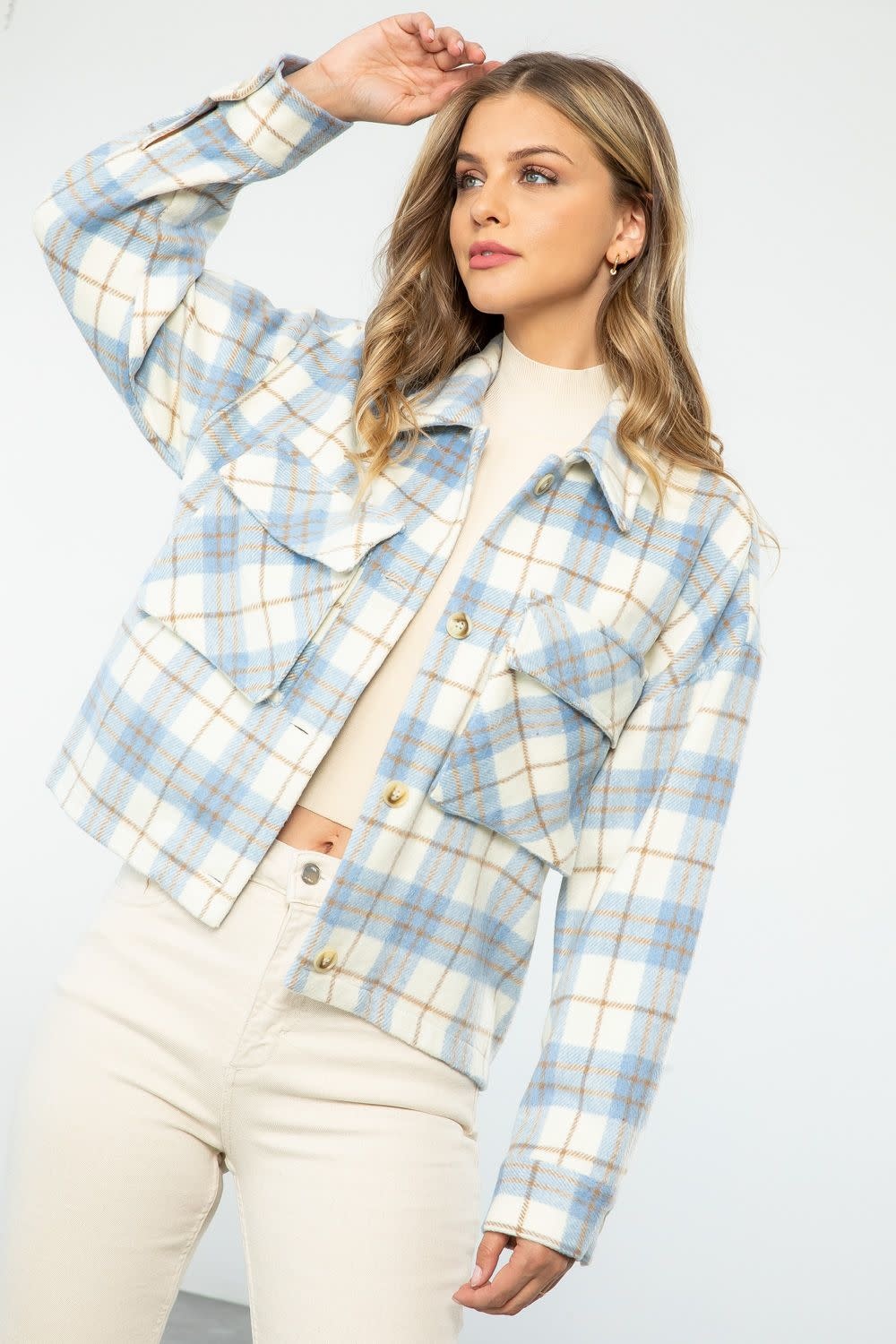 Multiples Shawl Collar Print Jacket 
If you're looking for a way to level up your jeans-and-tee outfit, the Multiples Shawl Collar Print Jacket is a must-have wardrobe essential! This women's open-front jacket has a long length for extra coverage and features a shawl collar for an elegant design. Great to wear when you want to instantly take an outfit to the next level!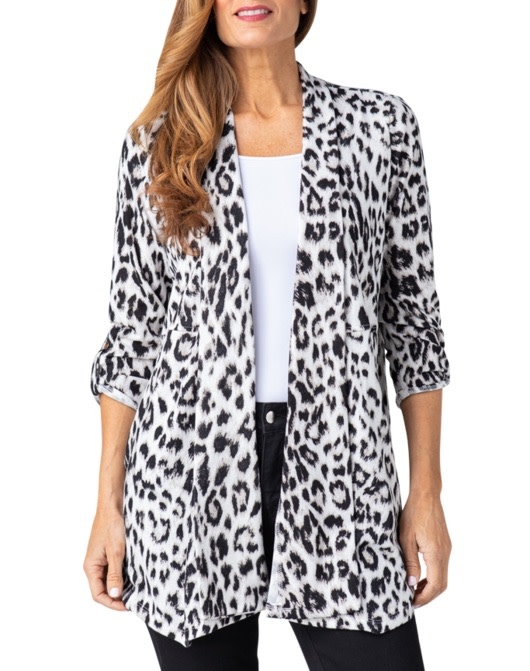 Look effortlessly chic and stylish anywhere you go with the Kerisma Zayda Top! With a relaxed, oversized style, this women's long-sleeve top features dolman-like sleeves with slim-fitting, ribbed cuffs and a fringed hem for added design. The cowl neck brings a sophisticated appeal to the top that's timeless. 
Shop more women's blouses and tops in our collection!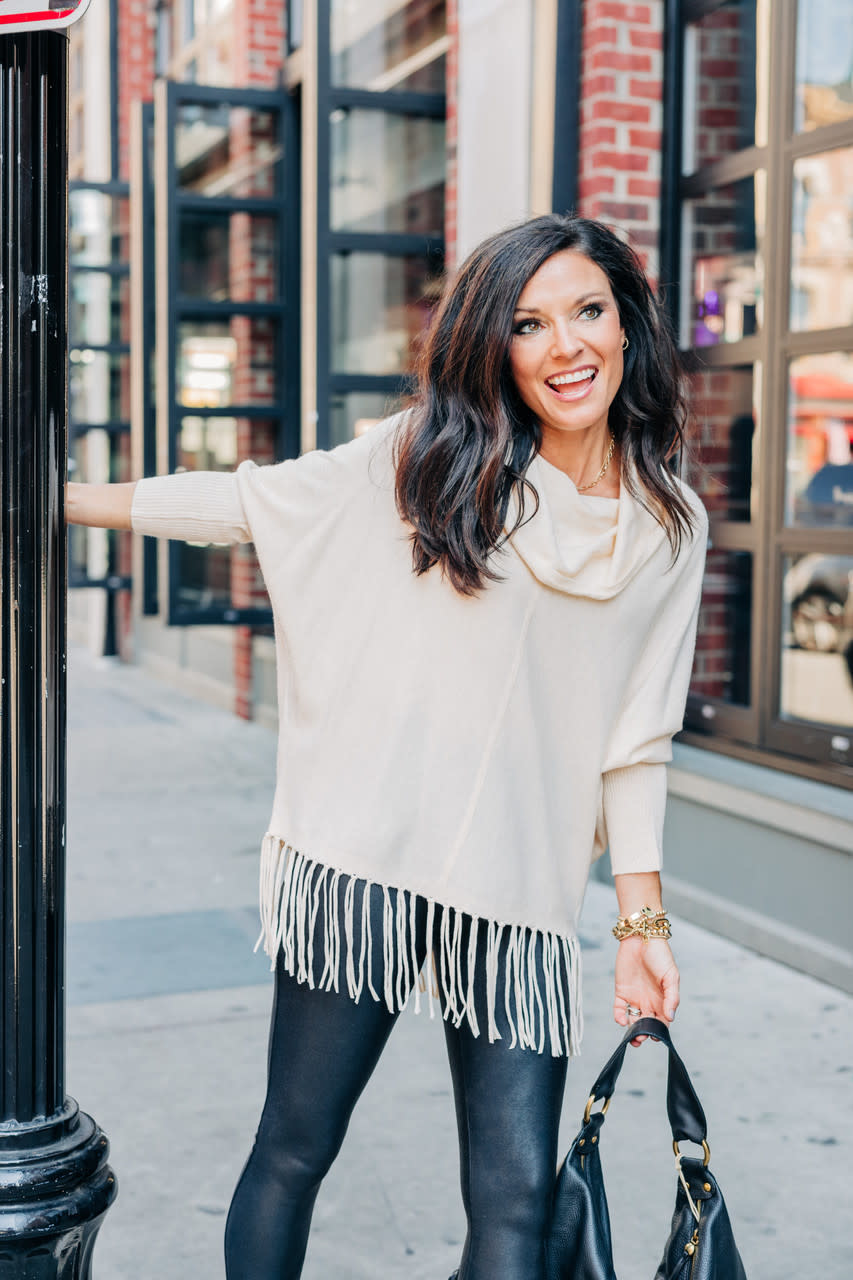 Layer on the chic and bold style with the Liverpool Clean Moto Jacket! This women's cotton-blend jacket has a structured shape with an extra stretchy for comfortable all-day wear. When zipped-up, the jacket features an asymmetric design for a unique touch.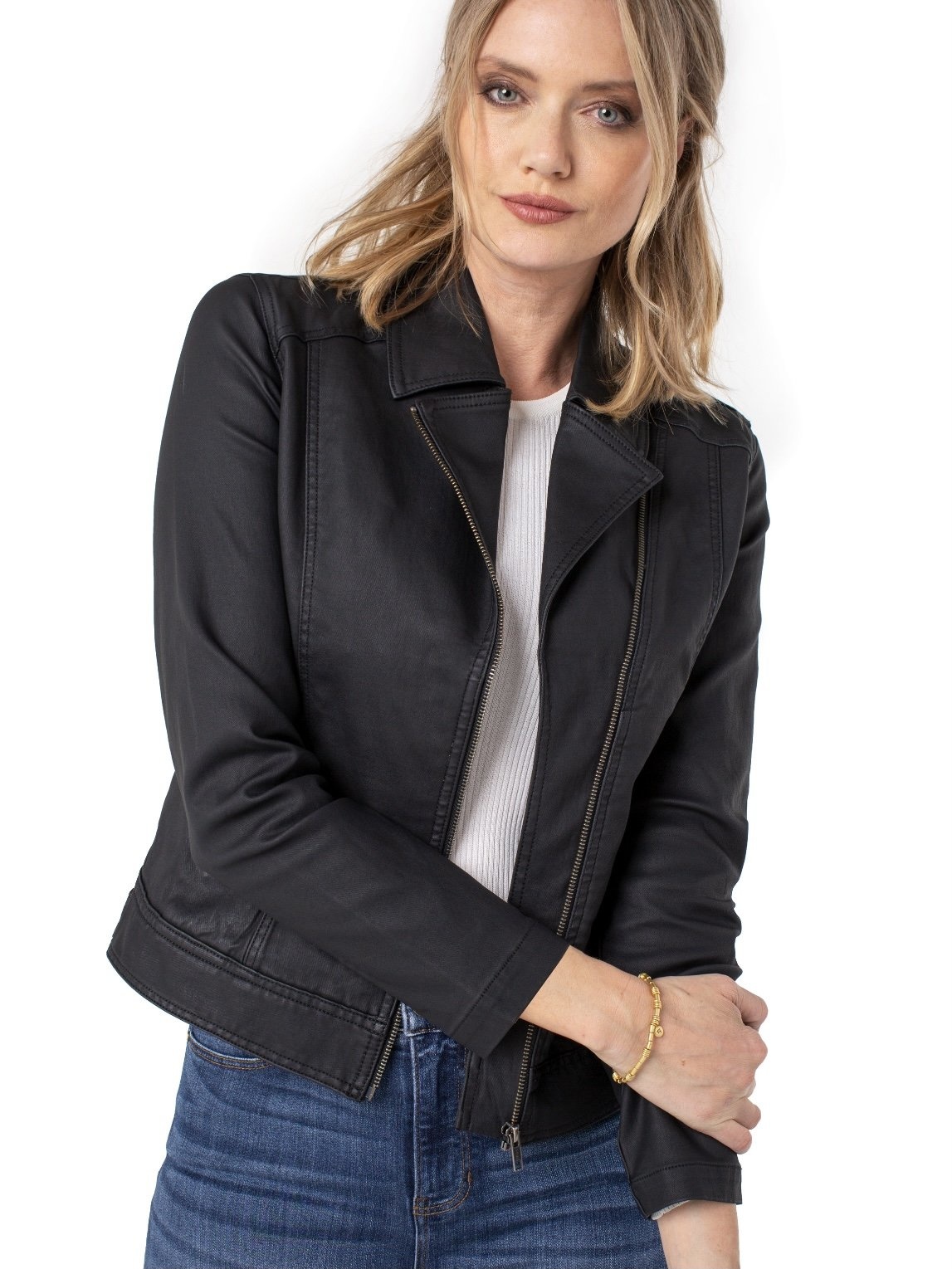 Make your outfit come to life with the colorful and vibrant Kerisma Laurel Boho Tunic! This women's oversized tunic top features a laurel relief pattern all over and a super soft, plush texture that's cozy and warm. With a mock neck and boho-style, this women's tunic brings a fun flair to your attire - especially when you're feeling more daring with your look! This tunic is also available in a softer color: Blue Frost.
Shop other women's tunics and tops in our collection!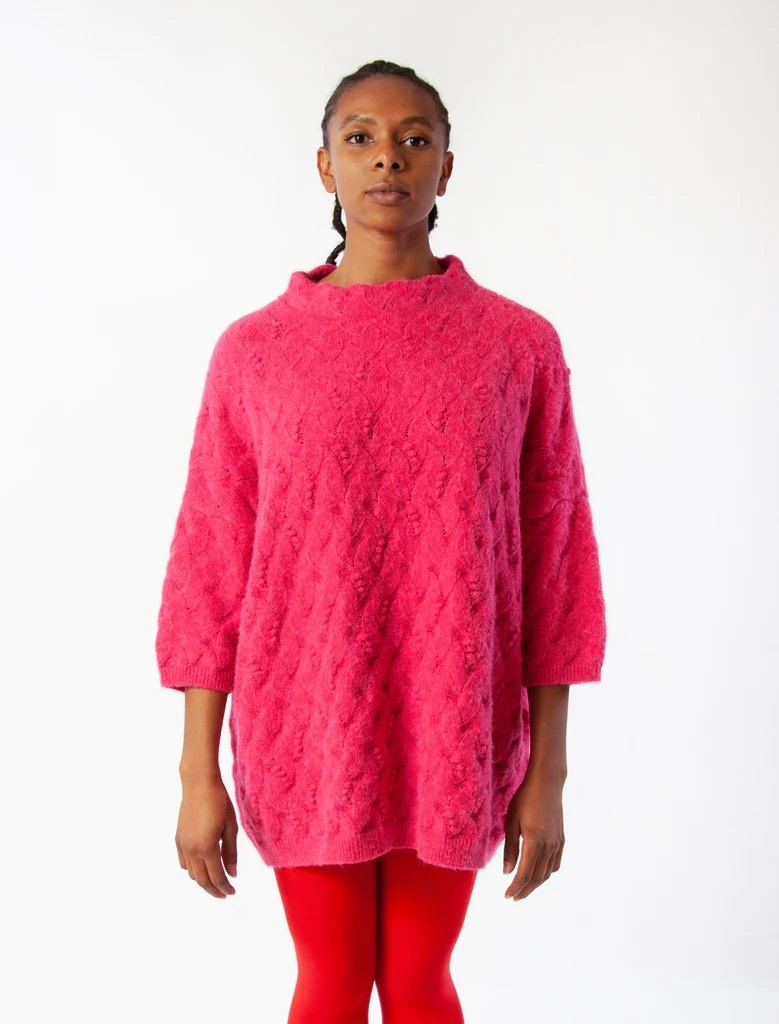 Luxurious and stylish, the Karlie Fur Jacket is a chic layer to add to your outfit - formal or casual! This women's faux fur jacket comes in a gorgeous forest green color that's perfect for the winter or holiday season. It also makes a great addition to your winter getaway wardrobe!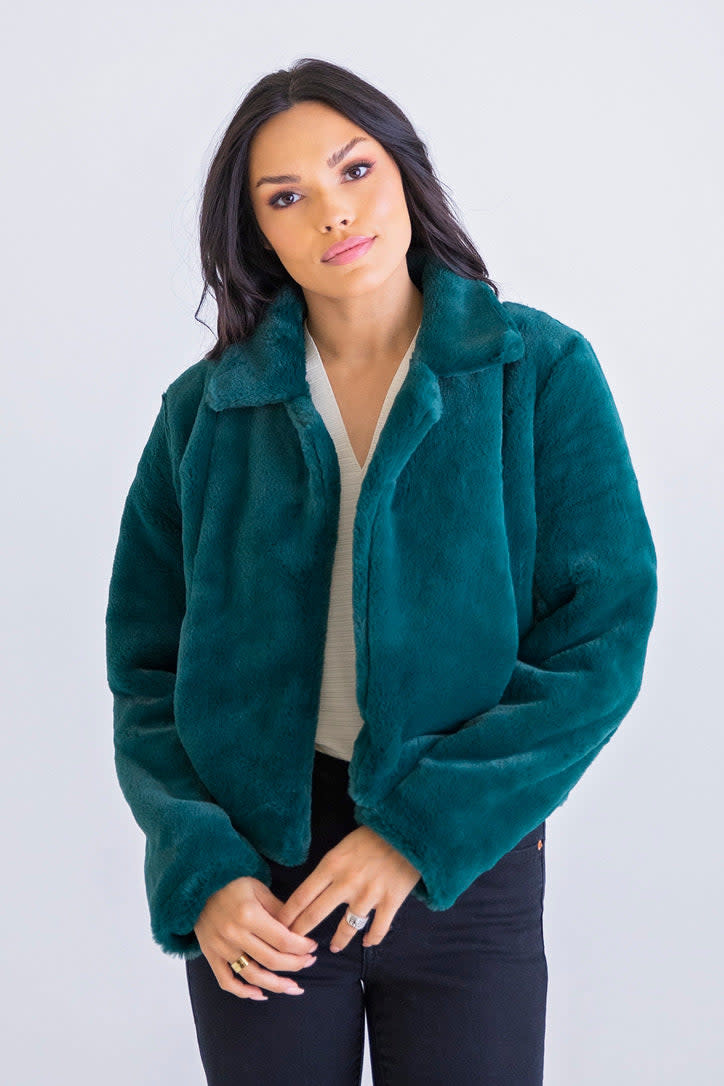 If you prefer to wear light and comfortable outerwear, the Kuhl Spyfire Hooded Vest is a plush quilted vest for women with a 3-layer construction and is windproof and water-resistant for high performance standards. This vest also comes with a hood for extra coverage and makes a convenient and easy-to-wear companion on hikes, walks, and other outdoor treks. Pair with your favorite sweaters, jackets, and more - great to layer with any other outerwear! 
Be sure to check out our women's leggings collection where we feature Spanx leggings and other high-end legging and jegging styles & brands that make wonderful gifts for the special women in your life! 
Cozy and Comfy Holiday/Winter Pajamas and Loungewear for Women
Who doesn't like an extra pair of comfy pajamas or loungewear in their drawers? Grab one of our featured winter pajamas or loungewear for women and make them this year's favorite holiday gifts! 
Simple, timeless, and cozy, the Lilla P ¾ Sleeve/Pant Set comes with a ¾ sleeve sleep shirt with a delicate lettuce hem that pairs with the included tapered jogger drawstring pajama pants for a seamless pajama set. Made with a soft and luxurious pima cotton blend with an added stretch, these women's winter pajamas are super comfortable to lounge or sleep in.
Get the same pajama set, but for warmer weather: Lilla P Tank/Short Set!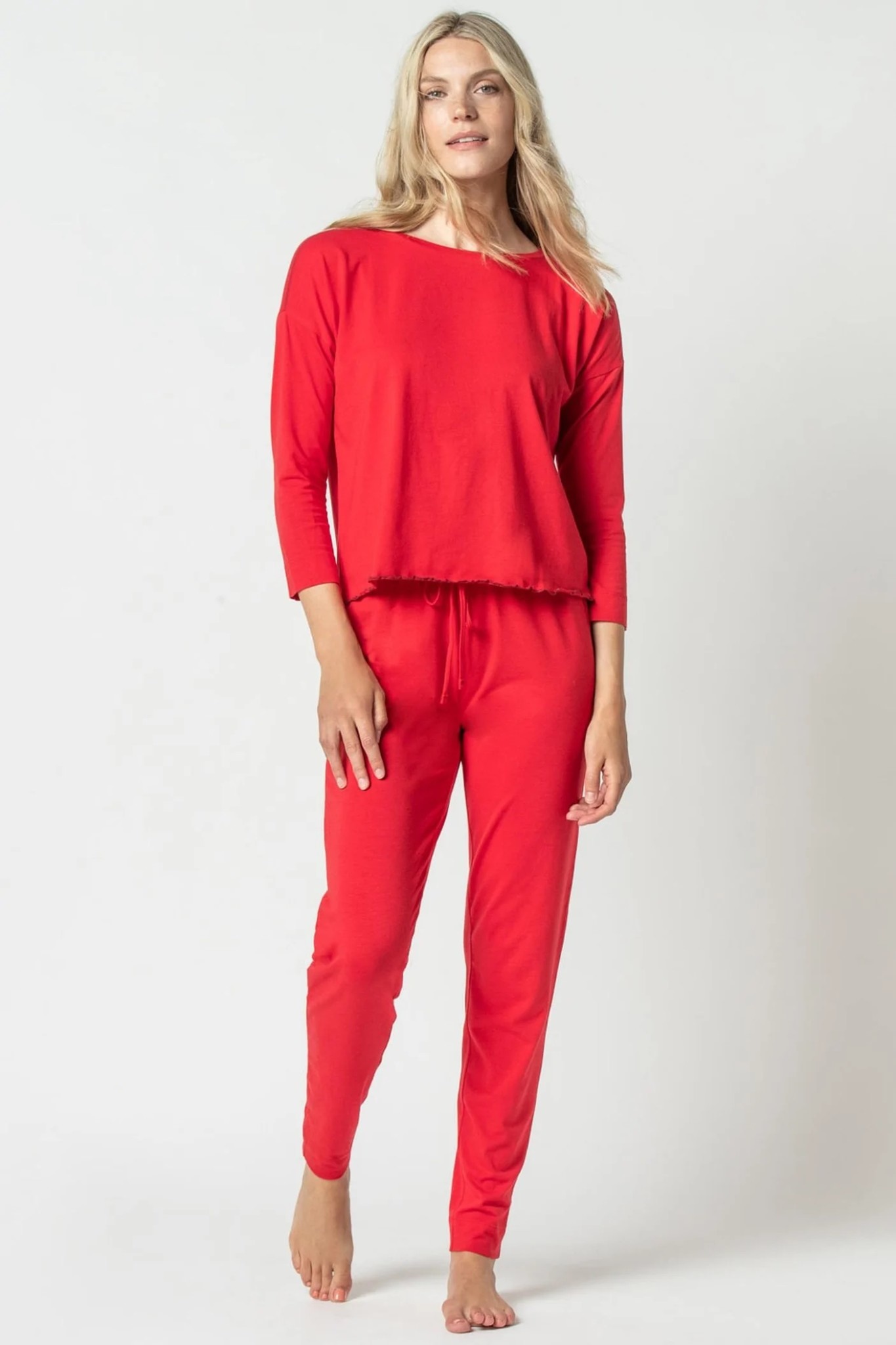 PJ Salvage Velour Vanity Jogger & Long Sleeve Top Set
A little retro, a little modern - the PJ Salvage Velour Vanity Pajama/Loungewear Set features the Velour Vanity Jogger and Velour Vanity Long Sleeve Top (sold separately), and both have a silky soft material and relaxed fit that's sure to bring you comfort when you're lounging at home or sleeping. You can also wear these pieces separately and mix-and-match as you please with other pieces! The long sleeve top has slim-fitting cuffs to create a balloon-like sleeve while the jogger has an adjustable waist drawstring and pockets.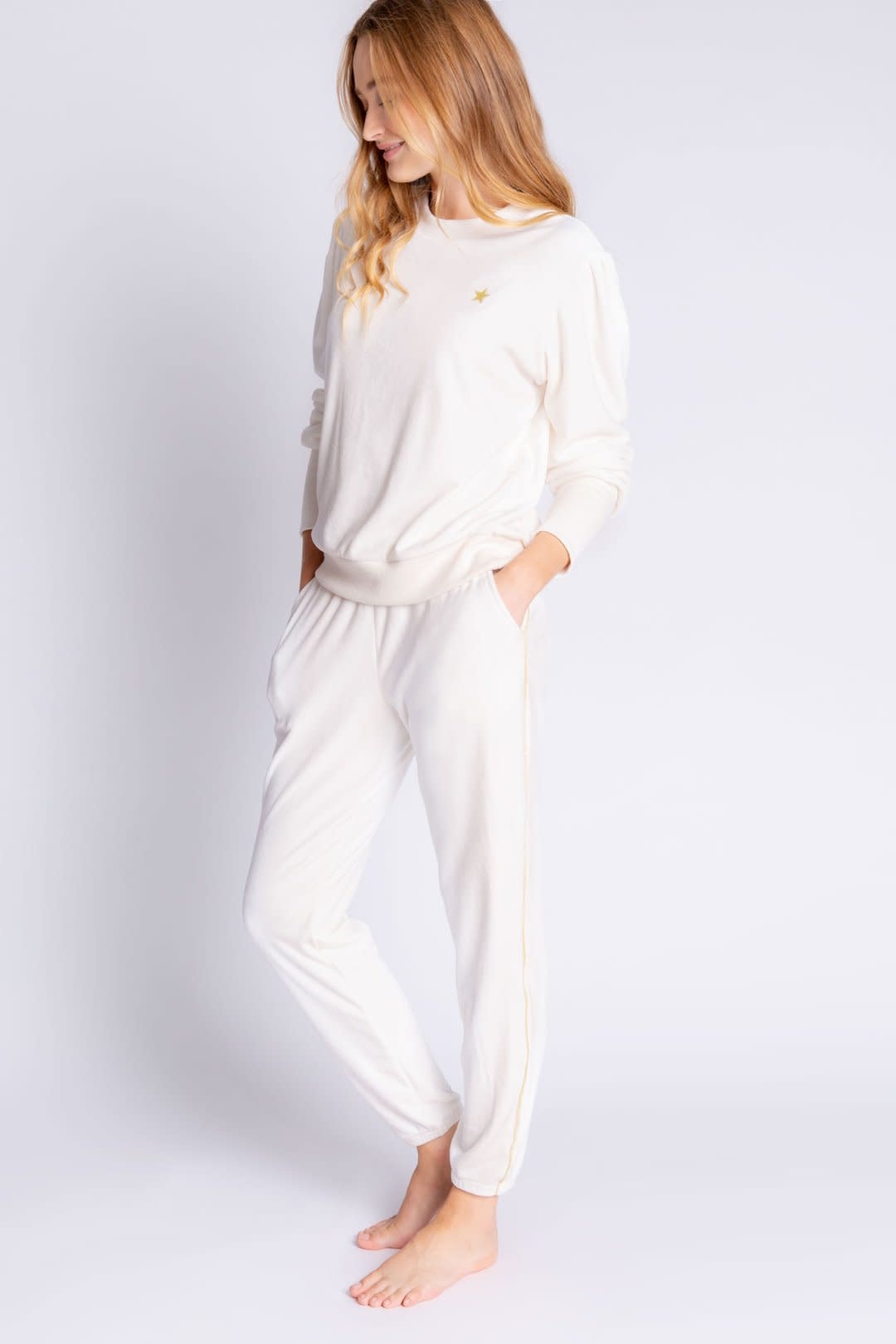 Make your sleepwear chic and comfortable with the PJ Salvage Croc Hideaway Pajama Set! Covered in a crocodile print, this classic piped women's pajama set features a stylish design and comes with drawstring pajama pants and a button-down long-sleeve sleepshirt. 
Check out the PJ Salvage Croc Hideaway Nightshirt and the Croc Hideaway Sleep Shorts!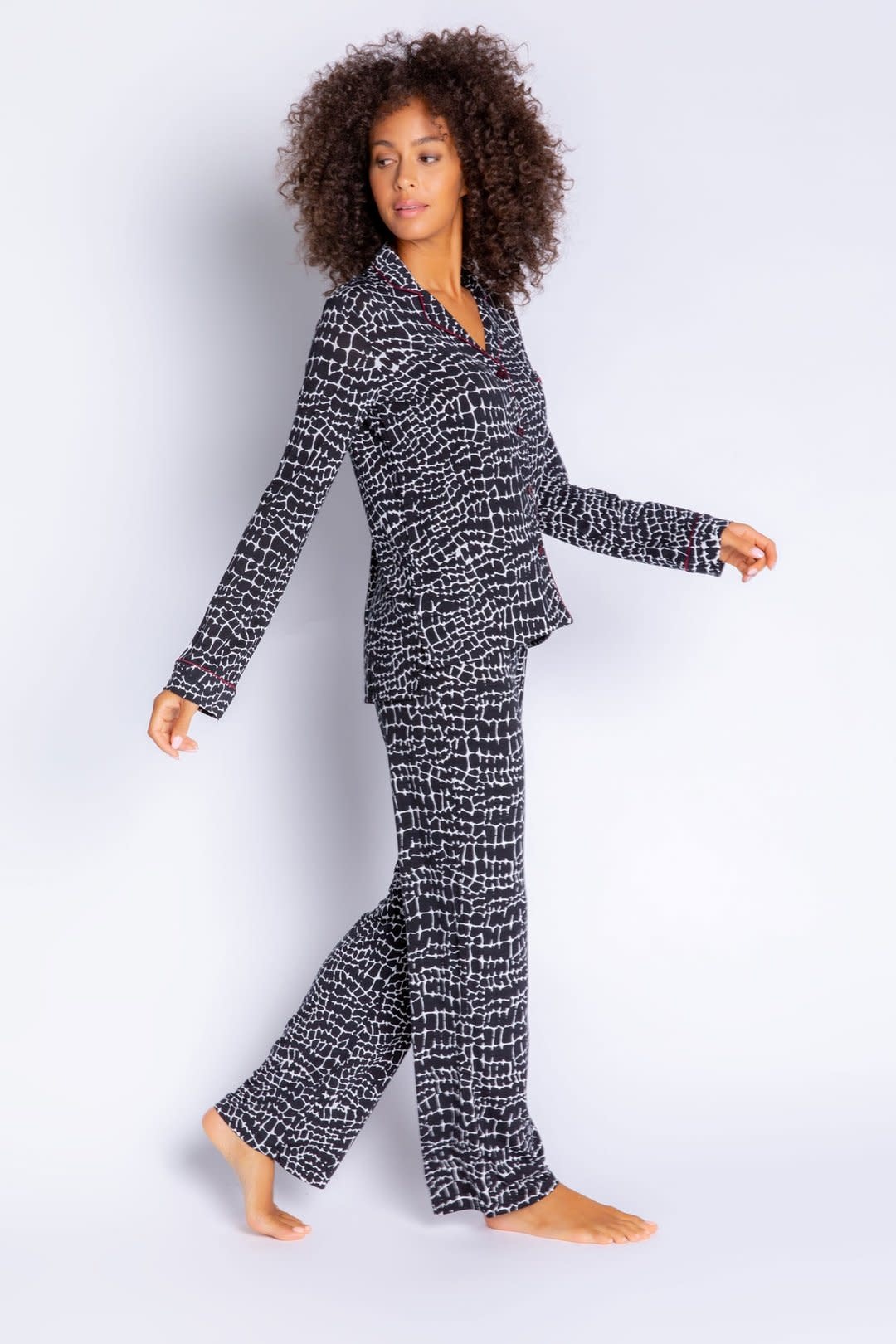 Barefoot Dreams Luxe Lounge Shoreline Pants
From the Barefoot Dreams line, the Luxe Lounge Shoreline Pants are jogger-style lounge pants for women with a unique beachy shoreline design on the legs and features an adjustable waist drawstring and side pockets.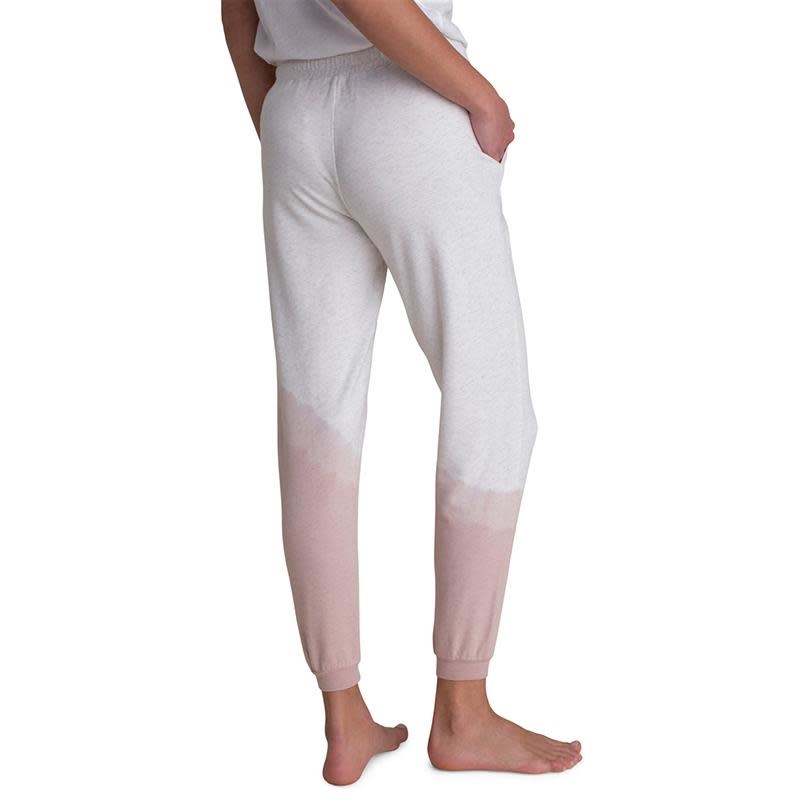 Wrap yourself up in the Barefoot DreamsCozyChic Lite Ribbed Robe! This women's chic and luxuriously soft ribbed robe drapes in a chic and feminine style with a shawl collar. The robe comes with a tie and front pockets. A great holiday gift for cozy wear!
Barefoot Dreams CozyChic Ultra Lite 3-Piece Luxury Spa Set 
Give the gift of self-care with the Barefoot Dreams CozyChic Ultra Lite 3-Piece Luxury Spa Set! This set includes a luxurious, silky soft robe with a tie and front pockets, cotton terry slippers with an adjustable strap, and a sleep mask. Pair with other self-care goodies, such as bath bombs, body butters, bubble baths, and more!
Frosted Fairisle Stripe Top and Fairisle Stripe Jam Pant
Fairisle is a staple in holiday style, and the PJ Salvage Frosted Fairisle Stripe Top and Jam Pant make a fun and festive matching pajama/lounge set for women. In classic holiday colors, these fairisle pajamas are versatile and can be mix-matched with other pajama/lounge pieces. The pajama pants are in a jogger style with an adjustable drawstring at the waist while the long-sleeve sleepshirt has a crewneck, a rounded hem and heart embroidery on the sleeve cuff. 
Add the PJ Salvage Frosted Fairisle Shorts and the Textured Essentials Top to your collection!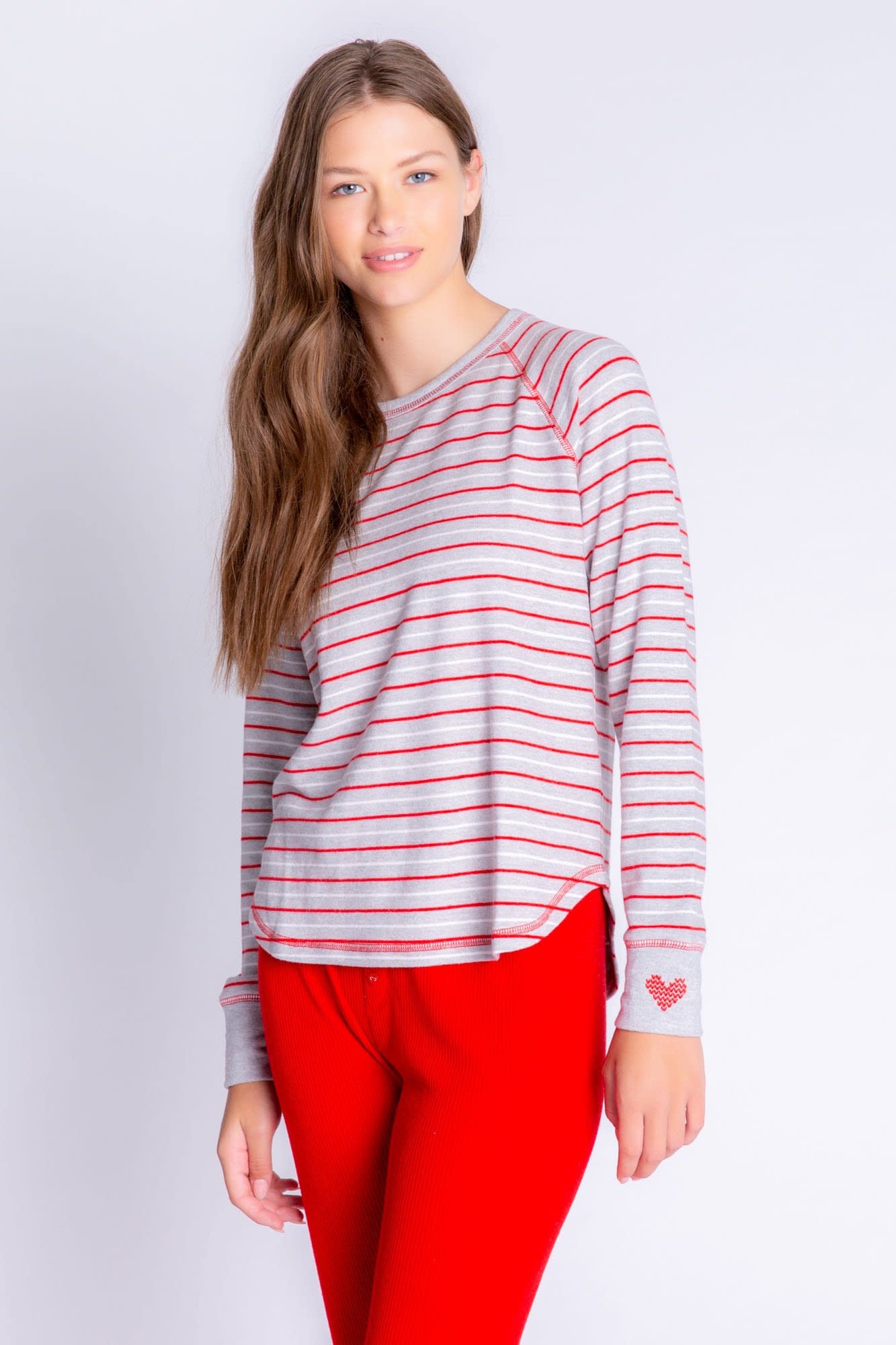 Alternatively, you can also get the PJ Salvage Spot the Dot Nightshirt.
Another comfortable and stylish piped women's pajamas! The PJ Salvage Spot the Dot PJ Set has a classic button-down sleepshirt design with a straight-leg pajama pant - ideal to wear for the colder months!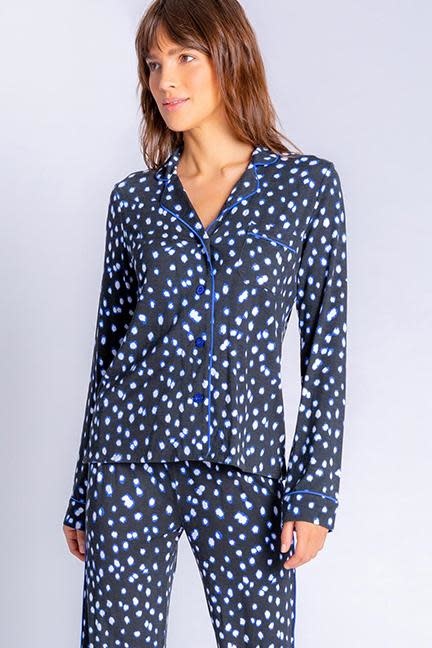 A Hint of Luxurious, Elegant Glamour in Your Holiday Gifts: Boutique Jewelry for Women
Who can say no to jewelry for a gift?! Showcasing our best-selling boutique jewelry pieces and accessories for women, our gift guide offers jewelry ideas that you may want to add to your holiday gift list for the jewelry wearers and lovers in your life! From statement necklaces to classic, elegant pearl earrings, you'll find a wide range of jewelry styles in our women's jewelry collection. Check out some of our featured pieces below!
Shop our full women's boutique jewelry collection for more stunning jewelry pieces that you can turn into lovely and thoughtful holiday gifts! You can also view our past boutique jewelry guides on our blog here:  
Sheila Fajla Lunaria Hoop Earrings
Show off your chic and feminine style with the large and bold Sheila Fajla Lunaria Hoop Earrings! Handmade in Brazil, these golden hoops feature a thicker band for a more daring, radiant look that emphasizes your look. Hoop earrings make a magnificent holiday gift, too! 
Shop more women's boutique earrings and hoops in our collection!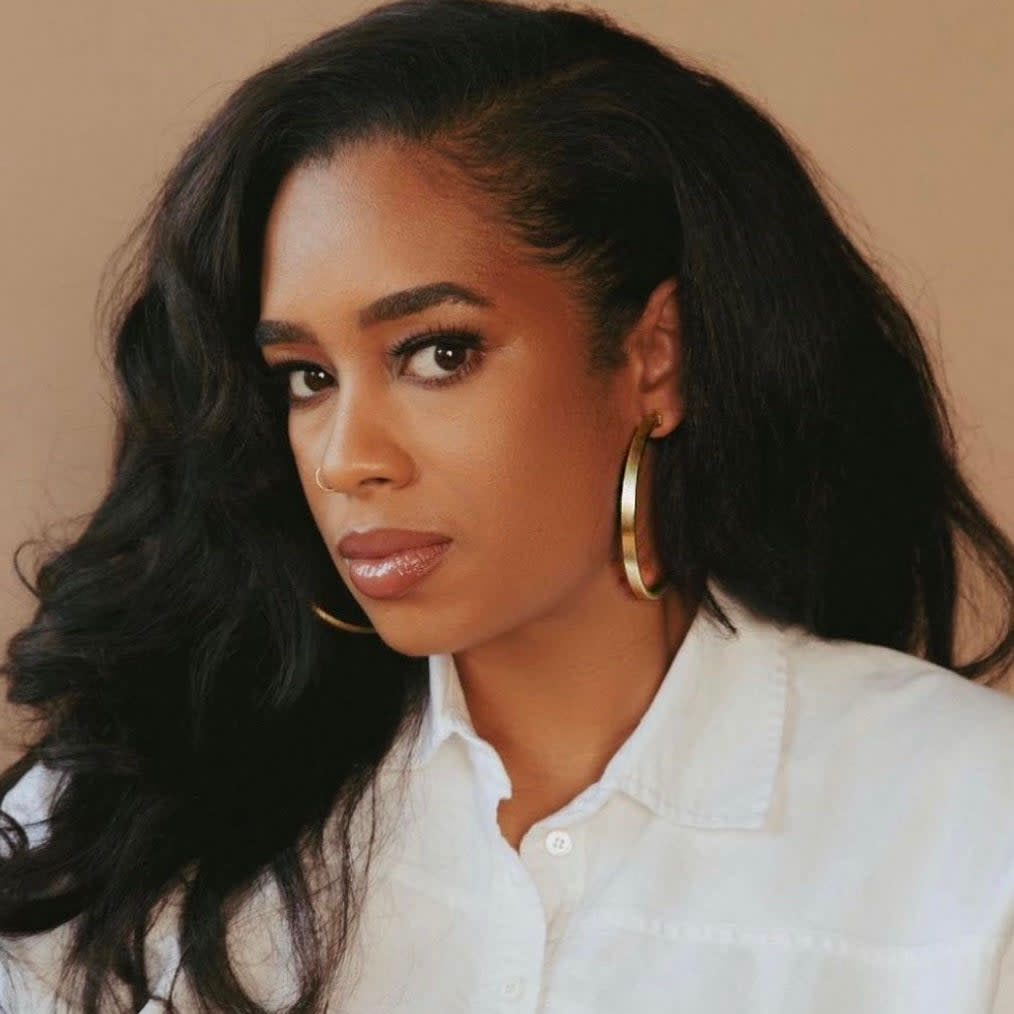 Julie Vos Valencia Delicate Station Necklace (Gold)
Dainty and graceful, the Julie Vos Valencia Delicate Station Necklace is designed with 9 small medallions with reversible sides: one side has a mother of pearl and the other side has a medallion design. You get 2 necklace designs in one with Valencia! A stunning holiday gift that makes a beautiful everyday jewelry piece.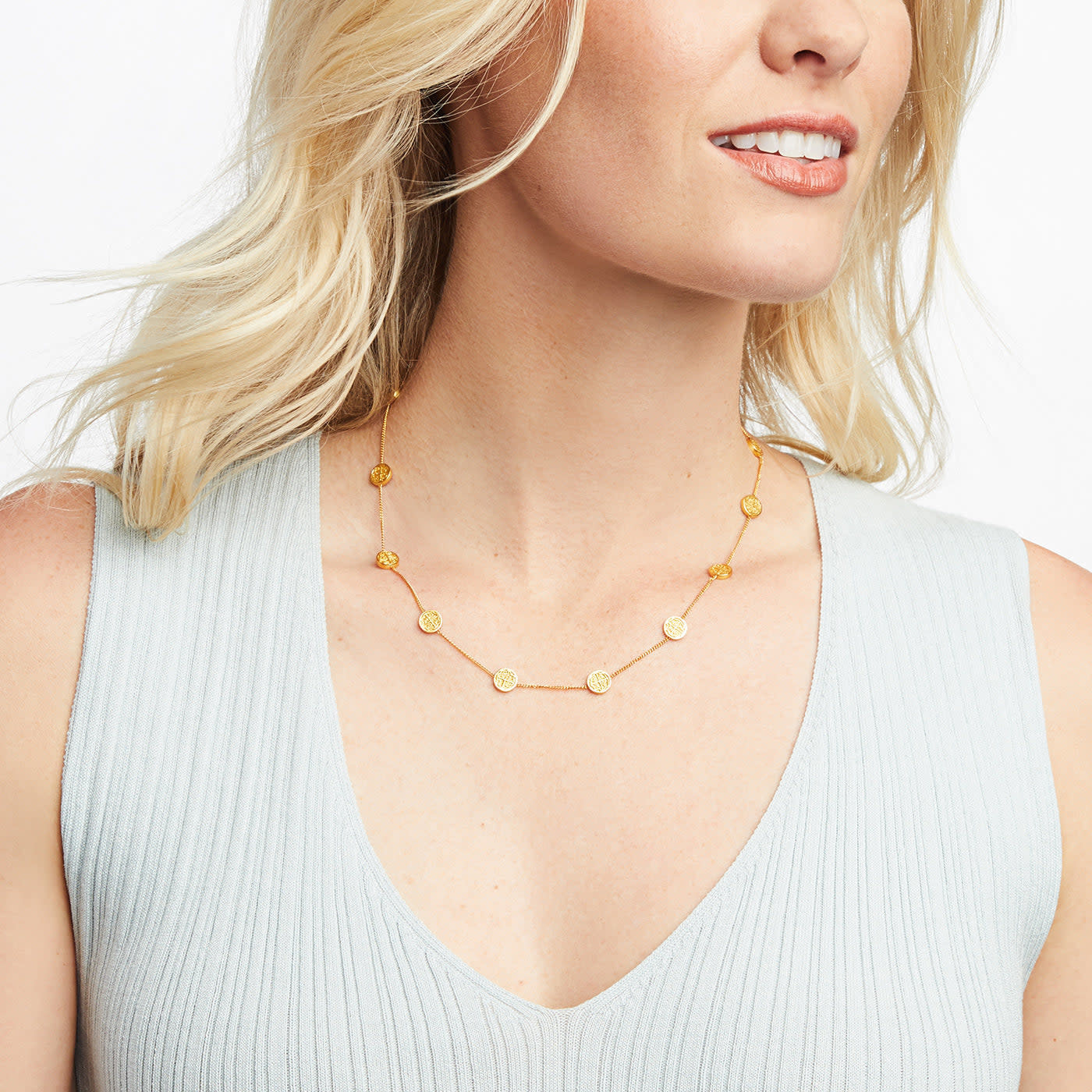 Inspired by the charming, luxurious beach town in Spain, the Julie Vos Marbella Gold Link Bracelet offers an eye-catching chunky chain look with a dangling shell pearl charm that completes the sophisticated look. Each chain link has a gold beading along the outer rim for added design and texture. 
Be sure to pair the Marbella Bracelet with Julie Vos Marbella Statement Necklace and Julie Vos Marbella Gold Hoop & Charm Earring for a full matching jewelry set!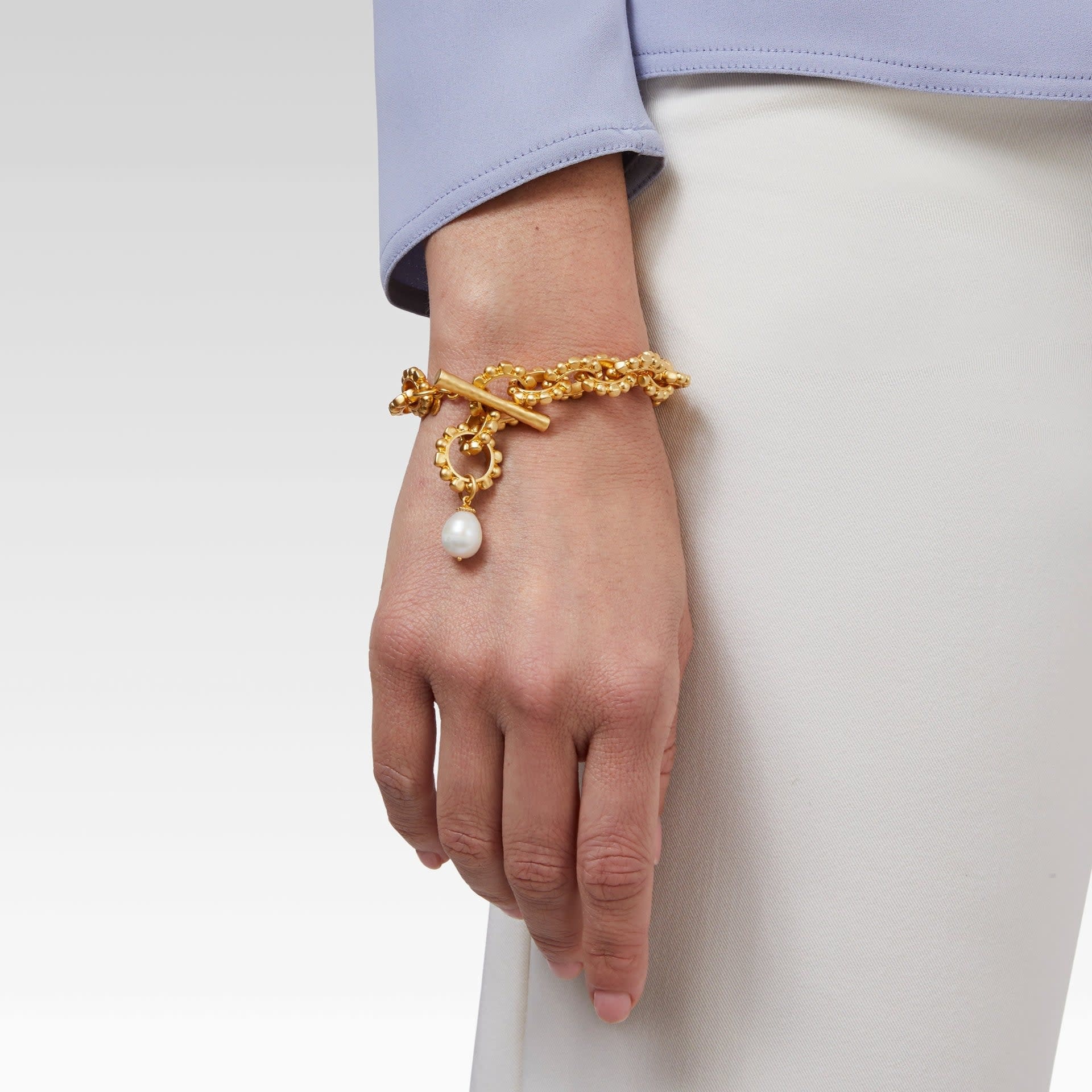 Complete your look effortlessly with a timeless pair of earrings like the Julie Vos Juliet Pearl Stud Earrings! With luminous shell pearl balls delicately wrapped in gemstone-encrusted gold petals, these pearl earrings are a gorgeous addition to your jewelry collection and can be worn for both formal or casual occasions.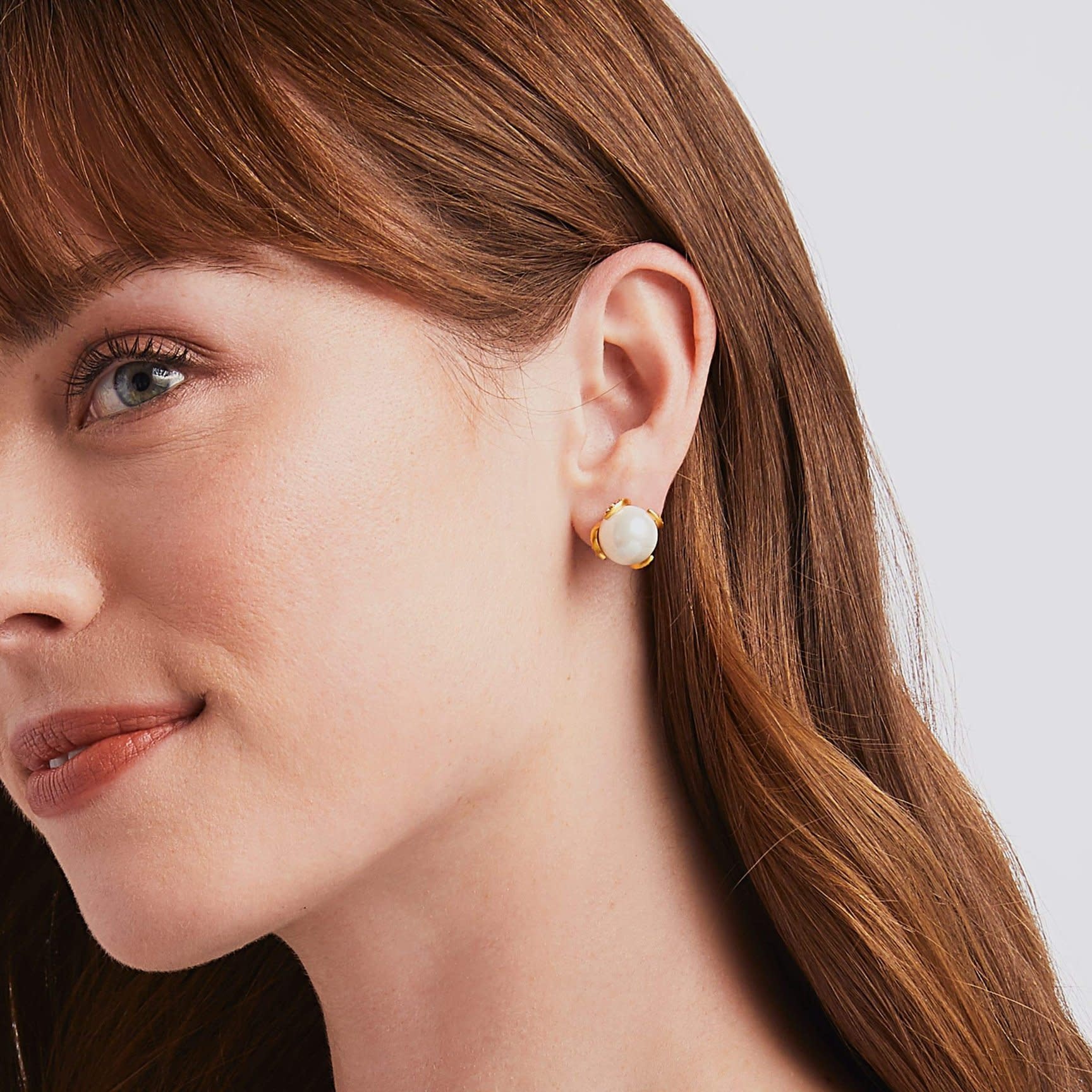 Named after the beautiful European country, the Julie Vos Monaco Gold Hinge Bangle is a gold bracelet band with sparkling gemstones embedded in almond-shaped stations and braid detailing on the sides. This women's boutique bangle bracelet opens and closes with a hinge and features an aerated honeycomb-like pattern on the interior side of the bracelet. 
Shop more women's bracelets and bangles in our collection!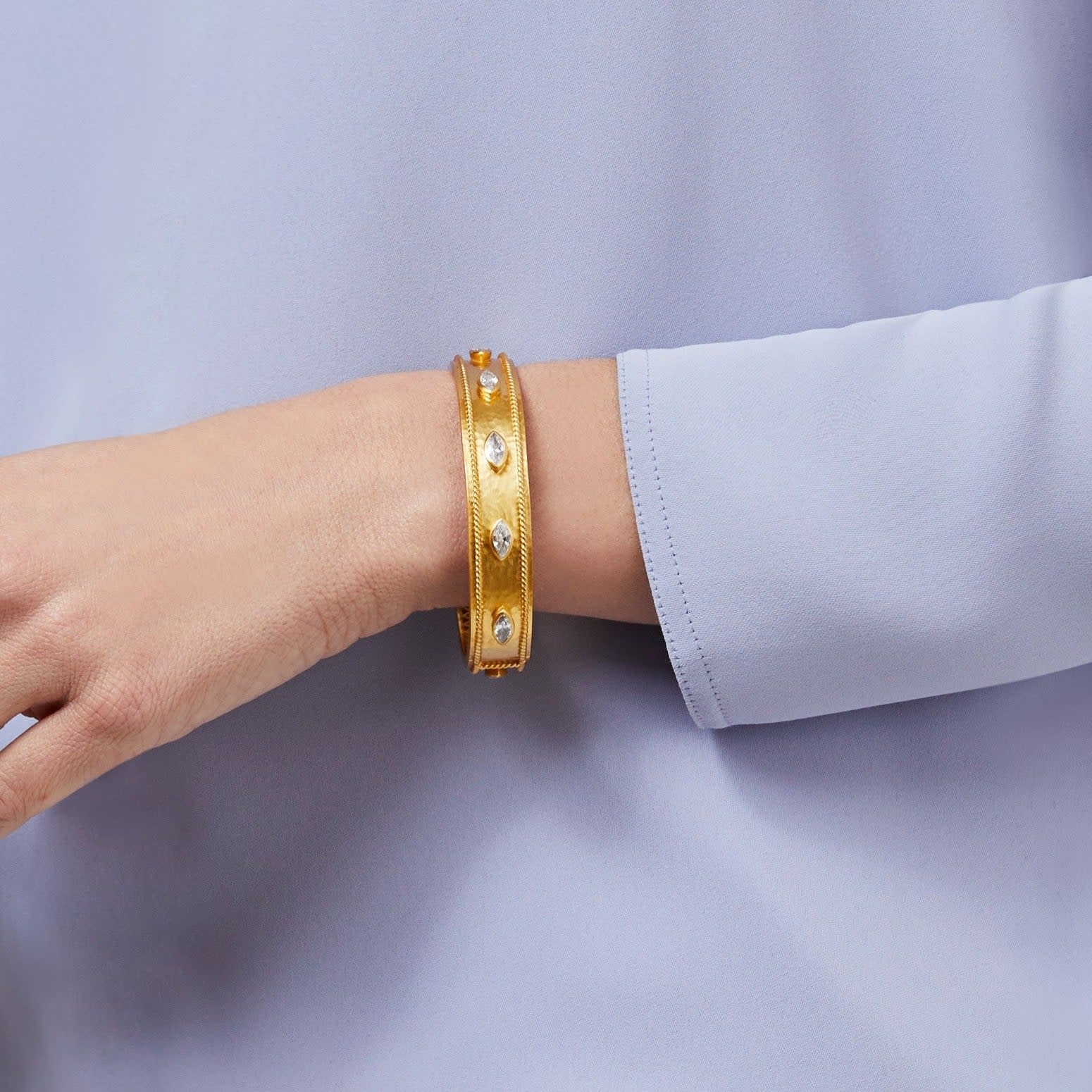 Fleur-de-Lis Solitaire Reversible Necklace
Designed with a reversible pendant featuring a multi-faceted, rose-cut gemstone on one side and a fleur-de-lis engraving on the other, the Julie Vos Fleur-de-Lis Solitaire Reversible Necklace gives you two necklace styles in one. A stunning piece that you can wear for both everyday purposes or for formal events!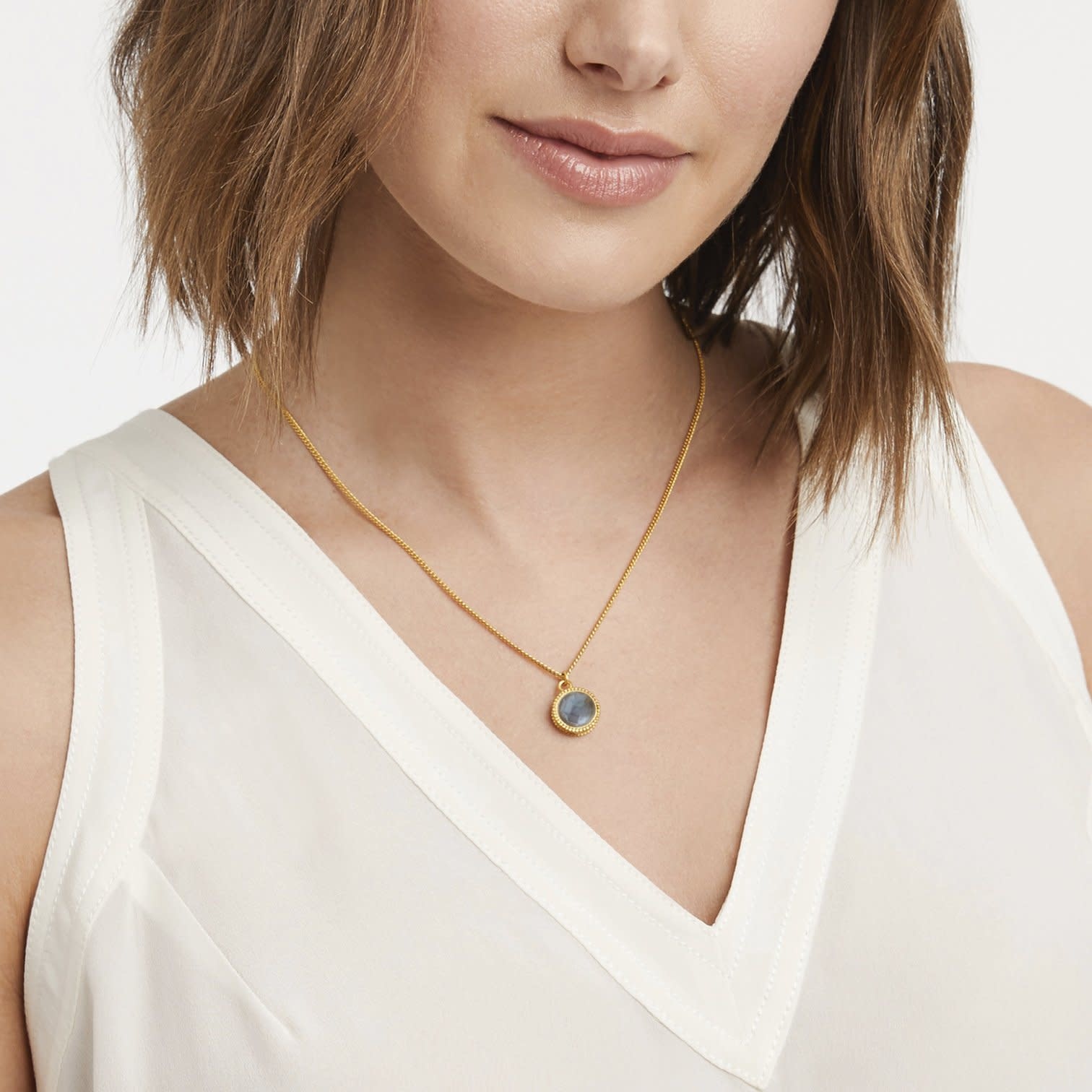 Dainty with a classic, modern style, the Julie Vos Small Hammered Hoops makes a lovely staple in your jewelry collection! These small hoop earrings have a trendy look with a hammered pattern and curve into a slimmer band toward the end, which has a miniature round ball for added design.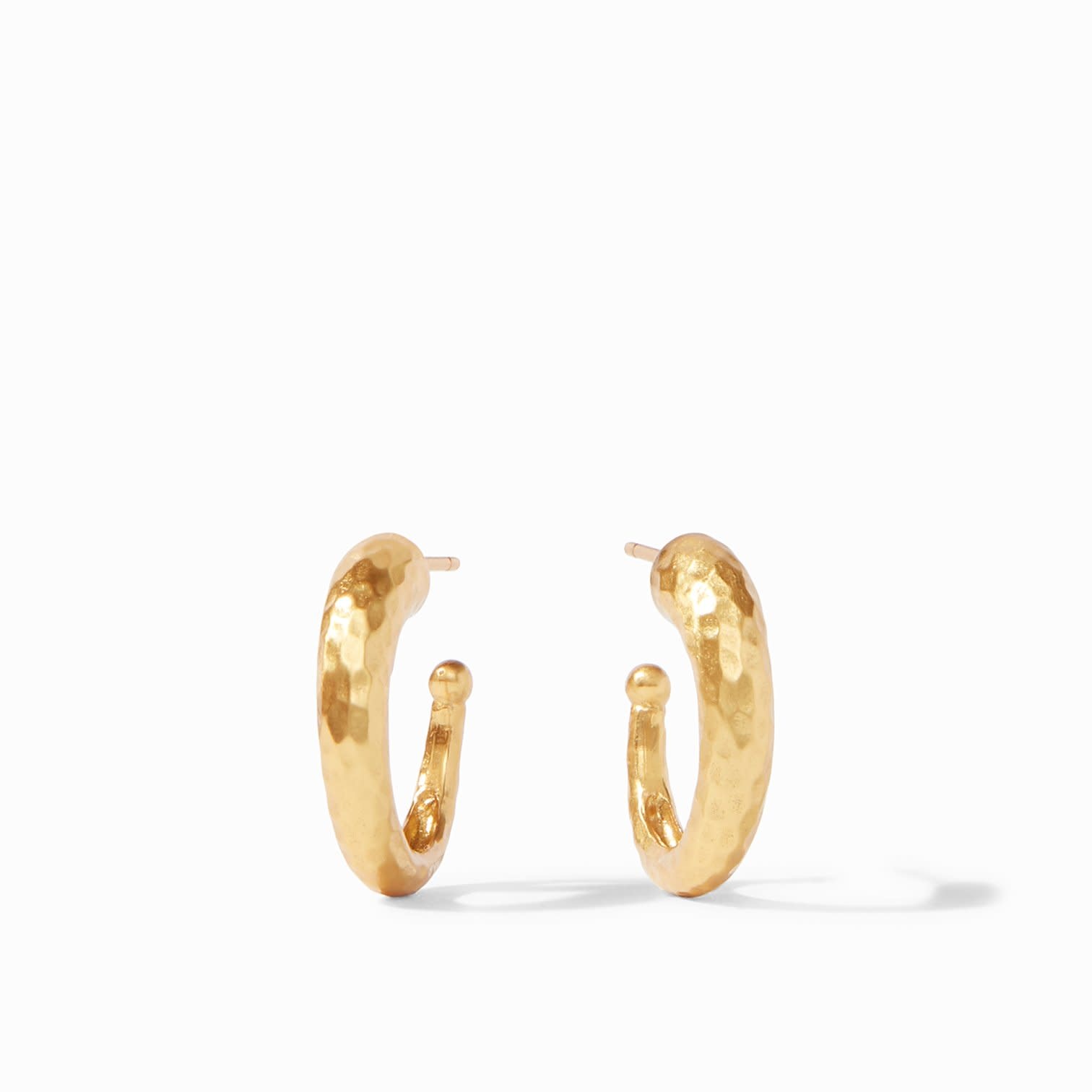 Charlotte Delicate Necklace (Gold)
With a feminine, quaint floral-like pendant, the Julie Vos Charlotte Delicate Necklace features  marquis-cut gemstones and freshwater pearls for captivating accents that are subtle and stunning. A must-have for a dainty chain necklace that can be a lovely and charming holiday gift for a loved one!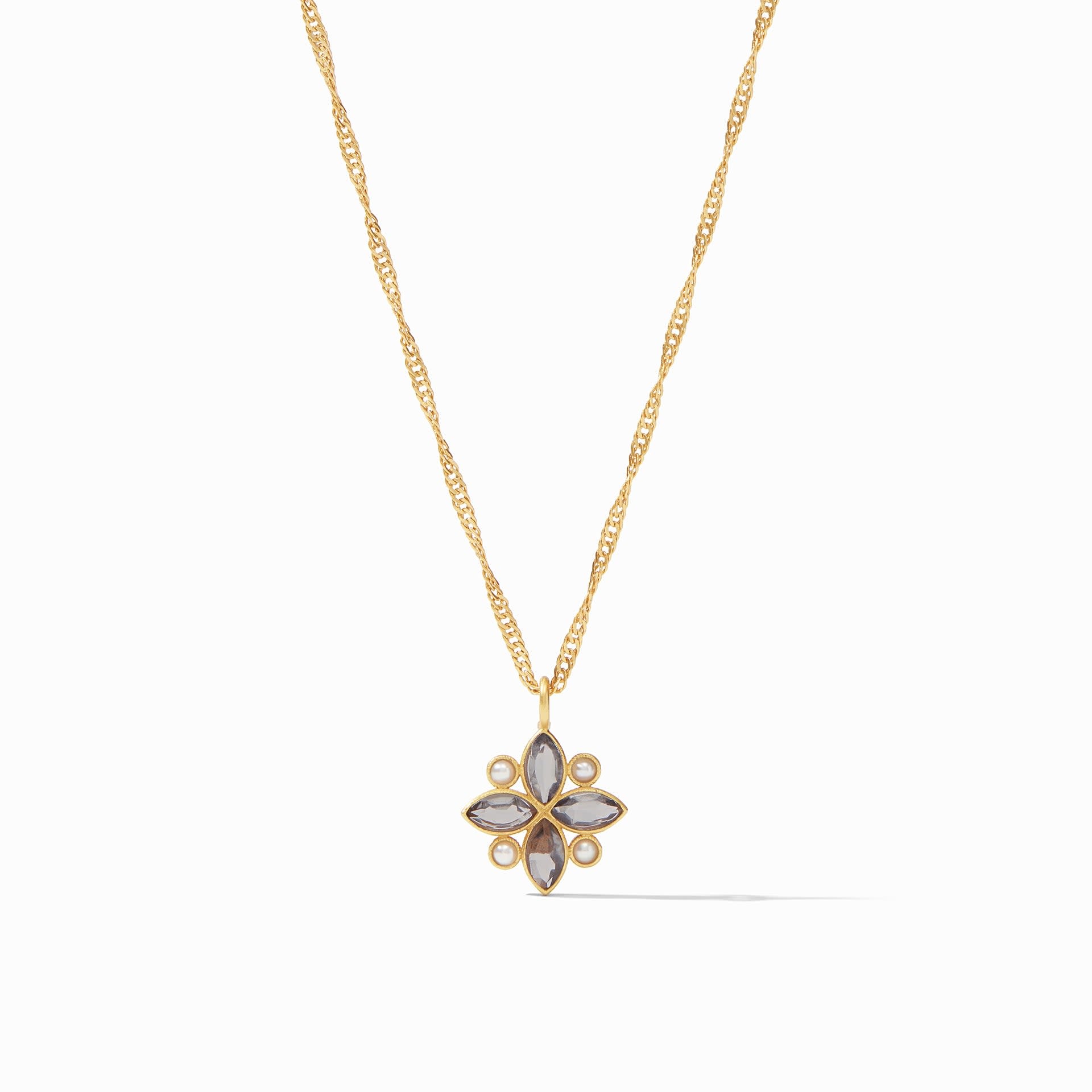 Stacked beautifully in a cascading form, the Julie Vos Windsor Trio Ring Set helps complete your look with these golden single ring bands decorated with glittering rectangular baguette gemstones stationed on each.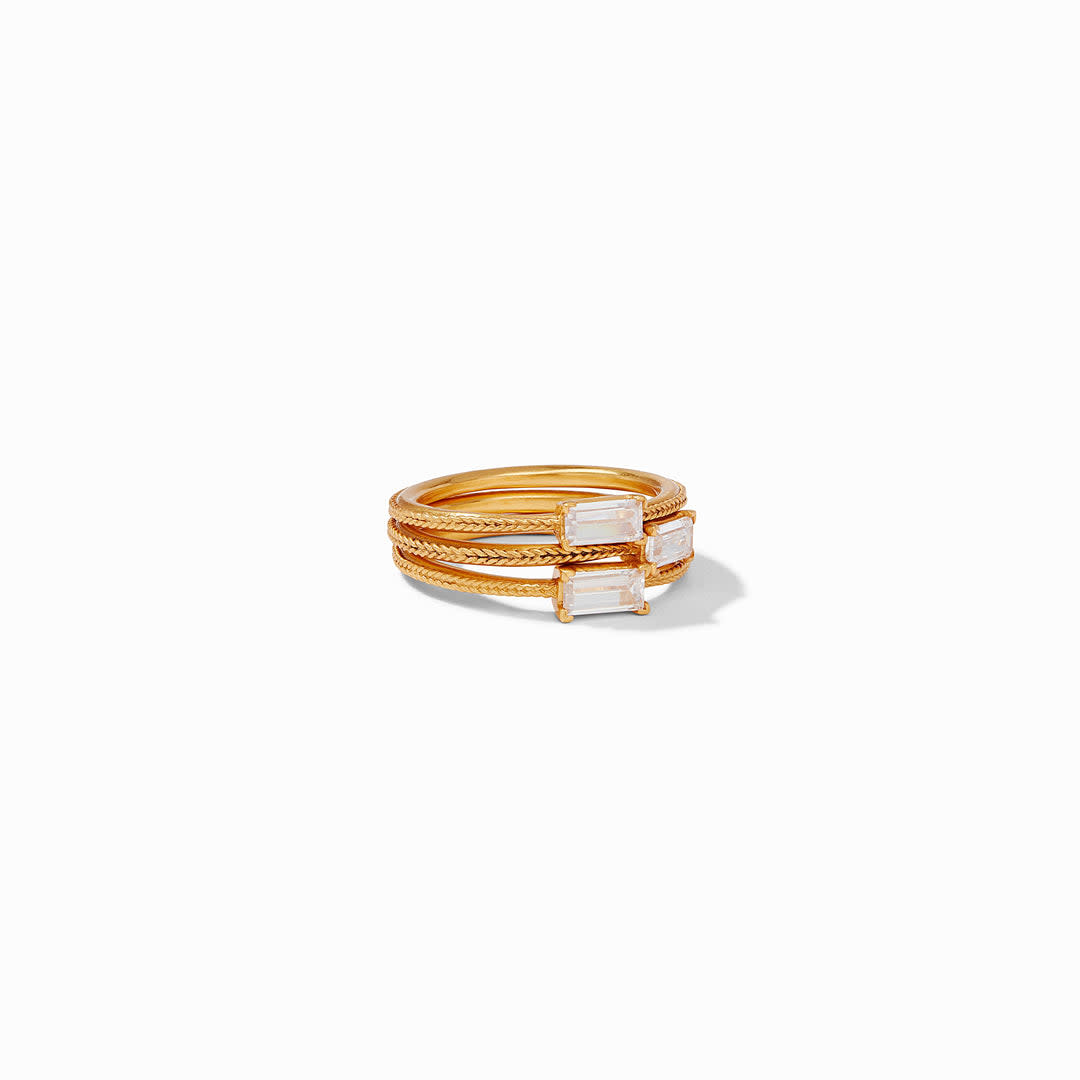 Accessorize with elegant and charming jewelry like the Julie Vos Paris Demi Cuff! This cuff bracelet features a hinge closure and opening to easily secure the bracelet to your wrist. With a rounded, thick band, this golden hinge bracelet has a lightly hammered texture and is embellished with mother of pearls at the ends, accented with smaller freshwater pearls.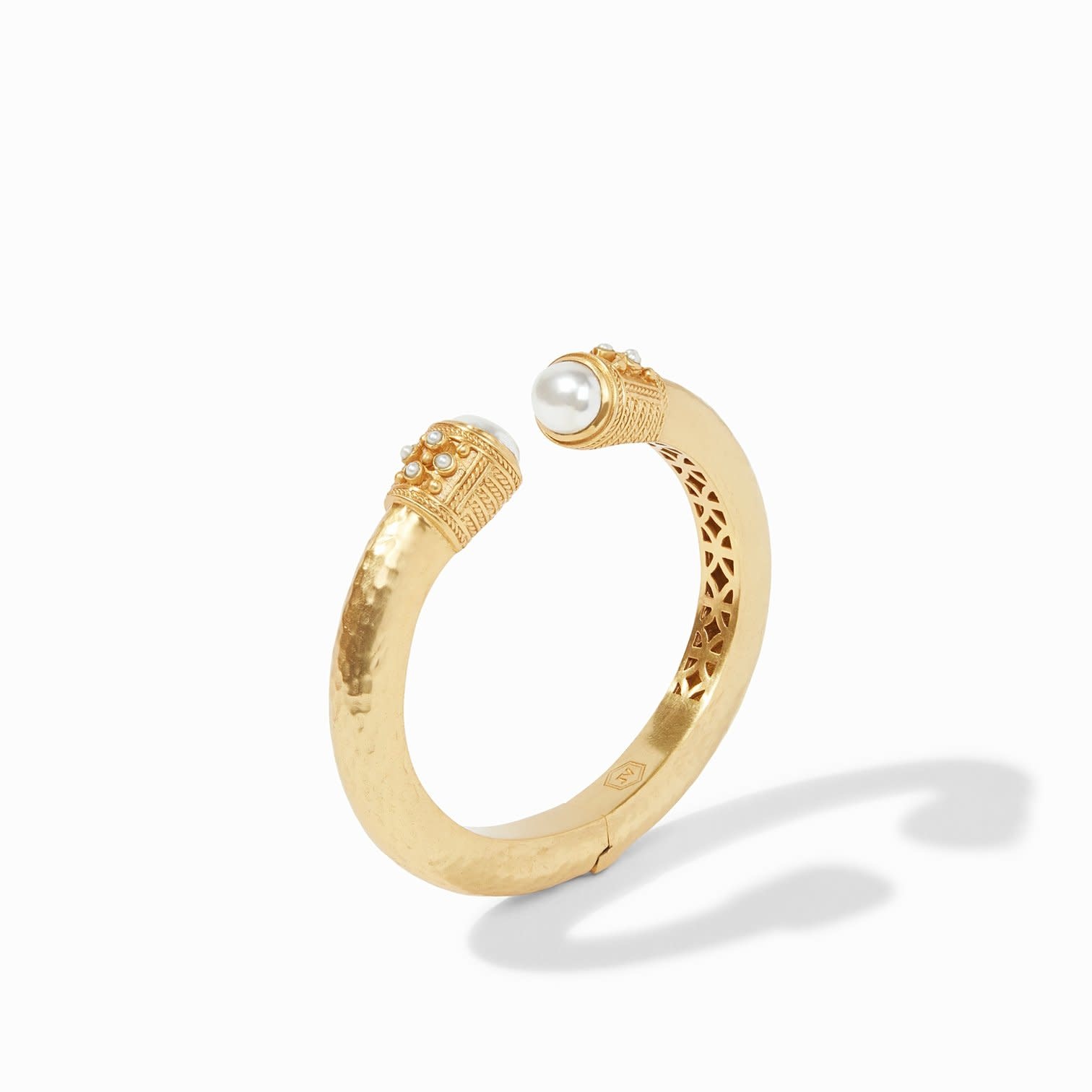 Be bold with your jewelry style with the Julie Vos Meridian Statement Necklace! This women's statement necklace is constructed with a chunky necklace chain with a toggle closure and a large reversible pendant that has a mother of pearl on one side and a golden compass etched on the other side - a great way to switch up your style, even in the middle of the day!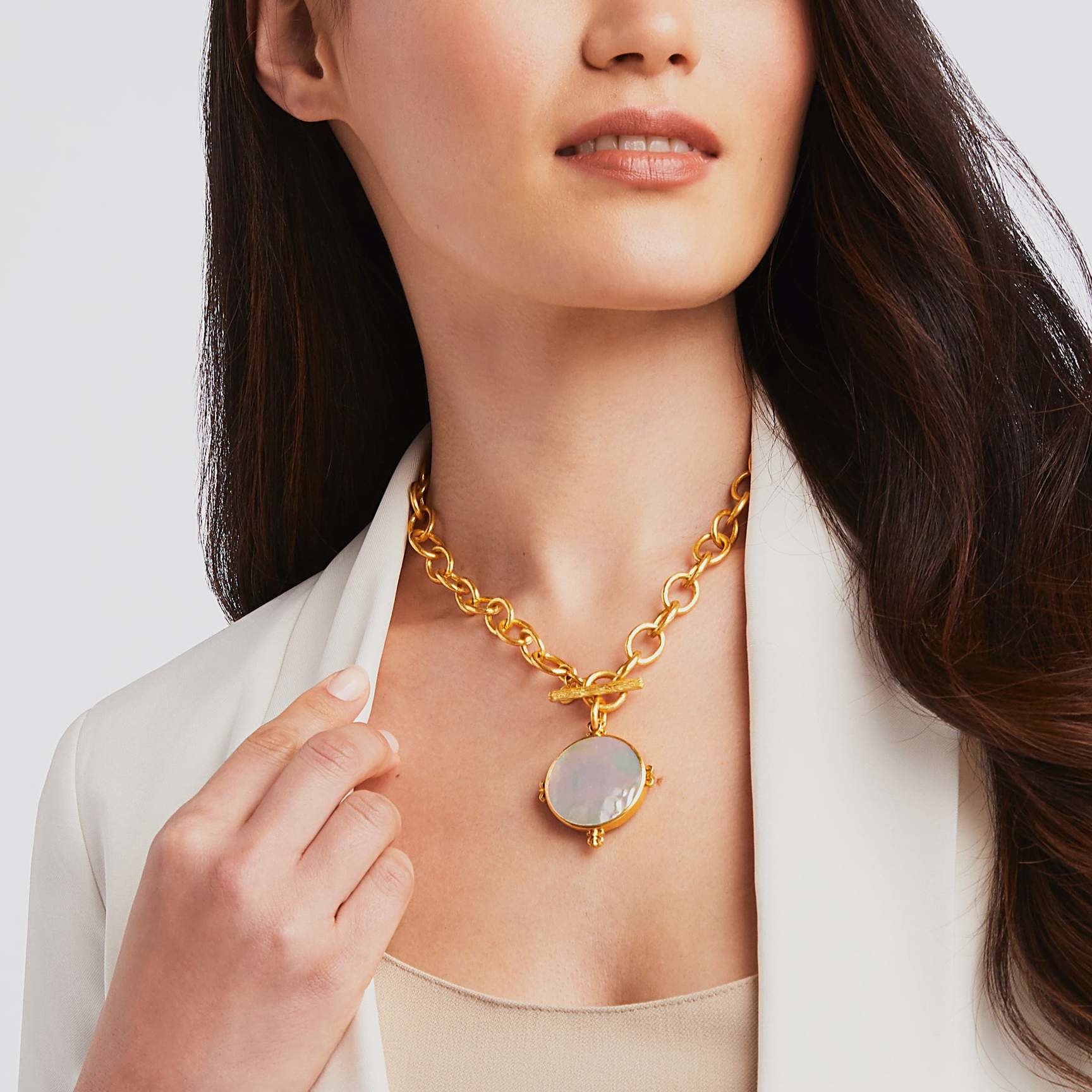 Take your look to the next level with these stunning and intricately designed Vienna Medium Hoop Earrings! These lightweight golden hoops have a filigree cut-out pattern that gives classic hoops a unique twist in style and look.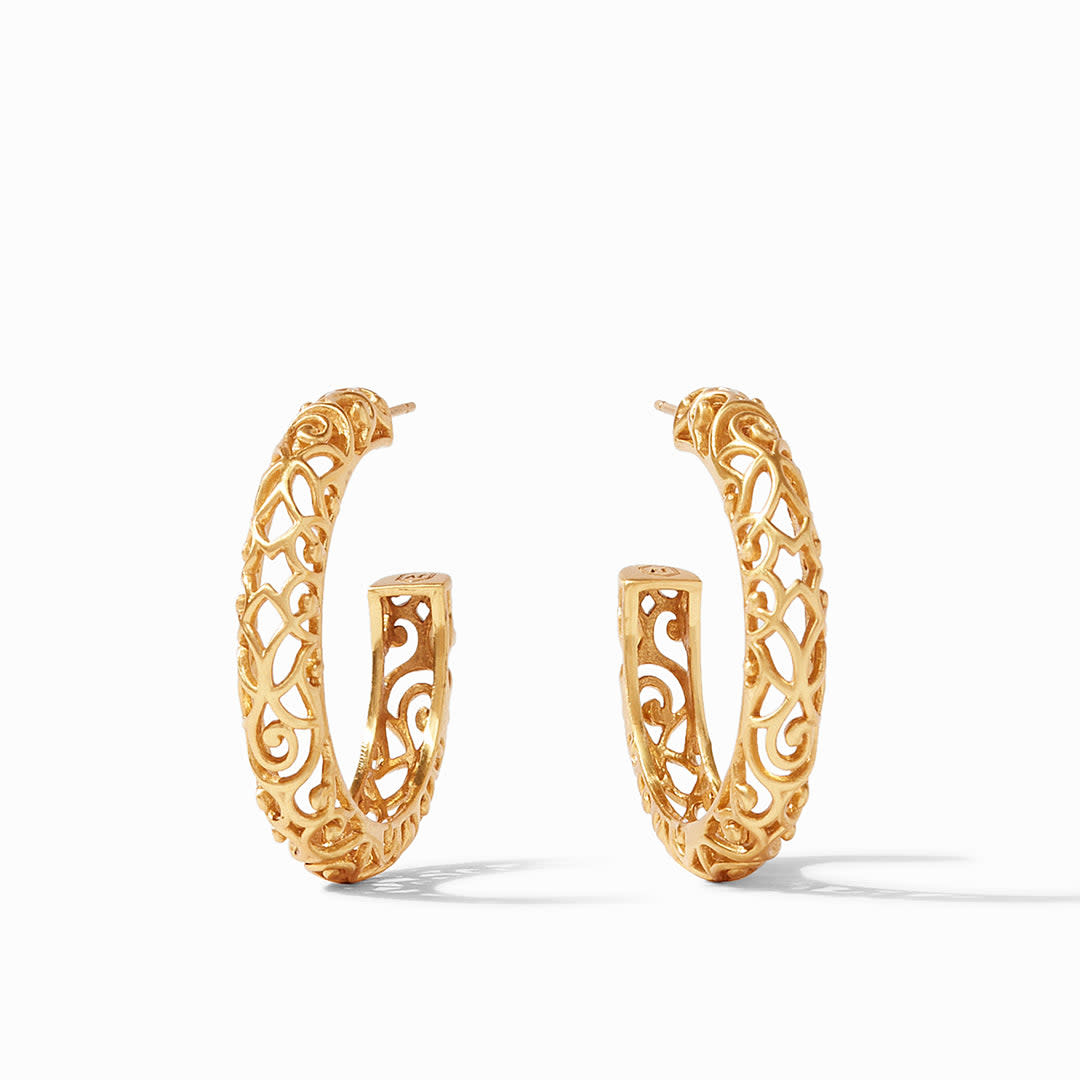 Have a pair of everyday earrings that are stylish and distinct in style and design! The Julie Vos Catalina X Studs feature a crossover geometric shape with one band being smooth and shiny in texture while the other was lightly hammered for a seamless, unique contrast.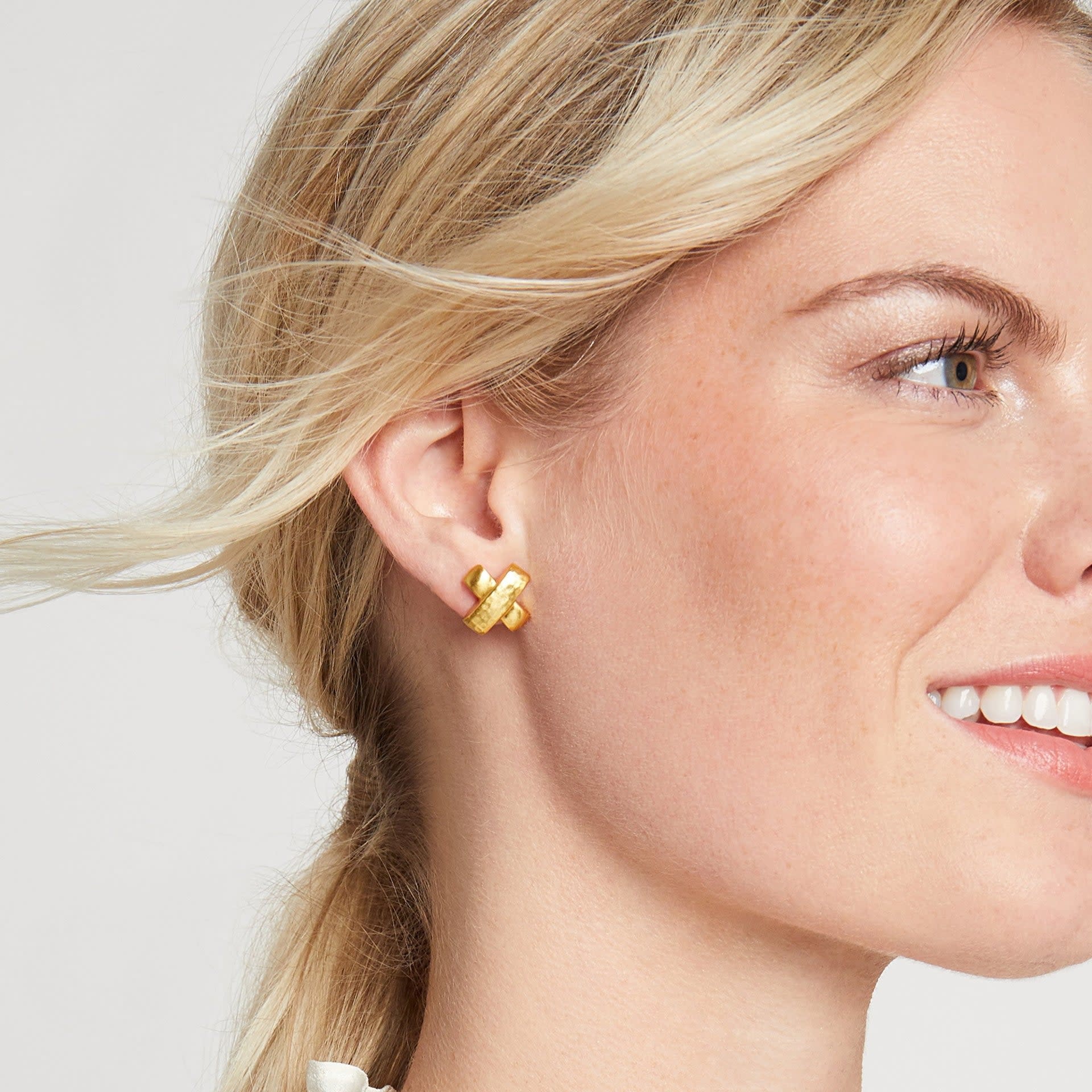 Spoil Her with a New Boutique Bag This Holiday Season
Handbags, purses, wallets, and everything in between are also great gifts to give this holiday season! At Abraham's boutique, we love to feature fashionable and functional bags for women, no matter what your lifestyle is - whether you're a student and need a schoolbag or if you're always traveling for business or leisure. Check out some of our featured women's bags here in the guide, and browse the rest in our women's handbags collection!
Joy Susan Trish Convertible Hobo Bag
Check out the Molly Hobo Bag for an alternative handbag style! If you prefer a slouchy hobo bag, Joy Susan also features a stunning bag with that style: Sloane Slouchy Hobo Bag. 
Made from premium faux vegan-friendly leather, the Joy Susan Trish Convertible Hobo Bag is super versatile and interchangeable to suit your style for the day! This women's large hobo bag has a slightly slouchy design with detachable shoulder straps that you can adjust or switch with another bag strap. You can turn this hobo bag into a large crossbody bag or short shoulder bag to fit your day and lifestyle! The interior is extra spacious and can hold a book or two and other important essentials that you need for the day.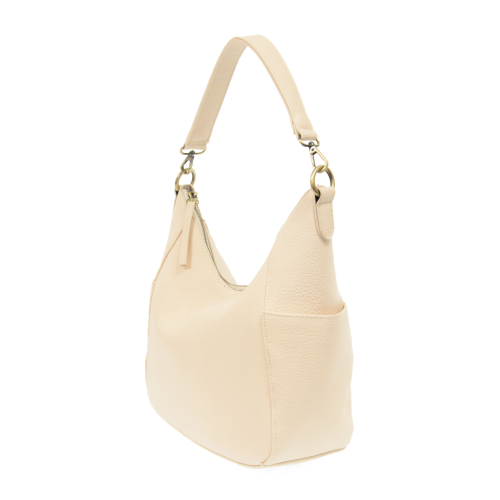 Take a look at the Latico Terry Wallet for another wallet style from this brand! 
Sleek, polished, and minimal, the Latico Eloise Wallet can hold 8 cards, cash, check, and even your phone! This chic women's leather wallet features three compartments with one zippered middle pouch (which can hold your smartphone). The wallet folds over and secures with a magnetic snap button. An excellent everyday wallet to have in your bag!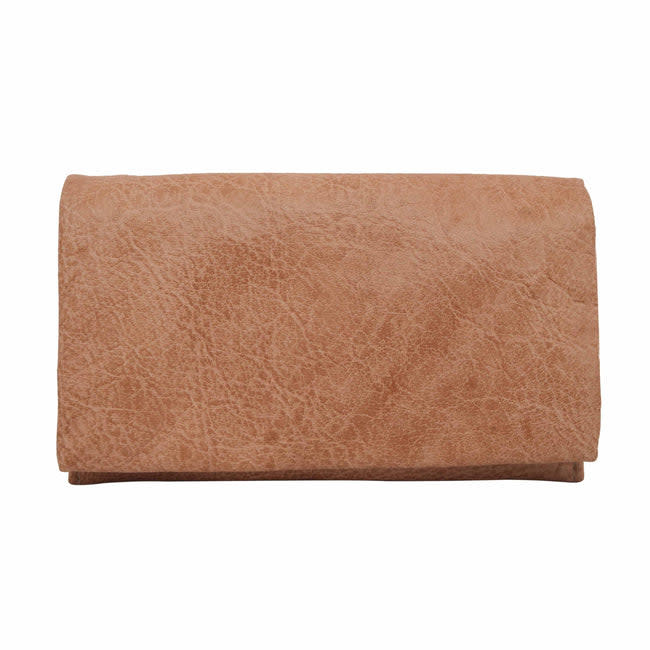 Remi and Reid Departure Tote Bag 
Store your everyday essentials in the stylish and spacious Remi and Reid Departure Tote Bag! This chic tote bag features a single open compartment with a tassel-loop closure and includes a zippered bag insert that you can use separately or together with the tote bag. Made with high-quality vegan leather material.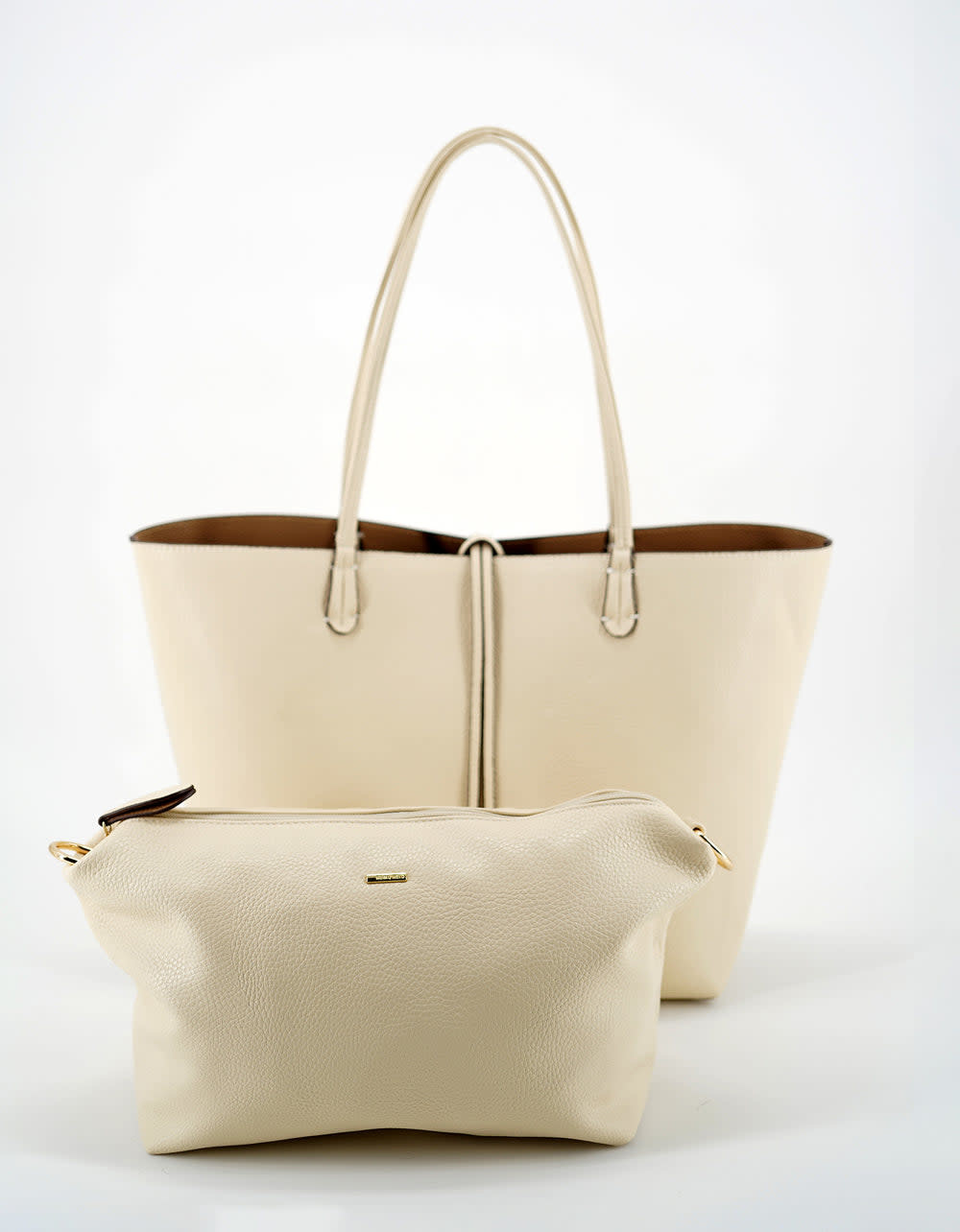 Most Wanted Cow Print Cowhide Leather Wallet Keychain
Looking for a slim, minimalist wallet that you can carry with you without a purse or bag? The Most Wanted Cow Print Cowhide Leather Wallet Keychain is such a splendid holiday gift or stocking stuffer for your loved one! This slim women's wallet has a cow spot pattern and enough space for your cards, ID, and some cash and change. An extra card slot is on the exterior of the wallet for additional space while a keychain ring is on the side for you to easily attach the wallet to your keys or other keychain.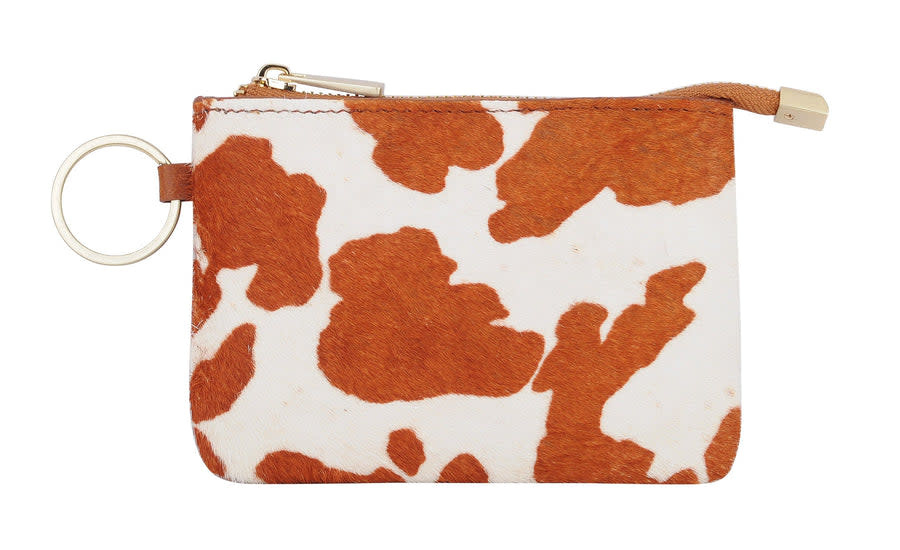 Vintage Havana Henna Crossbody Purse
With a trendy and sporty style, the Vintage Havana Henna Crossbody Purse makes an excellent holiday gift for women or juniors! This women's athletic crossbody purse has an adjustable shoulder/crossbody strap and can be detached to switch straps for customization, or you can use the bag without the strap for storage in other bags!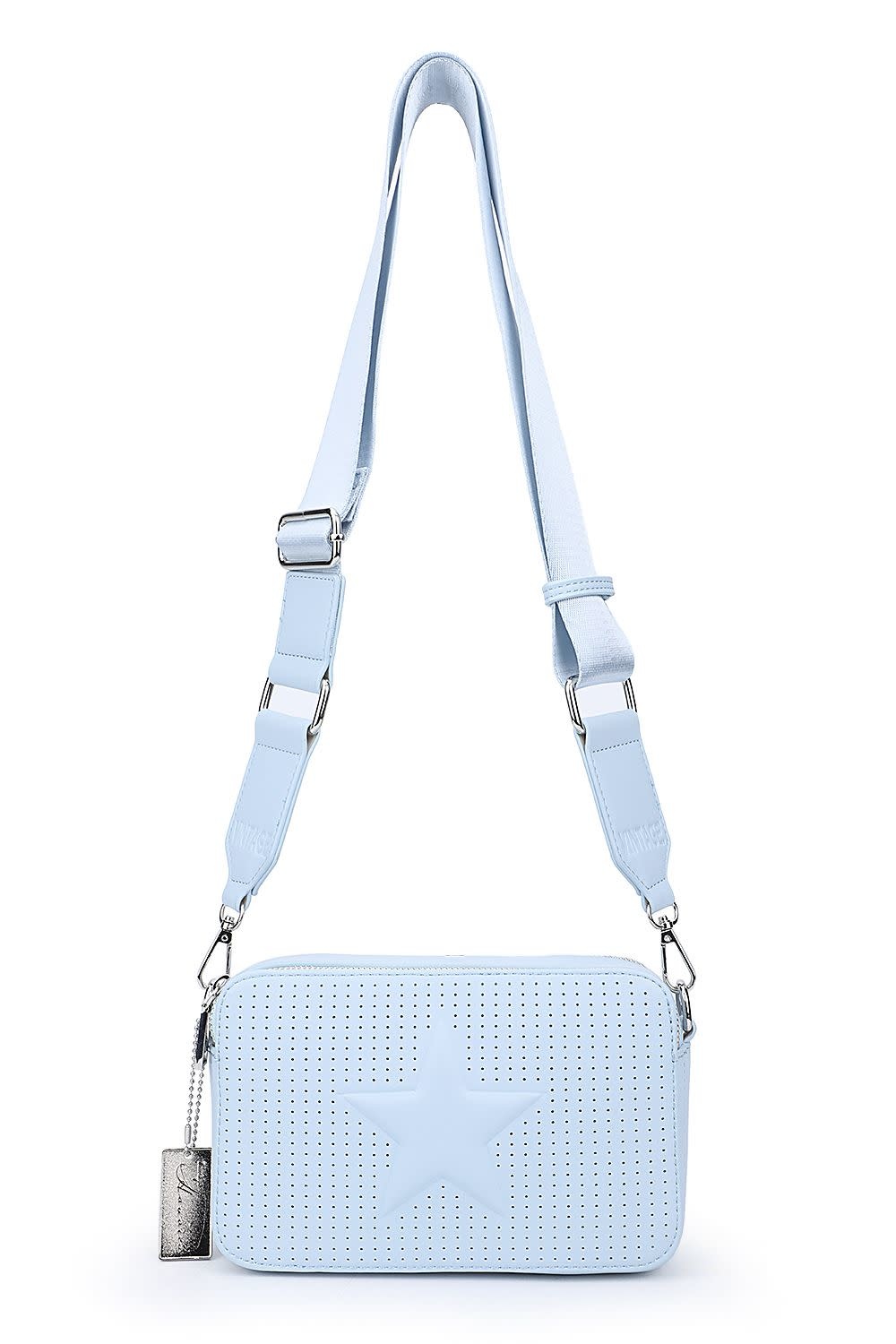 Ideal for light travel and on-the-go convenience, the Latico Janna Crossbody Bag gives you just the right amount of space to carry your phone, wallet, and small essentials for the day. This crossbody purse features a detachable, adjustable strap and a studded design on the front flap.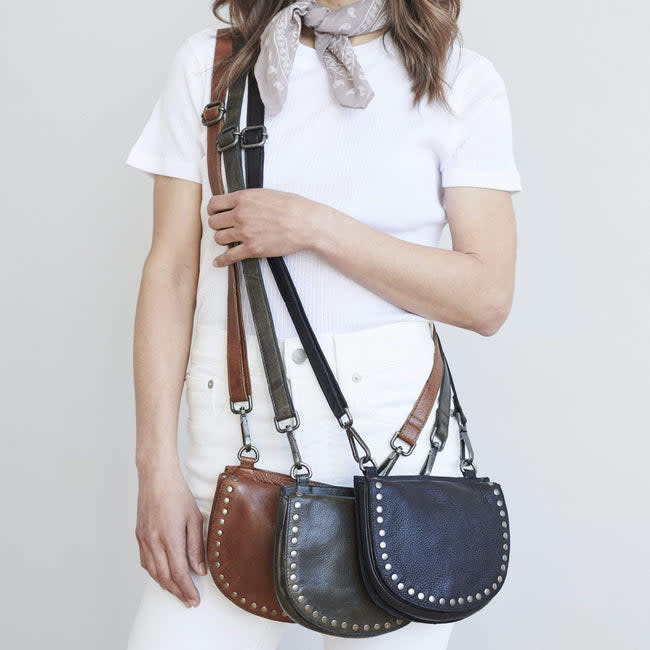 Slim, chic, and roomy, the Joy Susan Adele Large Bucket Bag gives you a purse that's stylish and functional! This women's bucket bag is designed with 3 interior pockets (2 open, 1 zippered in the middle to keep important items safe). The bag can fit a book, your tablet, your Kindle Reader, and other necessities for the day or for a short trip. Made with superior quality vegan faux leather!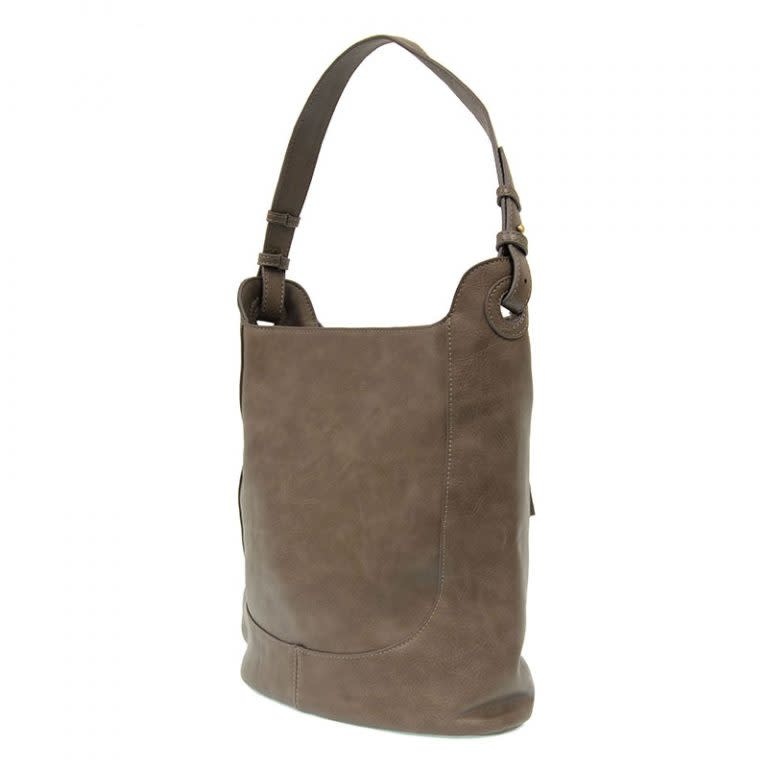 Lozen Crossbody Phone Case Bag
If you want to travel extra light, get the Lozen Crossbody Phone Case Bag! Perfectly sized to fit your smartphone and a few small essentials like your cards, cash, ID, and travel-sized cosmetics, this women's phone case bag features a drawstring closure and an interior zippered pocket and 3 card organizers. This small purse comes with two interchangeable straps for you to mix-and-match your style.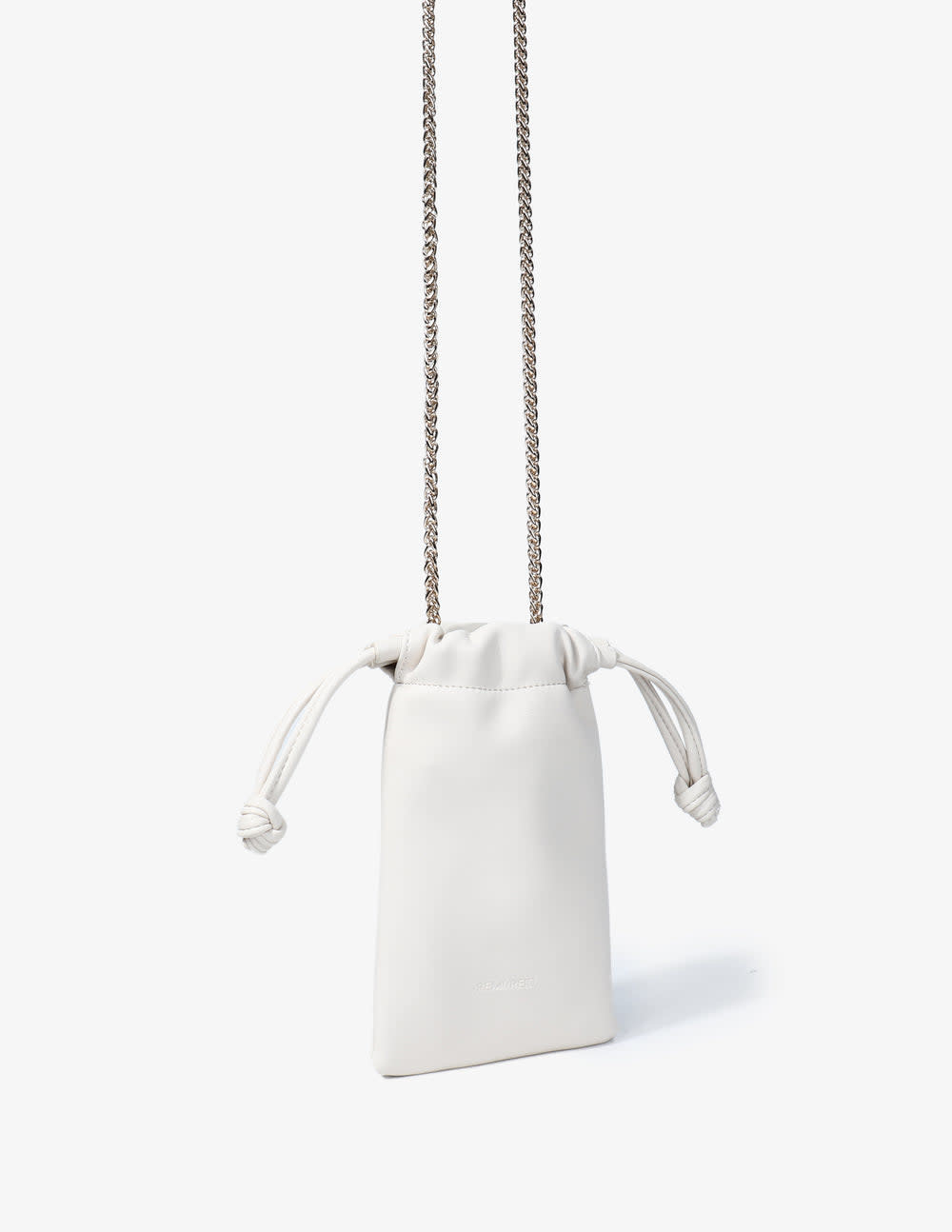 Chloe Zip Around Wallet Wristlet
Travel light and minimal with the Joy Susan Chloe Zip Around Wallet Wristlet! This women's wristlet wallet can be used as a small wristlet purse and comes with 12 card slots, 3 compartments - 1 zippered for coins or to secure your phone. An extra zippered pocket is on the spine of the wallet for more storage without taking up too much space! The wristlet strap is removable if you prefer to use this item as a wallet only instead.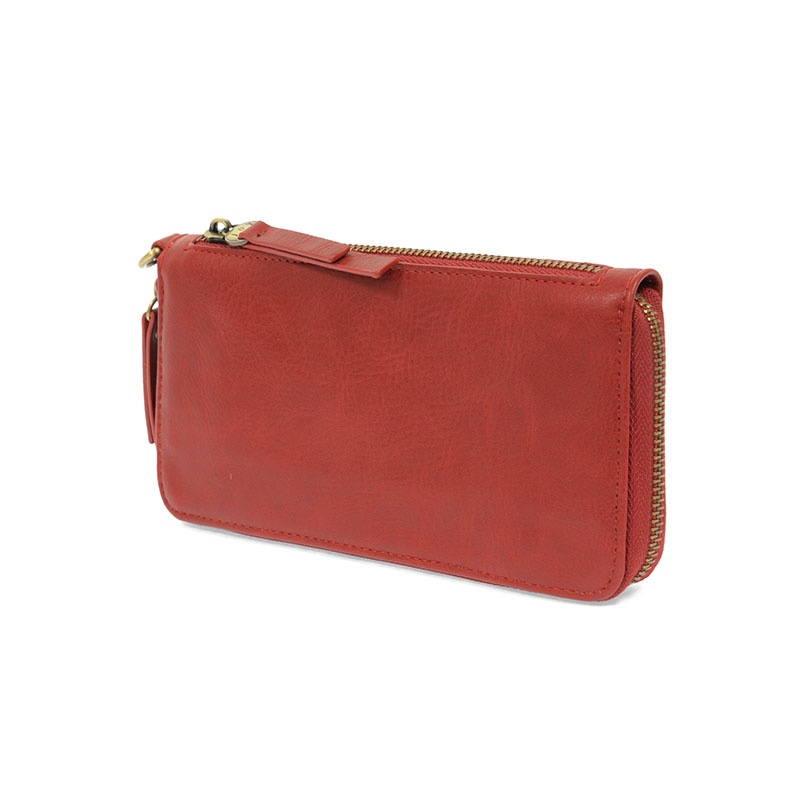 Make your overnight and weekend trips more comfortable and stylish with the Latico Charleston Duffel Bag! This leather travel bag has a luxurious and durable construction, made with sleek and genuine leather material and handcrafted by artisans. The duffel bag offers plenty of space and organizers to help you travel with ease.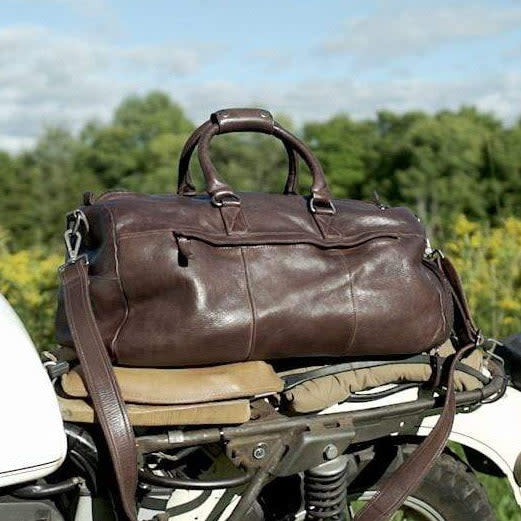 Urban Expressions Hampshire Weekend Duffel Bag
Perfect for that spring break or summer getaway, the Urban Expressions Hampshire Weekend Duffel Bag makes it easy to pack your essentials and your favorites without having to lug around a heavy suitcase! This women's weekender duffel bag features a unique terry cloth material and alternate stripe pattern. Open and zippered pockets inside the bag help you organize easily!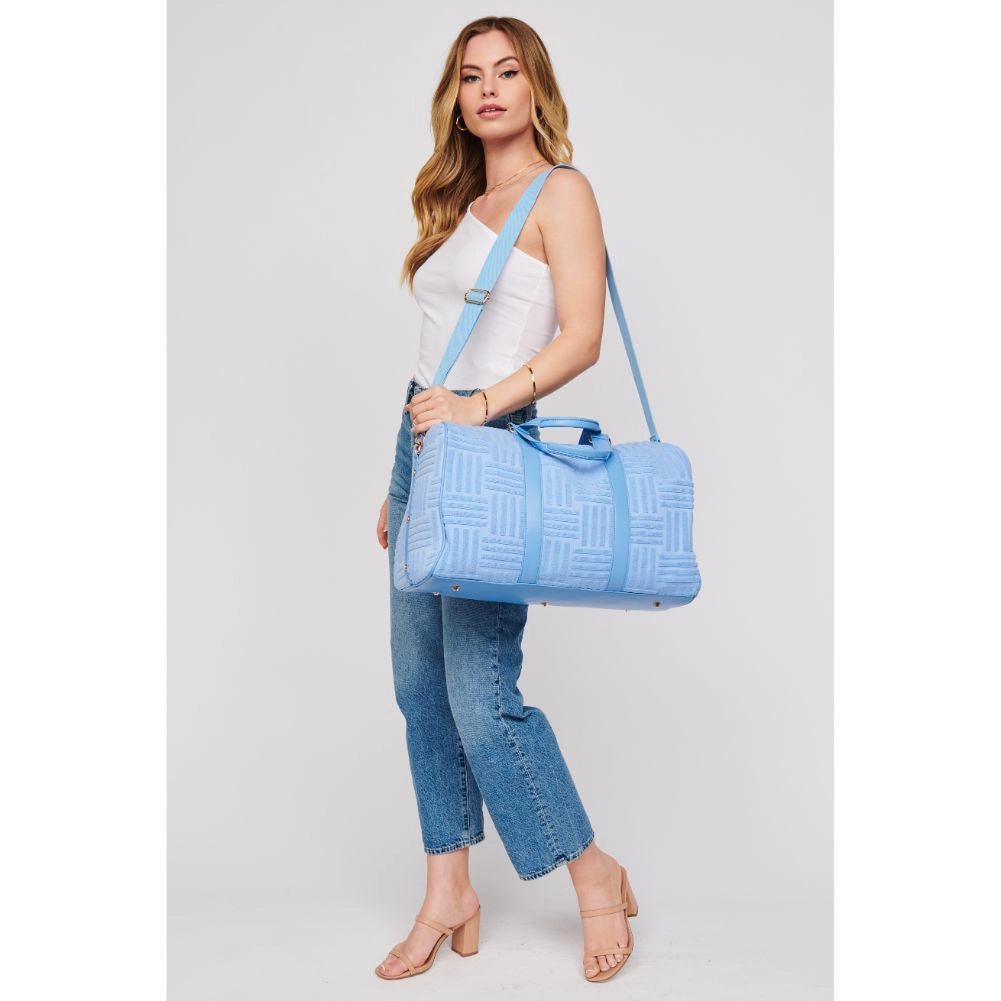 Luxury Women's Boutique Shoes & Footwear for Holiday Gifts
Shoes are another wonderful gift that you can give to your loved ones this holiday season! From chic booties to casual and stylish sandals, we feature a wide array of shoes in different styles to fit every fashion preferences. We feature some of our best pairs of women's shoes here in this guide, but you can browse the rest of our women's designer shoes collection for more gift ideas!
Made from buttery soft, high-quality leather material, the Dolce Vita Shiren Boots are your classic, stylish women's Western boots with a decorative and intricate design on the sides. Slip into these beauties any time of the year - whether you're heading to a music festival or want to elevate your fall attire!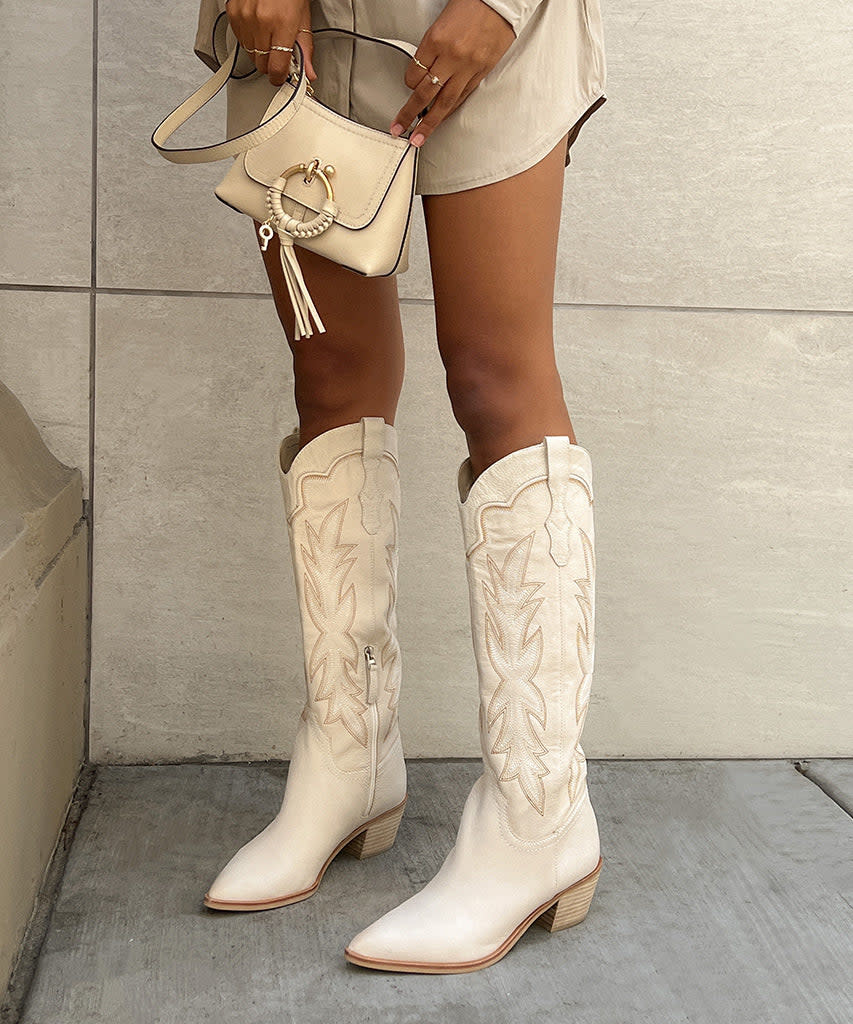 Take your outfit to the next level with the Dolce Vita Hawk H2O Booties! These women's weatherproof leather suede slip-on ankle boots feature a lug sole style with an elevated look to give you an extra boost in height and style.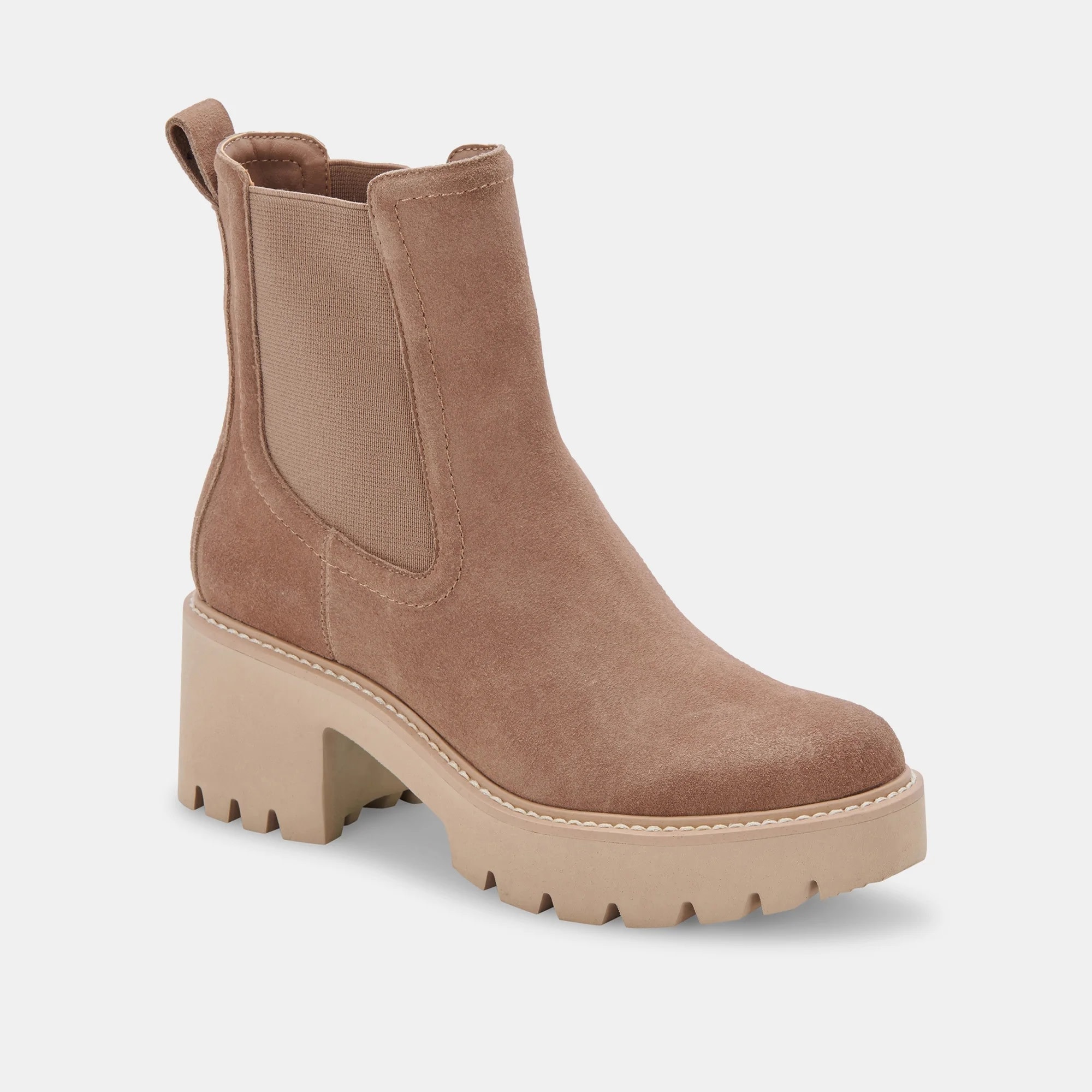 Greats Waverly Women's Sneakers
Grab a good pair of sneakers like the Greats Waverly Women's Sneakers from our collection! These classic athletic shoes for women have an all-white leather style for a clean, polished look. The sneakers have a higher, thicker sole to keep your feet off the ground and give you more support.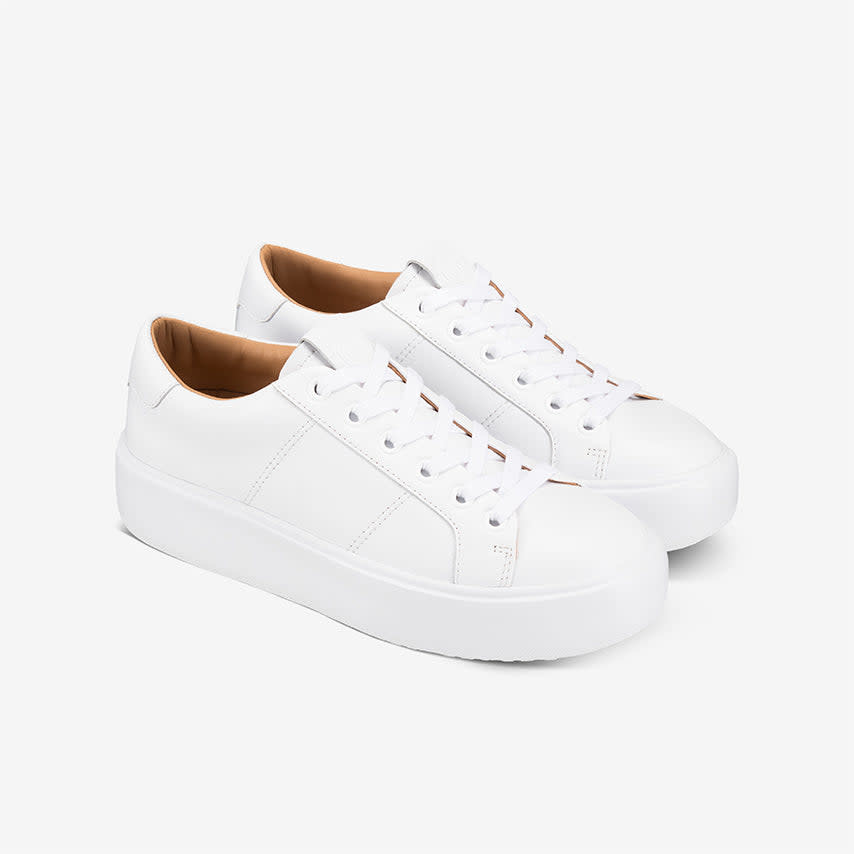 Elegant, comfortable leather slides for women with a simple charm, the Dolce Vita Grazie Slide Sandals has a wide strap with a sleek woven pattern and allow for easy and secure slip-on wear. The footbed is made with bloom algae for antibacterial properties. A perfect pair of sandals to wear for the spring or summer or even indoors!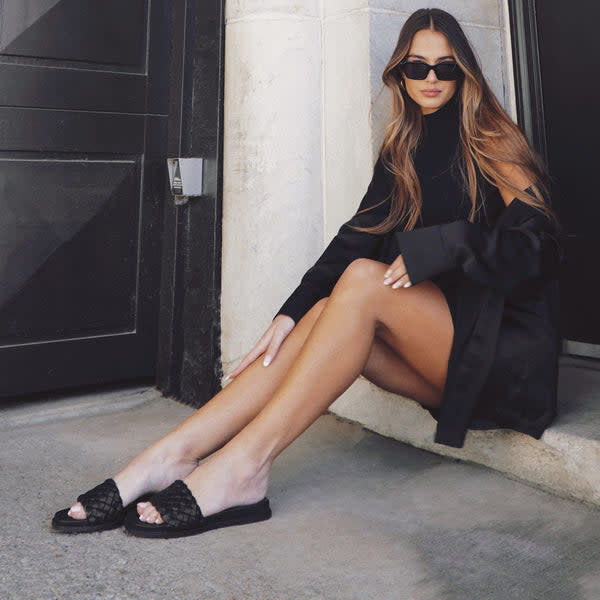 We hope you enjoyed our women's holiday boutique gift guide for 2022 and found lots of holiday gift ideas for her! We love featuring our best of the best in our 2022 collection, and we always have new boutique items to share in our gift guides every year. Come back next time for our new holiday gift guide and let us help you choose your gifts!
Thank you for being here with us, and happy holidays to you and your family.
~ Abraham's